Free event: 11th Annual Celebration Art Festival returns April 21 & 22
11th Annual Celebration Art Festival
Saturday & Sunday 10:00 AM – 5:00 PM
Free Admission
Market Street in Celebration, FL
The creator of this great art fair, Howard Alan Events, is now taking back the reigns of this wonderful art event!
Over 100 artists will converge on Market Street in the heart of Celebration. Celebration is conveniently located off I-4 and Highway 192 near the entrance to Walt Disney World. Visitors will be able to peruse through fine paintings, one of a kind pottery, photography, hand made jewelry, and much more. Visitors to the event will be able to peruse the art work and meet the artisans who create it and learn their stories.
From a $15 pair of earrings to a $30,000 sculpture there is something for everyone! See you in Celebration!!!
Official site: http://www.artfestival.com/Festivals/Celebration_Art_Festival_Orlando_Florida_April.ASPX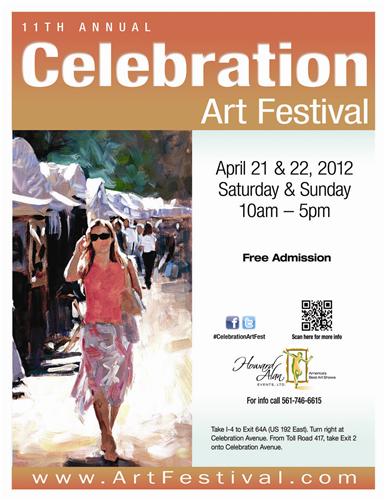 11th Annual Celebration Art Festival – participants
Here is the list of festival participants as of March 31:
ANDREWS, TERRY – GLASS
BALLARD, PATTI – MIXED MEDIA
BAUM, DUFFY – CLAY
BECKET-GRIFFITH , JASMINE – PAINTING
BELCHER/HARPER, LESLIE/SHELLEY – JEWELRY
BERGER, JULIE – JEWELRY
BILLMAN, MARK – JEWELRY
BUTERA, CHRISTIAN – JEWELRY
CANO, MARIA – JEWELRY
CLARK, SHIRLEY – PAINTING
COLLINS, DENNIS – JEWELRY
DAVID, DON – JEWELRY
DENIZ, ILKIN – ACRYLIC
EASTER, JEFF – PHOTOGRAPHY
EDMUND, DAVID – PAINTINGS
FERRIS, JOSEPH – METAL
HAUGHTON/TSOURIS, ELIZABETH/MICHEL – JEWELRY
HENRY, COLEEN – ACRYLIC PAINTING
HIRT, JENNA – JEWELRY – WOVEN
HOLSTEIN, ANN – PAINTINGS
HONEYCUTT, LORRI – PHOTOGRAPHY
HORMAZA, MARIA – JEWELRY
HOWARD, ANGIE – JEWELRY
JONES, KATE – GAMEPUZZLES
KEENAN, BETH – MIXED MEDIA
KICHAR, KEVIN – MIXED MEDIA
KIUSALAAS, TIM – PHOTOGRAPHY
KOESTER, STEVEN – JEWELRY
LANE, – FIBER ART
LAZARUS, FINNY – JEWELRY – BEADED
LEHMAN, BOB – GOURDS
LEHMAN, SANDY – SCULPTURE
LENSINK, JAY – JEWELRY
LUCIANO, ZSUZSANNA – PHOTOGRAPHY
LUSBY, KATHLEEN – PAINTINGS
MARCHESE, DEBORAH – JEWELRY
MARIN, ANCIZAR – SCULPTURE
MAYES, LARRY/LINDA – JEWELRY
MELCHIORRE, CLAUDIA – JEWELRY
MORELAND, CANDYCE – JEWELRY
OLLING, LORI KAY – JEWELRY
OLNEY, WILL – JEWELRY
PERICOT, MARK G. – PHOTOGRAPHY
PHILLIPS, SALLY – JEWELRY
POOLE, AMBER – POTTERY
REYNOLDS, PATRICK – OILS/WATERCOLORS
RICHMOND, JAMES – PHOTOGRAPHY
RING, MIKE – PHOTOGRAPHY
RODRIGUEZ, JORGE – PAINTING
RUJUWA, PETER – SCULPTURE
SARATLIC , SINISA – PAINTING
SCHNEIDER, CARL – JEWELRY
SHOCKEY, RACHEL – OIL
SIEGEL, ANNMARIE – JEWELRY
STEWART/SCHLIESSEIT, DEBRA/PIA – MIXED MEDIA/CLOCKS
VAUGHN, STEVE – PHOTOGRAPHY
WEHLER, LINDA – PHOTOGRAPHY
WILLIAMS, DON/CRISTINA – RAKU
YEOMANS, GARY – PHOTOGRAPHY
Town of Celebration – HD video
Click the play button to start the video. Note: Our videos do not stream in HD by default to ensure fast performance. If you would like to view the video in HD, start the clip and then adjust the bitstream to 720p or 1080p.
[youtube_video]T7l4i_CTtHA[/youtube_video]
Town of Celebration – photo gallery
Click any image to view it full-screen. When the full-screen image is open, click to the right to advance through the gallery. If several thumbnails are missing, try reloading this page in your browser.