I'm just going to come right out and say it: Yellow Dog Eats should be at the very top of your list of restaurants to visit during your next trip to Orlando. And if you're a local and you haven't tried it yet, you've certainly heard about it, so now you have no excuse to hop on over and see what the hype is about.
This small country eatery and store is relatively close to Walt Disney World Resort and Orlando's other attractions, yet a trip to Yellow Dog will transport you to an entirely different place and time. No longer will you find yourself devoured by the chain restaurants of International Drive and the conveyor-belt quick-service food at the theme parks – Yellow Dog Eats overflows with charm and impresses with incredible, imaginative food.
Yellow Dog Eats – a hidden gem
Yellow Dog Eats (the Windemere location, anyway) isn't the type of place you're just going to bump into; when my family and I drove out, we wound through the sleepy-but-charming neighborhood it's located in, wondering if we were heading to the right place. The restaurant is located in a historic building, which was originally a residence called The Brockman House, built in 1910. There's not a lot of parking around the building itself, but there is an overflow lot across the street.
When we went, we did, in fact, use that overflow lot, and once we got inside, it was no mystery as to why – the place was packed, but with it being a Saturday, that was to be expected. You place your order at the counter and then go find a seat, and they call you up when it's ready. For as many people and as small a space as the front room is, I have to say it was surprisingly un-chaotic. Orders were taken quickly, the staff and other customers were friendly about sharing menus, and – hey – you can grab a drink at the bar while you wait!
(Speaking of the bar, it features a good selection of beers, wines, and soda. Many of the beers are from local breweries, but you can also find the usual suspects – which is the same for the wine. You can enjoy your beverage at the bar, or they will bring it to your table.)
Once we placed our orders, we got a seat and took in the ambiance. The restaurant's interior walls are covered with pictures of dogs and different dog memorabilia. They also sell their own line of t-shirts, hats, and, even, their own sauces and jams. You can also buy wine by the bottle to enjoy there or take home. The overall vibe of the place is quaint-family-country store/deli, and it's no wonder why, since we were served our food by the owner and head chef himself, Fish Morgan, who is the type of guy you can tell "never met a stranger" – even though we'd never been there, we felt like we were being greeted by a friend.
Yellow Dog Eats – the food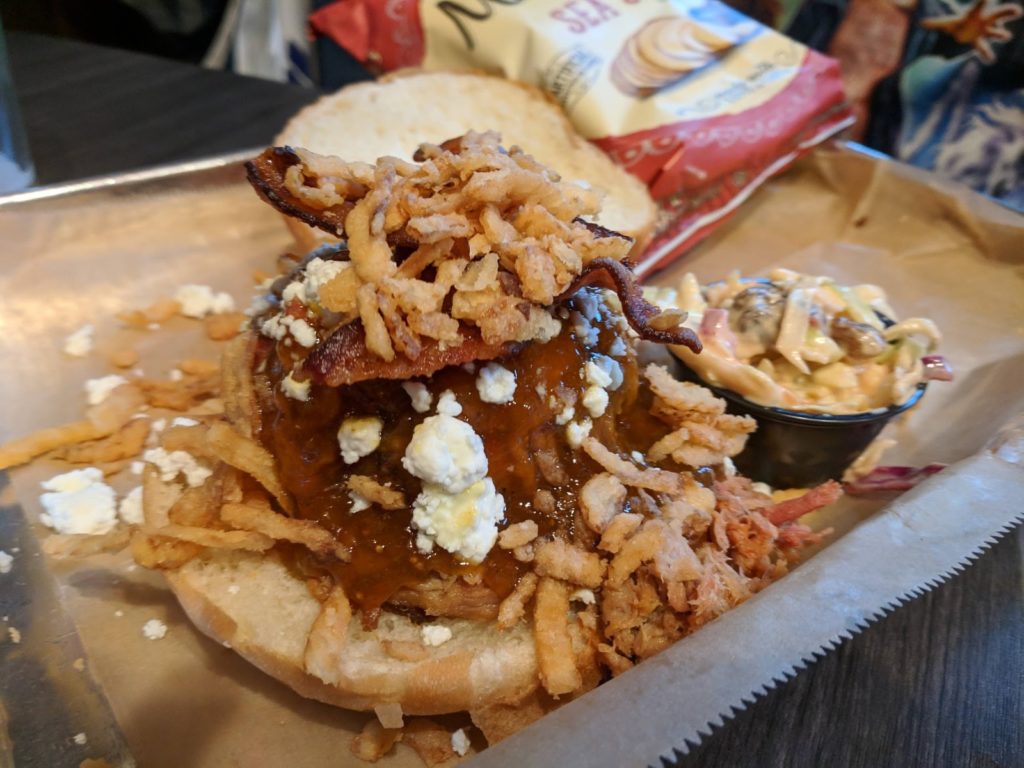 I admit, I was curious to try the place, but when one thinks of sandwiches, it can be kind of hard to get super excited. Let's just put it this way – even though it's about a 30- to 45-minute drive from my house to Windemere, I will be visiting again, and a packed house on a Saturday won't stand in my way.
My husband ordered the What the Fig?, which features pulled pork and is stacked with fried onions, bacon, and goat cheese, then drizzled with homemade jalapeno-fig sauce and served on ciabatta. He enjoyed it a lot. My daughter ordered a seasonal special, El Cubano, which is their version of the Cuban sandwich with pulled pork, sliced ham, Swiss cheese, homemade tomato chutney, pickled onions, jalapenos, and creole mustard, served on Cuban bread; the Cuban is one of my daughter's go-tos, and she said this ranked pretty high for her on her list of favorites.
I ordered the Retriever's Roast. The menu lists it as a "great fetch," and they weren't wrong – the sandwich has mid-rare roast beef, tomatoes, smoked gouda cheese, caramelized onions, and watercress, and is served on a lovely multigrain bread and spread with sweet-smoky-champagne-mustard and a cranberry horseradish-jalapeno mayo. There are a lot of flavors going on here, but I wasn't complaining! Admittedly, a good roast beef sandwich is hard to mess up, but the Retriever's Roast was beyond good – it was excellent.
Each of our meals was served with a bag of chips and Yellow Dog's homemade slaw, which was more tangy than your average mayonnaise-based slaw, but we all liked it quite a bit. Speaking of homemade – as you see from the sandwiches, most of the sauces are homemade, and the bacon, pork, and other meats are smoked on-site over apple and other types of wood. They also locally source 15 varieties of baby greens, so it doesn't get much fresher than that.
If sandwiches aren't your thing, there are also wraps, tacos, and salads on hand, including the Thin Elvis, which is a pulled pork lettuce wrap with sunflower sprouts and which is served with a side of tomato and cucumber salad. The other menu item of note here is the Hoke Poke Tacos, which is three flour tortillas layered with guava-cream-cheese spread, a sesame-Napa-cabbage-bok-choy slaw, sunflower sprouts, and poke tuna, then drizzled with Fish's Poke Sauce and Cusabi Ranch dressing.
They also have an astounding array of sides, if chips and slaw don't quite do it for you, including avocado hummus, oven-roasted potatoes, and Greek Orzo Salad. You can also order the sides to take home for a picnic or other gathering, or just to have all to yourself. (I see myself doing that with the Greek Orzo Salad in the not-too-distant future!)
If you are a vegan or vegetarian, they also have you covered with a creative and varied menu, featuring seven different items – and, no, they are not just salads. A couple of the more unique selections are the Jackfruit Tacos (two flour tortillas filled with smoked jackfruit, avocado slaw, sprouts, vegan chipotle, and mango aioli) and their spin on avocado toast with the fun name of Doing Yoga with Goat Toast (open-faced multigrain toast with avocado, herbs de Provence-seasoned goat cheese, arugula, pickled red onion and jalapenos, medjool dates, sunflower sprouts, fig sauce, and honey drizzle). As the menu says, namaste!
Last but not least, they have desserts! We didn't have any this time, but I definitely need to try a few of those brownies and the Motherfudgin' Chocolate Cake at some point.
Yellow Dog Eats – the takeaway
Long story short, we'll be back. Fortunately – and unfortunately! – Yellow Dog Eats isn't close enough for my family to become regulars, but it's the type of place I'll bring out-of-town visitors to, and just go back to try different things myself if I have a little time on my hands.
The only reason I say "fortunately" is for my waistline and also my wallet; the sandwiches, while amazing, aren't necessarily the cheapest in the area. It cost our trio $40+ for lunch, not including the glass of beer for my husband and the glass of wine for me. Most of the entrees are in the $11 to $13 range, with the additional sides (aka "Yummy Scooby Snacks") averaging about $3.50 for a small and $6.99 for a large.
Still, if you're looking for good food from a local family business, in a not-so-touristy part of town, definitely give Yellow Dog Eats a try.
Yellow Dog Eats – bonus tips
If you're local, Yellow Dog Eats offers catering services.
They also have a location in New Smyrna Beach.
Their hours are 11:00 am to 9:00 pm, Sunday to Wednesday, and 11:00 am to 10:00 pm, Thursday to Saturday.
Happy Hour is Monday through Friday, 2:00 pm to 6:00 pm.
They also have live music from Thursday through Saturday nights, from 6:00 to 10:00 pm.
–
Have your own out-of-the-way hidden gem in the Orlando area? Share it with (literally) tens of thousands of other Universal fans and vacation-planners in our OI Community Facebook group.
And then be sure to follow Orlando Informer on Facebook, Twitter, and Instagram for the latest news and tips at Universal Orlando, Walt Disney World, and other Orlando destinations.