Yellow Dog Eats Bistro & Wine Store in Windermere: It just doesn't get any better than this
I'm just going to come right out and say it: Yellow Dog Eats should be at the very top of your list of restaurants to visit during your next trip to Orlando. This small country restaurant and store is relatively close to Disney World and Orlando's other attractions. Yet a trip to Yellow Dog will transport you to an entirely different place and time. No longer will you find yourself devoured by the chain restaurants of International Drive and the conveyor belt quick-service food at the theme parks. Yellow Dog Eats overflows with charm and impresses with incredible, imaginative food.
Click any image to view it full-screen. You can also view and share several of these photos on the OI Facebook page. Scroll to the bottom of the post to view the complete photo gallery with more than 30 pictures.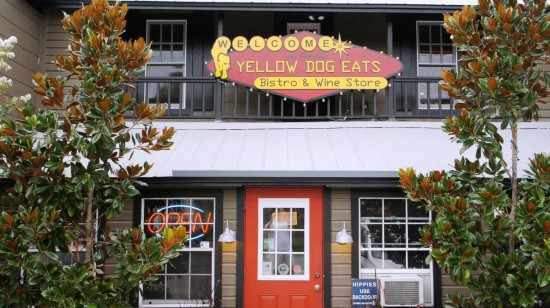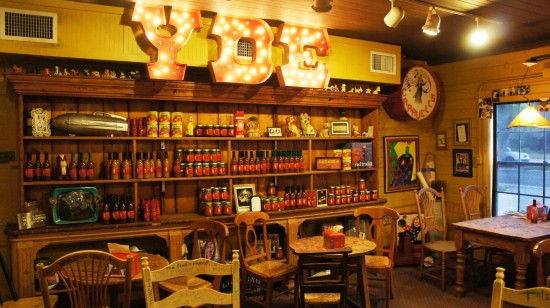 I am not the first person to discover Yellow Dog Eats. Out of 1,280 restaurants in Orlando, it is currently number one on TripAdvisor.com (as of the writing of this post). It is also lovingly reviewed on Yelp and Urbanspoon. Despite these accomplishments, I actually put off making the drive to Yellow Dog Eats because I had this notion that it was way out of town. It's not. The restaurant is probably less than 25 minutes from where you're staying in Orlando, and it only takes about two turns to get there. I'll talk about location toward the end of the post. Now let's talk about food!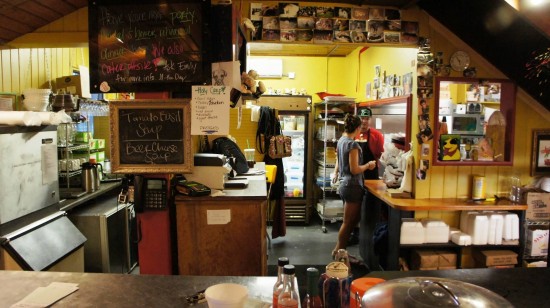 Although Yellow Dog Eats is a picture perfect venue with more personality than any costume character at the parks, it has an equally exciting menu that serves up gourmet comfort food with a buffet of originality. Take a look at their very first menu item:
Classic Yellow Dog Club – Honey mesquite turkey coupled with smoked Gouda cheese and layered with crunchy apple wood smoked bacon, leaf lettuce, orange-countreau mayo, and crunchy cucumber rings arranged lovingly on multi-grain bread.
And that's just the beginning. You can view their full menu courtesy of their website: http://yellowdogeats.com/yde-menu.pdf
For our first trip we ordered the Rufus (succulent Yellow Dog pulled pork topped with thick cut Brie cheese, cherry ring peppers, drizzled with raspberry Melba and covered with shoestring potatoes and fried onions) and the day's special sandwich, the Holy Crap (Basil mayo, turkey, bacon, red onion, avocado, and goat cheese, pressed). If you think it sounds good, wait until you see what it looks like: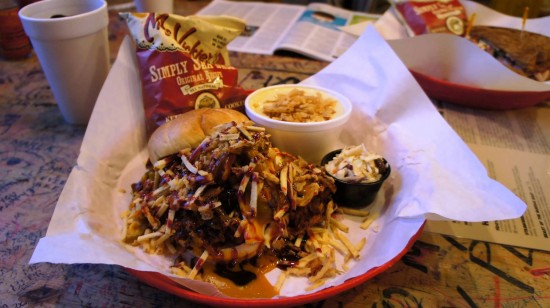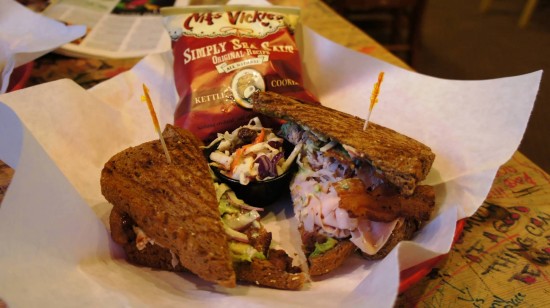 Oh, we also tried their beer cheese soup. Did you notice that in the picture of the Rufus?
Well what can I tell you about these sandwiches–they were just divine. Flavorful, complex, and delicious in every way, it's almost too good to be true. The two sandwiches with chips, the cup of soup, and two drinks came to a little over $30. Yes, this isn't the least expensive restaurant in Orlando, but it might be the best sandwich shop in the world!
I've become such a fan of this place after one visit that I've even put together a custom-made Google map. Click that link (it'll open in a new window), and see how simple it is to get there from Disney World or International Drive. From either location it's less than 25 minutes. You can also view the same map below.
I don't know what else to say to convince you to get out of the "regular routine" in Orlando and get your butt to Yellow Dog Eats in Windermere. Just do it, and you can thank me later. Remember to view the complete photo gallery with more than 30 images below the map.
Official website: http://www.yellowdogeats.com
Yellow Dog Eats Bistro & Wine Store – map

View Yellow Dog Eats in a larger map
Yellow Dog Eats Bistro & Wine Store – complete photo gallery
Click any image to view it full-screen. When the full-screen image is open, click to the right to advance through the complete photo gallery. If several thumbnails are missing, try reloading this page in your browser.