What's new in Orlando's theme parks for 2011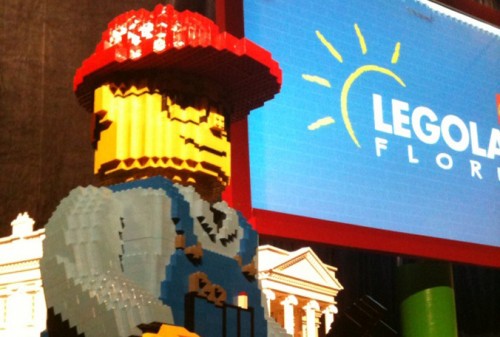 LEGOLAND Florida
The new LEGOLAND Florida is the biggest thing heading our way in 2011.  Taking over the grounds of Cypress Gardens in Winter Haven, about an hour from the attractions in Orlando, this new theme park will be the second LEGOLAND in the US and the fifth in the world.
LEGOLAND bills itself as a full-day, 150-acre family theme park offering interactive attractions, family rides, shows, restaurants, shopping and beautiful landscapes specifically geared for families with children 2 to 12.  It is scheduled to open in October.
Watch the park receive its first models:
[youtube_video]UzlOKSph9kU[/youtube_video]
In the future the park is sure to expand to include a waterpark and perhaps on-site hotel accommodations.
Will it be a success?  Only time will tell.  But perhaps we can glimpse into the future by reading the reviews of LEGOLAND California on TripAdvisor and Yelp.
Directions from Orlando on Google Maps
Star Tours 2.0
The fan favorite Star Tours attraction at Disney's Hollywood Studios has been closed since September of last year.  It is undergoing a major refurbishment in preparations for an all new adventure.
As written in Jaunted.com: Star Tours 2.0 will take fans on a 3D ride to Coruscant, Bespin, Endor, Alderaan and other destinations in the Star Wars universe where they'll be able to interact with characters from both the original trilogy of films and the prequels. C-3PO will be the pilot of the new ride, which will also feature two new characters, Ace, a new pilot, and Aly San San, the "spokesdroid", voiced by Allison Janney. The new ride also has a new soundtrack from film composer Michael Giacchino (Lost, Up, Star Trek).
The new Star Tours at Hollywood Studios will debut on May 20, corresponding with the first day of Star Wars Weekends at Walt Disney World.
AttractionsMagazine.com reports: Star Wars Weekends will be held four weekends — each Friday, Saturday and Sunday from May 20 to June 12. The full schedule for the Weekends hasn't been announced yet, but Anthony Daniels [C-3PO] has been confirmed to be in attendance for the first two weekends. Ashley Eckstein, the voice of Ahsoka Tano in "Star Wars: The Clone Wars", will be in attendance every weekend as the celebrity host.
Is this the new video for the ride's queue?
[youtube_video]3I01pT84HeY[/youtube_video]
It will be very interesting to see just how creative Disney can get with a simulator ride, the basic concept of which has been around for decades.
AMC Downtown Disney 24 and Dine-In Theatres
Included in my post from yesterday: The biggest news in the Orlando dine-in movie theatre scene is the soon to be opening AMC Downtown Disney 24 and Dine-In Theatres.  Currently under renovation (although you can still see movies there in the regular theatres), this upgraded venue is expected to open in May 2011.  It will feature what AMC calls Fork and Screen, a fusion of the movie and restaurant experience.
With a huge menu and innovative service (your server is just a push of a button away), this will be a welcomed addition to downtown Disney, an area which has certainly lost some of its luster over the past few years.
Learn more about the Fork and Screen experience
One Ocean
SeaWorld Orlando has a few new tricks up its sleeve too.  In April they will debut a new killer whale show called One Ocean.
SeaWorld describes the new show: [It] is exactly what you love about our parks – thrilling entertainment that educates and inspires you to celebrate, connect and care for the one world and one ocean we share. Check out the video below to get the scoop from Julie Scardina, our curator of animal training.
[youtube_video]iahtzSIOxFI[/youtube_video]
The killer whale shows have always been SeaWorld's showcase attraction.  As such, it is exciting that a brand new experience is swimming our way.
Grand Reef
DISUnplugged.com tells us: Discovery Cove, the all-inclusive boutique park across the street from SeaWorld Orlando, celebrated its 10th Anniversary this year.  On Wednesday, October 13th, the park announced the building of a new area behind the Dolphin Encounter called the Grand Reef.  This new area will supplement the popular tropical reef where guests can snorkel with over 10,000 tropical fish, rays, sharks, and barracuda.
[youtube_video]tjCXhyk7DAE[/youtube_video]
Universal Orlando?
One can hardly blame Universal for taking a year off after introducing the Simpsons Ride and Rip Ride Rockit in 2009, and then the 200 million dollar, 20-acre, uber-successful Wizarding World of Harry Potter in 2010.  But in all likelihood 2011 will not give Universal much time to breathe, despite the lack of capital projects, because attendance is expected to continue its climb throughout the year.
There are a lot of rumors floating around about expansion plans for Harry Potter.  Check out BehindTheThrills.com to join the speculation.
Screamin' Gator Zip Line
Gatorland has its own big news swinging in this year.
The Orlando Sentinel has the scoop:
Gatorland guests will be zipping over jumping crocodiles, the alligator breeding marsh and through the park's bird rookery by June, park officials said Thursday.

Details of the Screamin' Gator Zip Line, announced during groundbreaking for the attraction, create some wide-eyed expressions.

"Our bankers and insurance guys went 'What'? " said Mark McHugh, Gatorland's president and CEO.

The project has been 15 months in the making, a period that included a tour of other zip lines and getting proper permits for the zip line's tower, which top out at 75 feet. (The current observation tower at Gatorland is 48 feet.)

What Gatorland officials noticed while visiting other zips was a lack of animals, something in ample supply at the South Orange Blossom Trail park, which opened in 1949.

"That's probably one of the most diverse animal habitats you're going to see on any zip line in the United States — I would suggest anywhere outside of Costa Rica, as far as the animal experience on the zip ride," McHugh said.

"That's going to be the hook for us," he said. "That's what's going to make us different."
Church of All Nations Auditorium
Have you seen this construction project on I-4 (hat tip to Floridathrills.net)?
The Orlando Business Journal explains in an article from last year:
The Holy Land Experience theme park in southwest Orlando will begin construction on a new 25,000-square-foot, 2,000-seat auditorium for church services, special events and daily use as a performance theater.

The new $5 million-$6 million addition, dubbed the Church of All Nations Auditorium, will be built on the southern tip of the park's 24-acre parcel, said John Casoria, spokesman for Holy Land.

The design of the new auditorium — which will be compatible for high-definition television broadcasts of its productions — will resemble a colosseum with influences from the Jewish and Roman architectural styles as decorative trims, columns and ­artwork.
It definitely looks impressive from I-4.  I'm not sure on a scheduled opening date for this one.