Update 12/10/11
Can you believe JAWS will be shut down forever in less than a month?
Well, just in case you had any doubts that Universal was serious, us passholders got the following notice in our mailboxes yesterday…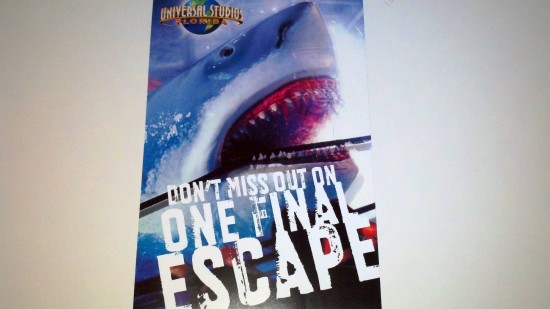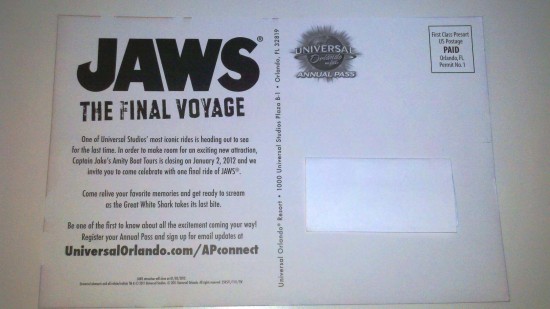 Noticeably missing from the passholder mailer was any sort of announcement of a passholder memorial event for JAWS. Perhaps that was expecting too much. Continue reading the original post below for more information…
Original post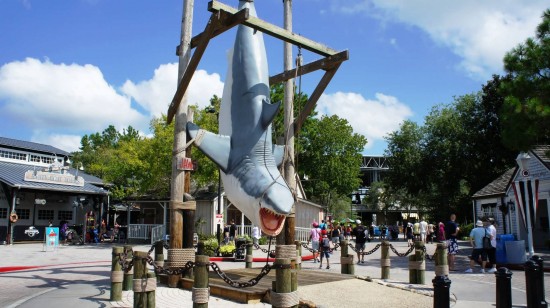 Wow…
Officials at Universal Orlando announced Friday they're planning to close the "Jaws" attraction.

The ride was one of the original attractions at Universal Studios and will be closed permanently at 9 p.m. on Jan. 2, 2012, as well as the Amity area.

"We must always work to provide new, innovative entertainment experiences for our guests," Universal officials said in a statement. "We know "Jaws" holds a special place in the hearts of our guests, and we have put a great deal of thought and care into this decision."

Park officials said they're anxious to share details of their plans for the area, and will make an announcement in "due time."
This has now been confirmed on Universal Orlando's Facebook page:
Hey fans, we want you to be the first to know… JAWS! and the Amity area will officially close on January 2 to make room for an exciting, NEW, experience we're planning for you.

We know you love JAWS! and we do too. It has been an amazing attraction and after terrorizing the waters of Amity here at Universal Orlando for 20 years, it's a VERY important part of our history. So, we've got a couple things planned to ensure we always remember and honor it. We know it's hard to say goodbye, but we can't express how EXCITED we are about the new, innovative & amazing experience we're going to be bringing you.

http://www.facebook.com/photo.php?fbid=10150406220047852&set=a.208747882851.130990.90867402851&type=1
That is a huge area of the park that will be shut down. One can only wonder what will takes its place. Transformers?
OI subscribers, I have already updated the OI Universal Orlando Center's JAWS page and the OI Priority List for USF with this information.
What are your thoughts?