Universal Orlando's annual passholder mailer reveals more information about how to participate in the holiday festivities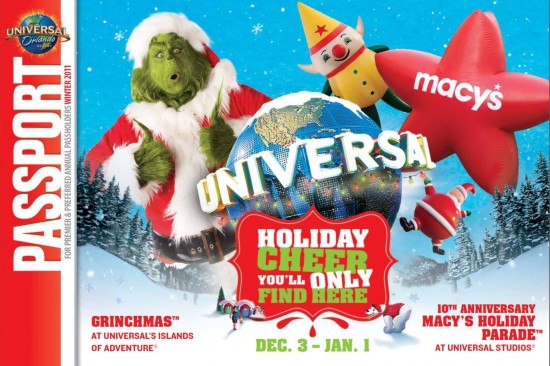 As I mentioned in the previous OI Blog post, the Winter 2011 edition of Universal Orlando's annual passholder mailer arrived over the long weekend. Much of the information in it has already been covered in the holiday section of the OI Universal Orlando Center. But there were a few new pieces of information that I'd like to bring to your attention. Please note that Premier and Preferred passholders are eligible for these benefits (sorry Power Pass friends):
First, the specific details for how to become a Macy's Holiday Parade Balloon Handler were revealed. Those passholders interested need to check-in between Twister and the Universal Music Plaza starting at 3:00pm. It is first come, first served; only open to guests age 18 or older; you must be able to lift 100 lbs; you must weigh at least 125 lbs; and you must be able to stand and walk for long periods of time. Oh, and you have to be wearing closed toe shoes (no sandals).
Speaking of the Macy's Holiday Parade, there will be a preferred viewing area for it at the corner of Fifth Ave and Park Ave in the New York area.
The mailer also gave us a peek at the 2011 annual passholder pin for the holidays (see below). It will be available while supplies last starting December 3rd at the Universal Studios Store. The catch is that you have to spend at least $35 on theme park merchandise, and then show your receipt to get the pin.
Last but not least, Premier and Preferred passholders get access to Early Park Admission for the Wizarding World January 5 through February 5, 2012. They may also book the 8:30am seating for the Three Broomsticks breakfast during these dates.
Let's take a look at the actual mailer. The cover page is at the top of this post, and the rest of the pages are below. You will want to note that some of the large text covers two pages, which is why certain phrases may not make sense. You can click any image to view it full-screen.