Tommy Bahama Tropical Cafe & Store: Find your slice of island luxury
I'm a fan of Tommy Bahama's attitude and fashion, so perhaps it is a foregone conclusion that I would love their restaurant.  Nevertheless, here's my *honest* review. By the way, you can click any image to view it full-screen.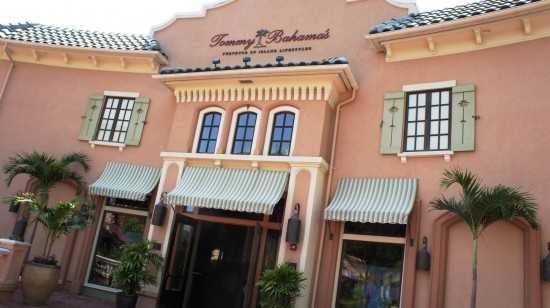 Tommy Bahama Tropical Cafe is located at Pointe Orlando, an upscale shopping and restaurant complex located next to the Orange County Convention Center on International Drive.  To put it bluntly: I love this restaurant!
Most recently my wife and I dropped by for lunch. I started out with the Coconut Cloud Martini. That was as delicious as a pina colada but with the kick of a martini (ideal, I know). For starters we had the Loki-Loki Tuna Poke: fresh Ahi tuna Napoleon layered with freshly made guacamole, soy and sesame oil, served with Tommy's flatbread and tortilla strips. This is one of their more expensive starters but completely worth it. I could have had that as my main course. My wife also ordered a cup of the crab bisque. It was superb.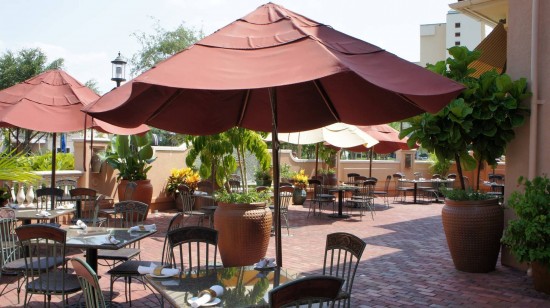 For our entree we split the Paradise Nation Cheeseburger: char-grilled Angus Beef hamburger cooked to order, with Tillamook cheddar cheese hickory smoked bacon and honey roasted onions, served with french fries. It was paradise on a bun. Seriously, from eating at McDonald's and other second rate burger joints, I had forgotten how incredible a cheeseburger could be. Well, Tommy made me a believer again. And we switched out the regular fries for yucca fries–OH YUM.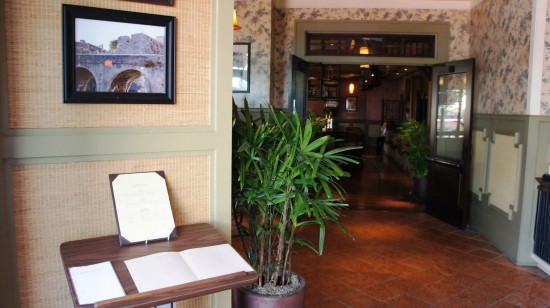 Yeah, that was a heck of a meal.  I bugged my wife the whole way home about how good it is to eat good food.  Our check including the food and my cocktail came out to about $50.  It's not the least expensive place in the world, but if you're looking for that island attitude, fantastic drinks, stop-after-each-bite-and-say-wow food, presented all in a relaxed atmosphere, you have found it!
This location also has a Tommy Bahama store attached, where you can find a wide selection of the designer's clothing, accessories, and home decor. See the complete photo gallery at the bottom of the post for many images of the store.
Official website: http://www.tommybahama.com/TBG/Stores_Restaurants.jsp
Map
Complete photo gallery
[tag-gallery tag=tommy-bahama columns=5 theight=110 twidth=110]
Originally posted January 26, 2011 — updated July 8, 2011