Here's a perfect quick-and-healthy restaurant idea: put out dozens of fresh-from-the-farm salad ingredients and toppings as a buffet, toss together a few handmade options for the guest who doesn't want to build it himself, serve the salads with unlimited soup, pizza, pasta, and ice cream, and do it all for about $10 a person.
Well, guess what? Someone has already thought of that!
I'll keep this short and sweet (no pun intended): Sweet Tomatoes is awesome. If you have never been to one of their locations before, don't let the idea of it being a "buffet" fool you – everything here is fresh, made from scratch, and as good as it gets. The emphasis is certainly on healthy greens and veggies, but there are plenty of other fun foods, too (pizza, mac and cheese, soft-serve ice cream, baked potatoes, warm bread, etc.).
If you have yet to check it out, do yourself a favor and go. My family and I have one just about two miles away from us, near downtown Orlando, and it's one of our favorite go-to places for lunch on the weekend – and you might find it being yours, too, when you need an out-of-the-theme-parks place to eat and recharge.
Sweet Tomatoes's salad bar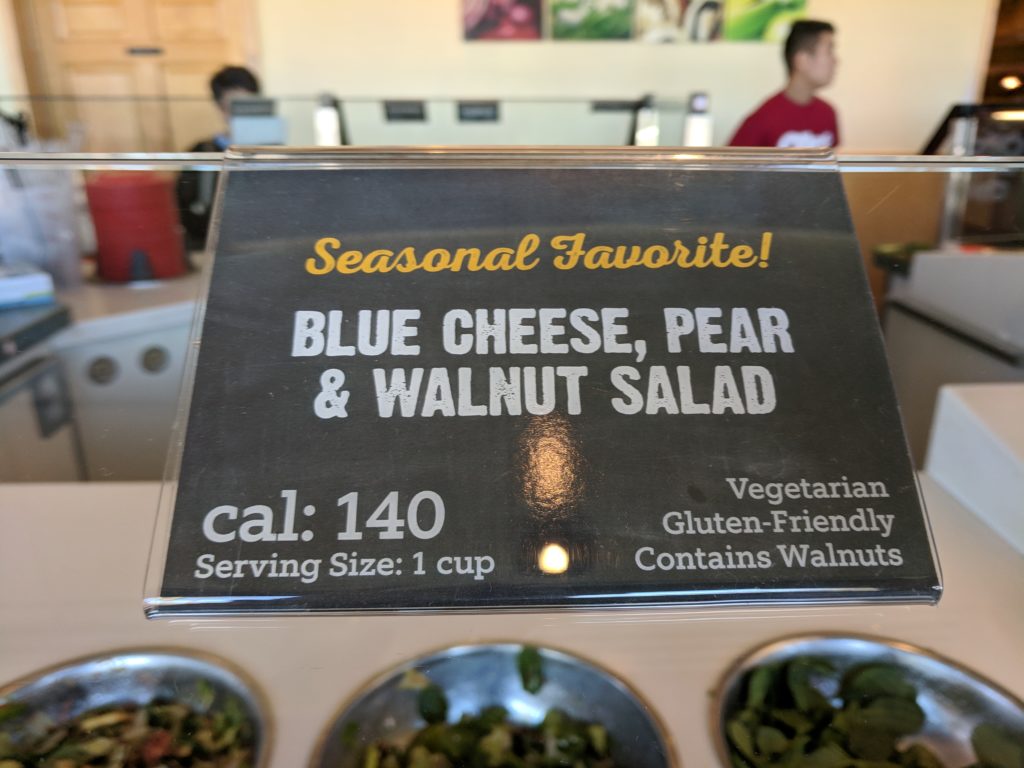 When you first walk in, you're greeted by Sweet Tomatoes's expansive salad bar. You can create your own salad using all the usual basic ingredients, such as greens, spinach, lettuce, tomatoes, carrots, cucumbers, peas, beets, radishes, and croutons, plus an array of dressings. Or you can choose from one of their hand-tossed salads – Caesar, Wonton Happiness (which is vegan), Blue Cheese, and Pear & Walnut – or one of their pre-made pasta salads, if you want something other than just greens.
After you're done crafting your salad, you'll go ahead and pay. Here's one of my favorite parts of the whole experience: the price. Not many restaurants can boast an all-you-can-eat buffet, with made-from-scratch dishes and healthy options, for under $15 per person, but Sweet Tomatoes can. The lunch price, in fact, is $10.20, and dinner (which is served from 4:00 pm to close) is $12.39. Kids that are ages three to six cost $3.99, and those that are seven to 12 eat for $5.99 (two and under are free). You can't beat it!
After you've paid, grab your drinks at the soda fountain (if you didn't get a bottle of water, drink box, or milk from the cooler at the register) and find a table.
Sweet Tomatoes's main course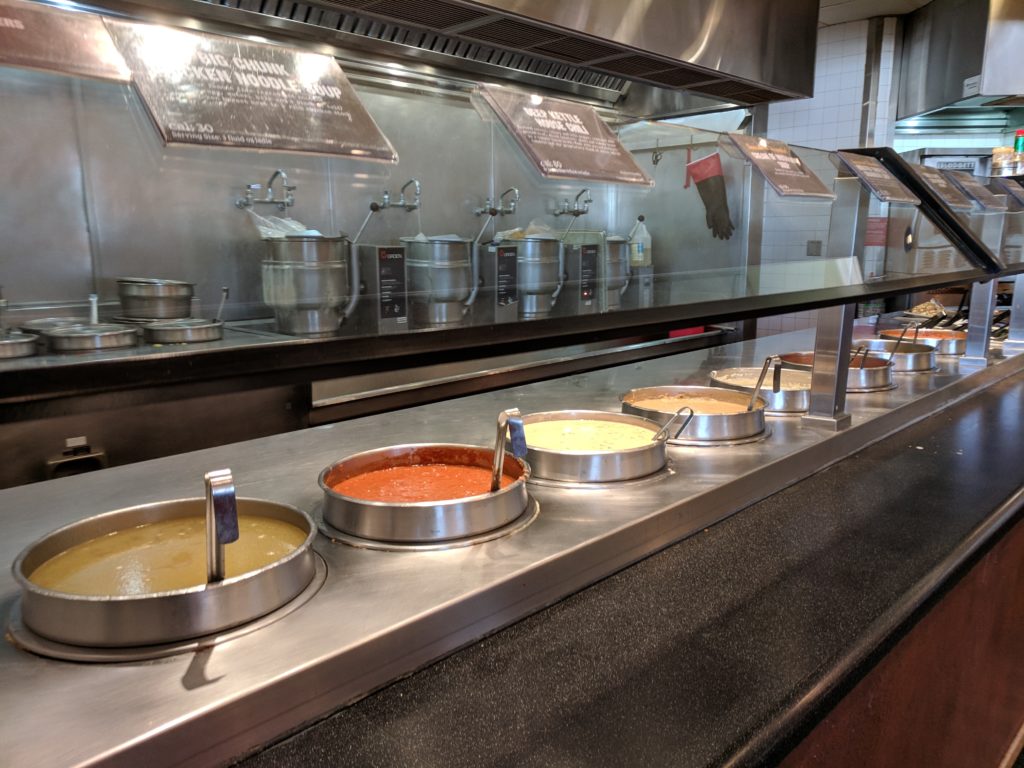 Once you're done with your salad, you'll likely want to check out the various soups and other hot options they have to offer. On each table, there's a card that indicates whether you're getting more food or you're done for the day – just set that out so one of the many friendly staff members knows whether to bus your table completely or just take your used dishes and leave your drinks.
If you like, you can always head back to the salad bar, but my family and I tend to go for the soups next. Just grab a little red bowl from the bowl-and-spoon station and dig in. My personal favorite is the Yankee Clipper Clam Chowder – they do not skimp on the clams or potatoes in this soup. My daughter and husband, meanwhile, enjoy the Deep Kettle Chili, which also happens to be gluten free. (There are also crackers, of course, if you like to crumble a few into your soup.)
Now, if soup isn't your thing, you can get a baked potato (regular or sweet) and all the toppings, like cheese, bacon, sour cream, chives, and butter. There's also a delicious stick-to-your-ribs macaroni and cheese, plus a variety of pastas and sauces (both marinara and alfredo). And, last but not least in the hot-food section, is their yummy selection of breads, including cornbread, multi-grain, sourdough, quattro formaggio focaccia, and – my personal favorite – cheesy garlic focaccia.
On the weekends, it can get pretty busy, and the more popular hot dishes get devoured quickly, but I'm always impressed with how efficiently everything gets replenished by the staff. I've been to a couple of different locations around Central Florida, and the experience has always been fantastic.
Sweet Tomatoes's dessert
Whenever you are ready for dessert (and who isn't?), Sweet Tomatoes has you covered. They feature soft-serve ice cream with everybody's favorite toppings – sprinkles (rainbow and chocolate), chocolate syrup, granola, caramel, and more. Get it in a bowl or in a little cake cone.
Or, for something a little different, try their tapioca pudding or raspberry gelatin. They also offer a selection of fresh fruits, such as orange slices, fresh melon, and grapes.
Bonus tips for Sweet Tomatoes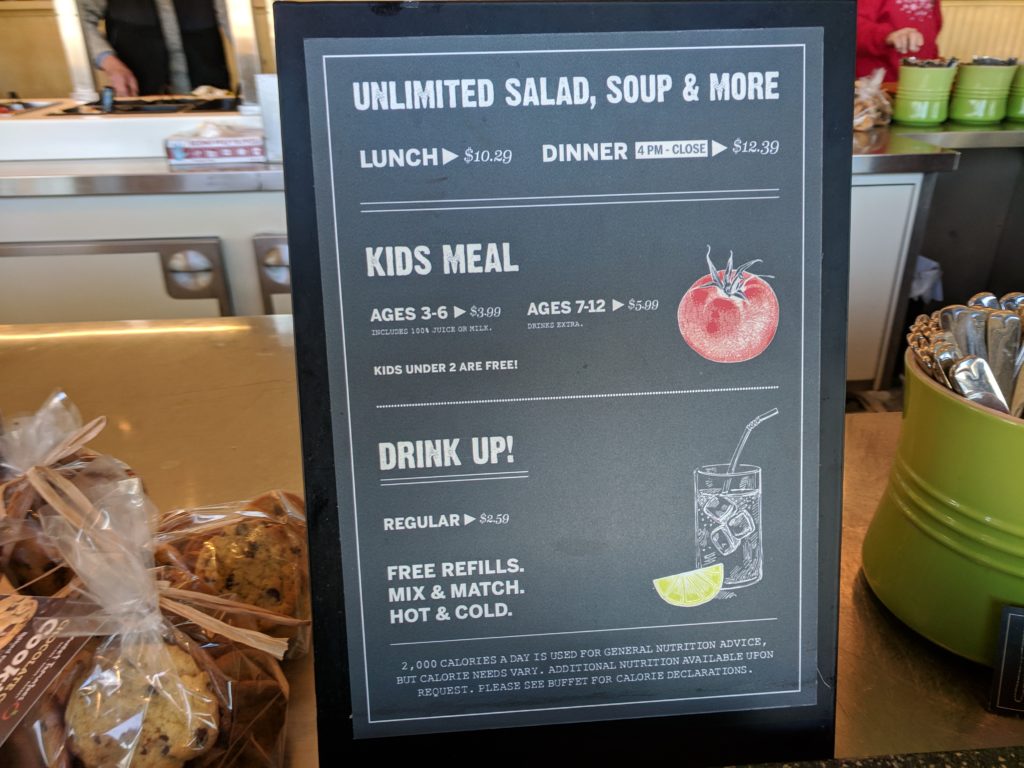 While the company has locations all over the US, five of them are right here in Central Florida, and three of them are super close to the theme parks, if you're looking for something different and more budget friendly. To that end, we've rounded up a few juicy tidbits for you to keep in mind when planning your Sweet Tomatoes visit:
The seasonal menu is constantly changing, so be sure and check the website to see what delicious offerings they have for the month.
If you're a local or live near any of the other locations in the US, sign up for their Club Veg to get deals, discounts, and special offers, including a birthday coupon.
If you have special dietary needs – like gluten free, vegetarian, or vegan – Sweet Tomatoes has an interactive menu that can help you plan your best meal experience.
If you're counting calories, the food labels at the buffet have the calories listed per serving size.
–
What are your favorite Central Florida experiences outside of the theme parks? Let 50,000+ of your fellow vacation-planners know in our OI Community Facebook group.
And be sure to follow Orlando Informer on Facebook, Twitter, and Instagram for the latest news and tips at Universal Orlando, Walt Disney World, and other Orlando experiences.