Sweet Tomatoes is simply the best selection for a quick and healthy meal in Orlando
Here's a perfect quick and healthy restaurant idea: Put out dozens of fresh-from-the-farm salad ingredients and toppings as a buffet;  toss together a few handmade options for the guest who doesn't want to build it himself; serve the salads with unlimited soup, pizza, pasta, and soft-serve ice cream; and do it all for about $10 a person.  Well guess what?  Someone has already thought of that!
I'll keep this short and sweet (no pun intended).  Sweet tomatoes is awesome.  If you have never been to a Sweet Tomatoes, don't let the idea of it being a "buffet" fool you.  Everything here is fresh, made-from-scratch, and as good as it gets.  The emphasis is certainly on healthy greens and veggies, but there are plenty of other fun foods too (pizza, mac and cheese, soft serve ice cream, baked potatoes, warm bread, etc.).  It is just lovely.  If you've never been, do yourself a favor and go.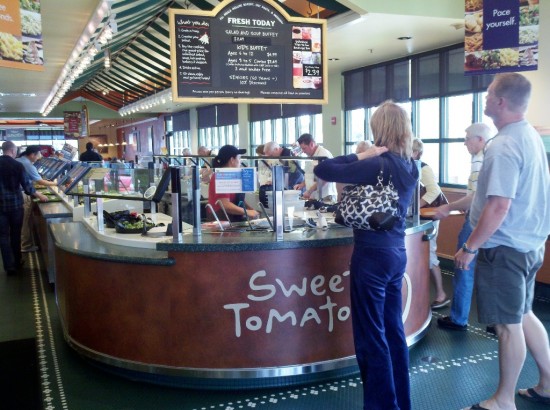 Price is about $10 per person.  Sure it'd be great if it were like $5 or $6, but I don't mind at all paying a few extra dollars for this kind of quality, care, presentation, and freshness.  And many items are all-you-can-eat.
Sweet Tomatoes has five locations in Orlando.  They are very similar, so head to the one that is closest (although the one near Disney is certainly busier). See the links below for more information.
OI tip The Sweet Tomatoes near Universal also serves Sunday brunch too. Wow!
Sweet Tomatoes near Universal – map & links
Click any marker to display the attraction or venue name. To scroll or zoom, use the controls on the top-left of the map. You may also switch to different map views by using the buttons on the top-right of the map.
Official website: http://www.souplantation.com