Seito Sushi Japanese Restaurant: Fine Japanese cuisine in a relaxed atmosphere
Seito Sushi is one of our favorite Orlando restaurants. They offer excellent Japanese cuisine in a relaxed but sophisticated atmosphere. We usually stop by the one in the Town of Celebration, and it is always a delight to visit.
Click on any photo to view it full-screen. Scroll to the bottom of the post to view the complete photo gallery.
We have yet to be disappointed by anything we've ordered at Seito Sushi. On this particular occasion we started with a serving of the Spicy Edamame. For our entrees we choose a Bento Box with a California Roll and Salmon Teriyaki, and the Vegetable Tempura.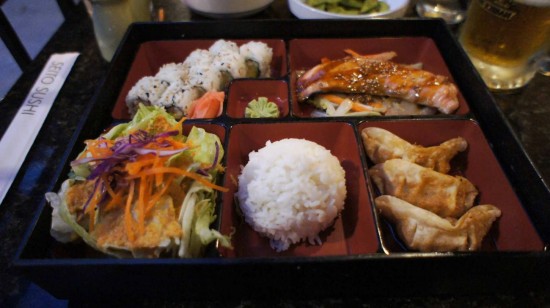 The total for the meal including one beer was $33.17–not a bad price at all for an evening out, complete with good service and outstanding food. I definitely recommend checking out Seito on your next visit to Orlando.
There are currently four Seito Sushi locations around Orlando. Here's the information for the one we visiting in Celebration:
Official website: http://www.seitosushi.com
Map
Seito Sushi Japanese Restaurant – complete photo gallery
Click any image to view it full-screen. When the full-screen image is open, click to the right to advance through the gallery. If several thumbnails are
missing, try reloading this page in your browser.