Last weekend we had our first opportunity to visit SeaWorld and explore this year's Christmas Celebration. As always, SeaWorld continues to impress us with their seasonal special events.
For me, one of the most noteworthy aspects of SeaWorld during the holidays is that the season really takes over the park. Whereas as Disney and Universal have concentrated areas of holiday decorations, SeaWorld really lights up almost all of the park. From the merriment of the WaterFront area, to the Sea of Trees spread out across the lagoon, to the splendor of red trees in the SEAGarden, you are able to fine the sights of the holidays practically everywhere you turn.
Once you are done with all of that, there is still the entire Christmas Market area near Atlantis Bayside Stadium to enjoy:
I'm not sure if this is ultimately good or bad, but another aspect of SeaWorld's Christmas Celebration is that it really doesn't get too crowded. The holiday areas in some of the other parks can get jammed with people. At SeaWorld, you almost always feel like you have enough space to enjoy the atmosphere at your own pace. It is a very relaxed, very family friendly vibe.
Here is an HD video I put together highlighting some of the fun things we got to see:
[youtube_video]G0jfMF-5Aqg[/youtube_video]
Besides making the park look spectacular, SeaWorld also has several holiday-themed shows in the evening. These include A Seasame Street Christmas, Shamu Christmas Miracles, Winter Wonderland on Ice, Holiday Reflections fireworks, and their new O Wonderous Night – The Greatest Story Ever Told show. Unfortunately our timing didn't work to our advantage this year. We now have the pleasure of bringing our 2 and a half month old daughter to the parks (meet Noa). While it is thrilling to be able to introduce her to all these new experiences (and get some great photo ops!), having her with us does sometimes oblige us to adjust our schedules. In this particular case, we missed out on the SeaWorld shows other than the Sea of Trees, which you can see in the HD video above.
If you'd like to see full video and many photos from SeaWorld's Christmas shows, check out this post on InsideTheMagic.net.
A tip from us: Although this is almost a mute point by now, I still wanted to make sure you knew that SeaWorld's Christmas festivities do not run nightly like most of Disney and Universal's holiday activities. Instead, here's the schedule:
Fridays through Sundays, November 25 to December 11 from 5:00 p.m. – 11:00 p.m.
Every night, December 16 to 31 from 5:00 p.m. – 11:00 p.m.
Like I said, this is a bit of a mute point since the celebration will begin occurring nightly starting this Thursday. Nevertheless, I wanted to share it to prevent you from running into the issue that one of our Twitter followers encountered.
Last but not least, here's a copy of SeaWorld's 2011 Christmas show schedule from the night we visited (you can click the image to view it full-screen):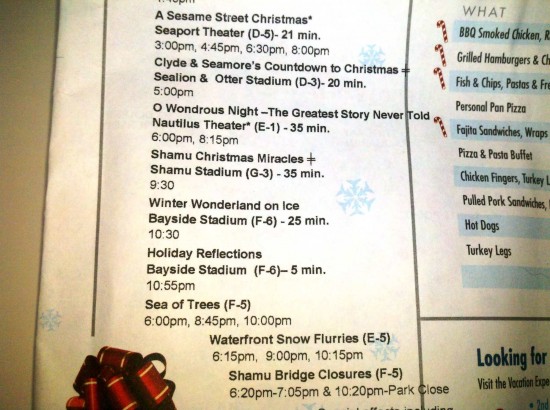 That's it for now. Before you go, don't miss our complete photo gallery below with 60 full-screen images!
SeaWorld Orlando's official Christmas Celebration website
View SeaWorld's park hours and show schedules online
SeaWorld's 2011 Christmas Celebration – photo gallery
Click any image to view it full-screen. When the full-screen image is open, click to the right to advance through the gallery. If several thumbnails are missing, try reloading this page in your browser.