Looking for some indoor fun on a rainy day (or just any day, really) in Orlando? You can't go wrong with Putting Edge's glow-in-the-dark mini-golf. Located inside the former Artegon Marketplace, just down the street from Universal Orlando Resort and at the north end of International Drive, Putting Edge is a great place to bring the kids if it's too hot, too cold, too rainy – you fill in the blank – outside in Orlando.
Not only can you enjoy the 18-hole putt putt course, but it also boasts a small-but-decent arcade, with games like air hockey, a claw machine, and Jurassic Park. You can also purchase snacks (candy bars, Spree, Nerds), in addition to non-alcoholic beverages and Slush Puppies, in the main lobby area.
Putting Edge – cost and basic info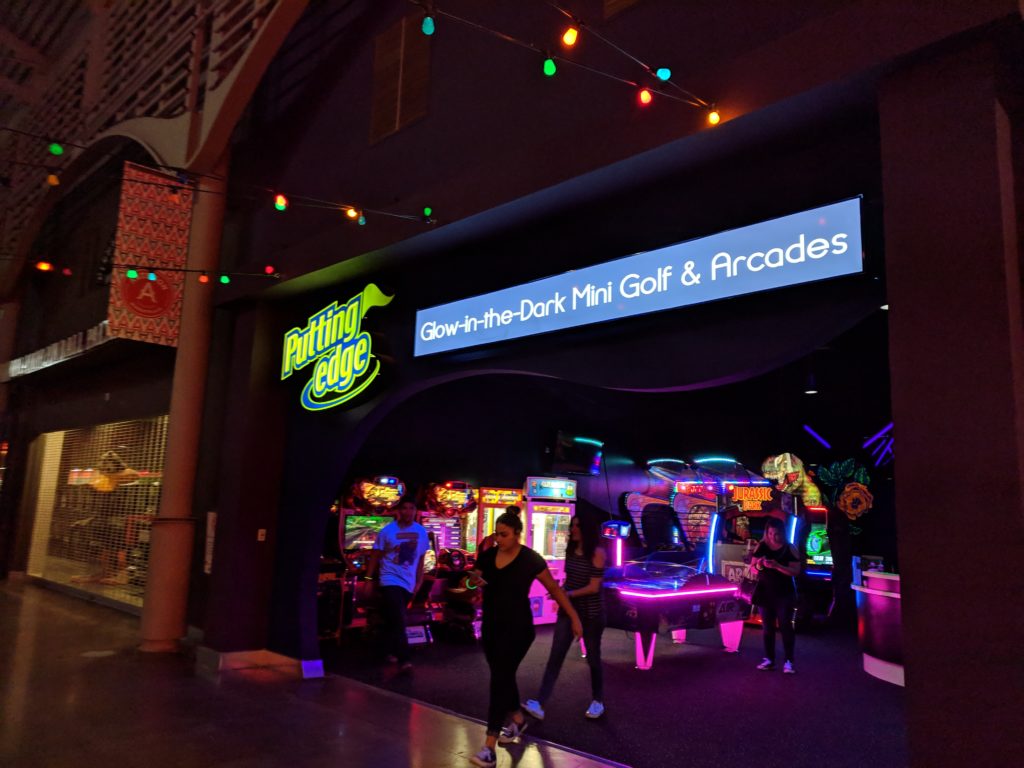 It was a Saturday night when we went to Putting Edge, and it was fairly empty, considering the rainy weather outside. We walked right in, paid, got our putters, balls, and glow-in-the-dark bracelets, and got started – easy as that.
Basic prices are as follows: $12.50 for guests nine and up and $10.50 for kids eight and younger. Children that are three and under can play for free when accompanied by a paid general-admission player. Also, if you bring your ticket stub from the Cinemark theater next door, you can save $2 on your admission price.
We should also note that you can make a reservation if you don't want to wait in line by going to Putting Edge's website; this way, you can just stroll in and start a game all the way to an hour before closing (don't worry – we'll list the hours for you in just a bit).
Putting Edge – the course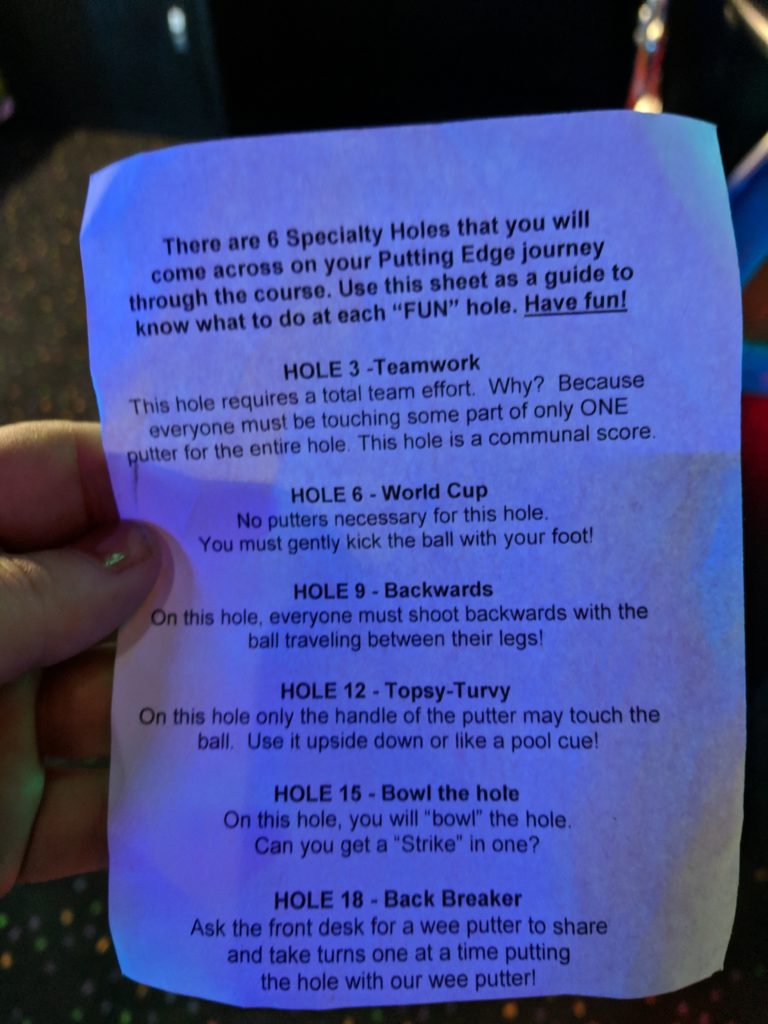 The course itself doesn't have the depth of challenges you find at many of Orlando's outdoor mini golf courses (mostly due to size constraints, I suppose); however, it makes it up by featuring a fanciful set aglow with many colors and intricate designs that are meant to evoke an undersea adventure. Putting Edge also offers additional instructions for their 6 Specialty Holes that feature fun challenges, such as using the opposite end of the golf club to hit the ball, just kicking the ball with your foot (harder than it sounds), and using a mini putter on the last hole. They'll hand you a piece of paper along with your scorecard that outlines the different objectives.
Be sure and take a look around while you're playing – the art and glow-in-the-dark features of the course are a sight to behold for people of all ages.
Putting Edge – pro tips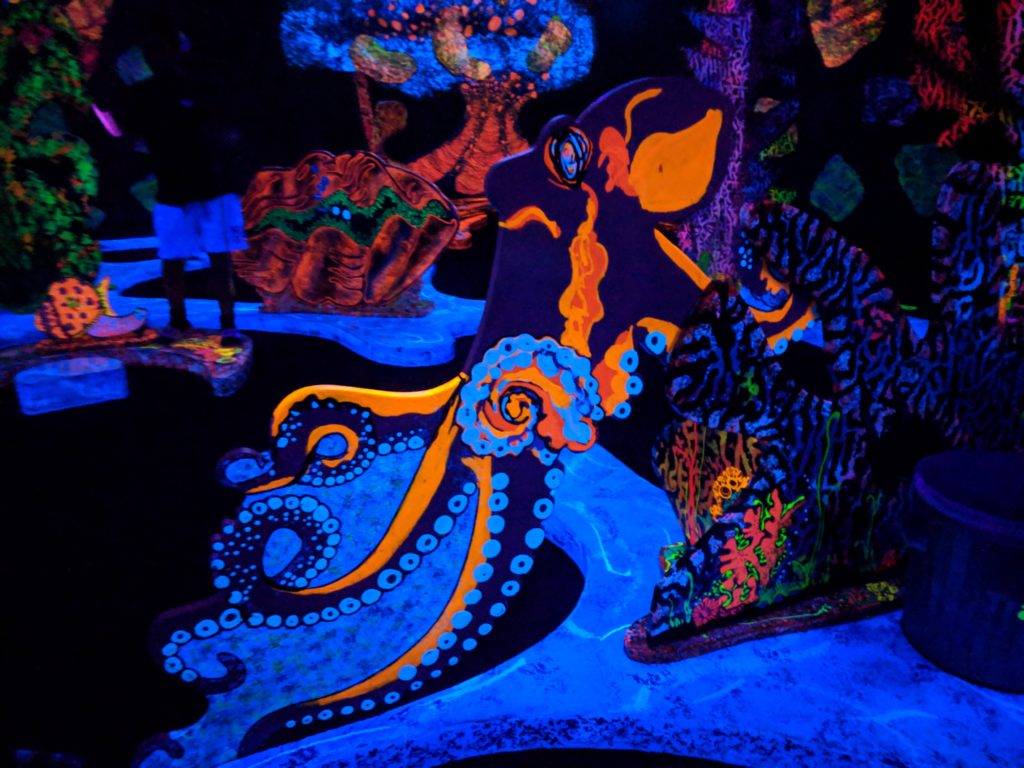 Overall, this place is a lot of fun. I've been to Putting Edge several times with various age groups, and everybody has a blast.
If you're wondering what else the immediate area has to offer, there is that nearby Cinemark Orlando & XD movie theater, along with several restaurants, as well, which all make for a good prelude or follow-up to your game of underwater putt putt.
Obviously, weekends will be more crowded, but that will also depend on the time of year, so give them a call if you want to check on any wait times. If you're trying to work out a schedule for the rest of your day, plan for about 45 minutes to play one round of mini golf, depending on how many are in your party.
Putting Edge does host private events, so be sure and check out their site for more info on how to book.
The venue opens at 10:00 am on weekdays during the summer and school holidays. Otherwise, their hours are from 2:00 pm to 10:00 pm, Monday through Thursday; 11:00 am to 12:00 am, Friday and Saturday; and 11:00 am to 10:00 pm on Sundays.
You can find Putting Edge's website here and Facebook page here.
–
Share your thoughts on and experiences with all of Orlando's local attractions with (literally) tens of thousands of other Universal fans and vacation-planners in our OI Community Facebook group.
And then be sure to follow Orlando Informer on Facebook, Twitter, and Instagram for the latest news and tips at Universal Orlando, Walt Disney World, and other Orlando destinations.