Pine Twenty 2: Downtown Orlando's Perfect Burger
Downtown Orlando has transformed over the past couple years. Previously, other than during the 9-to-5 workday or the late evening bar scene, there wasn't too much to occupy your time…or appetite.
Now, there are many restaurants to choose from on or near Orange Avenue. Those looking for a casual atmosphere after a movie at Cobb Plaza Cinema Café or before an evening out on the town should consider Pine Twenty 2.
This chic burger joint opened in downtown Orlando in late 2010. Named after its location at 22 E. Pine Street, this isn't your bare bones fast food chain like my beloved Five Guys. When you walk through the door here, you pick up a checklist featuring a full page of components to build your ultimate burger. Get this: There are more than 322,000 possible combinations! Are you ready for this?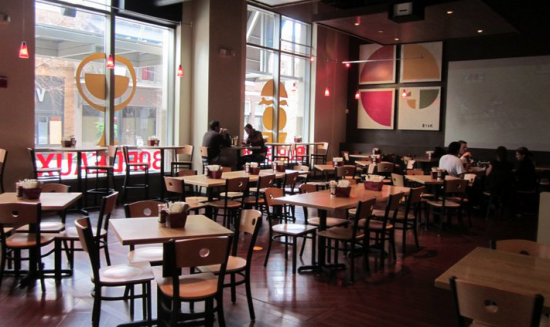 Take a peek at the options…
Beef, turkey, black bean, chicken or pulled pork (5oz. or 8oz.)
Bun (5 options, including an English muffin)…or bun-less
One of 10 cheeses, including Gruyere and soft-ripened Brie (Seriously? Its like they knew the way straight to my heart.)
One of 22 sauces, like basil pesto, mango chutney, ginger soy glaze or spicy sour cream.
Up to 4 toppings from a massive list of 19, with items ranging from dried cranberries to coleslaw to scallions
Still looking for a little more? Add on one of 9 premium items, like housemade guacamole or white chili
My perfect burger? 5 oz. of Angus beef accompanied by a delectable herb goat cheese spread, Dijon balsamic dressing, roasted red peppers, charred onions and organic mixed greens, served on an herb focaccia bun. Plus a side of sweet potato fries. The verdict? Absolutely delicious! Seriously, it's one phenomenal burger.
Here's the best news: Pine Twenty2 prides itself on "conscious choice eating," offering "humanely handled, hand-formed, zero hormones, zero antibiotics, sourced products from local farms where and when possible."
THE ESSENTIALS
Specials
Happy Hour
Monday – Friday 4:00 – 7:00pm
$2 Domestics
$3 Imports (Chimay Blue, Southern Tier, Framboise not available)
$3 BBQ Chicken Sliders
$3 Pine Burgers
Mondays only – 2:00pm – close
$3 Hamburgers
$3 Draft Beers
Hours
Sunday – Thursday, 11am to 10pm
Friday – Saturday, 11am to 11pm
Connect
(407) 574-2160
www.pine22.com
Facebook
Parking
If you don't feel like vying for street parking, then take advantage of the Plaza Garage. Pine Twenty 2 does provide 2 hours of validation. Note that the garage is a flat rate of $10 on weekends after 6pm – and the validation doesn't work.
Location & Map
[sws_author_bio user="Amanda" size="105″ class="gray" authorposts="More OI posts by Amanda" name_format="About the author"] [/sws_author_bio]