Last weekend, besides getting a chance to enjoy SeaWorld's Christmas Celebration, we also had the opportunity to stroll around Magic Kingdom at  Walt Disney World. Let's talk a little bit about the construction of the new Fantasyland first.
It really looks like the whole area is coming along quite well. There are large structures covering nearly all of the open space. I suppose they'll need to be moving at a brisk pace now, as we've been told that the first new sections will open up in late 2012. Check out these two panorama photos I shot (click the images to view them full-screen), followed by an HD video:


[youtube_video]_tSzfqYitME[/youtube_video]
While our video may be useful, I have to admit that this one posted by the Disney Parks Blog is a little more impressive:
[youtube_video]Eio5CZpI2YU[/youtube_video]
You can see more full-screen photos of the Fantasyland construction in our complete photo gallery below.
While walking around the park we also spotted a two more notable items. There is a large amount of work being done on the exterior of the Prince Charming Regal Carrousel. Also, the newly refurbished entryway to the Swiss Family Treehouse has been completed.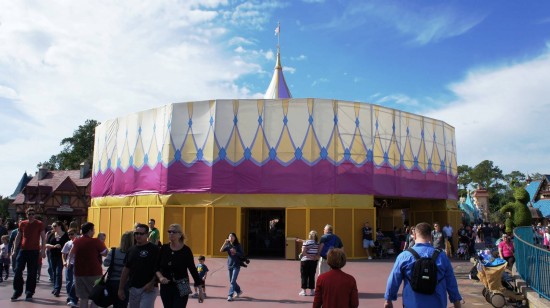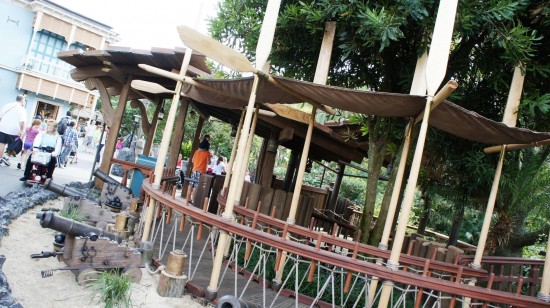 After observing the works in progress or recently finished, we moved on to enjoying the holiday decorations in and around Main Street USA.
Scroll down to view our complete photo gallery with more than 30 full-screen images.
It's always a fine time at Magic Kingdom. Now if I can just find time to get there for the evening holiday fireworks!
Magic Kingdom trip report – photo gallery
Click any image to view it full-screen. When the full-screen image is open, click to the right to advance through the gallery. If several thumbnails are missing, try reloading this page in your browser.