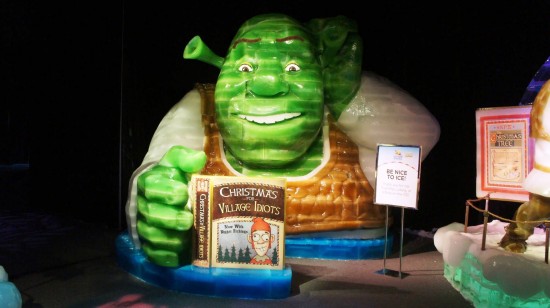 Visiting ICE! at Gaylord Palms is one of the many family traditions we have here in Orlando. That's why, when we jumped in the car to visit a few days ago, I was quite excited for the spectacle!
If you are not familiar with ICE!, here is a summary from GaylordHotels.com:
ICE! is Florida's favorite frigid Christmas tradition, with over 20,000 square-feet of frosty 9-degree bliss played out in a winter wonderland of exciting hand-carved sculptures. And this year it's really all that it's cracked up to be, featuring five 30-foot ice slides and an all-new, awe inspiring tribute to the unforgettable DreamWorks' Animation TV classic Shrek the Halls.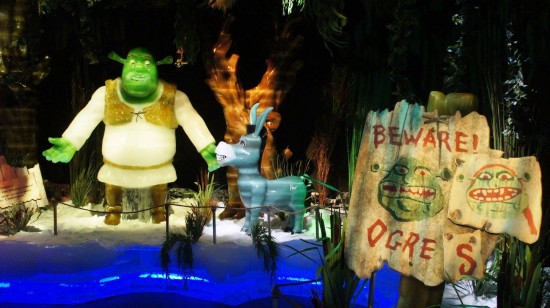 When they say it's nine degrees, they mean it is nine degrees! Don't worry, the resort provides big hooded parkas for everyone to wear. However, they don't provide gloves or socks, and the parkas do not have pockets, so plan accordingly.
Here is the HD video I grabbed as we walked through the attraction:
[youtube_video]ScuO5PO7hRs[/youtube_video]
While one cannot help but be impressed with the larger than life ice sculptures that populate this seasonal exhibit, I have to say that this year I left feeling a little disappointed. The biggest issue for me is the new theme: Shrek the Halls. In years past, as you moved from one room to another through ICE!, you were presented with an entirely new wintery scene. So the entire experience from start to finish was quite fascinating. However, with Shrek now dominating the landscape, each room you walk into looks a lot like the room you just left. Granted, the decorations and effects may change from room to room, but there's still a big, green ogre, and a donkey, and the other Shrek characters. As impressive as a 10 foot high ice sculpture of Shrek is, it gets a little stale by the time you are viewing the sixth, seventh, and eighth one.
The other issue I have with ICE! is the price. I'm not sure if the cost of tickets has gone up since last year, but wow, this is a pretty expensive venture. It cost our family of five (four adults and our 2-month old) around $120 to see ICE!, including the crowd-favorite $14 for parking. That is quite a bit of change for a 20 minute walk-through attraction. Could you spend more than 20 minutes inside? Sure, but since every room is just more of Shrek, there isn't much of a reason to.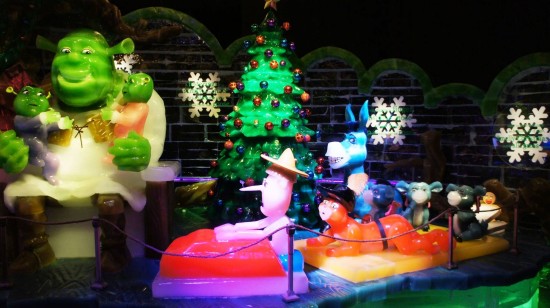 I do still recommend going to ICE!, especially if you have never seen it before. However, to make it worth your visit, there are two things you need to do. First, you have to buy your tickets in advance and try your best to figure out how to get a discount. There are some promos on the ICE! page at GaylordHotels.com. Gaylord Palms also occasionally announces temporary promos via their Twitter account.
The second thing you need to do when going to ICE! is be sure to visit in the evening when you can enjoy all the complimentary entertainment in their main atrium. If you visit ICE! and stay for the Luminescence Christmas show, and have time to stroll around the resort, then all of a sudden $100 for your group's admission and $14 for parking doesn't feel quite as bad. Keep in mind that the free entertainment does not run every evening, so be sure to call 407-586-4423 to confirm the show schedule.
Check out our complete gallery below for our photo tour. Until next year!
ICE! at Gaylord Palms 2011 – photo gallery
Click any image to view it full-screen. When the full-screen image is open, click to the right to advance through the gallery. If several thumbnails are missing, try reloading this page in your browser.