Wizarding World of Harry Potter celebrates its one-year anniversary – photo gallery, HD video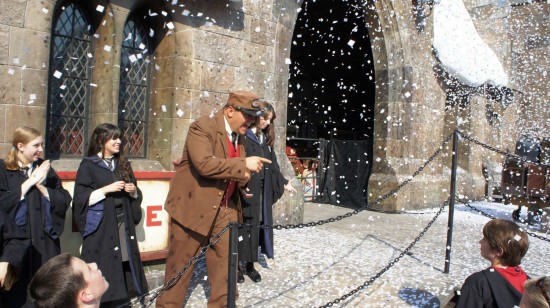 The Wizarding World of Harry Potter at Universal's Islands of Adventure celebrated its one-year anniversary last Saturday, June 18, 2011. And I had a front row seat for the occasion.
The event was unannounced, and in fact the only reason we knew something was planned was the camera set-up at the entrance. By the way, you can click on any image to view it full-screen. You can also view and share several of these photos on the OI Facebook page. Scroll to the bottom of the post to view the complete photo gallery with 66 pictures.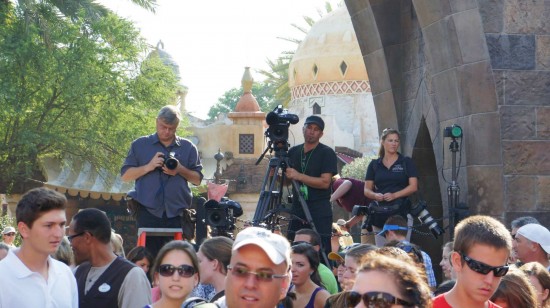 The event itself was very straightforward. At about 9:20am a procession of Hogwarts students came out and opened up a pathway just in front of the Hogwarts Express. They were followed by the other Wizarding World characters.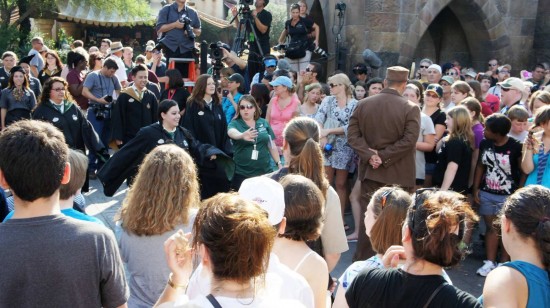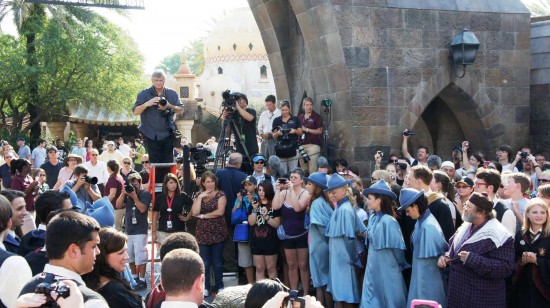 This gave us the very strong feeling that someone or something was going to be making a grand entrance. However, this turned out not to be the case. Instead, at about 9:30am the conductor presented himself on the ledge by the Hogwarts Express and began the official announcement. You can now watch it all on my YouTube video:
[youtube_video]6s-8x-Zn1GQ[/youtube_video]
Indeed, the whole "making a pathway" process is still a mystery to me.  All that ended up happening is that regular guests kept walking in during the announcement, and these guests didn't know what was happening. You can see this in my video. A bit strange, don't you agree?
After the announcement Universal handed out some free food and drink, which you saw at the end of the video! Then a camera crew was sent around to take video of guests enjoying themselves at the Wizarding World.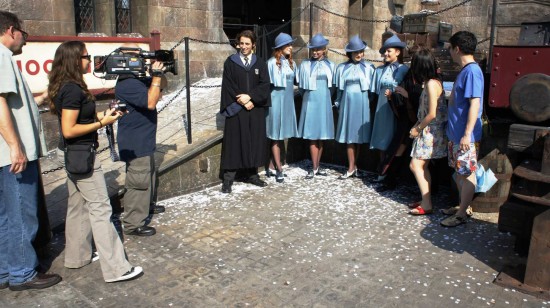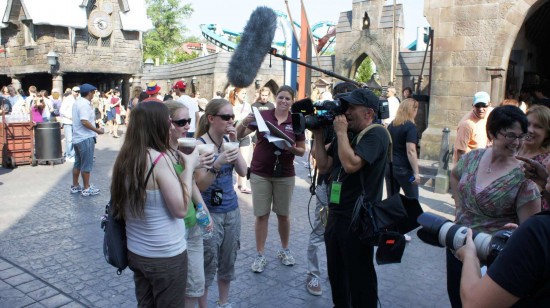 Overall it was a very simple show, with the celebration really only lasting a few minutes. It was fun nevertheless, and of course I got a Chocolate Cauldron out of it!
Here is Universal's official video of the event (but I think mine is better!):
[youtube_video]jGqLI3wRxUI[/youtube_video]
That's about all there is to write. You can check out my full photo gallery with 66 pics below.
And if you are planning a trip to Universal, be sure to check out the OI Wizarding World of Harry Potter Touring Plan.
Wizarding World of Harry Potter one-year anniversary – photo gallery
Click any image to view it full-screen. When the full-screen image is open, click to the right to advance through the gallery.