Five Guys Burgers and Fries: Say "lights out" to your diet and "good morning" to a helluva burger
UPDATE: View an extended photo gallery on the OI Facebook page.
Five Guys Burgers and Fries is everyone's favorite local burger joint. Although, it is funny to call it "local" since Five Guys has more than 600 locations throughout the United States and Canada.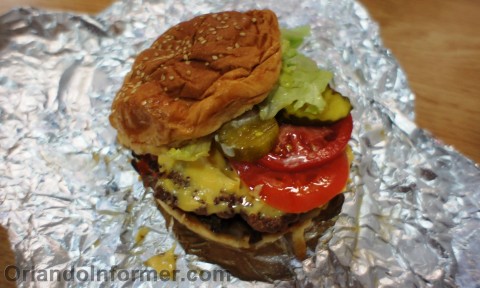 Nevertheless, their simple, grease-soaked meals continue to win critical acclaim and ravenous fans. Just last August Five Guys won Orlando Magazine's number 1 spot for Best Burger in town.
So of course I had to do a write-up on this place. We stopped by the Dr. Phillips location last night with a hungry appetite and a little cash.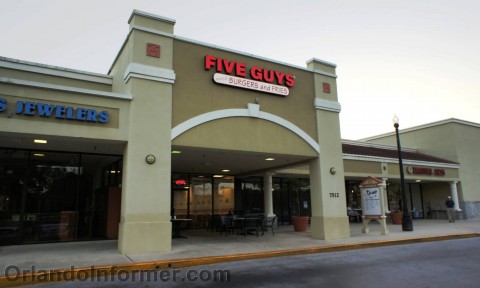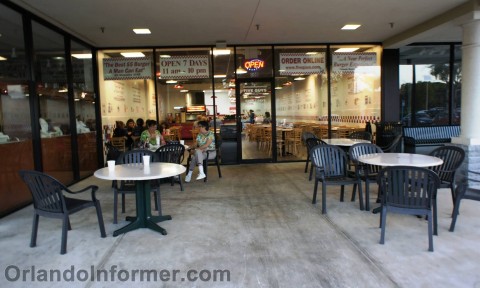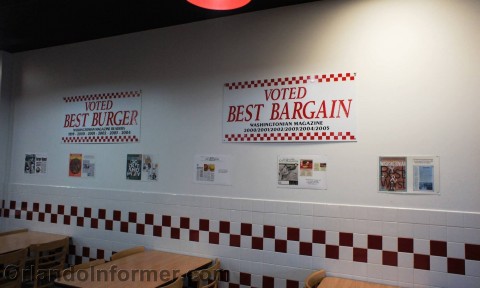 It doesn't take long to realize that Five Guys Burgers and Fries focuses almost exclusively on two things: burgers and fries. The restaurant and the menu are about as plain as white bread.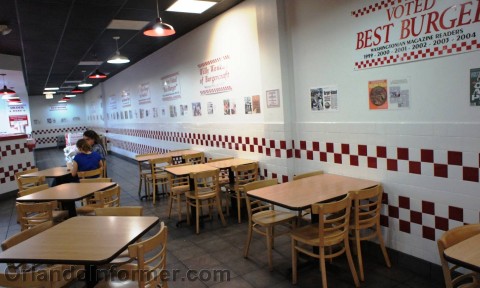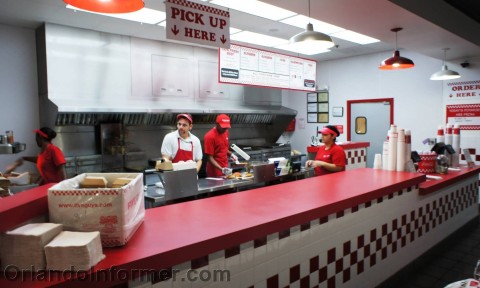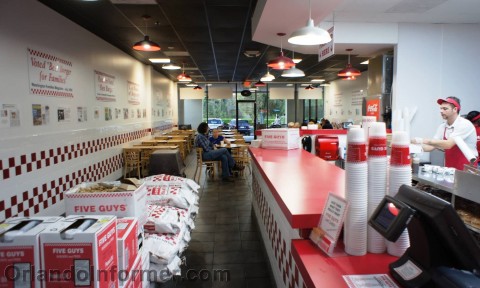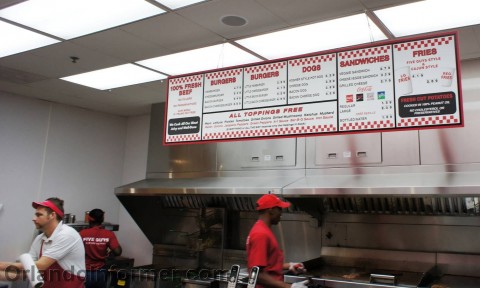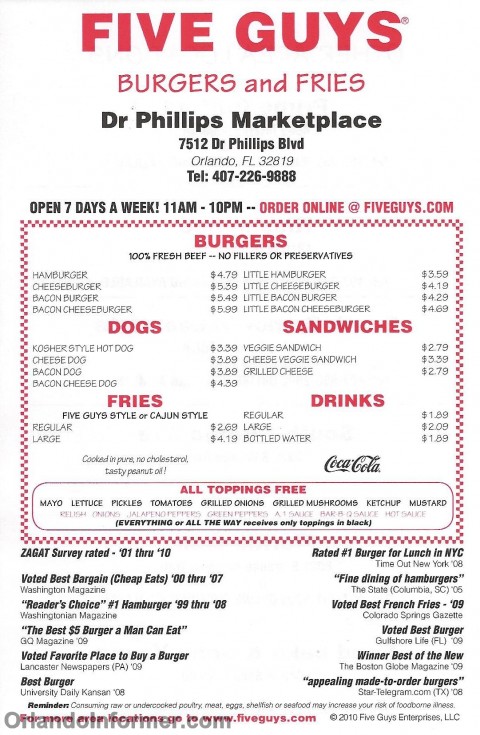 We wanted to be sure we woke up the next morning, so we ordered one "little" Cheeseburger, one "little" Bacon Cheeseburger, and one "regular" order of fries. With a soda fountain drink the total came to about $14. We grabbed our receipt and headed to a table to wait.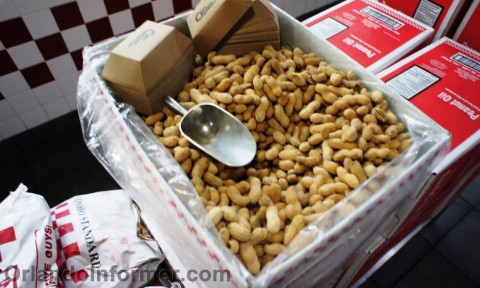 In about five minutes our order was ready. Like Subway, all orders are packed up to go, except Five Guys uses brown paper bags. You can either run out the door with it or sit in the restaurant and enjoy.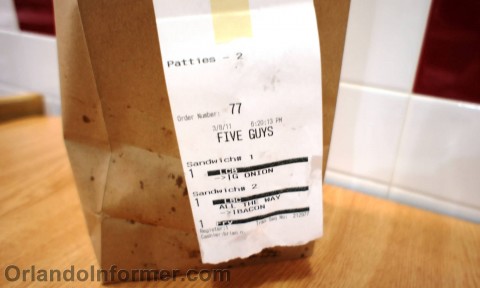 We were ready to indulge. Time to unwrap our burgers and dig in!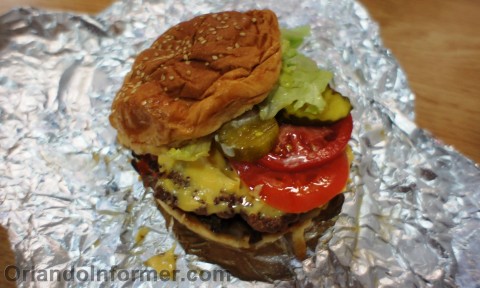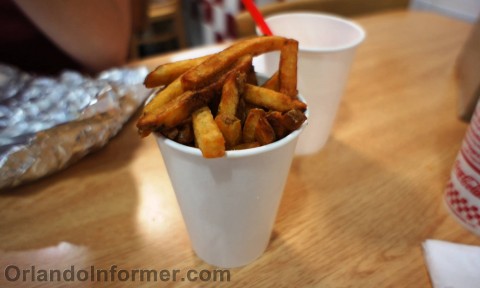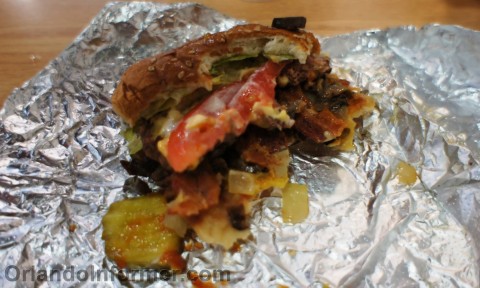 Needless to say, it was a helluva burger. The fries were excellent too. For taste, it's tough to go wrong with this combination.
SPOILER ALERT! Stop reading now if you don't want to see the nutritional facts.
Obviously Five Guys knows what its doing when it comes to making a delicious meal. But this place is to healthy lifestyle advocates like the Hummer was to budget-conscious drivers.  That "little" bacon cheeseburger in the picture? 630 calories and 39 grams of fat. The regular fries? How does 620 calories and 30 grams of fat feel. For comparison, a 6″ Oven Roasted Chicken sub from Subway has 320 calories and only 4.5 grams of fat. And you can add a bag of Baked Lays for another 130 calories and 2 grams of fat. That's over 1,200 calories for the burger and fries at Five Guys verses 450 calories for the sub and chips at Subway!
See the facts for yourself (PDF files): Five Guys and Subway.
Please don't misunderstand me. I'm not saying you shouldn't go to Five Guys. By all means, you should go. You may just want to wait a year or two before you go again–or at least that's what your doctor would say.
Five Guys has several locations around Orlando. Here's the info on the one I visited:
See their other locations on Urbanspoon or visit the Five Guys website: http://fiveguys.com
You can also order online and skip the line for most of their locations.
As a person smarter than me would say: Enjoy in moderation 🙂