Walt Disney World's Hidden, Weird & Secret Spots
Most Walt Disney World guests will have heard about the hidden mickeys around the parks, but they aren't the only fun things Imagineers have slipped between the rides and restaurants. Welcome to my list of ten Disney World's hidden, weird, and secret spots.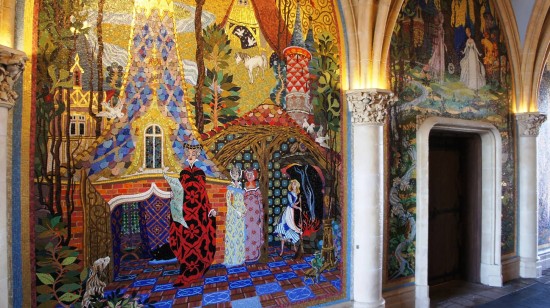 Disney World's Hidden, Weird & Secret – Magic Kingdom

1. If you're traveling with a young Tinkerbell fan, make sure to get to the park as soon as the gates open. Head straight down Main Street and through the castle and into Tinkerbell's Treasures. If there's no music playing in the store, that means Tinkerbell is still asleep! Send your child over to a cast member working there to ask if they can wake Tinkerbell up. They'll get a very special duty and a great memory. See 1.5.
1.5 Thanks to a very perceptive reader, I've learned that Tinkerbell's Treasures is no longer open. To make up for a misleading point one, I offer point 1.5! Have you been on the Great Movie Ride in Disney's Hollywood Studios? Do you remember the plane used in the Casablanca sequence? Imagineers bought an actual plane and sliced it in half. Now hop onto the Jungle Cruise and keep your eyes peeled for the ill-fated back-end of the plane that crashed somewhere in the Magic Kingdom.

2. Even though there's a few points behind this one, Liberty Square is certainly its own interesting spot to check out. Imagineers really did their best to make it feel like a piece of early America. All of the 'houses' have a two digit address on the front. If you were to add '18' before these two numbers you will find the year that the architecture style was popular.
The oak tree that acts as a centerpiece for the square is hung with 13 lanterns representing the 13 original colonies. (I highly recommend checking it out at night. It's really something pretty to see!)
As you cross the bridge from the Hub into Liberty Square, take a moment to stop and check out the rocks on either side. These weren't just taken from any mine. They were mined from a quarry about 6 miles away from where Washington crossed the Delaware.
Stopping by the Haunted Mansion after dark just may earn you a glimpse of some of the happy haunts playing around in an upper-floor window. The light in the window isn't always on, though, so you may have to wait around for a bit.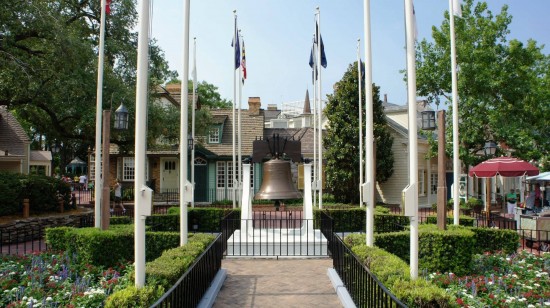 3. I think this one definitely counts in the 'weird' category. While on It's a Small World, look to your right during the Mexico sequence. The happiest cruise on earth pays homage to the noble profession of the chicken choker… not necessarily the animatronic you'd associate with the ride.
Disney World's Hidden, Weird & Secret – EPCOT
4. If you're thirsty, don't run straight for a bottle of water. Head over to the water fountains just outside of MouseGear. In the Disney tradition of creating unexpectedly verbal scenery (think Push, quite possibly the most famous trashcan in the world), these water fountains are programmed to spew out a random piece of comedy each time a guest takes a sip.
5. Although not necessarily a secret, the pathways of Future World are something interesting to notice. After the sun sets, tiny lights in the ground light up. They aren't really noticeable until you're standing on certain parts of the path, so look close.
6. Make sure to grab a seat around the fountain in the German pavilion about five minutes before the hour. The big clock on the tower is a functioning cuckoo clock that springs to life every hour. Although routine and fairly noisy, the clock is something that is surprisingly simple to miss (in all the time I've spent at WDW, I've only seen it active once).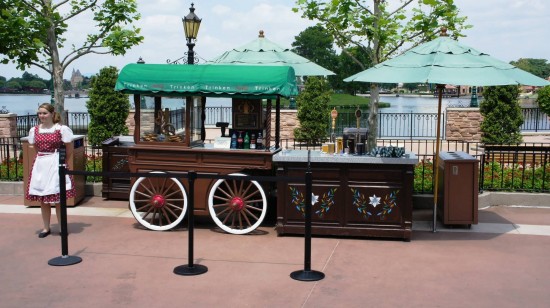 Disney World's Hidden, Weird & Secret – Disney's Hollywood Studios
7. While in line for the Indiana Jones Epic Stunt Spectacular! it can pay to misbehave. If you notice a well, find the rope with a sign reading "Do Not Pull". Pull it. You won't get in trouble, but you may just find another bit of hidden Disney magic. The same goes for the crates marked "Do Not Open".
8. If you know your Twilight Zone, this next one can be a bit unnerving to spot right before you enter your Tower of Terror elevator. If you look to the right of the elevator doors and see an inspection certificate. The name of the inspector is listed as Cadwallader. For any of you who don't recognize the name, that's the character in "The Escape Clause" episode of the Twilight Zone who turns out to be the devil.
Disney World's Hidden, Weird & Secret – Disney's Animal Kingdom
9. If your trip lands you in central Florida in the middle of July, you may be in for a scorcher of a day. Need to cool off without waiting in line for Kali River Rapids? Head over to the Dawa Bar and find the rusty shower heads. No, they aren't just there for effect. They really do pump out refreshing cold water.
10. Be sure to wander around Asia right on the hour. You may just spot DiVine, a walking piece of shrubbery come to life right in the middle of the Animal Kingdom. Warning: you really do have to keep your eyes peeled for her. She is so easy to miss entirely because she blends in so well with the foliage around the pathways.
And here we are at the end of our list. There are so many more hidden secrets throughout the parks that I wish I could include, but I promised to keep it to ten. Keep an eye out for the little sights and sounds added to the parks out of plain sight and maybe you can find some of your own too!
Did I skip over one of your favorite hidden, weird, or secret spots? Leave a comment below and let us know!
[sws_author_bio user="Rhys" size="105″ class="gray" authorposts="More posts by %s" name_format="About the author"] [/sws_author_bio]