Some friends and I went to Nine Dragons at Epcot the other night for dinner. Should you do the same? Here's what I think.
Nine Dragons: First impressions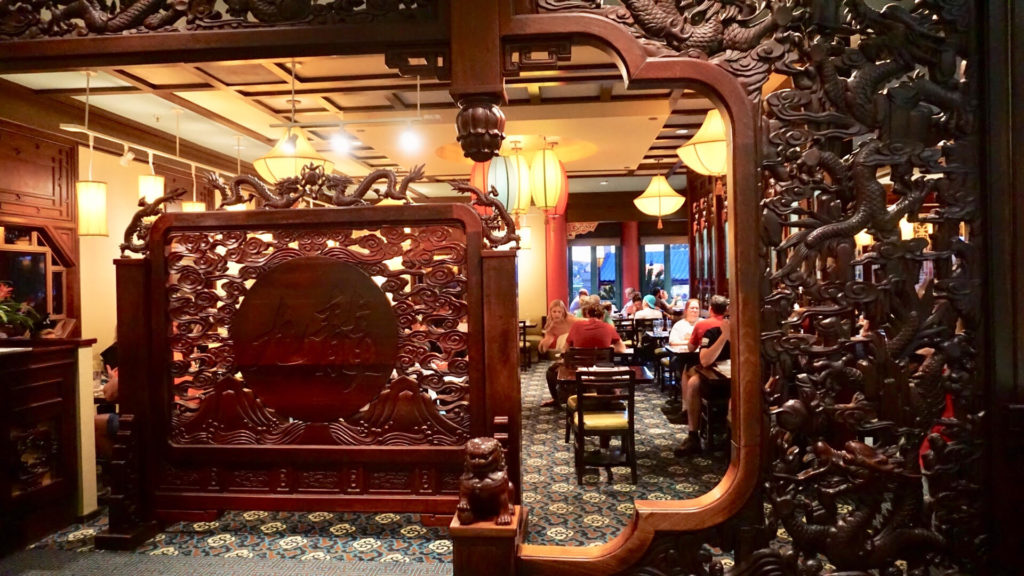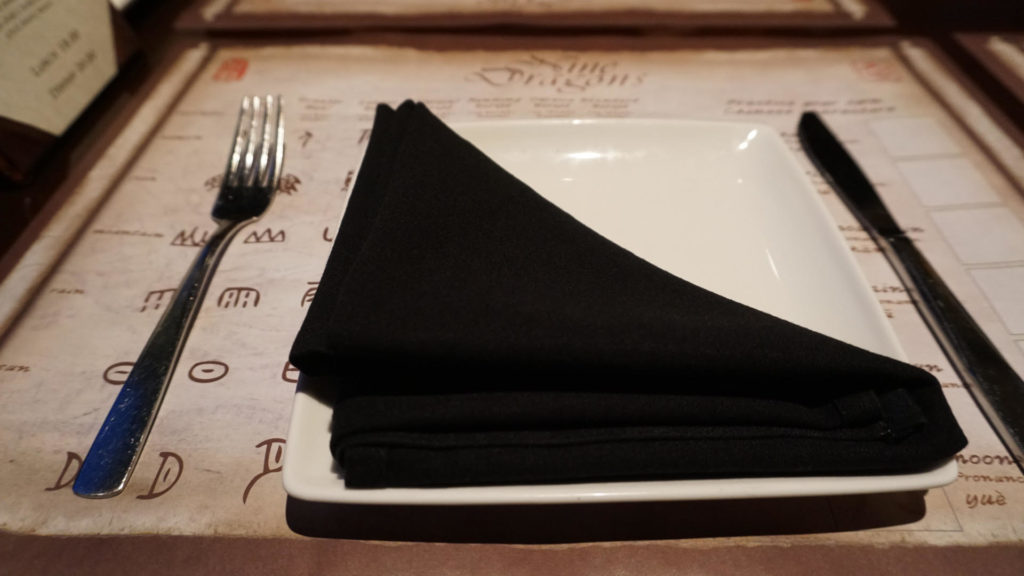 On our way to World Showcase's China Pavillion, I was concerned about locating Nine Dragons, since the Asian area has a lot of little hidden entranceways toward the back. Fortunately, the restaurant can be found on the left of the archway at the pavilion's entrance, making it easy to locate.
While the outside of the venue is pretty standard, the inside is very attractive; the music, lanterns, and the artistic wall designs are wonderful to look at. The cast members at the front desk were very attentive, helping us when some of our party was late, as well as offering a menu while we waited to be seated.
But while the restaurant itself was great to look at, the table settings were very simple in comparison; the placement mat was made of paper, and the general appearance was anything but immersive. On the plus side, however, our waiter was a very witty man and was happy to answer all of our questions. He also was quick to refill our water glasses and make sure we had everything we needed.
Nine Dragons: The meal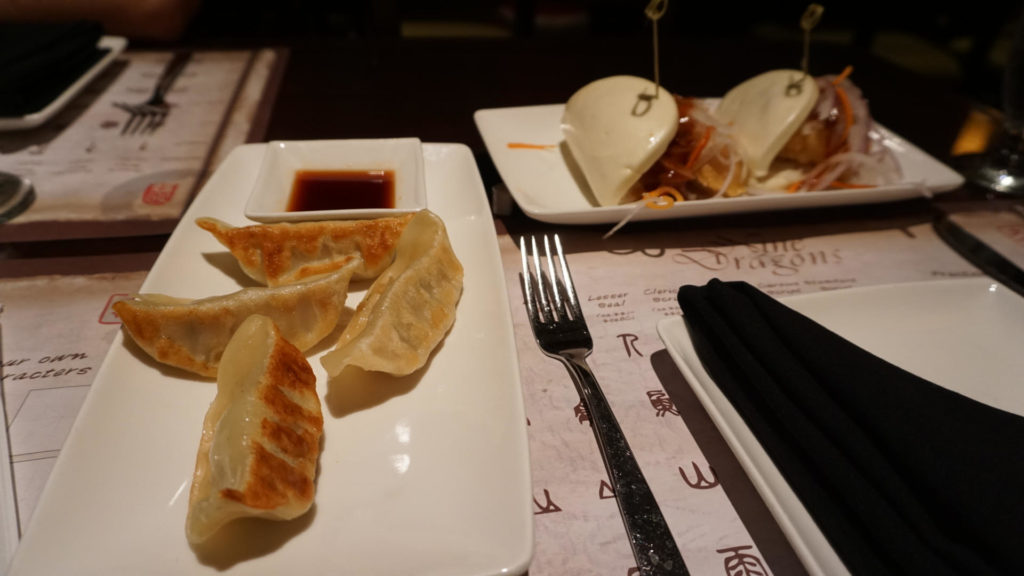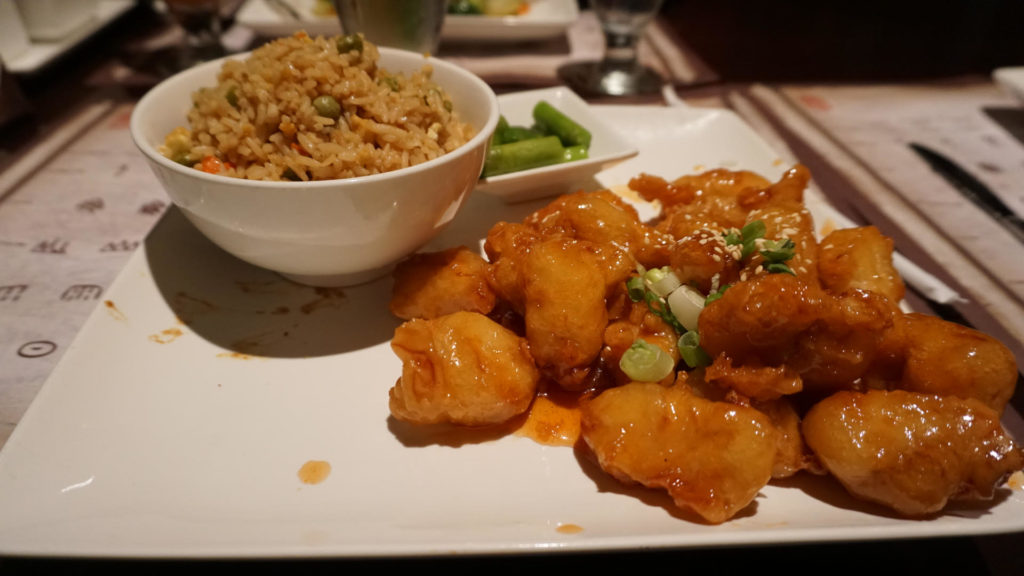 Nine Dragons's food options are typical for a Chinese restaurant. And although most of the dishes are familiar, there is a spin put on some of them – something I could tell by both their descriptions in the menu and by their arrival on my plate in front of me; the fried rice, for example, not only included shrimp and chicken, but also ham.
I ordered two appetizers: the Pot Stickers and General Tso's Chicken Bao Buns. The Pot Stickers were very underwhelming in their appearance, and the only taste I could find came from the accompanying soy sauce. They could've easily been store-bought and frozen.
The bao buns, fortunately, were just the opposite. They surprised me right away by their appearance – bao buns are one of my favorite dishes, and I had never seen them prepared like this, served open instead of closed, so that you can see all of their contents. The buns were delicious, possessing many flavors that harmonized into one delectable appetizer, and they quickly became a favorite at the table.
For an entree, I ordered the Honey-Sesame Chicken, which came with fried-egg-and-vegetable rice. The chicken tasted very good, but the fried rice didn't provide much in the way of taste, which meant that the chicken was left as the sole source of flavor for the entire meal. This trend carried over to the rest of my dining party, but everyone still seemed to enjoy their meals overall – especially my one friend who cannot have glutten, who said she was very pleased with the gluten-free menu and the quality of those dishes.
Nine Dragons: Final thoughts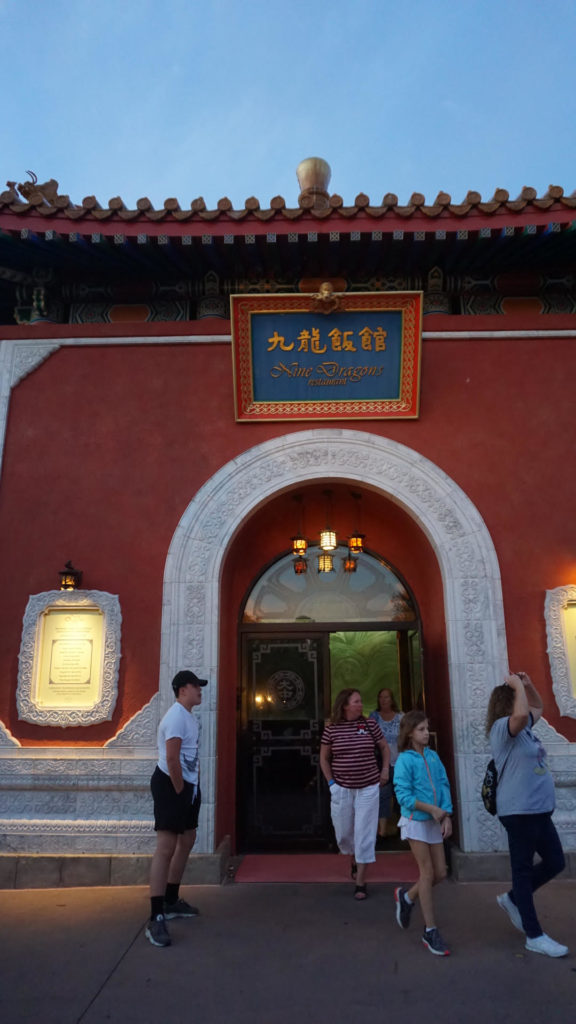 Nine Dragons was great to be in. It has windows that overlook the rest of World Showcase, and taking a break from the crowds in such a peaceful atmosphere was wonderful to experience – the decor and ambiance, in particular, are terrific to be immersed in, especially after a long day.
But then there's the food. Generally speaking, it was delicious, though sorely lacking in its ability to create a unified and tasteful combination. Even worse, most of it, I feel, can be found at any Chinese restaurant – not to mention for much cheaper. My fried rice and chicken entree cost $22 – you can get just as much food for half the price elsewhere. Since most people visiting Walt Disney World Resort want a unique experience and are already paying a lot of money to make that happen, spending so much on a meal you can get almost literally anywhere else would definitely be a disappointment.
I would definitely not suggest having dinner here; there are plenty of other Disney restaurants to choose from that give you the chance to try something new and different while still providing a great atmosphere. However, if you're looking for something light but a bit filling to hold you over, I highly suggest going for the General Tso Bao Buns. I know I will again!
–
Share your own thoughts on Nine Dragons – or any other Disney World location – with thousands of other vacation-planners in our Facebook community.
And also be sure to follow Orlando Informer on Facebook, Twitter, and Instagram for the latest news and tips at Universal Orlando, Walt Disney World, and other Orlando destinations.