Nine Dragons Restaurant at Epcot's China Pavilion: Modern Chinese cuisine that leaves something to be desired
We recently visited Epcot's China Pavilion at Walt Disney World twice in one week. This presented me with an opportunity to eat at both of China's restaurants: the full-service Nine Dragons and the quick-service Lotus Blossom Cafe (read my review of Lotus Blossom here). Let's see what's cooking at Nine Dragons.
You can click any image to view it full-screen. Scroll to the bottom of the post to view the complete photo galleries with more than 20 pictures of the restaurant.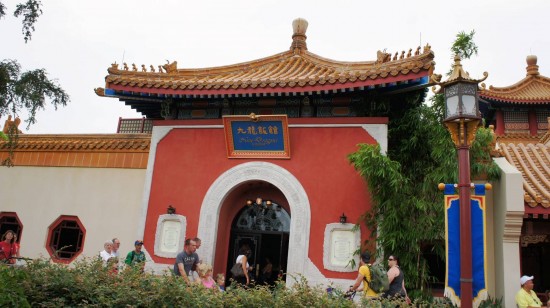 As I mentioned above Nine Dragons is the full-service, or table service, restaurant in the China Pavilion. It defines its cuisine as "modern Chinese" that is "innovatively prepared." Menu items include Honey-Sesame Chicken, Kung Pao Chicken, Fragrant Five-Spiced Fish, and Vegetarian Stir-Fry. Here's a peak at their full menu: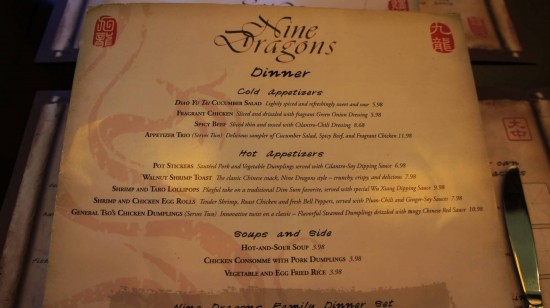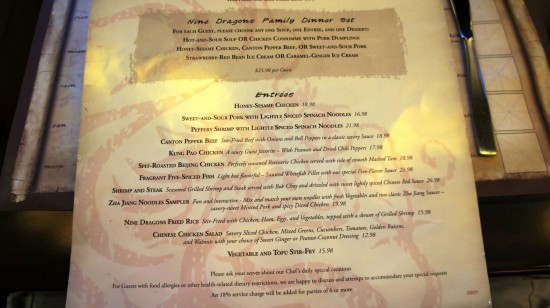 The interior is fairly dark with notable woodwork. Also notable is the "coziness" of the seating area. I personally found myself to be quite cramped.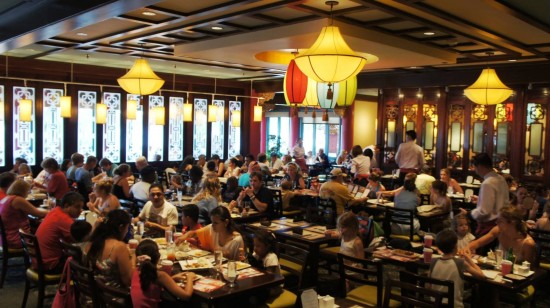 On this visit we ordered the Appetizer Trio (Delicious sampler of Cucumber Salad, Spicy Beef, and Fragrant Chicken), General Tso's Chicken Dumplings, and the Honey-Sesame Chicken. The food was brought out, I would have to say, in less than five minutes. I'll speak to this more in a moment. Here's what it looked like: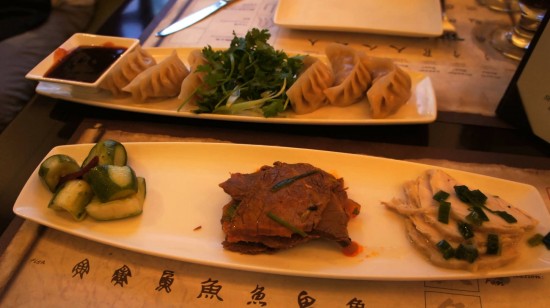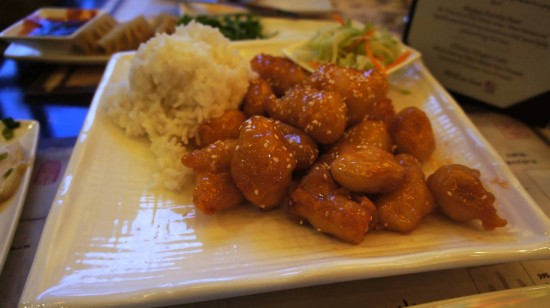 Although I am very prone to enjoy absolutely anything I eat at Epcot, and all of their various venues, I have to be honest and say that I was rather disappointed with Nine Dragons. The food, which they sell as being modern and innovatively prepared, seemed to come straight off the assembly line. It isn't that the food was bad–it just lacked the imagination I've come to expect from Disney full-service dining. Furthermore, I am inclined to feel that not a lot of preparation when into our food since it got to our table within minutes of ordering.
And here's the real kicker:
Our meal, with one soft drink and tip, came to nearly $60. I'm not against spending money when I'm at Epcot–I get how it works. But $60 for two people, for weak restaurant atmosphere and totally forgettable food. I think I'll stick with Lotus Blossom Cafe, the quick-service restaurant that shares the same building with Nine Dragons (and perhaps the same kitchen, you think?).
So those are my thoughts on China's Nine Dragons Restaurant. Check out the map and links below for more information, and don't miss the complete photo gallery with more than 20 full-screen pictures at the bottom of the post.
Nine Dragons Restaurant – map & links
Official website: http://disneyworld.disney.go.com/dining/nine-dragons-restaurant/
Visit the OI review of Lotus Blossom Cafe
Nine Dragons Restaurant – photo gallery
Click any image to view it full-screen. When the full-screen image is open, click to the right to advance through the complete photo gallery. If several thumbnails are missing, try reloading this page in your browser.