Spending the day at any Florida theme park is no easy task, but Magic Kingdom can be the toughest of them all. Between the weather, the crowds, and the long hours needed in the park to make the most of those entrance prices, a day at Walt Disney World Resort's flagship location can be rough and tiring for even the most seasoned of theme-park goers. 
There are a few things you can do, however, to best prepare for a Magic Kingdom day, and the most essential of them all is to make sure to have breakfast. Breakfast is, indeed, the most important meal of the day for many reasons, but for the world of theme parks, eating in the morning will set your day up for success. If looking for something on the lighter-side – best for those who prefer to sleep in on vacation, or for those days where it feels too hot to eat anything – there are a few quick-service options that can be found in and around the park to help jump-start your day. 
Breakfast inside Magic Kingdom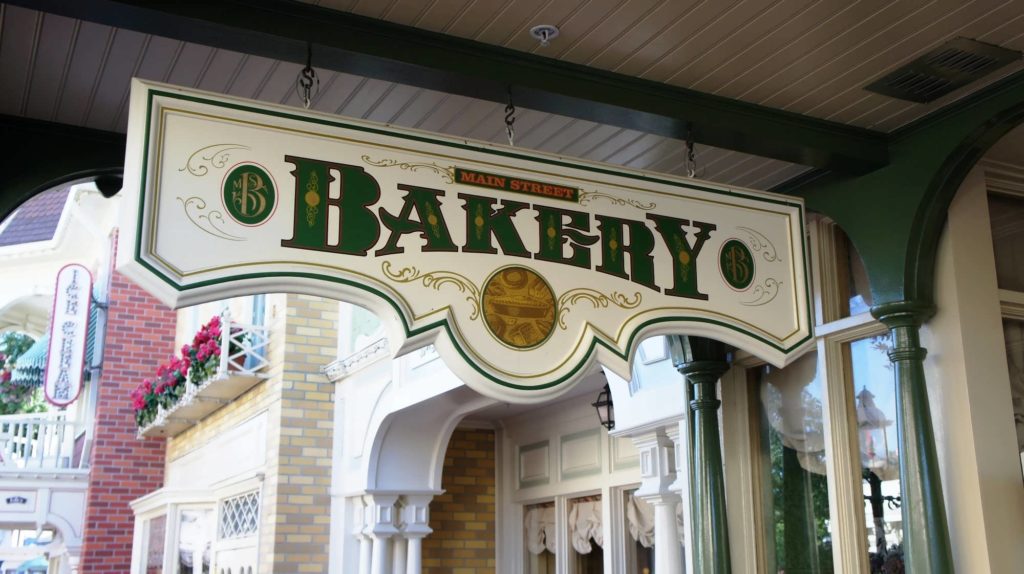 Magic Kingdom itself offers quick-service breakfast options for those who want to make the most out of their park time. Main Street Bakery welcomes guests before the official park opening time, and it serves a collection of pastries and breakfast sandwiches. It also is the official Starbucks location of Magic Kingdom, serving Starbucks-branded coffee and teas. The best part about getting breakfast at the Main Street Bakery is its location: you can grab something to start your day, then bring it to the hub to watch the Let the Magic Begin welcome show on the Cinderella Castle stage – a perfect beginning to any Magic Kingdom morning.
If Starbucks isn't your thing, however, there are a couple of other options available to you for a morning meal. Sleepy Hollow is an exterior walk-up counter found just over the bridge from the hub, on the way to Liberty Square. It opens with the park and has a lot of great options available throughout the day, like a Mickey waffle or a sweet-and-spicy chicken-and-waffle sandwich. It also has a special egg-and-cheese breakfast waffle sandwich, served only until 12:00 pm. There is some covered outdoor seating for you to enjoy your food, but if you want to walk around the park while eating, the sandwiches are designed to be enjoyed on-the-go!
Gaston's Tavern, located in New Fantasyland, also opens with the park and offers a few options for breakfast. One of the most popular items is the giant cinnamon roll (perfect for sharing!), served warm. They also have some healthier items, like hummus and chips and a cheese and fruit platter. Additionally, they serve coffee, tea, and fruit juice. Don't forget to try LeFou's Brew, frozen apple juice topped with passion fruit-mango foam – a cool way to start any day at Magic Kingdom. 
Breakfast at the Disney resorts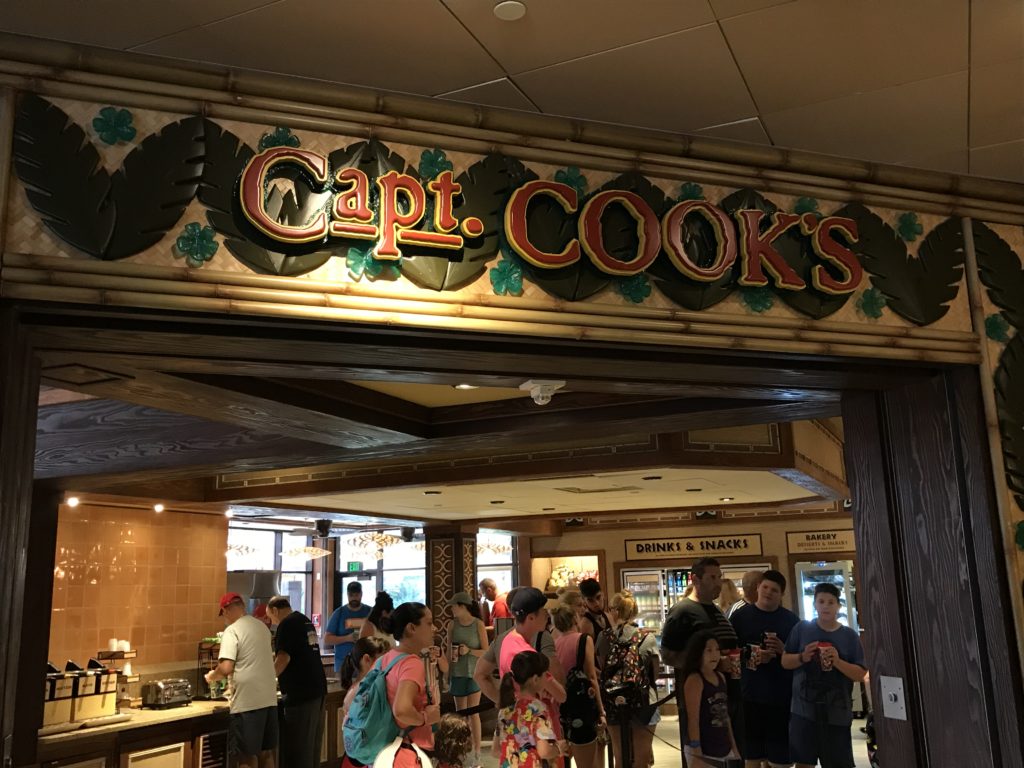 If staying on Disney property, one of the best places to get breakfast is right in your hotel. Each resort has a quick-service option, and they tend to be some of the best breakfast choices to be found anywhere at Disney World (just ask the front desk or concierge for more information about each venue's specific offerings). Additionally, each hotel has a gift shop, which sells snacks and drinks for a quick and easy breakfast that can be eaten on the bus or monorail on the way to the park. 
If you're not staying on Disney property – don't worry! The hotels are open and available to anybody. The monorail hotels – the Grand Floridian, Polynesian Village, and Contemporary Resorts – would be the most logical choice, as they are easy to travel to from the parking lot at the Transportation and Ticket Center. Capt. Cook's at the Polynesian or Gasparilla Grill at the Grand Floridian should be your first choices, as they are directly on the way to Magic Kingdom via the monorail; eating at the Contemporary would require you to pass the park to get to the hotel, which isn't the best or wisest use of time.
Non-Disney breakfast options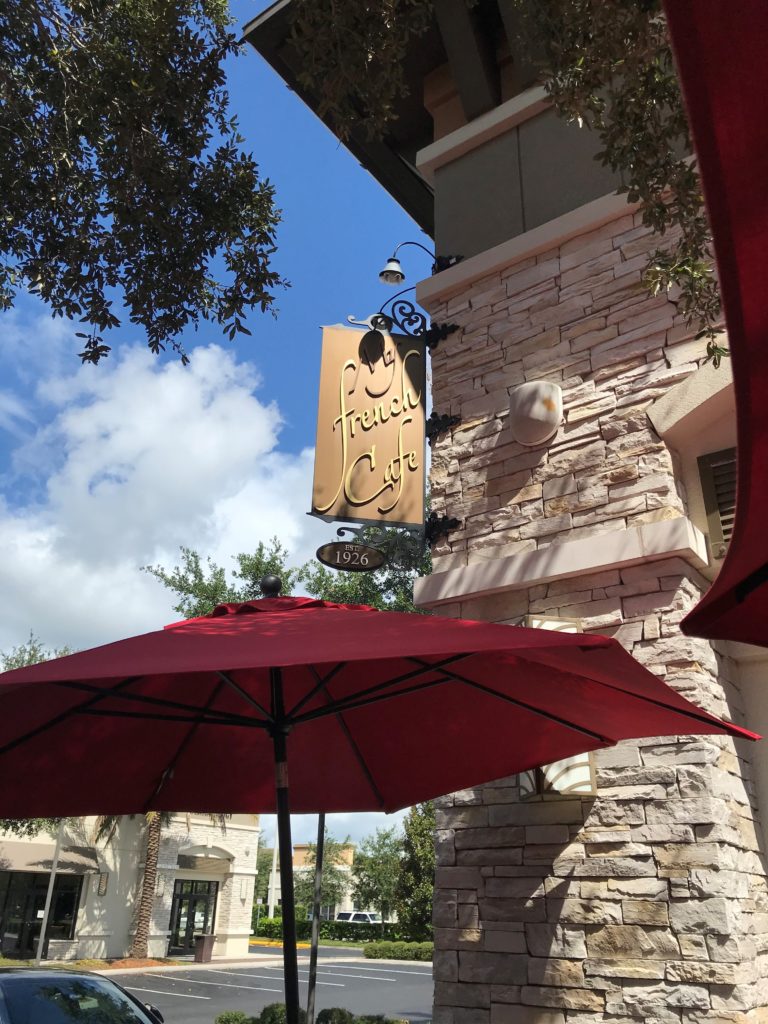 There are also many options available that are outside of Disney property. Due to the popularity and size of Walt Disney World, many different areas have developed around the resort itself, and there are quick-service breakfast options in all of them! The closest area would be Crossroads, a shopping center located on 535 off of Hotel Plaza Boulevard near Disney Springs. This center has a McDonald's and a Taco Bell for easy drive-through eating, and it also has a Wafflehouse – not exactly counter-service, but they're fast enough that eating there will not impact your schedule in any significant way.
192 is an area located near Animal Kingdom, and it can be easily accessed from I-4 or Sherberth Road. There are so many options to choose from on that road, it'd be impossible to name them all, but a few that are closer to the parks are McDonald's, Chick-fil-A (closed on Sundays) and Cracker Barrel. Again, Cracker Barrel is not a counter-service restaurant but boasts quick enough service that it won't take much longer to eat there than anywhere else.
Finally, a newer location that has developed in recent years is the outskirts of Windemere, north of Magic Kingdom, off of the other 535 (yes, Florida is that confusing!). Along with a bunch of new housing, new shopping centers and food establishments have been built. There are a lot of options, and this area isn't too far from the back entrance to Disney property (which will eventually become the main entrance to Magic Kingdom). Here, you can find Panera Bread, McDonald's, Dunkin' Donuts, and a family-owned cafe called My French Cafe, which is counter service and serves French cafe cuisine, like crepes and quiche.
Honorable mention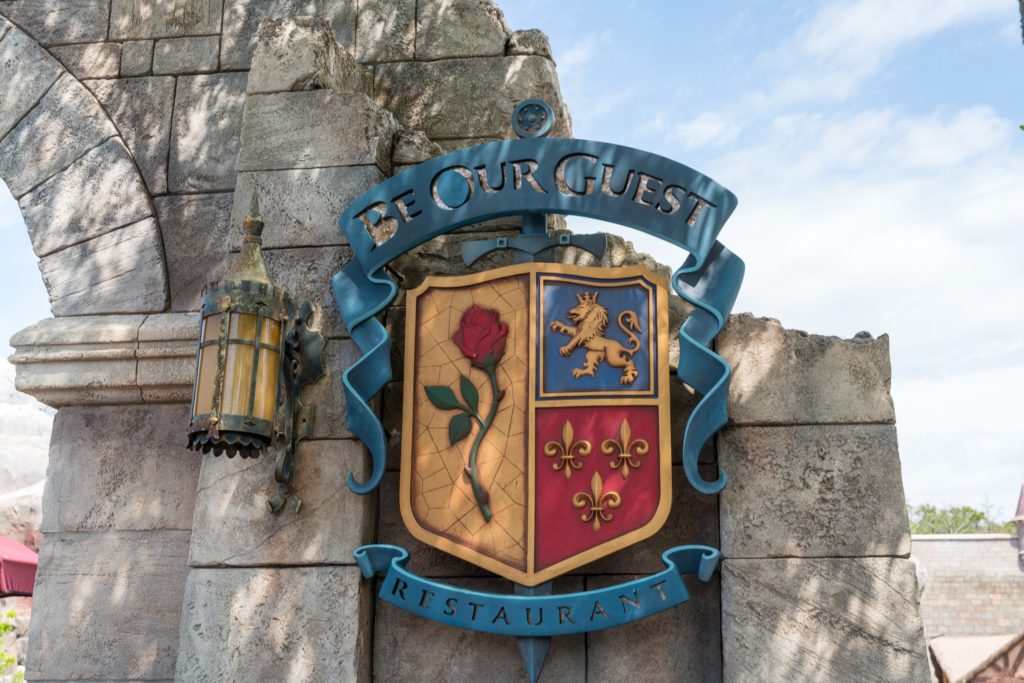 You just can't mention breakfast at Magic Kingdom without talking about Be Our Guest, arguably the best breakfast option in the park. While it is not a traditional quick-service restaurant (it'd be categorized as fast casual, because you have a server bring your food to your table), it is still faster than a full table-service breakfast at Cinderella's Royal Table or the Crystal Palace. For Be Our Guest, you order your food via the My Disney Experience app, then get seated inside Beast's castle from Beauty and the Beast. Reservations are required to eat breakfast here, but that can be used to your advantage – reservations can be made before official park open, so those that eat quickly can be in a better position to ride popular attractions, like Seven Dwarfs Mine Train, before the crowds get there.
–
Which of these options are your favorite? Tell thousands of other vacation planners and Disney fanatics in our OI Community Facebook group.
And be sure to follow Orlando Informer on Facebook, Twitter, and Instagram for the latest news and tips at Universal Orlando, Walt Disney World, and other Orlando experiences.