Blue Bird Bake Shop: An Orlando Cupcakery with Style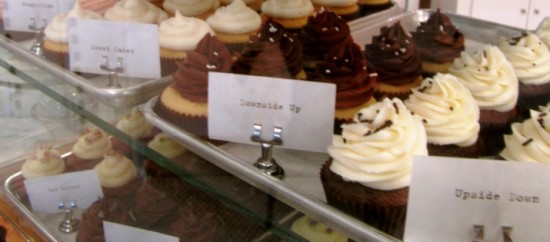 Mmmm… cupcakes. This is one fad that I'm very thankful for. Lucky for residents and visitors of the Orlando area, there is no shortage of cupcakeries to choose from. There's Sweet! By Good Golly Miss Holly near UCF. Bake Me a Cake Pastry Shop in Winter Park. Farris and Foster's in Baldwin Park. Even the Yum Yum Cupcake Truck roaming Orlando's streets.
But there's one retro bakery tucked away in the Audubon Park Garden District – not far from Leu Gardens – that's definitely worth a visit: Blue Bird Bake Shop. You could blink and miss this jewel while driving by, but you'd certainly regret it.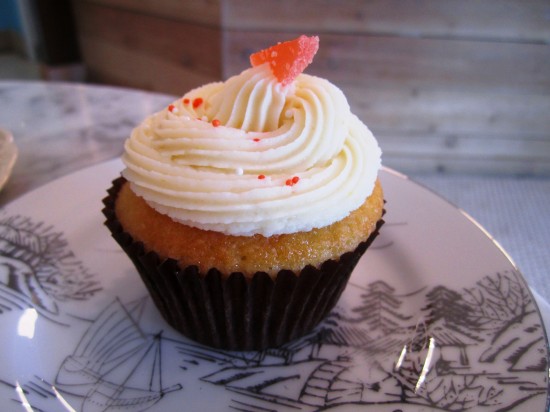 Owners Joel and Jeff serve up a variety of cupcakes made from scratch to tempt you (they have 30+ flavors in their arsenal), including at least one specialty cupcake daily. Plus, they've been treating us to happy hours lately (5-7pm with $1.75 cupcakes!).
The tiny shop itself is adorable. Pale blue & chocolate brown paint and retro wallpaper adorn the walls, while white hexagonal tiles cover the floors. Mismatched chairs, marble counters and rough wood add to the modern-retro atmosphere. Best yet, cupcakes are served on antique-style china plates by workers wearing classic driver's caps.
I've indulged in seven of Blue Bird's flavors so far, and have yet to be disappointed. Here's a rundown on what I've taste-tested:
Orange Creamsicle
Orange cake topped with orange/vanilla buttercream icing and white & orange nonpareils.
Verdict: LOVED this one. I've tried making my own orange cake in the past with no luck. This icing was absolutely delightful.
Ch-Chocolate
Chocolate cake topped with chocolate buttercream icing and chocolate curls.
Verdict: Very rich, but if you have a passion for chocolate, you won't be disappointed.
*Available daily
Neopolitan
Layered chocolate, strawberry & vanilla cake topped with strawberry buttercream icing.
Verdict: Loved the strawberry buttercream frosting, and the combination of the cakes flavors was perfection.
*Available daily
PB&J
Vanilla cake with peanut butter buttercream icing topped with a dollop of grape jelly.
Verdict: Surprisingly delicious! Frosting was incredible – so long as you love peanut butter. Made me reminisce about eating pb&js for lunch as a kid.
Sweet Cake
Vanilla cake with white chocolate chips, topped with a classic vanilla buttercream icing and white nonpareils.
Verdict: Perfect cupcake for those who don't need a lot of crazy flavors or concoctions.
*Available daily
Upside Down
Chocolate cake topped with vanilla buttercream and sprinkled with chocolate jimmies.
Verdict: I'm a classic loving girl, so this little cupcake was perfect for me. In fact, I even snatched one to take home.
*Available daily
Chocolate Strawberry
Chocolate cake topped with strawberry buttercream icing.
Verdict: Once again, the strawberry icing did not disappoint. I think its my favorite Blue Bird icing!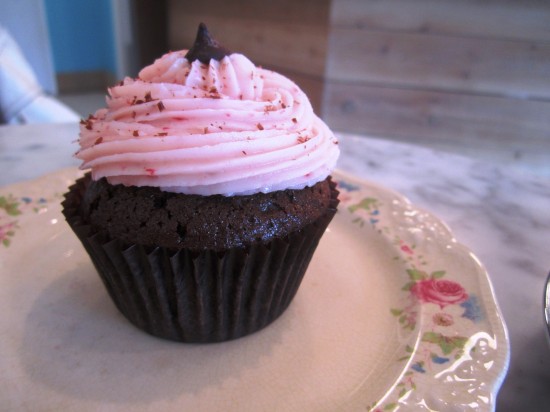 There are many other flavors available, including red velvet, carrot, banana, mint, cinnamon, and sweet potato. If you're not in the mood for a cupcake, there is also a selection of scones, muffins, cookies and brownies – in addition to a good cup of coffee.
So if you're looking for a sweet treat, Blue Bird Bake Shop won't disappoint. It may seem out of the way, but if you're visiting Leu Gardens, the Orlando Museum of Art, the Orlando Science Center, Baldwin Park or even Fashion Square Mall – you're not far from the perfect indulgence.
Website: www.bluebirdbakeshop.com
Facebook page & Twitter feed
Hours: Tues-Sat 7am-5pm; Sun 10am-4pm (or when the cupcakes are gone)
Blue Bird Bake Shop – map
[sws_author_bio user="Amanda" size="105″ class="gray" authorposts="More OI posts by Amanda" name_format="About the author"] [/sws_author_bio]