Bananas – A Modern American Diner: The classic diner experience reimagined
Bananas – A Modern American Diner has been at the top of my to-do list for a long time. Luckily last Saturday's afternoon thundershowers gave us the perfect opportunity to make an appearance.
Click on any image to view it full-screen. You can also view and share these photos on the OI Facebook page. Scroll to the bottom of the post to view the complete photo gallery with 19 images as well as a map of this venue's location.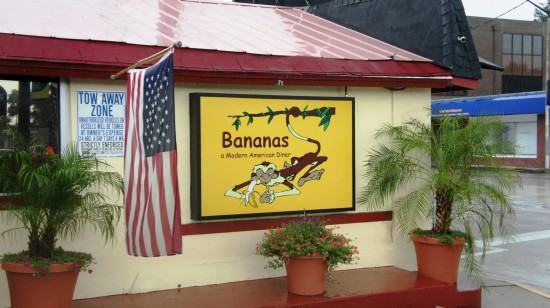 Here's what Bananas has to say about themselves from their website:
Bananas – a Modern American Diner offers Orlando a unique Diner experience with many of the classics you grew up re-envisioned with a culinary twist. Owned by Nicholas Olivieri and Eddie Nickell who introduced Bananas Diner in the summer of 2010, they also own Funky Monkey Wine Company on Mills Avenue and on I-Drive at Pointe Orlando and Funky Monkey Vault, a wine and gift retail store on Mills Avenue.

Bananas Diner is open seven days a week for breakfast, lunch and dinner, Friday and Saturday nights 24-hours and Sunday Brunch. Bananas entire menu is available all the time and boasts Broadway at Bananas on Tuesday evenings and Sunday Drag Gospel Brunch hosted by Danielle Hunter and Alicia Markstone.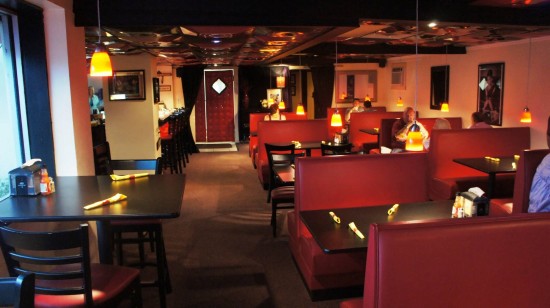 Bananas was also recently named one of the best spots in the United States for brunch by the diners on OpenTable.com:
Bananas – a Modern American Diner announced today that it has been named a winner of OpenTable Diners' Choice Awards for the Top Restaurants for Brunch in the United States. The list of winners is derived from more than seven million reviews submitted by OpenTable diners for more than 12,000 restaurants in all 50 states and the District of Columbia.

"We are very pleased by this acknowledgment from OpenTable diners," said owners Nicholas Olivieri and Eddie Nickell. "We are proud to know that these diners thoroughly enjoyed their overall experience at Bananas – a Modern American Diner and gave us such high marks. We are excited to be acknowledged and to represent Florida and specifically Orlando on the list of the Top 50 Best Brunch Spots in the United States."
Let's talk about the menu. This place has everything–they even have a $25.00 "Widow Maker" hot dog with chili, cheese, onions, jalapenos, and served with 1 pound of french fries and baked beans. If you can finish it in 30 minutes, you get a free t-shirt! Here's a sample of the menu: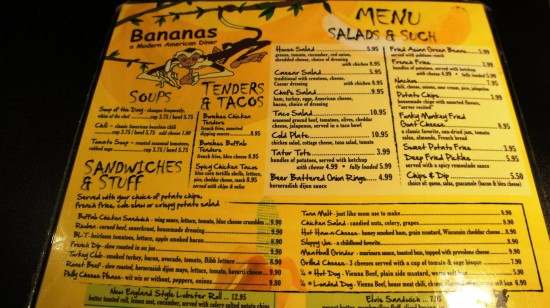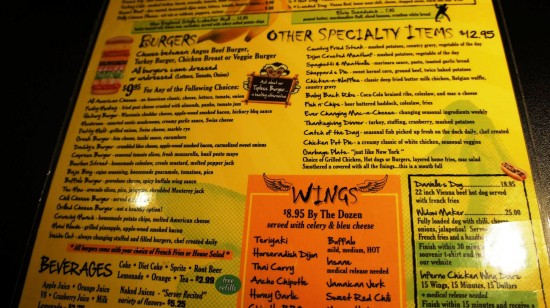 In case it is a bit tough to read the menu in the photos, you can also view it online: Bananas menu – PDF file
For our food we started with the Funky Monkey Fried Goat Cheese. That was followed by an order of the Stuffed French Toast (rice krispy coated, Texas toast, stuffed with strawberries, cream cheese) and a House Salad with chicken. Here's what it looked like: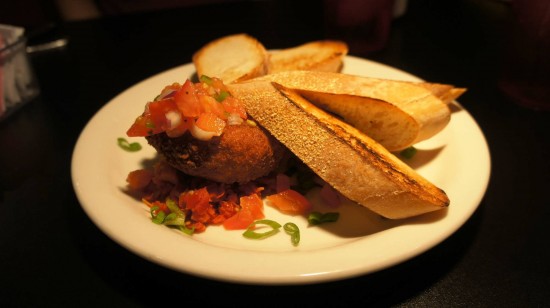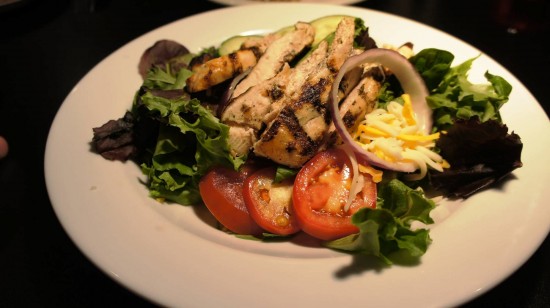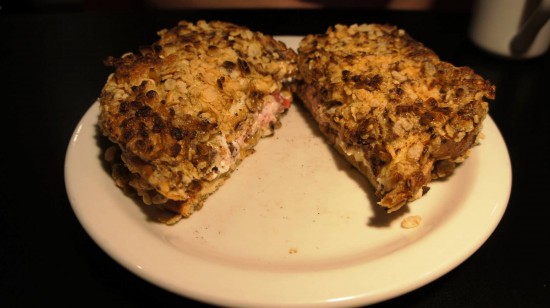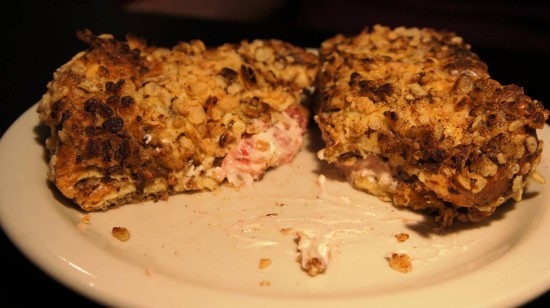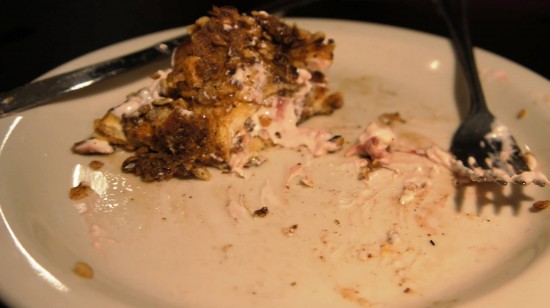 That French Toast was something else. It's definitely worth a visit just for that! However, I also want to comment that the House Salad, while probably the most subdued item on their menu, was quite delicious as well–very fresh veggies and a generous portion.
Our experience was excellent. It was the perfect place to be on a rainy afternoon. The total for our meal plus a coffee: $27.31. (By the way, you can get the coffee for free if you check-in on foursquare.) I absolutely recommend stopping by Bananas when you're in the downtown neighborhood. And remember, their full menu is available 24-hours a day over the weekends.
If you end up winning that t-shirt for finishing the Widow Maker, you gotta send me a photo!
Official website: http://bananasdiner.com
Map
Complete photo gallery