Beetlejuice's Graveyard Revue at Universal Studios Florida
NOTE: Beetlejuice's Graveyard Revue will close on January 5, 2015. Learn more.
Location
San Francisco
Restrictions and access
None; has Express Pass access.
Two sentence insider summary
USF's classic monster rock 'n roll show got a reboot in early 2014, and the new "Graveyard Mash-Up" now features an almost constant stream of classic pop & rock songs – and more dancers – making it feel like a 25-minute mega dance video (whereas the old show featured a storyline of sorts and a fair amount of interaction between the characters and the audience). Whether or not you welcome the change, there is still plenty of energy, on-stage talent, and rockin' good times to make this a "must see" at least once.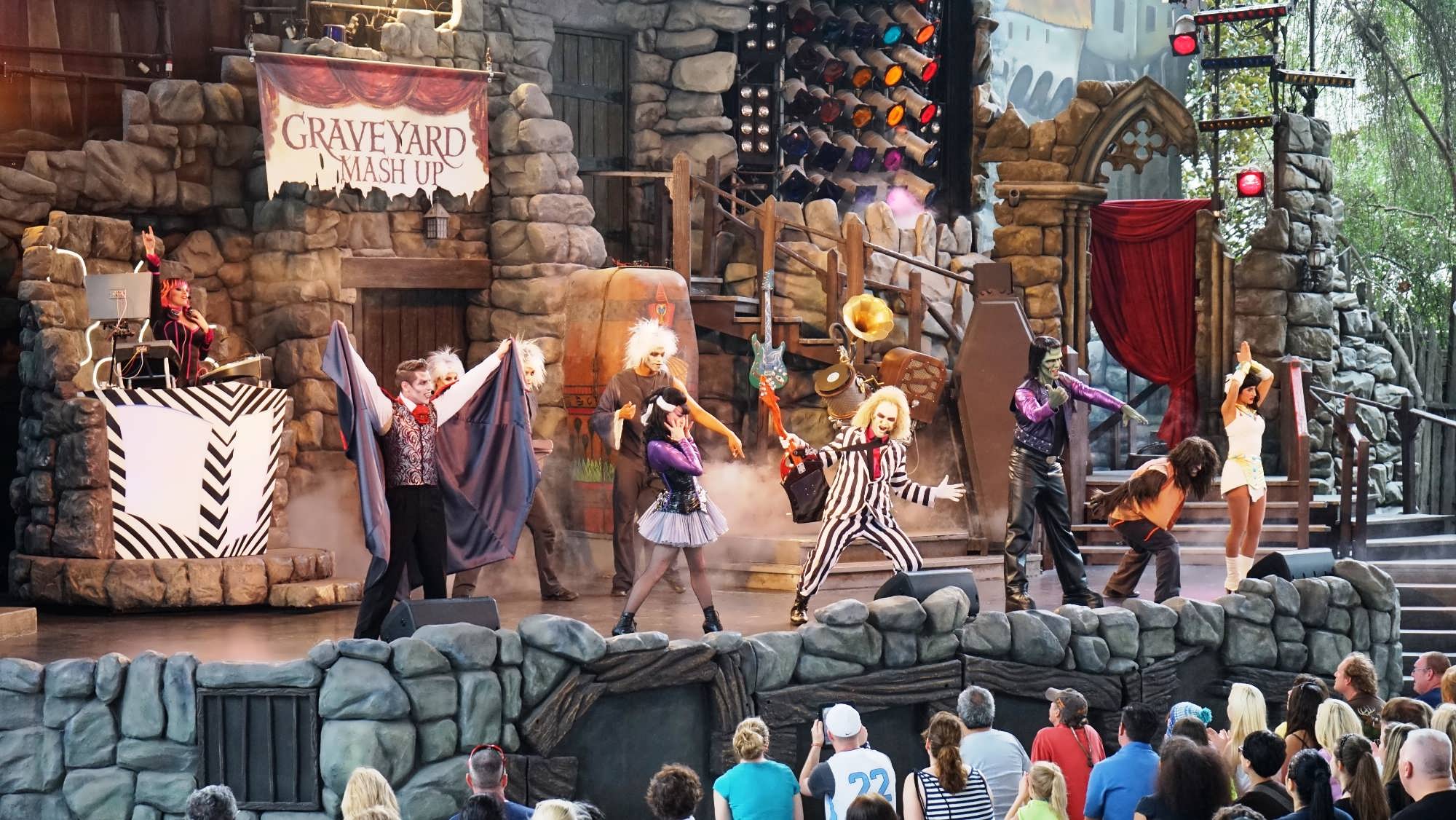 Beetlejuice's Graveyard Revue at Universal Studios Florida.
Showtimes and other information
First show is usually around noon, and they occur every one and a half to two hours from there. Try to get to the show a little early for good seats.
Sample summer schedule
12:30pm, 1:45pm, 3:45pm, 5:00pm.
Beetlejuice's Graveyard Revue – HD video
Beetlejuice's Graveyard Revue – photo gallery
Beetlejuice's Graveyard Revue – real guest reviews
Average rating:
16 reviews
Dec 3, 2014
Awful
Date Of Last Visit:
December 2, 2014
This new show is too embarrassing to even be classified as camp. The old one was funny and had a storyline. The new one is all over the place. And awful. I feel bad for the actors in this show.
Aug 20, 2014
The New Show
Date Of Last Visit:
8/18/14
They changed the show this year, added two new characters, removed stale jokes, and took away any and all plot to the show.

The monsters come out, they sing. That is all that happens. They are high energy, but if monsters singing is not your thing...don't come to the graveyard.
Jul 20, 2014
Awesome
Date Of Last Visit:
Never
Even though I live in California I know all the dance moves to the 2006-2013 version and this new version it's a lot of fun to learn it. The new one takes a lot of energy not the old one. The favorite new monster is phantaisa.the r is only on dracula I like because of his darker voice he is better than the other dracula. The music are oldies and newbies and they go great in this show. And they still have Michael Jackson's music in these shows which is great.
Jul 16, 2014
Sorry but must stay in the graveyard
Date Of Last Visit:
June 10 2014
Sorry but we just didnt find it very amusing. We got thru half of it and walked out. VERY CHEESY!!!
May 24, 2014
Nice Blend of Music and Monsters
Date Of Last Visit:
September 7th, 2013
If you put music and monsters in a blender, you've got Beetlejuice. While there are better attractions at Universal, this is a good option for entertainment. It has some pretty good songs, and the performers could sing really well. They were also completely believable as monsters. I recommend it, and I also recommend not trying what I said in the first sentence.
Beetlejuice's Graveyard Revue – map
Click any image to view it full-screen. When the full-screen image is open, click to the right or use the right arrow on your keyboard to advance through the gallery.
View OI's map to Universal Studios Florida.