Orlando Informer readers can now share their experiences at Universal Orlando on this page!
Below our information you'll find real guest reviews & your chance to submit your opinion.
Toothsome Chocolate Emporium – Overview
Toothsome Chocolate Emporium & Savory Feast Kitchen is the next level of restaurants at Universal Orlando. The venue is composed of three parts. Upon entering, guests can shop through a wide variety of both freshly made and prepackaged candy, steampunk merchandise, and unique Toothsome merchandise. On the opposite side, guests can order exquisitely crafted milkshakes and sundaes. Finally, guests can proceed into the dining room and select from a large menu with options for everybody, including all-day brunch!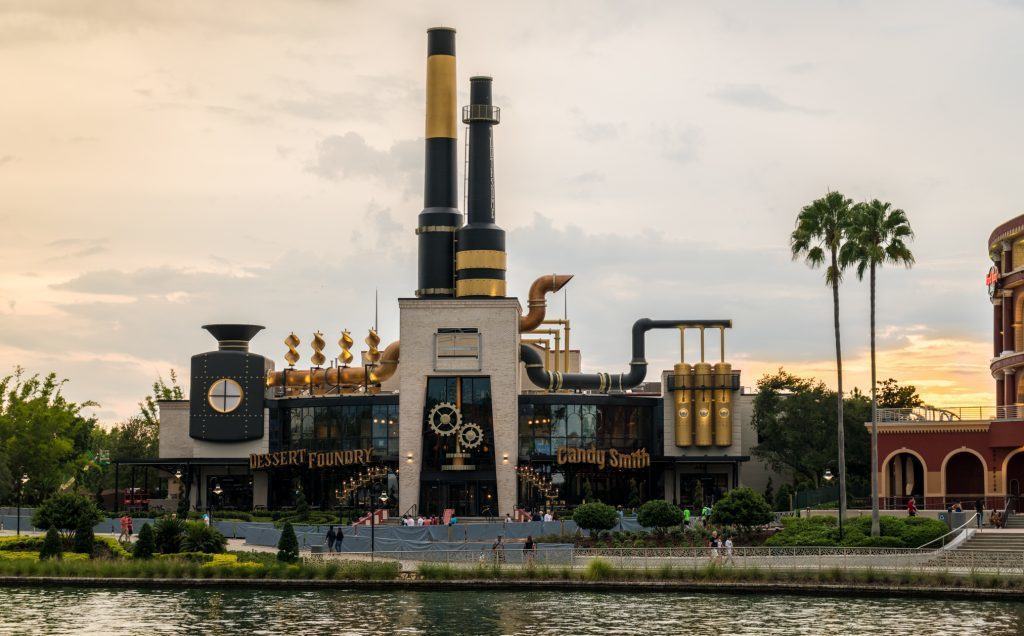 If you're lucky, you'll even have the opportunity to meet Penelope Tibeaux-Tinker Toothsome, the creator of the restaurant, and Jacques, her robot friend!
Hours: 11am-11pm
Reservations: Reservations are currently not accepted.
Prices: $7.95 to $46.95 for an entree.
Orlando Informer Insider Tip
You can order most of the shakes from the shake bar area of the restaurant, except for Cinnamon Fantasy and Bacon Brittle.
Toothsome Chocolate Emporium – Story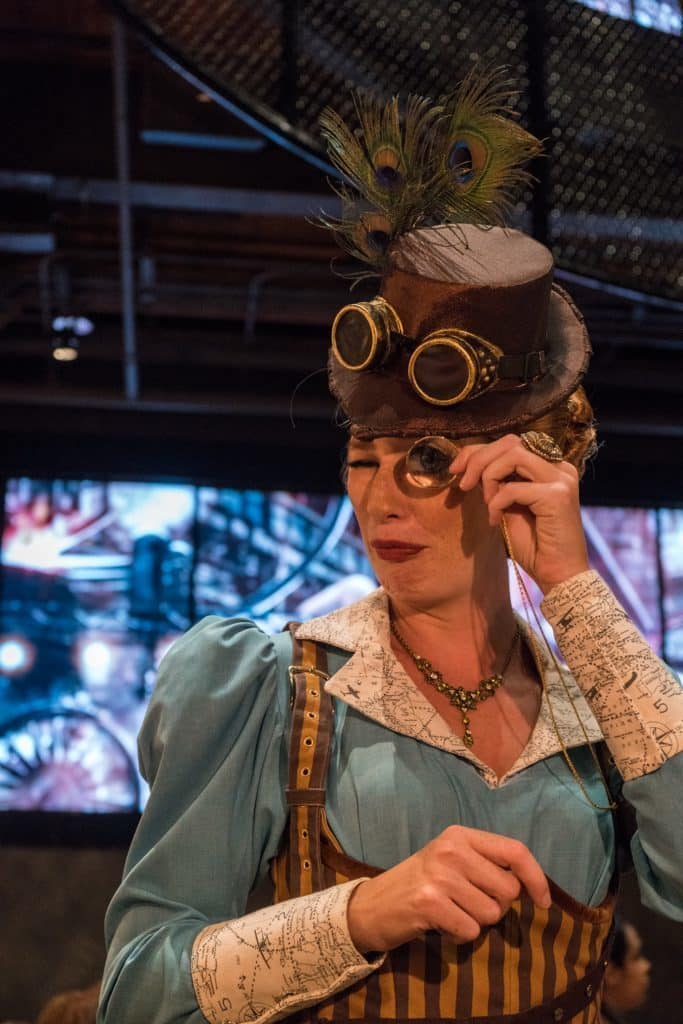 Toothsome Chocolate Emporium & Savory Feast Kitchen is the first restaurant at Universal Orlando to have an elaborate backstory with characters that walk around. The story revolves around the Toothsome family. You can read it directly from the restaurant below:
Jacques landed the dirigible in front of the small cottage home in London, England. Professor Doctor Penelope Tibeaux-Tinker Toothsome was overjoyed to share her experience and experiments with her family.
She quickly stepped from the cockpit of the airship and dashed up the cobble pathway. She threw open the front door, soaking in her childhood home.
Except… It was empty. All that remained was the old Victrola in the corner of the living room.
Penelope stepped into her mother's kitchen recalling the first time she ever tasted chocolate. There was a song in her head. She couldn't recall the name of it, but it was French and Jazzy. There on the kitchen floor was a note from her parents.
Dearest Penelope,
We have set out to join you in your adventures. Surely the world isn't so big that we can't find you. We shall look for you wherever chocolate can be found.
Love,
Thomas & Violette Toothsome
Penelope knew immediately what she had to do. She would take everything she knew about chocolate and develop a fully industrialized, state-of-the-art chocolate emporium! Until the day she was reunited with her family, she would share her love and knowledge of chocolate with the world!
With the old Victrola in her arms, Penelope made her way back to the dirigible. Jacques quickly lifted them into the air. They were off to chase their destiny and find the perfect location for the world's foremost chocolate emporium. There would still be discoveries to be made, but she was determined to make them all.
Toothsome Chocolate Emporium – real guest reviews
Average rating:
1 reviews
Jan 4, 2017
Fabulous Milkshake
Date Of Last Visit:
10/22/2016
I had the risotto and a 5x chocolate milkshake. The milkshake was so tasty and rich, definitely to be shared! The risotto was ok to. It had some breadcrumbs or something on top that I wasn't crazy about, but I just moved it away and it was good!
Toothsome Chocolate Emporium – Menu
Temptations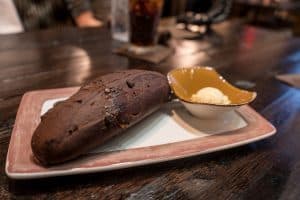 Warm Chocolate Almond Bread – $2.95
Fresh chocolate almond bread, salted caramel butter
Crab & Artichoke Dip – $13.95
Cheese blend, spinach, oven baked lavosh
Truffle Fries – $7.50
Shredded parmesan, fresh herbs, white truffle oil
Philly Cheesesteak Rolls – $11.95
Cheesesteaks in a crispy wrapper, cherry pepper aioli
Artichoke & Spinach Dip Rolls – $11.95
Chunky fresh artichokes and spinach wrapped in a crispy wrapped, fontina cheese sauce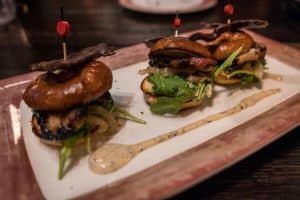 Pork Belly Sliders – $11.95
Caramelized onions, mustard aioli, arugula, chocolate dipped bacon, pretzel bun
Harissa Spiced Pork Kabobs – $11.95
Bacon wrapped pork kabobs, mango and cabbage slaw, cilantro crema
Totchos – $10.50
Fried tator tots, spicy green chili, crispy pork belly, andouille sausage cheddar cheese sauce
Pistachio Hummus – $9.95
Ground chickpeas, herbs, pistachio and sesame seeds, olive oil, oven baked lavosh
Kettle Chip Nachos – $13.95
Housemade chips, shredded pork, andouille sausage cheddar cheese sauce
Roasted Brussel Sprouts $7.50
Grilled, charred brussel sprouts, jalapeno mayo, cotija cheese, ancho chili
Fried Zucchini – $9.95
Parmesan cheese, sesame soy dip
Coffee and Chocolate Stout Chicken Wings – $14.95
Flash fried, chocolate stout glaze.
Baked Brie – $12.95
Served with fresh fruit, toasted almonds, chocolate almond bread, and oven baked lavosh
Black & Tan Onion Rings – $10.95
Onion rings with cocoa ranch dipping sauce
Wild Mushroom Cassoulet – $10.95
Pan saute, shallots, herbs, Dry Sack sherry, cream, parmesan truffle crust au gratin
Salads & Soups
Waldorf Chicken Salad – $13.95
Grilled chicken breast, grapes, Granny Smith apples, sundried cranberries, celery, candied walnuts, shredded romaine, Dijon vinaigrette, crunchy apple chips
Toothsome Nicoise – $16.95
Our version of the French classic… citrus crusted tuna, fingerling potatoes, olives, eggs, asparagus, tomatoes, red onion, citrus vinaigrette
Asian Inspired Shrimp – $14.95
Soy marinated and grilled shrimp with roots, shoots, leaves, crunchy wasabi cashews, ginger soy vinaigrette
Sedona Barbecue Chicken – $12.95
Chipotle grilled chicken, romaine, roasted corn, black beans, avocado, pepper jack cheese, vine tomatoes, spiced pumpkin seeds, honey-lime vinaigrette
Another Caesar Salad – $10.95
Romaine hearts, parmesan, croutons, black pepper, Caesar dressing
with chicken – $12.95
with shrimp – $13.95
Super Foods – $12.95
Quinoa, spinach, arugula, avocado, asparagus, sundried roasted tomatoes, red onion, pine nuts, feta cheese, citrus vinaigrette
French Onion Soup
Crouton, Gruyere cheese, parmesan
Bowl – $6.95, Cup – $5.95
Broccoli and Cheddar
English colby cheddar, fresh broccoli
Bowl – $6.95, Cup – $5.95
Flatbreads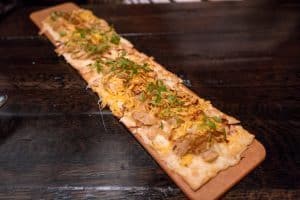 BBQ Chicken – $13.95
Caramelized onions, mozzarella, Gouda, micro cilantro
Four Cheese – $12.95
Fontina, mozzarella, parmesan and ricotta cheeses, basil, extra virgin olive oil
Blackened Steak and Blue – $13.95
Crimini mushrooms, caramelized onions, spinach, Wisconsin blue cheese
Forest Mushroom – $12.95
Mushroom, goat cheese, caramelized onions, arugula, white truffle oil
Duck – $11.95
Duck confit, mushroom puree, roasted brussel sprouts, dark sweet cherries, fontina cheese, scallions
Artichoke and Montchevre Goat Cheese – $11.95
Spinach, caramelized onions, sweet peppers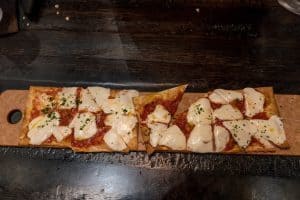 Classic Margherita – $10.95
San Marzano tomato, fresh mozzarella, basil, extra virgin olive oil
Pepperoni – $13.95
San Marzano tomato, fresh mozzarella
Sandwiches
Red Reuben – $11.95
Boar's Head corned beef, Alpine Lace Swiss cheese, braised red cabbage, grilled artisan rye, 1000 Island dressing
The Croque Monsieur – $14.95
Country ham, Gruyere cheese, French loaf toasted, grilled, topped with bechamel sauce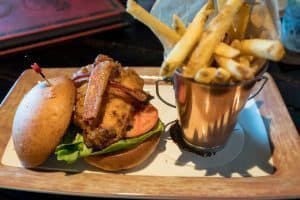 Southern Fried Chicken BLT – $13.95
Crispy boneless chicken breast, tomatoes, butter bibb lettuce, bacon, Dijon mustard, toasted brioche
Vegetable Press – $13.95
Roasted vegetables, portobello mushrooms, arugula pesto, Gruyere and dill havarti cheeses, cranberry herb artisan bread
Fork & Knife Grilled Rib Eye Steak Sandwich – $14.95
Sauteed onions, mushrooms, tomatoes, arugula, herb shallot aioli, horseradish cheese, toasted onion brioche.
Grilled Gulf Coast Mahi – $23.95
Butter bibb lettuce, roasted tomatoes, sauce gribiche, brioche bun
Hamburgers
Choice of house made kettle chips or French fried potatoes.
Tour De France – $14.50
Half pound housemade patty, bibb lettuce, roasted tomatoes, sunny side up egg, avocado, crispy onions, French Brie, toast brioche
Blue Plate Burger – $13.95
Half pound housemade patty, grilled meatloaf, garlic mashed potatoes, Wisconsin cheddar cheese, sweet corn, toasted brioche, bordelaise sauce
May Contain Bacon – $15.50
Half pound housemade patty, bibb lettuce, smokey thick cut bacon, grilled pork belly, pineapple chutney, chipotle Jack cheese, pretzel bun
Fork & Knife Skinny Burger – $12.95
Veggie burger, avocado, cucumber, tomato, portabella mushroom, cilantro crema, wrapped in bibb lettuce, toasted brioche on request
Pub It Up – $13.95
Half pound housemade patty, colby andouille queso, cheddar cheese, grain mustard and kettle chips on a pretzel bun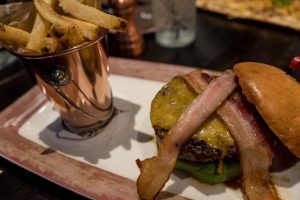 Cheddar Bacon Burger – $14.95
Half pound, housemade patty, bibb lettuce, roasted tomato, signature sauce, toasted brioche
Pasta
Gnocchi – $12.95
Grilled chicken, sweet peppers, rapini, mole cream sauce
Wild Mushroom, Chicken Risotto – $14.95
White truffle oil, parmesan crust
Fettuccine Carbonara – $15.95
Pork belly and peas finished with creamy egg yolk
Fettuccine Alfredo – $14.95
The classic – Parmigiano Reggiano
Vegetable Garganelli – $13.50 (VEGAN)
Italian penne pasta, seasonal vegetables, garlic, white wine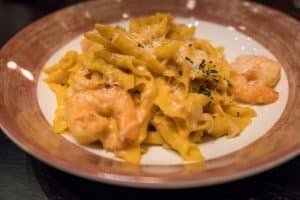 Shrimp and Lump Crab Macaroni and Cheese – $19.95
Fresh Garganelli pasta, fontina Mornay sauce
Entrees
Chicken Bercy – $14.95
Boneless breast, white wine, demi-glaze, lemon juice, shallots, butter, mushrooms, fresh herbs, asparagus, Yukon Gold mashed potatoes
Cedar Plank New York Strip – $46.95
Grilled asparagus, lyonnaise potatoes, bordelaise, or bearnaise sauce
Grilled Teriyaki Salmon – $17.95
Asian inspired, vegetables, jasmine rice, miso broth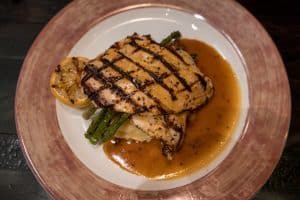 Chicken Bourguignon – $14.95
Boneless breast, red wine, demi-glaze, pearl onions, quartered mushrooms, bacon, Yukon Gold mashed potatoes, asparagus
Brisket and Wild Mushroom Meatloaf – $15.95
Corn, crispy fried onions, Yukon Gold mashed potatoes, bordelaise sauce
Toothsome Signature Beef Filet Mignon Oscar – $46.95
Two 3 oz. filet medallions topped with crab, asparagus, bearnaise sauce, lyonnaise potatoes
Fire Grilled Pork Chop – $22.95
Bitter chocolate mole sauce, grilled rapini, lyonnaise potatoes
Crepes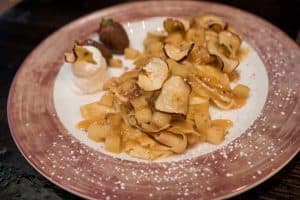 Apple Pie – $13.95
Sauteed cinnamon apples, caramel sauce, toasted strudel, fresh whipped cream, apple crisp
Nutella and Banana – $13.95
Mascarpone, Nutella, fresh bananas, chopped hazelnuts
Ham – $13.95
Country ham, forest mushrooms, spinach, fontina cheese, sherry cream sauce
Berries and Cream – $12.95
Lemon curd, fresh berries, micro mint, fresh whipped cream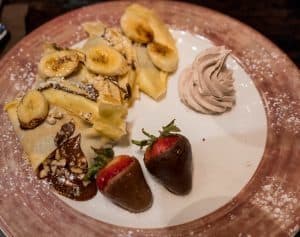 Boston Cream Pie – $11.95
Pastry cream filled, sponge cake, chocolate ganache, chocolate whipped cream
Quiche
Quiche Lorraine – $10.95
Applewood bacon, Gruyere cheese, fresh fruit, and choice of side salad or soup
Broccoli Cheddar – $10.95
English colby cheddar, fresh broccoli, fresh fruit, and choice of side salad or soup
Waffles
Berries and Cream – $8.95
Topped with fresh seasonal berries, fresh whipped cream, lemon curd, fresh micro mint
Banana Nut – $8.25
Candied pecans, bruleed banana, fresh whipped cream
Waffles – $7.95
Your favorite… plain and simple
French Toast
Patty Melt – $12.95
Challah, half-pound housemade fresh hamburger patty, sunny-side up egg, grilled pork belly, cheddar cheese, lyonnaise potatoes
Banana and Nutella – $10.95
Challah, banana mascarpone filling, Nutella, bruleed banana, lyonnaise potatoes
Berries and Cream – $10.95
Challah, lemon curd filling, fresh seasonal berries, fresh whipped cream
Chocolate Brioche S'mores – $11.50
Marshmallow, graham cracker, fluff
Country Fresh – $11.50
Brioche, Gruyere cheese, smoky ham, sunny-side up egg, bearnaise sauce, lyonnaise potatoes
Jacques' Speciality Milkshakes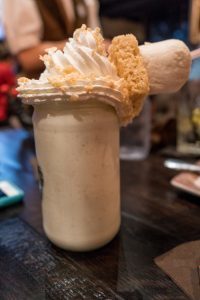 Peanut Indulgence – $12
Peanut butter ice cream, Snickers, Reese's peanut butter cups, peanuts, fresh whipped cream
Red Velvet – $12.50
Vanilla ice cream, Red Velvet cupcake, raspberry sauce, rainbow sprinkles, fresh whipped cream, cherry
Salted Dulce De Leche – $12.50
Salted caramel ice cream, dulce de leche, salted pretzels, fresh whipped cream, chocolate cigars
Marshmallow Crisp – $12
Vanilla ice cream, rice krispies, marshmallow fluff, fresh whipped cream, Rice Krispies treat
Heavenly Hazelnut – $12.50
Nutella ice cream, hazelnuts, Nutella, cocoa powder, fresh whipped cream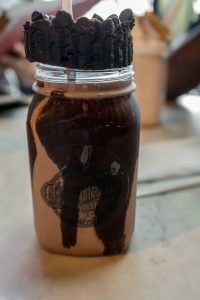 Strawberry Cheesecake – $12.50
Sour cream ice cream, cheesecake, graham crackers, fresh whipped cream, chocolate dipped strawberry
Chocolate Banana Brain Freeze – $12
Vanilla ice cream, banana extract, chocolate covered banana, whipped cream, cherry
Brownie – $13
Dutch chocolate ice cream, brownie, milk chocolate swirl
Bacon Brittle – $12.50
Bacon ice cream, bacon brittle, bacon flavor, chocolate covered bacon, bacon caramel
Espresso Buzzzz – $12.50
Coffee ice cream, espresso, chocolate espresso beans, fresh whipped cream, cherry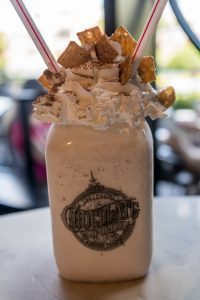 Key Lime Pie – $12
Sour cream ice cream, sweet condensed milk, lime juice, lime sugar, lime garnish
Chocolate X5 – $12.50
Chocolate ice cream, chocolate chunks, strawberries, chocolate sauce, fresh whipped cream, chocolate spirals, cherry
Cinnamon Fantasy – $12
Cinnamon Toast Crunch ice cream, cinnamon, fresh whipped cream, Cinnamon Toast Crunch
Sundaes
May Contain Nuts – $10.50
Peanut butter ice cream, peanut brittle, Reese's peanut butter cups, chocolate peanut butter pie, fresh whipped cream, peanut butter sauce, topped with Reese's Pieces
Salted Caramel Flan – $12
Caramel flan, vanilla ice cream, caramel sauce, fresh whipped cream, chocolate almond bark, chocolate covered pretzels
Banana Cream pie – $12
Chocolate, vanilla, strawberry ice cream, chocolate covered banana, slice of banana cream pie, strawberry, chocolate, and caramel sauces, chocolate almond bark, fresh whipped cream, rainbow sprinkles
Strawberry Shortcake – $12
Strawberry peanut butter ice cream, cheesecake, white chocolate almond bark, fresh whipped cream, chocolate covered strawberry
Chocolate Brownie Bark – $9.50
Chocolate ice cream, chocolate brownies, chocolate fresh whipped cream, chocolate sauce, chocolate brownie bark, chocolate sprinkles
Brookies, Cookies, & Cream – $9.50
Brookie, chocolate chip cookie, Oreo cookies, and cream ice cream, fresh whipped cream, chocolate sauce, chocolate shavings
Cream Puff and Eclair – $10
Eclairs, cream puffs, chocolate, vanilla, and strawberry ice cream, strawberry sauce, fresh whipped cream
S'mores – $10.50
Chocolate ice cream, chocolate sauce, marshmallows cream, graham crackers, jumbo marshmallow s'more
Desserts
Triple Chocolate Bread Pudding – $7.95
Three types of chocolate, chocolate cake, white chocolate ice cream
Flourless Chocolate Cake – $6.95
Warm cake, Nutella ice cream, raspberry sauce
Chocolate Cream Pie – $5.95
Chocolate cream filling, fresh whipped cream, chocolate curls
Potted Chocolate Cream – $6.95
Creamy chocolate pudding served in a copper pan
Chocolate Creme Brulee – $5.95
Creamy chocolate custard, caramelized sugar shell
Classic French Chocolate Mousse – $6.95
Smooth, airy, rich chocolate flavor
Toothsome Chocolate Emporium – HD photo gallery
Restaurant
Gift Shop