Location
Production Central.
Restrictions and access
None; has Express Pass access.
Two sentence insider summary
Based on the classic Shrek films, this attraction takes place between Shrek 1 and Shrek 2 (call it Shrek 1.5). It is a standard 3D movie experience with 4D "in the theater" special effects, similar to Disney's The Little Mermaid show at Hollywood Studios or Mickey's Philharmagic at Magic Kingdom.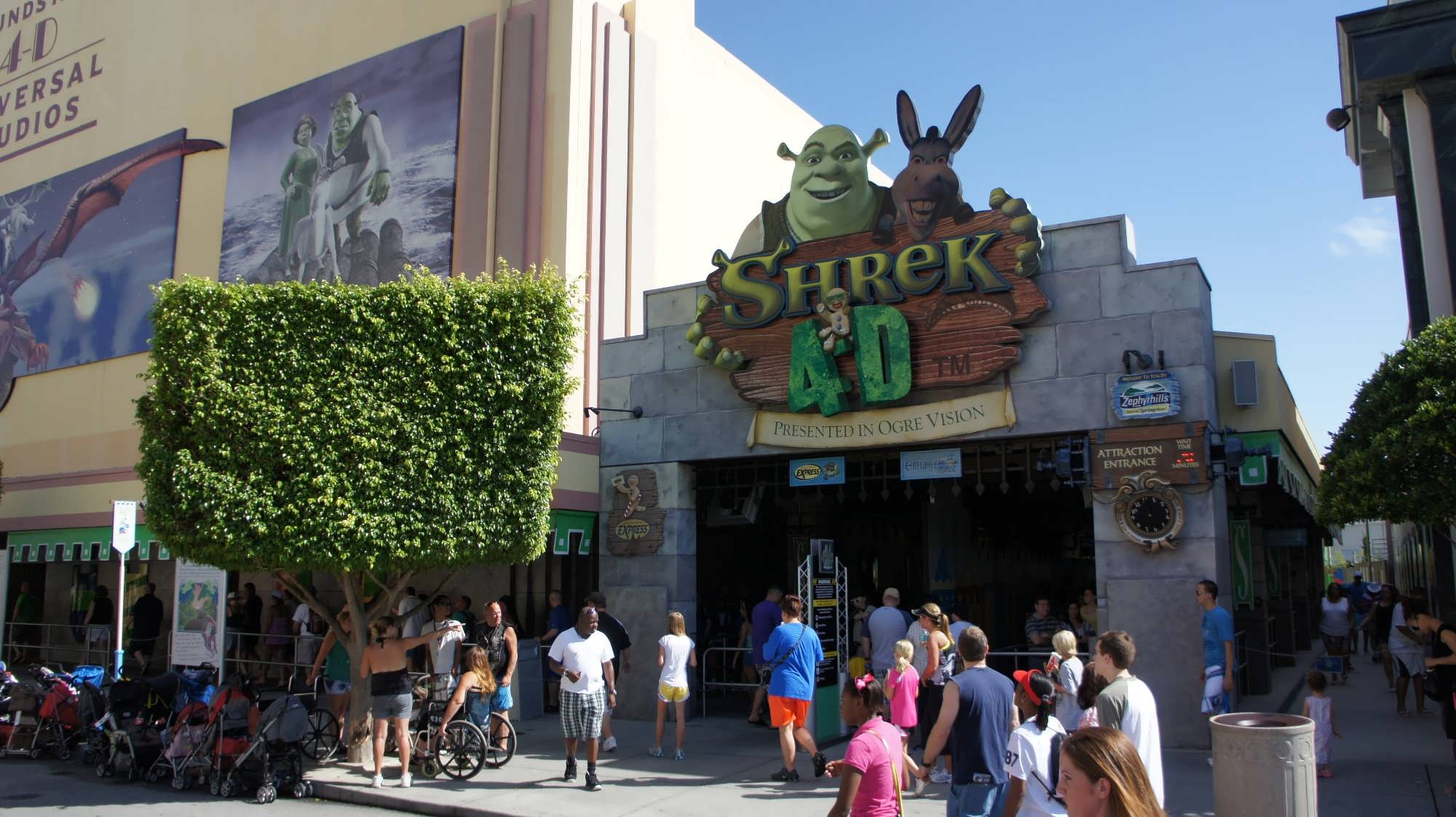 Shrek 4-D at Universal Studios Florida.
Fear factor
2 out of 5.
What you wish you knew before you experienced it
A little bit about the Shrek movies.
OI fun fact
There are actually two movie theaters, one for guests with Express Passes and one for guests without. Beginning in 2015, one theater is taken offline at the beginning of summer through the fall to act as a space for a Halloween Horror Nights house.
Shrek 4-D – photo gallery
Shrek 4-D – real guest reviews
Average rating:
25 reviews
Apr 15, 2016
Really Outdated
Date Of Last Visit:
12/25/15
It's really outdated and definitely not worth if it if there's a wait. It's really just a seated ride, which may work for you if you're sensitive to motion. It's also nice if there's no ride and you just want to sit down for a bit inside. Other than that, it's really not anything special.
Sep 18, 2014
Fun but not worth a long wait
Date Of Last Visit:
October 2013
This is definitely a fund ride that most people will enjoy especially if you're a fan of Shrek. It may be bit scary for very young children (as with most rides) but it is a goofy, funny, good time. I'd say nothing over a thirty minute wait is worth it though.
Aug 11, 2014
Amazing 4-D ride - Perfect for all ages
Date Of Last Visit:
July 12, 2014
This is a great family experience - it's perfect for all ages, and it's a great option if you want to relax from all the roller-coaster at the theme park.

You will enjoy this 4-D ride, definitely a must-see!
The plot of the show is really, really funny, interesting and exciting!

The queue is really good and funny too. This is a great experience for everyone!
Jul 16, 2014
shrek 4-d
great show for all ages, if you are a shrek fan you will love it, see it every year, you can't catch this version on video
May 26, 2014
Not that Original
Date Of Last Visit:
May 2012
A relatively average attraction, Shrek 4D follows a ten minute long adventure that takes place between Shrek 1 and 2, which won't be new at all to anyone who bought the Shrek 3D DVD in the UK, in which this title is included.

What does add to the experience, however, is a wide range of special effects - from blasts of air to squirts of waters a-top a motion base. This isn't Spiderman, though, expect to stay almost entirely stationery. There's also a fun pre-show that you can't see anywhere else - with three very special guests.

This ride can be a good escape from the Florida heat, but probably isn't worth more than a 20-30 minute queue unless your kids are Shrek obsessed!
Shrek 4-D – map
Click any marker to display the attraction or venue name. To zoom, use the controls on the bottom-left of the map. You may also switch to different map views by click the top-left button and then the bottom-left button. The attractions and venues in Production Central have a red marker.