Orlando Informer readers can now share their experiences at Universal Orlando on this page!
Below our information you'll find real guest reviews & your chance to submit your opinion.
Pat O'Brien's – Overview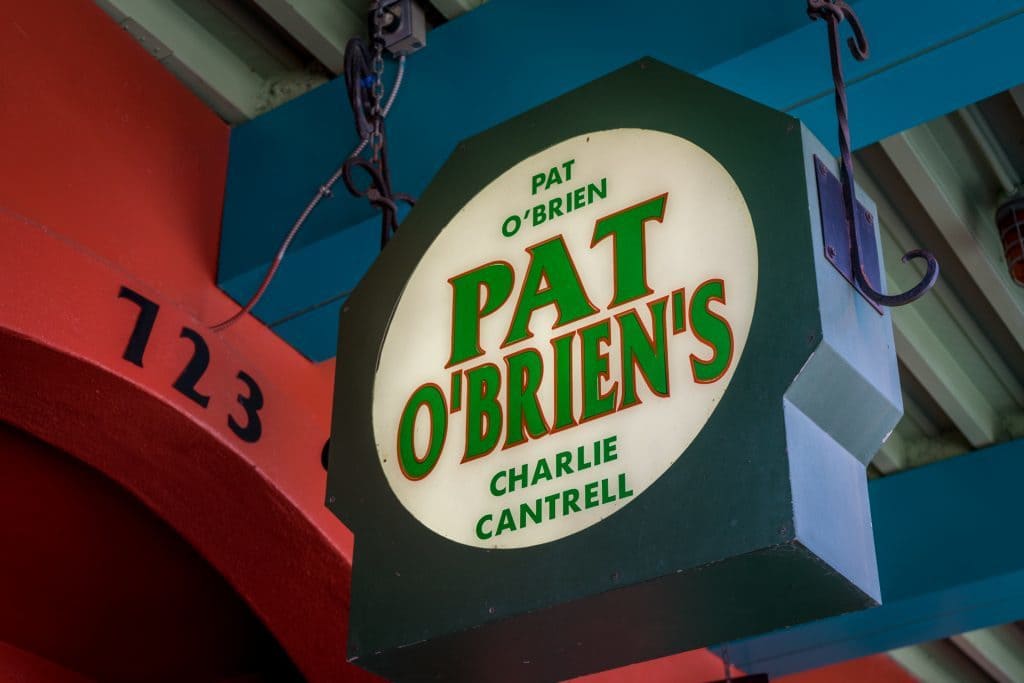 Party it up like it's Mardi Gras 365 days at year at Pat O'Brien's! Pat O'Brien's Bar at CityWalk is an authentic reproduction of the New Orleans' famous hot spot.
Opened in February 1999, we are an authentic reproduction of New Orleans' favorite watering hole, Pat O'Brien's is the original home of dueling pianos, the "flaming fountain" patio, and the world-famous "Hurricane®" specialty drink.
With everything from Hurricanes on the Patio with the famous flaming fountain to hanging out and catching the game in the Main Bar, this New Orleans replica will surely make its mark on the world. Enjoy Cajun fare at the relaxing Courtyard Restaurant or join the gang in a sing along with our dueling pianos in our Piano Lounge. If all that doesn't guarantee you "Having Fun!" at Pat O'Brien's Orlando, then our signature drinks will certainly blow you away!
Sample Cajun style appetizers and entrees, raise your glass, and 'Have Fun!' as you enjoy a little bit of the Big Easy right in Orlando.
---
Insider tips
The Piano Bar features two performers nightly. The restaurant also features a large balcony overlooking CityWalk, as well as a patio, and can be reserved for private parties.
Prices
Entrees are $8 – $18 per person.
Sam
Menus
Specialty Drinks
Pat O'Brien's Hurricane – The house specialty made with Pat O'Brien's 151 rum and Hurricane mix served in a souvenir glass

Pat O's Rainstorm – Van Gogh vodka, Midori melon liqueur, Don Q coconut rum, pineapple juice and blue curaçao

Typhoon – Russian Standard vodka, Chambord, peach schnapps, cranberry and pineapple juice

Fuzzy Leprechaun – Tito's vodka, peach schnapps, blue curaçao, orange and pineapple juice

Tropical Depression – Van Gogh vodka, Don Q coconut rum, Southern Comfort, crème de almond, orange and pineapple juice

Category 5 Margarita – 1800 Reposado tequila, orange curaçao, orange juice and a splash of Hurricane mix

Blood Mary – Russian Standard vodka, Pat O'Brien's Bloody Mary mix, garnished with beef jerky straw, bacon slices and romaine lettuce stalk

Mint Julep -Buffalo Trace bourbon and simple syrup muddled with fresh mint

Pat O's Lemonade – Pat O'Brien's Hurricane Rum, Bacardi O Orange rum, grenadine and sour mix
Starters
Blackened Chicken Nachos

– $12.95 – Tortilla chips, chicken breast, red beans, Cajun cheese sauce, tomatoes, fresh jalapeños, scallions, shredded cheddar, sour cream

Pat O'Brien's Wings

– $10.95 – Crispy wings, signature sauce, blue cheese, celery

Combo Platter

– $15.95 – A selection of favorites: wings, Cajun garlic shrimp, crawfish dip, onion rings

Crawfish Dip

– $10.95 – A blend of crawfish, cream cheese, cheddar cheese, fresh jalapeños, melted provolone cheese, tortilla chips

Cajun Garlic Shrimp

– $8.95 – Crispy shrimp, garlic sauce, fresh slaw
Soups & Salads
Blackened Chicken Caesar

– $12.95 – Romaine lettuce, blackened chicken breast, crispy Tabasco onions

Shrimp Cobb Salad

– $12.95 – Crispy shrimp, avocado, egg, tomato, cucumbers, blue cheese, bacon, Louisiana ranch dressing

Mardi Gras Gumbo

– $5.95 – Rich with New Orleans flavors, topped with white rice and shrimp
Entrées
Coppertop Steak

– $17.95 – Beef medallions, house made mashed potatoes, seasonal vegetables, crispy Tabasco onions, gravy

Cajun Mac N Cheese

– $13.95 – Penne pasta, blackened chicken, shrimp, Cajun cheese sauce

Crawfish Etouffee

– $15.95 – New Orleans sauce, andouille sausage, crawfish, white rice

Jambalaya

– $15.95 – Slow cooked Cajun rice, andouille sausage, shrimp, chicken, Creole sauce

Shrimp & Grits

– $16.95 – Blackened shrimp, andouille sausage, grits, cream, parmesan cheese

Bayou Blackened Redfish

– $17.95 – Fresh redfish, red beans, rice, seasonal vegetables, muffaletta butter

Vegetable Jambalaya

– $12.95 – White rice, corn, bell peppers, okra, onion, black eyed peas, zucchini, squash creole sauce

Creole Chicken

– $13.95 – Blackened chicken breast, rice, red beans, creole sauce
Sandwiches
All sandwiches serviced with seasoned fries or onion rings can be substituted for $1.95
Voodoo Burger

– $13.45 – Beef patty, andouille, crispy shrimp, cheddar cheese, lettuce, tomato, toasted challah bun

Chicken Sandwich

– $10.95 – Blackened chicken breast, cheddar cheese, bacon, lettuce, tomato, Cajun mayo, toasted challah bun

N'awlins Shrimp Po'Boy

– $9.95 – Crispy shrimp, Cajun mayo, lettuce, tomato, pickles, hoagie roll

Courtyard Cheeseburger

– $10.95 – Beef patty, lettuce, tomato, pickle, choice of cheese, toasted challah bun

Vegetarian Black Bean Burger

– $10.95 – Black bean patty, lettuce, tomato, pickle, cheddar cheese, toasted challah bun
Sides
All Sides $3.95
Garden Salad
Red Beans & Rice
Seasonal Vegetables
Mashed Potatoes
Desserts
Bag O' Beignets

– $4.95 – New Orleans style doughnuts, powdered sugar, chocolate dipping sauce

Strawberry Hurricane Cheesecake

– $5.95 – New York Style Cheesecake, Hurricane strawberry sauce

Bread Pudding

– $5.95 – Homemade bread pudding, vanilla ice cream, cinnamon
Children's menu
Ages 9 and Under
Chicken Fingers

– $6.99 – Crispy tenders, choice of side

Mac & Cheese

– $6.99 – Penne pasta, cheese sauce, choice of side

Grilled Shrimp

– $6.99 – Grilled jumbo shrimp, white rice, choice of side

Cheeseburger

– $6.99 – Beef patty, lettuce, tomato, sesame seed bun, choice of side

Grilled Chicken

– $6.99 – Grilled chicken breast, white rice, choice of side

Sides – Apple sauce, grapes, or seasoned fries
Hours
Reservations
407-224-FOOD (3613)
Guests staying on-site receive priority seating
Official website
Pat O'Brien's – HD video
---
Pat O'Brien's – Photo Gallery
---
Pat O'Brien's – Real guest reviews