Attention: The information on this page is for the 2015 holiday season. Once we get closer to the 2016 holidays this page will be updated with this year's details.
Are you ready for some of the most exciting New Year's Eve activities outside of the Big Apple?
On this page we'll discuss everything that is happening across Universal Orlando for New Year's Eve 2015, including CityWalk, Universal's theme parks, and the on-site hotels. Let's get started!
Eve 12.31.15 at Universal CityWalk
Starting in 2013, Universal has rebranded its big CityWalk bash as EVE – A Universal CityWalk Event. Gone is the headlining band from previous year's, in is Orlando's biggest dance floor.
Here are all the details that have been released for Eve 12.31.15:
EXPERIENCE NON-STOP ENTERTAINMENT AT CITYWALK'S INCOMPARABLE CELEBRATION
The whole year's been leading up to this: Universal CityWalk's eye-popping, mind-blowing, jam-packed New Year's celebration.
Unlimited gourmet cuisine featuring prime rib, tenderloin, jumbo shrimp, custom desserts, and more
Six unique party zones with entertainment and signature drinks (more details below)
Orlando's biggest outdoor dance floor
Admission to six Universal CityWalk venues
Midnight champagne toast and pyrotechnics display
Eve at CityWalk includes admission to all event venues, each with their own entertainment, customized party zones, and signature drinks. And to send it all into the stratosphere, you can celebrate all night on Orlando's biggest dance floor, built just for Eve in front of the CityWalk Plaza Stage. You'll kiss 2015 goodbye in style with a 360-degree DJ platform, dancers, and incredible special effects.
DJ M-SQUARED RETURNS
After sending out 2013 and 2014 in style, award-winning DJ M-Squared is back for a third New Year's Eve.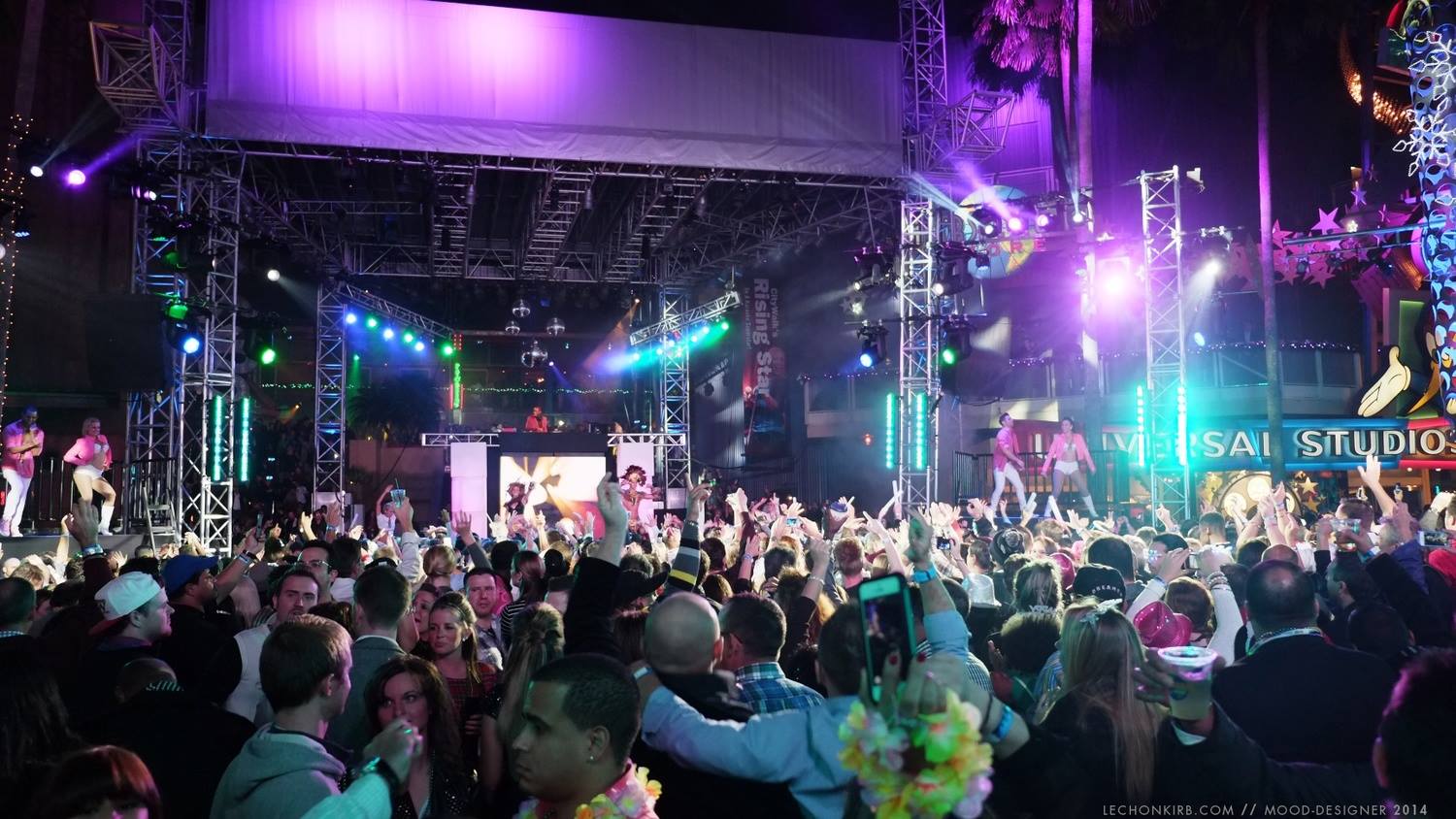 DJ M-Squared at Universal CityWalk's EVE 2013 – via Facebook.
Popular with A-List celebrities, top fashion designers, and prominent corporate brands, he'll be sharing his genre-shattering, one-of-a-kind music mixing talent to make Eve the unforgettable night you've been waiting for all year long.
Additional entertainment details (please note these are from 2013 – Universal hasn't published a schedule for 2015, but you can except it to be very similar to this):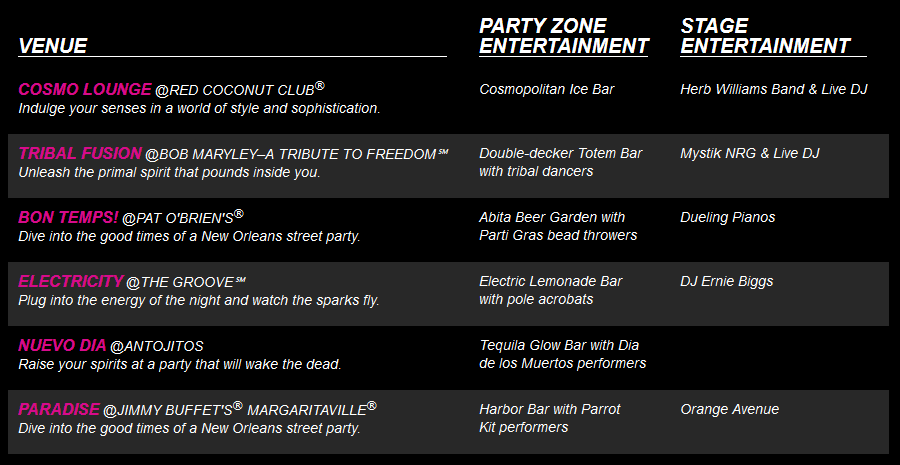 Additional event details:
This is a 21+ only event
$104.99 advance price through December 15 (previously $99.99 in 2014)
$94.49 advance print for Annual Passholders through December 15 (previously $79.99 in 2014)
$134.99 after December 15 (previously $129.99 in 2014)
New for 2015: VIP tickets are now available. VIP tickets will cost you $144.99 through December 15 and $184.99 after December 15. There is no Annual Passholder discount for VIP tickets.
VIP tickets include:
Private VIP areas throughout CityWalk (Excludes Cabanas)
Exclusive Food Stations
Private Bars
Seating Areas
What you need to know about New Year's Eve at Universal CityWalk
The biggest misconception about New Year's Eve at CityWalk is that the entertainment will be complimentary. Many guest rightly have this misconception because, for the other 364 days of the year, any band or DJ performances at CityWalk is open to the public, like you see here:
But this is absolutely not the case on New Year's Eve.
Basically, the entire side of CityWalk where the concert stage is, and the second level of nightclubs and restaurants, is closed to the general public. Here's what you'll be looking at: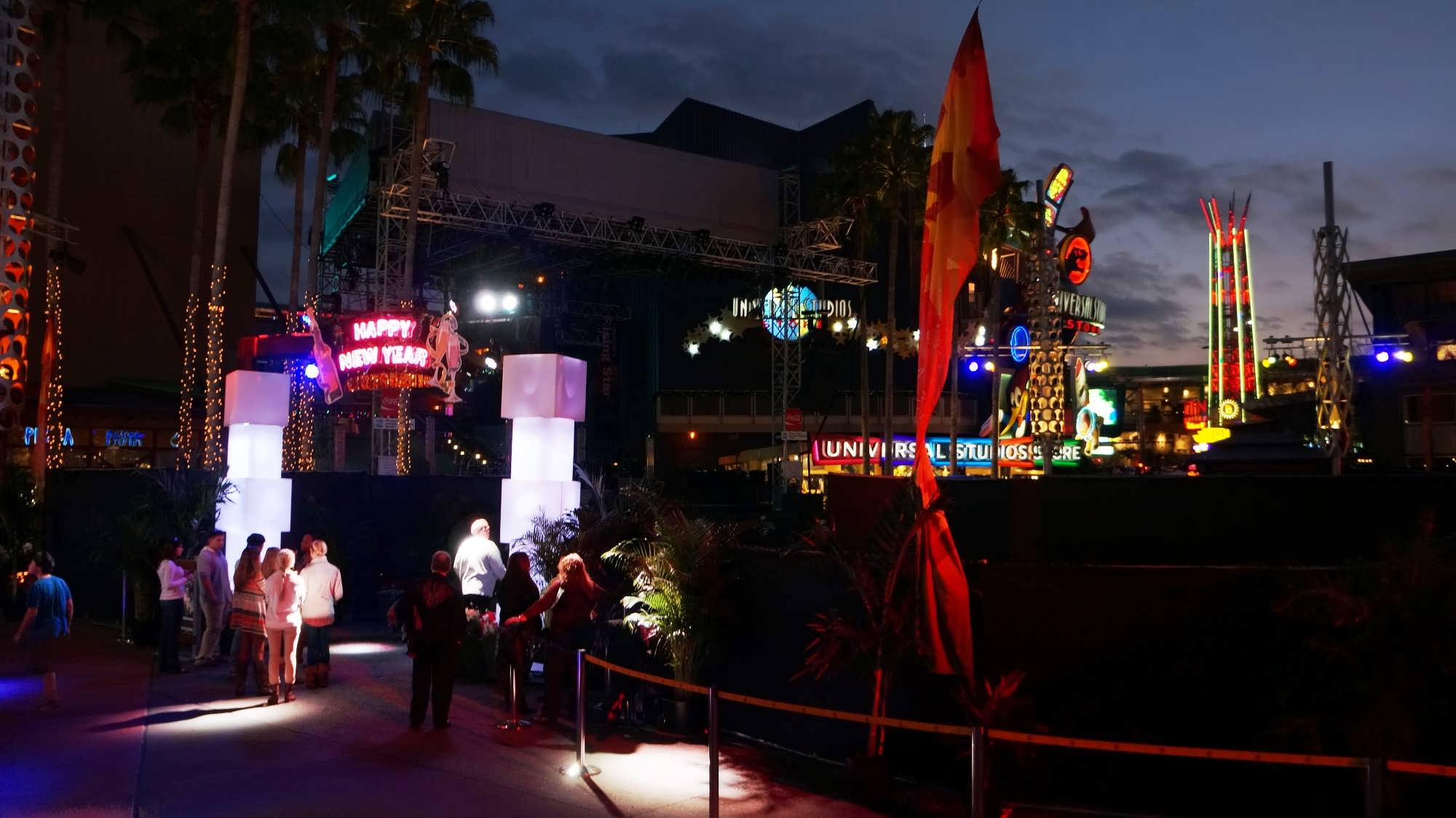 Portions of CityWalk blocked off for New Year's Eve.
The only full-service venues expected be open to the general public are The Cowfish, VIVO Italian Kitchen, NBC Sports Grill & Brew, and Hard Rock Cafe. So please do not make the mistake of thinking you can play around CityWalk on New Year's without paying for the New Year's Eve celebration (unless, of course, you're perfectly happy to party one of the four restaurants we just listed).
Also, please note that food is included in the price of the EVE 12.31.15 as described above, but drinks are not – except for the champagne toast at midnight. (You can expect to pay between $4 and $8 for drinks.) And finally, remember that the CityWalk New Year's Eve party is 21+ only.
Hard Rock Live & Blue Man Group
Just in case you'll be at CityWalk on New Year's Eve but aren't interested in the big EVE 12.31.15 celebration, there may be two other options. First, Hard Rock Live does have an event scheduled: Rock 'til the Drop 2015 New Years Eve Party. Second, the Blue Man Group will be hosting three shows on December 31 – learn more.
Universal Studios Florida & Islands of Adventure
The actual theme parks at Universal Orlando do not host their own New Year's Eve parties per se. However, they are open late, so you can enjoy your favorite attractions into the wee hours of the night. This year Universal Studios Florida is scheduled to be open until 1:00am and Islands of Adventure is scheduled to be open until 11:00pm.
Looking for some fireworks in the parks for New Year's Eve? Then you'll have a bit of luck. Universal's Cinematic Spectacular lagoon show, which usually plays in the evening at Universal Studios Florida and does feature some pyrotechnics, is scheduled to run at 11:59pm on New Year's Eve with a special end-of-the-year theme.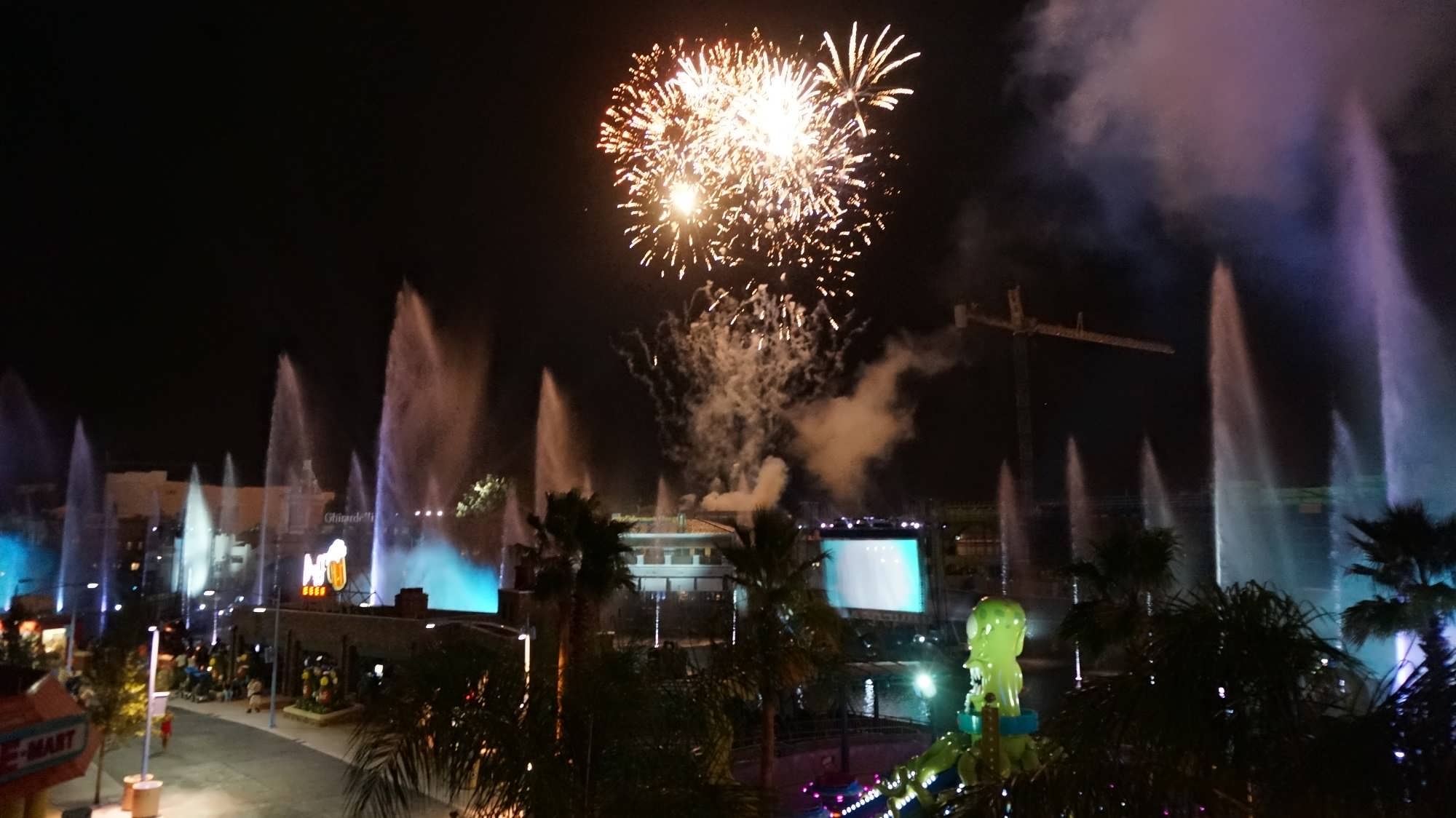 Cinematic Spectacular viewed from The Simpsons Ride.
Universal's on-site hotels
All of the on-site hotels at Universal Orlando – Portofino Bay Hotel, Hard Rock Hotel, Royal Pacific Resort, and Cabana Bay Beach Resort – each are having their own special New Year's Eve celebrations for 2015.
Portofino Bay Hotel
New Year's Eve Party on the Piazza
*recommended for couples
Enjoy a family-friendly New Year's Eve party under the twinkling lights of the Harbor Piazza! The countdown to the new year features all-you-care-to-eat gourmet food samples from Mama Della's Ristorante, Trattoria del Porto, Sal's Market Deli, Splendido's Bar & Grill and Gelateria. Plus, enjoy a selection of more than a dozen wines and sparkling wines. Entertainment includes live DJ, kids' crafts & activities area, face painting, and party favors. Live opera will crescendo from the balconies, culminating in a toast and celebration to welcome in 2016!
Time: 8:30pm – midnight
Price: $145 for adults, $35 for children 3 – 9 (2 & under complimentary)
Hard Rock Hotel
Rock-In 2015!
*recommended for families
Celebrate New Year's Eve with attitude at Hard Rock Hotel. Enjoy family-friendly festivities including specially prepared desserts, face painters, balloonist, Universal characters, the Magic Men, a live DJ, a balloon drop, confetti cannons, movies in the ballroom, DJ rockin' in the lobby. Then at midnight, watch the countdown in Times Square via satellite with hats, party favors, and a champagne toast.
Time: 8:00pm – 1:00am
Price: $60 for adults, $35 for children 3 – 9 (2 & under complimentary)
A separate holiday buffet will also be available in the evening at The Kitchen restaurant; to learn about purchase a buffet & party package, call 407-503-2200.
Royal Pacific Resort
Orchid Court New Year's Eve Reception
All evening long, enjoy the island vibe of Royal Pacific Resort's Orchid Court Lounge with complimentary dessert selections, New Year's Eve festivities, face painters, balloon twisters, DJ'd dance party, and a midnight champagne toast complete with party favors and a balloon drop.
Time: 8:00pm – 1:00am
Price: $38 for adults, $22 for children 3 – 9 (2 & under complimentary)
Dial

407-503-3200

for reservations
In addition to the Orchid Court New Year's Eve Reception, there will be a special holiday dinner buffet at the Islands Dining Room and a New Year's Eve Wantilan Luau.
Cabana Bay Beach Resort
Bayliner Diner Event (Updated for 2015)
New this year, the New Year's Eve events at Universal's Cabana Bay Beach Resort will be combined into one event that will take place in the Bayliner Diner. All hotel guests can take part in the festivities this year, without purchasing a ticket. The event will feature a DJ, balloon drop at midnight, face painters, and more. There will be food and beverage specials available for purchase at the event.
More New Year's Eve information
Looking for something a little simpler? If you'd just like to plan on having dinner at one of Universal Orlando's many restaurants, you can find details for making reservations at the in-park, full-service restaurants, the venues at CityWalk, and the options at the on-site hotels by visiting our Dining reservations page.