Welcome, party people, to the biggest bash this side of the bayou! It's time to get your groove on.
Mardi Gras 2017 at Universal Orlando Resort
Every spring, the fun and excitement of The Big Easy makes its way to Universal Orlando Resort for Mardi Gras – an authentic celebration that completely transforms Universal Studios Florida into a family-friendly version of the famed New Orleans street party.
You've just found the world's most popular insider's guide to this event – and our page now includes our "Best of Mardi Gras″ video (found at the end) and over 200 images from last year's event.
To learn everything there is to know about Mardi Gras 2017 – from the food in the French Quarter Courtyard to how you can sign up to ride a float – we strongly recommend that you read this article from top to bottom!
Concerned about the weather? Check out our Orlando weather page to learn more (that link will open in a new window for your convenience).
Bands & Beads at Universal Orlando
On February 4 to March 24, 2017, Universal Orlando's Mardi Gras celebration combines unparalleled theme park entertainment with an elaborate Mardi Gras parade, dozens of colorfully costumed performers, authentic New Orleans bands, and delicious Cajun cuisine. On select nights, there's even live concerts by nationally and internationally recognized recording artists.
NEW FOR 2017: Mardi Gras veterans will note that the 2017 event is a little different. This year, the event's festivities (parade, special food) take place on every night from February 4 to March 24. However, the concerts are still only select nights.
MARDI GRAS 2017 CONCERT LINEUP
Dates that appear in bold are either Friday or Sundays; all other dates are Saturdays.
Saturday, February 4: Trace Adkins (official site, popular video, @traceadkins)
Saturday, February 11: Ne-Yo (official site, popular video, @NeYoCompound)
Saturday, February 18: Collective Soul (official site, popular video, @CollectiveSoul)
Sunday, February 19: X Ambassadors (official site, popular video, @XAmbassadors)
Saturday, February 25: Fifth Harmony (official site, popular video, @FifthHarmony)
Saturday, March 4: Kool & the Gang has been cancelled. A replacement act is to be announced.
Sunday, March 5: Olivia Newton-John (official site, popular video, @olivianj)
Saturday, March 11: UB40 (official site, popular video, @UB40OFFICIAL)
Sunday, March 12: Toby Keith (official site, popular video, @tobykeithmusic)
Saturday, March 18: Jason Derulo (official site, popular video, @jasonderulo)
Sunday, March 19: Earth, Wind & Fire (official site, popular video, @EarthWindFire)
Saturday, March 25: The All-American Rejects (official site, popular video, @therejects)
For the 2017 concert nights, the parade will kick off at 7:45pm and the concert should begin shortly thereafter at 8:30pm. Check park map to confirm. From the start to finish, the parade lasts about 25 minutes.
The Big Easy just got easier
Guests can experience all the fun and excitement of The Big Easy as Universal Studios Florida becomes a family and kid-friendly version of Mardi Gras every night. The celebration includes an elaborate Mardi Gras parade, where guests can dance along with street performers and collect beads by the handful as colorful floats wind down the streets of Universal Studios.
MARDI GRAS FLOATS
2015 featured the return of refurbished crowd-favorites like the Gator and Riverboat floats, along with the addition of a "party" float. The 2016 parade boasts four new floats that celebrate different cultures and festivals from around the world: Venetian Carnival, Oktoberfest, 4th of July, and Rio de Janeiro Carnival.
2017 is adding six floats to the parade, all based off of mythical creatures. These floats are Manticore's Majesty, The Rise of the Garuda, The Dance of the Dragon, Phoenix from the Flames, Garden Sprites, and The Flight of the Pegasus.
Universal Mardi Gras Parade Time
2/7: 5:00pm
2/5, 2/6, 2/8 – 2/10, 2/12 – 2/17: 6:45pm
2/20 – 2/24, 2/26 – 2/27, 3/1 – 3/3, 3/6 – 3/10: 7:15pm
2/4, 2/11, 2/18, 2/19, 2/25, 2/28, 3/4, 3/5, 3/11 – 3/25: 7:45pm
From the start to finish, the Mardi Gras parade is about 25 minutes in length. Keep reading for more info about the parade route.
FRENCH QUARTER COURTYARD
The heart of Mardi Gras is Universal Studios' French Quarter Courtyard, where guests can groove to the soulful sounds of authentic New Orleans bands every night before the headliner concert. Since 2006, more than 20 bands have traveled straight from The Big Easy to Universal Orlando to perform Blues, Jazz, and Zydeco music for party-goers – adding to the authenticity of Universal's Mardi Gras celebration. The French Quarter also features an array of delicious New Orleans fare available for purchase, including jambalaya, gumbo, beignets and more (most entrees between $8 and $10).
New Orleans Bands performing in the French Quarter
February 4 – 14: Young Pinstripe Brass Band
February 15 – 21: New Breed Brass Band
February 22 – March 5: Free Agents Brass Band
March 6 – 15: Naughty Professor Brass Band
March 16 – 25: Dirty Bourbon River Show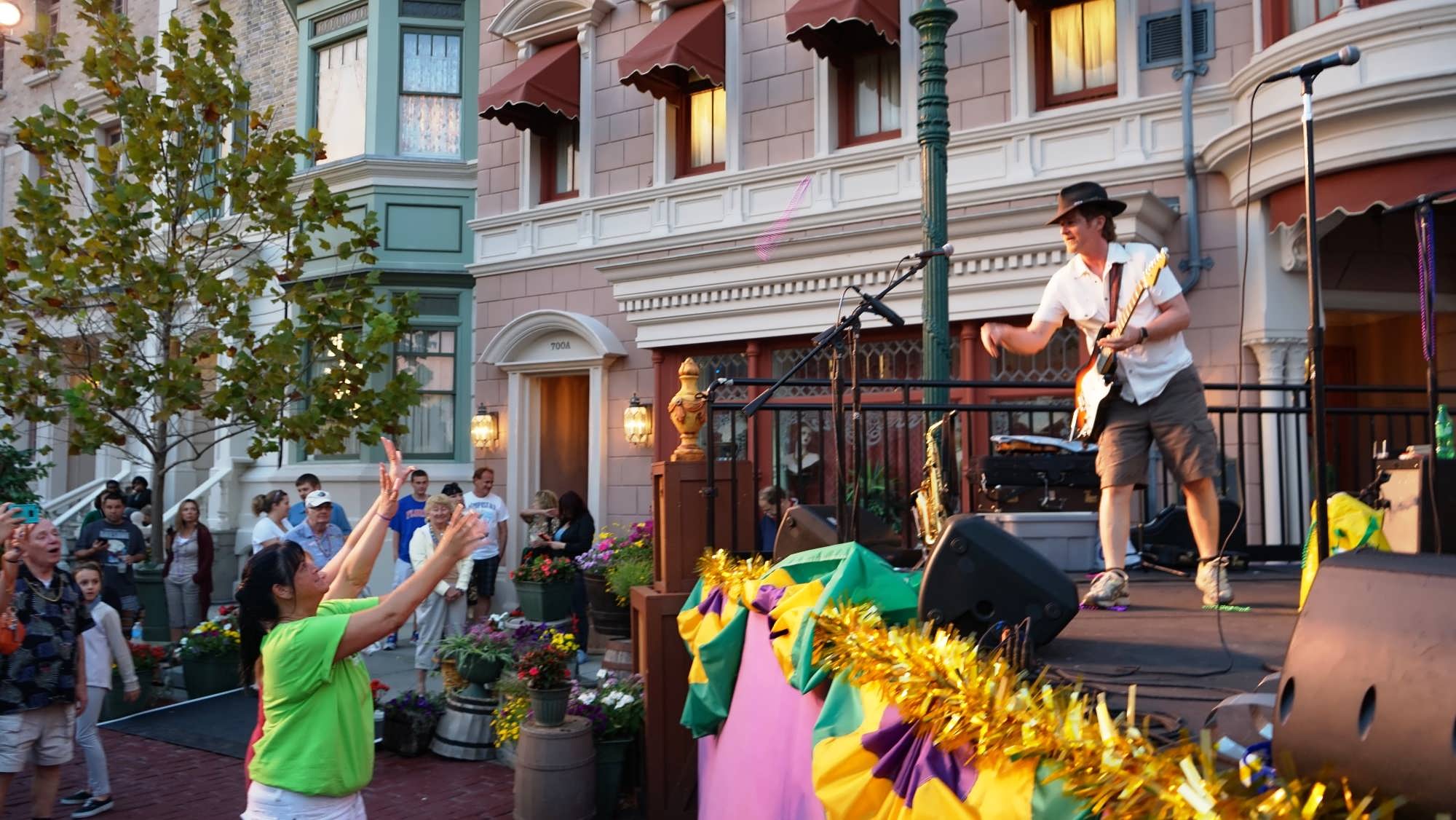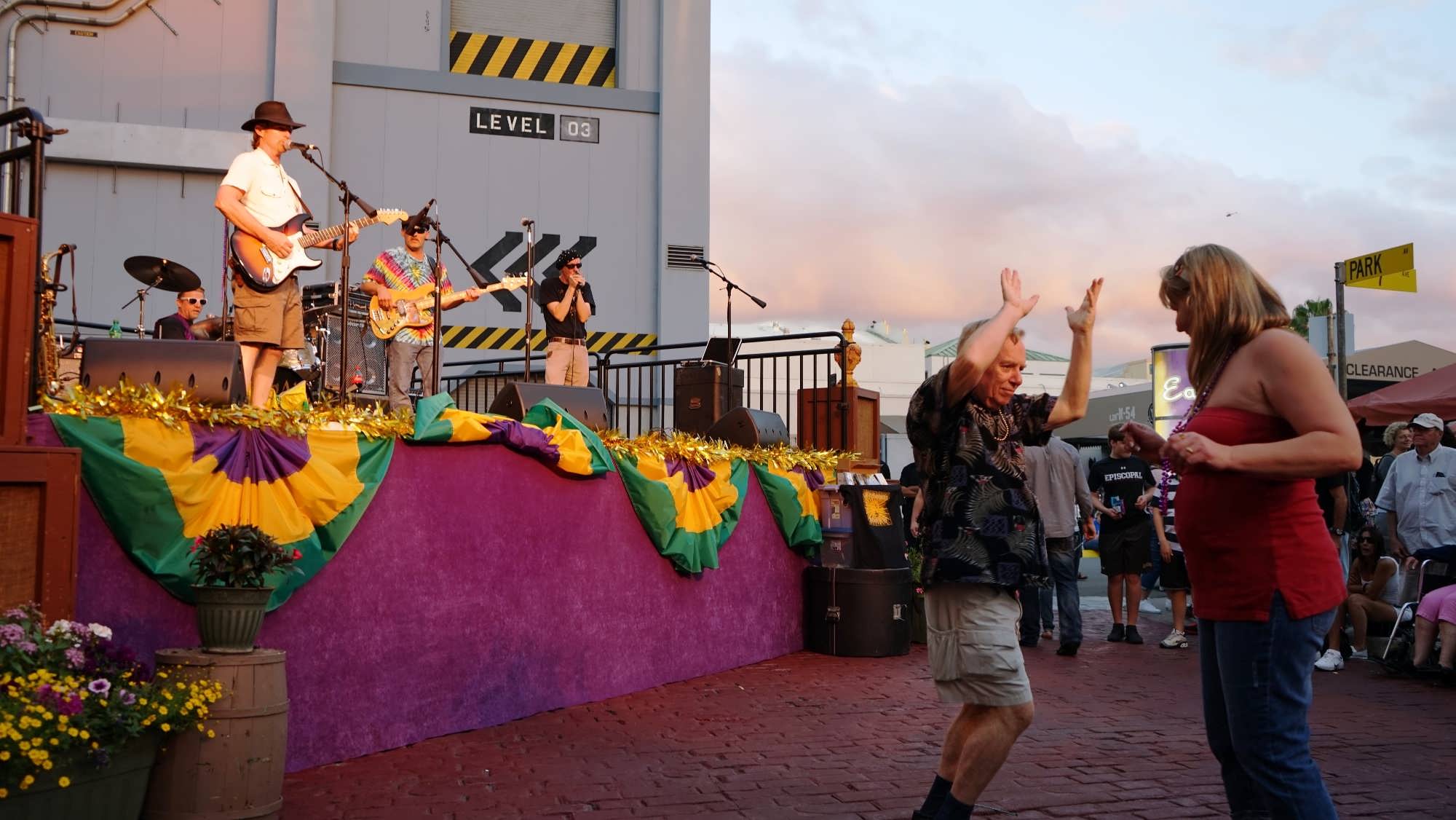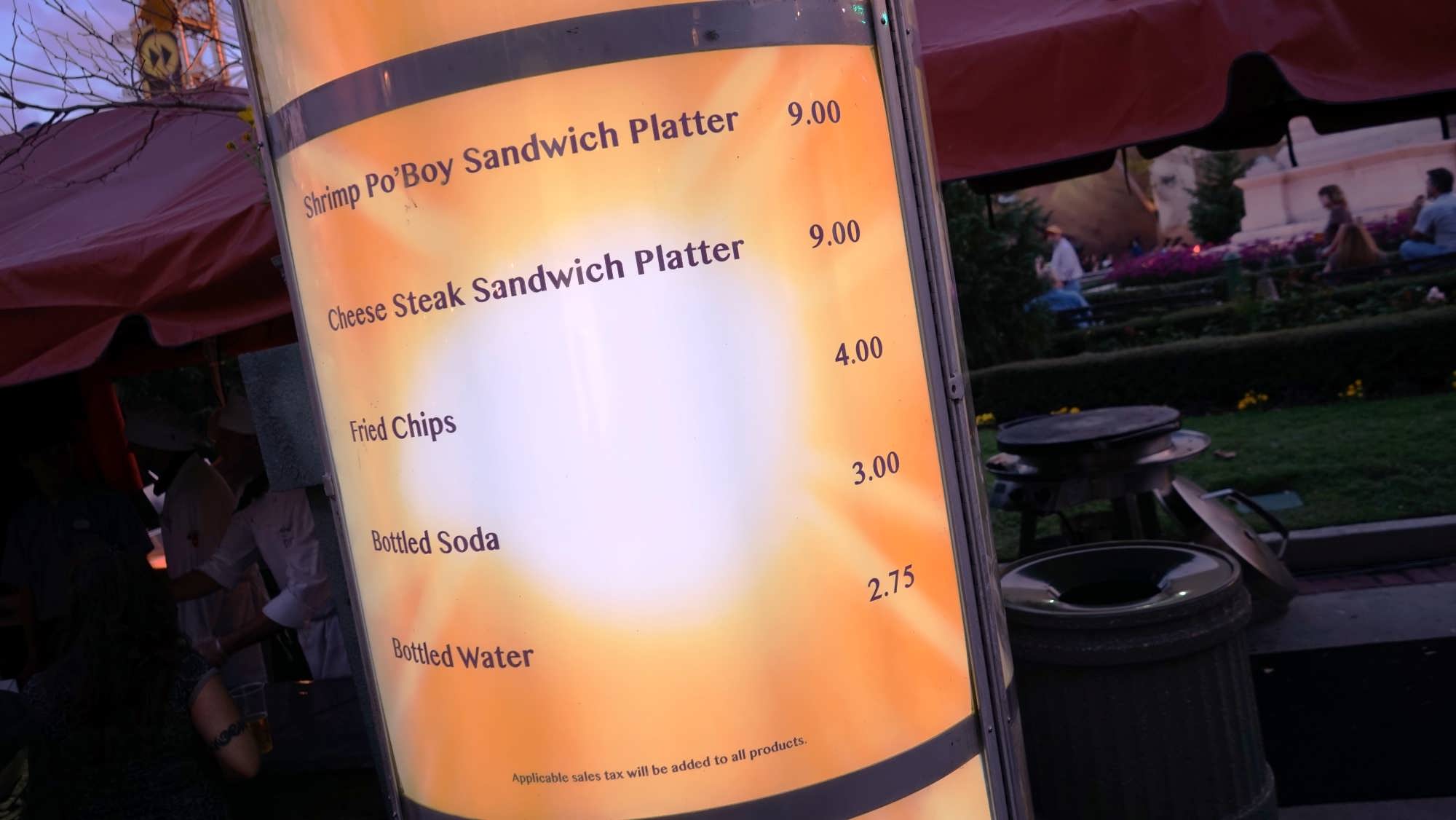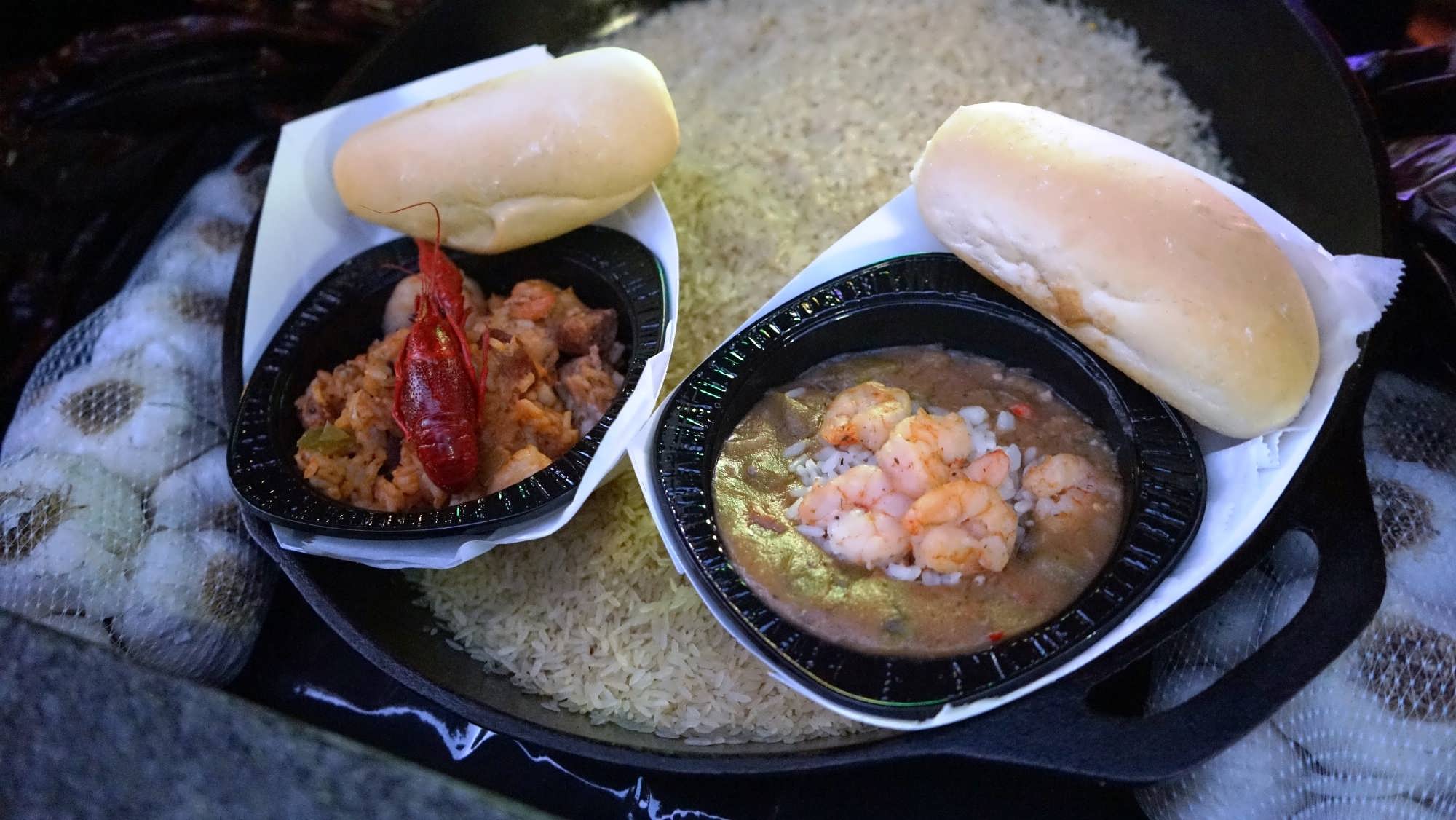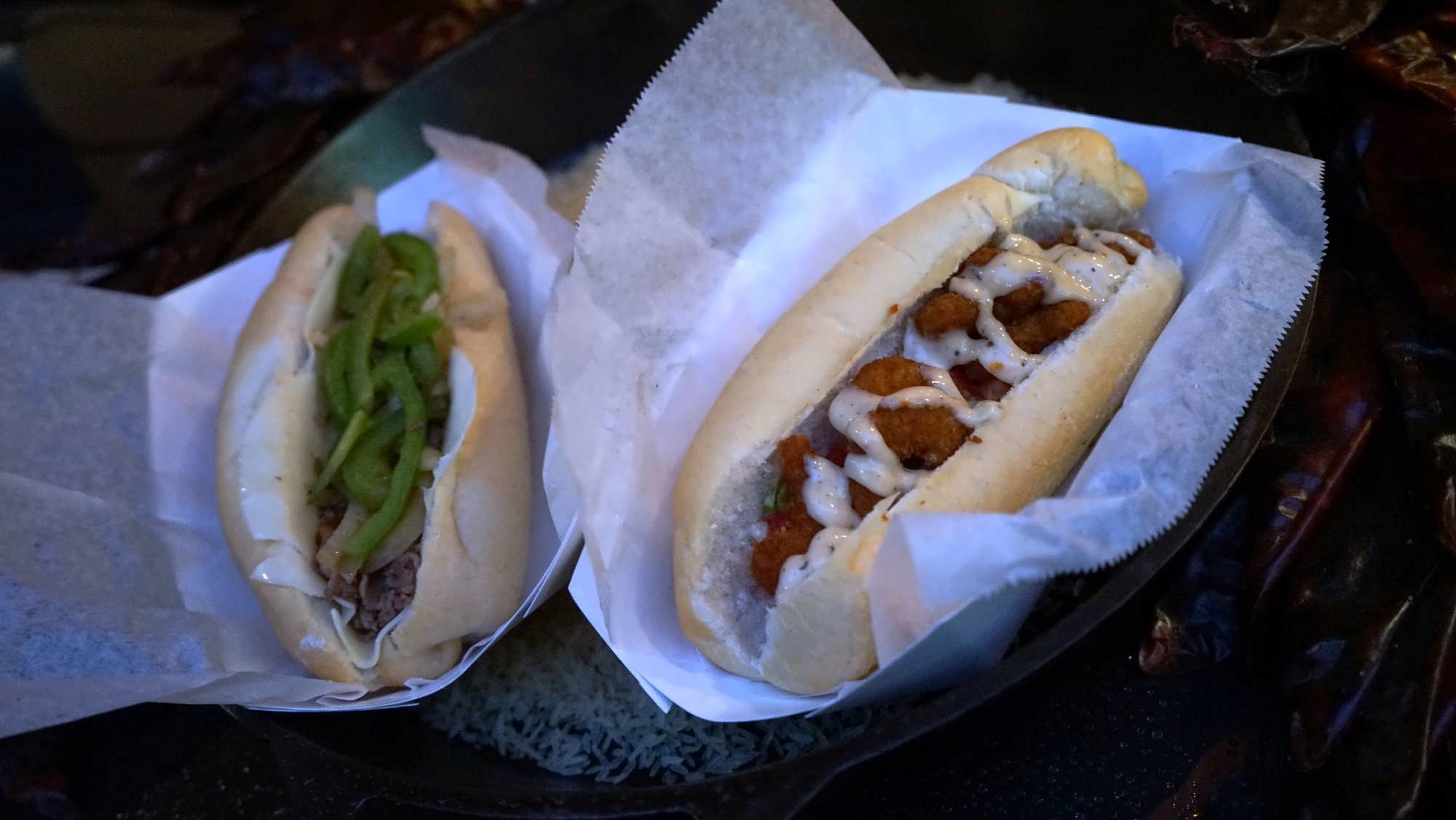 The French Quarter Courtyard opens at 4:00pm and closes around 8:45 (on concert nights), but the individual booths may extend their hours depending on how busy it is.
Admission to Mardi Gras
All Mardi Gras activities — the concerts, parade, and French Quarter Courtyard — are included with admission to Universal Studios Florida. As long as you have a ticket to get through the turnstiles on a Mardi Gras event date, you have access to everything.
Is Mardi Gras at Universal Studios Florida appropriate for young kids?
The French Quarter Courtyard, pre-party, and parade are well done and totally family-friendly. We definitely recommend bringing along everyone in the family! Many Mardi Gras "characters" walk the streets near the Universal Music Plaza and French Quarter Courtyard handing out beads and posing for photos. Mixed with the New Orleans party music filling the air, it's a very festive atmosphere.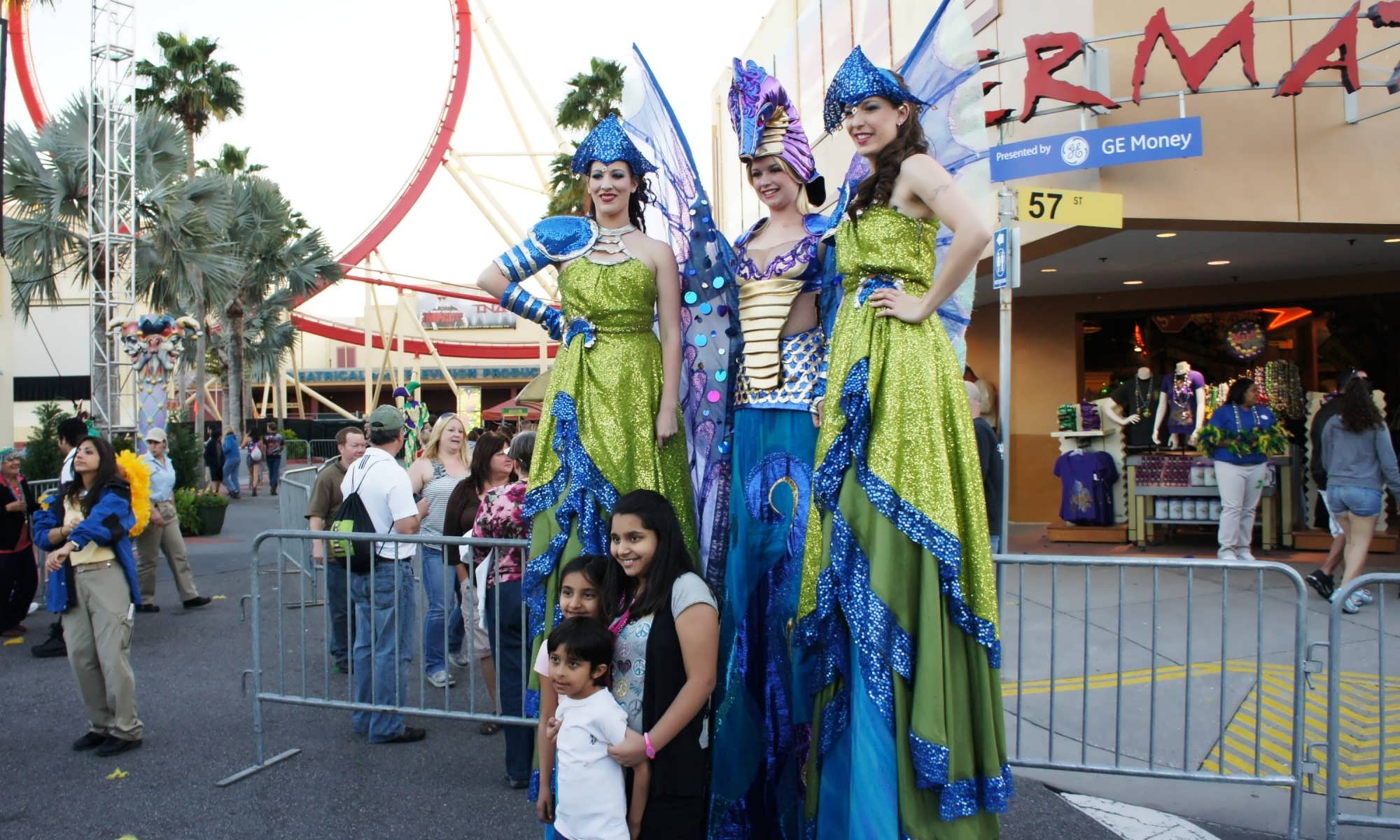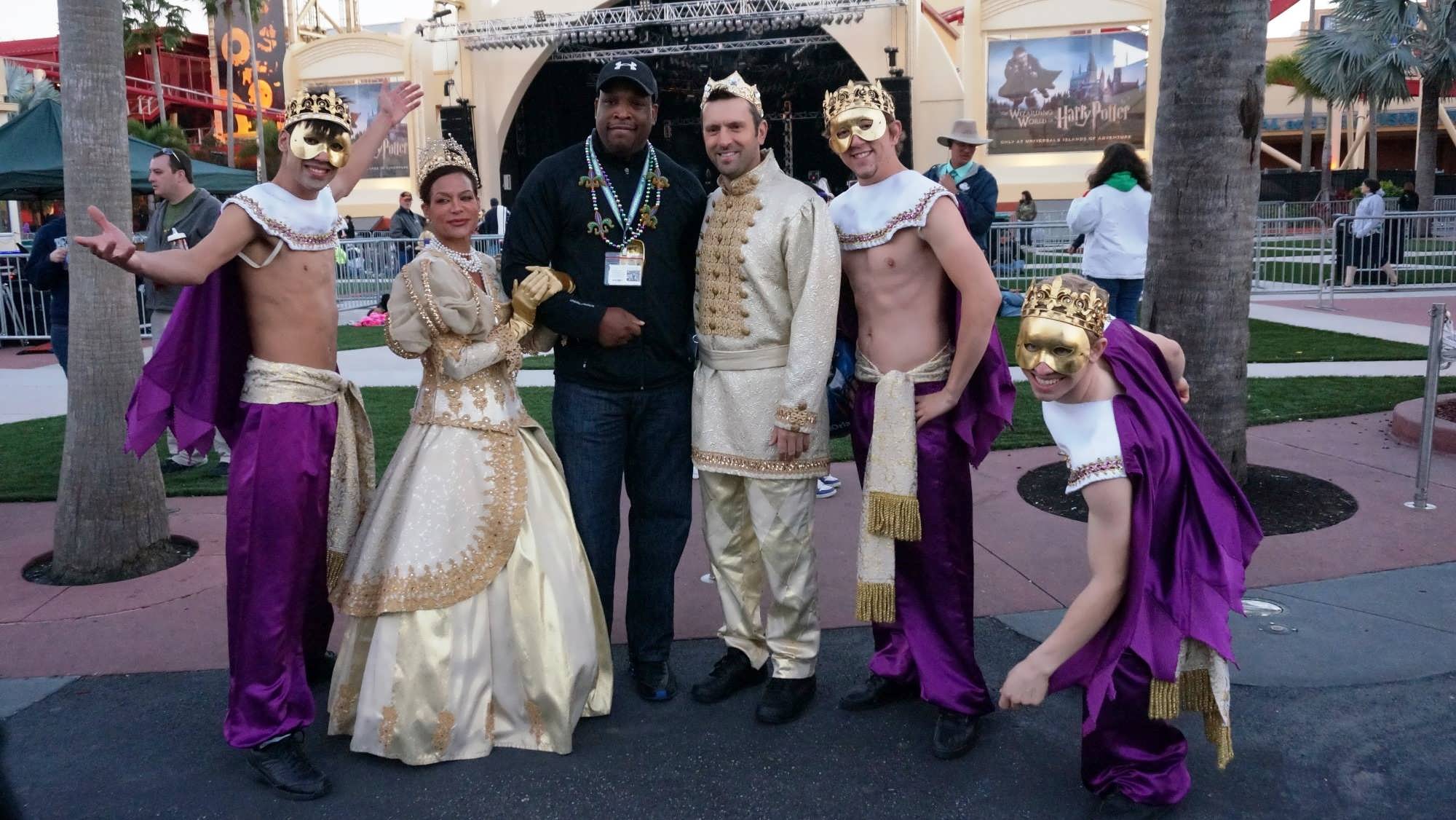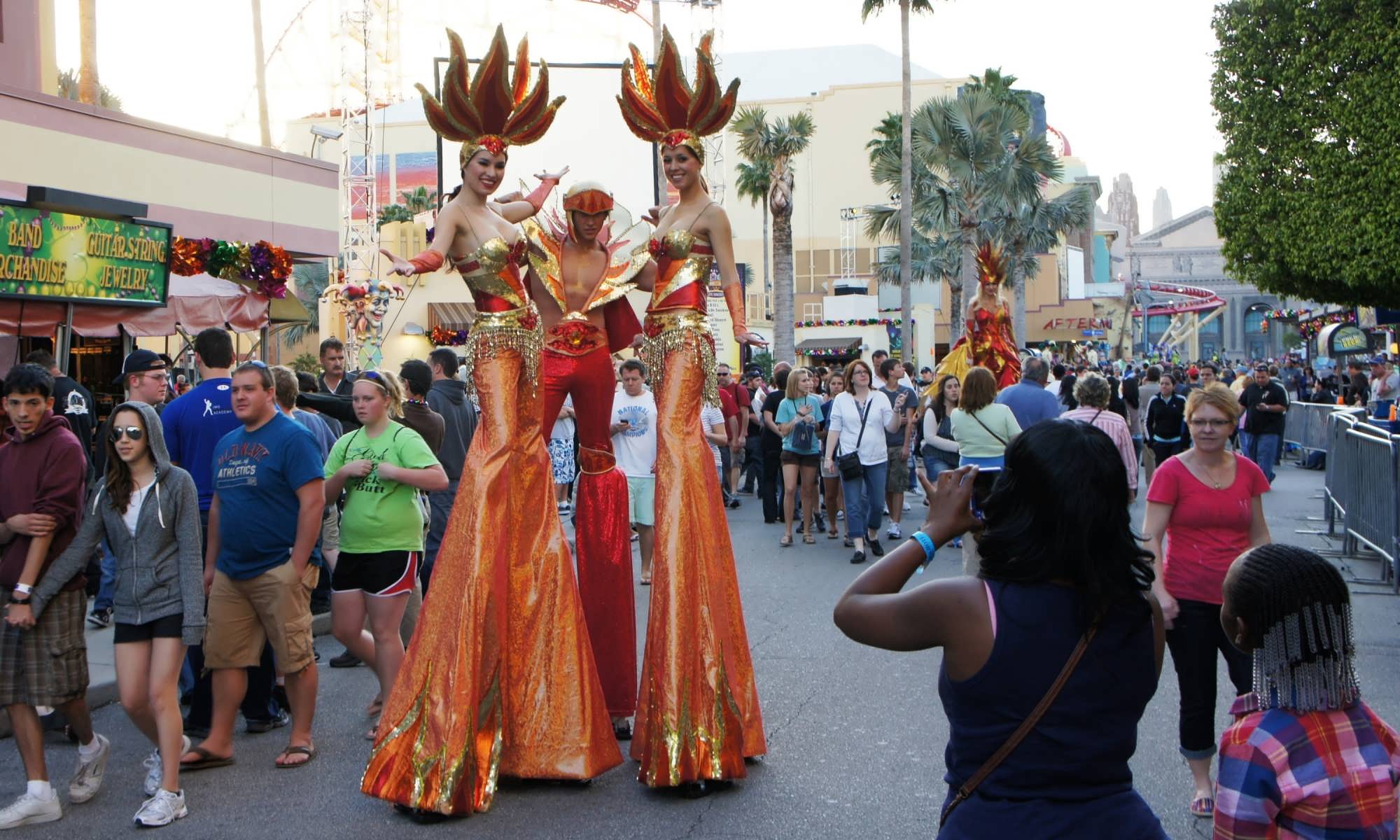 The part of Mardi Gras that may not be quite so family-friendly is the free concert on select nights after the parade. Universal is able to get some pretty big names to play, and since the concert is free to anyone who has admission to the park, they can get packed! We mean PACKED! We wouldn't recommend bringing the kids around the Universal Music Plaza anytime towards the end of the night, unless you happen to be going when a decidedly unpopular or older band is playing.
Luckily, it's very easy to enjoy the Mardi Gras' family-friendly party atmosphere and parade while steering clear of the Music Plaza. In fact, Universal has set up a special parade viewing area just for kids called the Little Jester's Parade Viewing Area. It is located next to the Terminator 2: 3-D attraction, and it opens an hour before the parade starts. And, surely by design, Universal has put this special viewing area right next to the park exit so you can easily leave with your kids once the parade passes.
To view the location of Terminator inside Universal Studios Florida, open our special interactive map by clicking here. (Be sure to switch it to Satellite View.)
Where is the best place to watch the parade?
The Mardi Gras parade route this year is the same as last year's — see the image below. It starts at the bottom of the map, right next to the Horror Make-Up Show theater. Then it follows the red line all the way around Universal Studios Florida and back to where it began.
The parade now stops twice. The Mardi Gras 2016 parade made a stop in Hollywood, and then again in New York. During this stop, the party float and various other Mardi Gras performers interact with the crowd. The stoppage lasts about 2 minutes, and then the parade starts back up.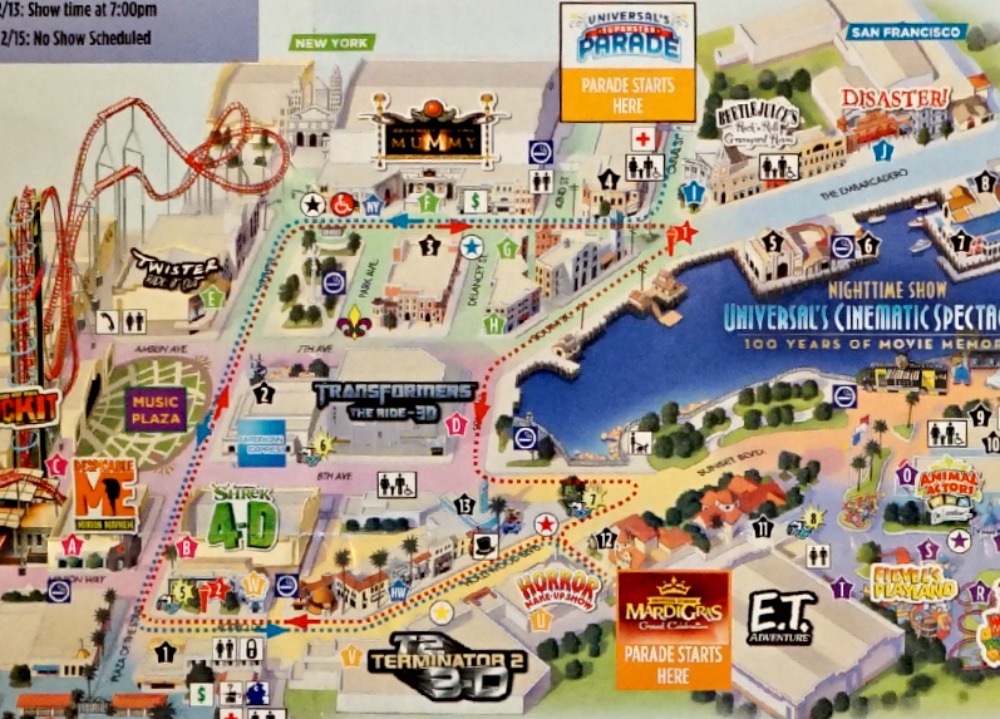 So, where's the best spot to watch the parade? For this event, it's more about finding a strategic area based on what you're most interested in.
I'd like to leave USF as quickly and as early as possible. Then you will want to line up along Hollywood Blvd, near Terminator 2 and the Little Jester's viewing spot (more info below). This will allow you to quickly exit the park after the parade has passed.
I'd like to have an opportunity to see the parade twice. In this case you will want to line up in front of Mel's Drive-In, located on Hollywood Blvd. Because this year's route has the parade beginning and ending at the same spot, anyone near Mel's Drive-In will be able to see it twice.
I'd like the best spot for taking pictures. This is somewhat a matter of opinion. Nevertheless, based on our experience, lining up in the New York backlot near Finnegan's Bar & Grill or Louie's Italian Restaurant will get you the best pictures. We believe this because the building facades along Delancey Street really help the parade floats look like they're traveling down a real city street, like you might actually see in New Orleans.
I'd like to see the party float and parade stoppage. You'll want to stand near the Brown Derby in Hollywood.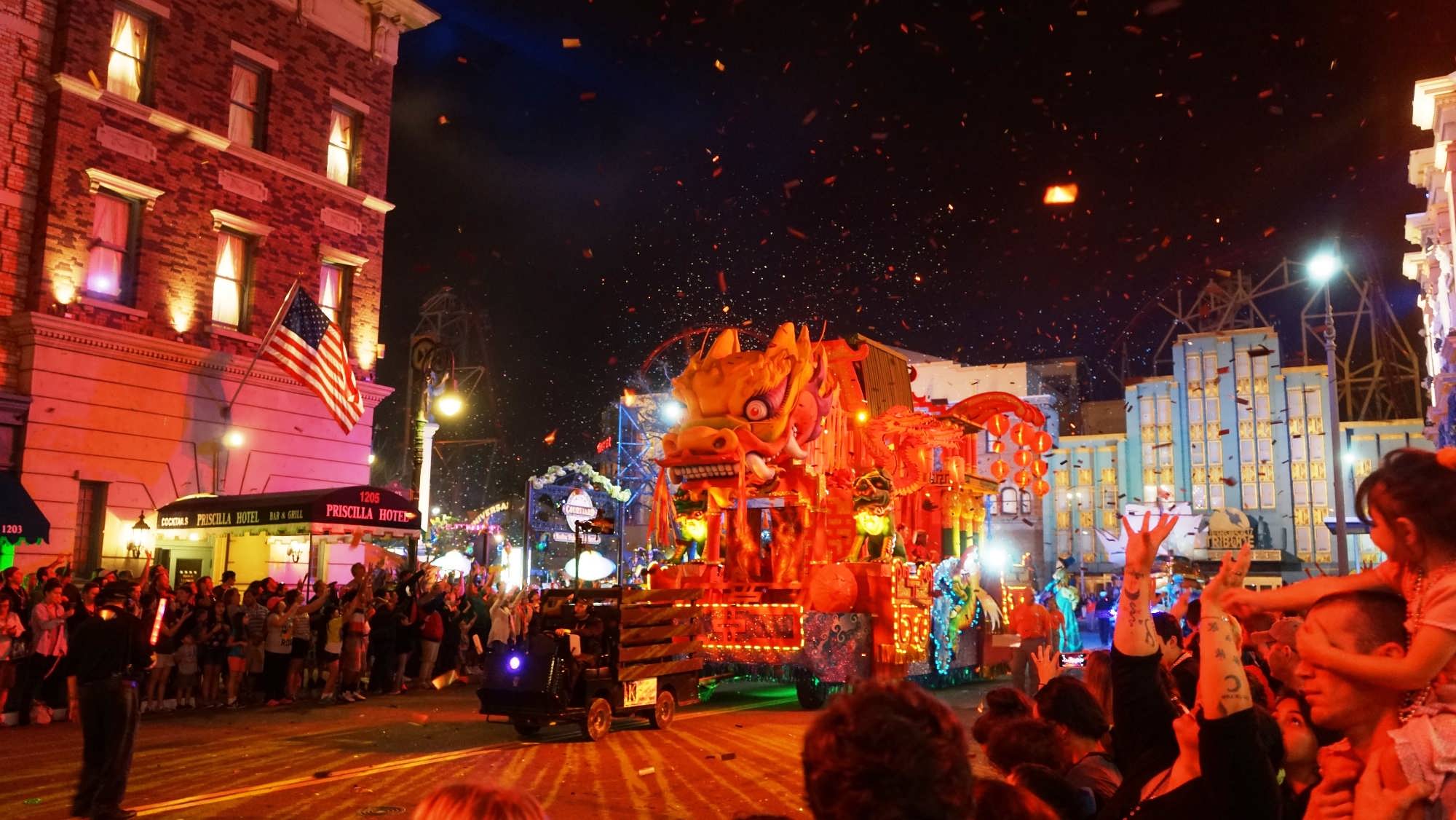 I'm going to the concert afterwards. If you really want a good spot for the concert, you'll need to skip the parade altogether (more on that in a little bit). But if you really want to see both, then for the parade you will want to line up in Production Central, basically as close as you can get to the Universal Music Plaza.
Because the Mardi Gras floats are mostly two-story, and because virtually all the street performers are on stilts, you don't lose much not being in the very front of the crowd. Of course, wherever you choose as your viewing area, being in the front of the crowd will give you the best shot at collecting beads and taking the least obscured photos. To do this, choose your area based on the information above and get there 45 minutes to an hour before the parade start time.
SPECIAL PARADE VIEWING AREAS
As noted above, the Little Jester's Parade Viewing Area for kids is located next to the Terminator 2: 3-D attraction near the very front of the park.
The ADA viewing area is in front of the Macy's facade in the New York backlot, right by Revenge of the Mummy.
The Annual Passholder viewing area is in front of Mel's Drive-In, right at the start of the parade.
American Express Card Holders get their own special viewing area along Delancey Street in the New York backlot.
How do I sign up to ride a Mardi Gras parade float?
ANNUAL PASSHOLDERS
Each night a limited number of Universal Orlando Annual Passholders can be a part of the festivities and ride through the streets of USF on one of the colorful Mardi Gras floats, tossing beads to thousands of cheering spectators.
Offer is only available to Preferred & Premier Passholders
Space is limited and sign up does not guarantee a spot
Must be 18 years of age (or accompanied by an adult)
Must be at least 48 inches tall
No bags or strollers
Floats can accommodate guests in push wheelchairs with advance notice
Want to know about about this experience? OI contributor Dani wrote a great blog post about it last year.
IF MORE VOLUNTEERS ARE NEEDED…
It's possible, if more volunteers are needed, that Universal may invite additional guests to help on the floats who are not Annual Passholders. So far, these spots have been given away via Universal's official social media channels the day of the event. New last year, team members involved with the parade will walk around the park and randomly select guests. Keep in mind you'll still need to have general admission to Universal Studios Florida.
How does concert seating work? How far in advance should I get there?
There is no concert seating. It is all general seating — or really, general standing. The Universal Music Plaza is an open field, so to speak, so you get to watch the concert from wherever it is that you're standing when they start playing music. There is no VIP area to upgrade to, and no special viewing area for guests with Express Passes or guests staying at Universal's on-site hotels.
So, how early do you need to get there? If you want to be somewhat close to the stage, you need to get to the Universal Music Plaza at least two to six hours before the concert starts — the more popular the band, the earlier you need to get there. Saying that the Universal Music Plaza gets very crowded is a bit of an understatement. If there is a band playing and you want to be close, plan on getting there early and don't plan on seeing the parade. Crowd levels will also be influenced by Spring Break, so you will want to review our Universal Orlando crowd calendar.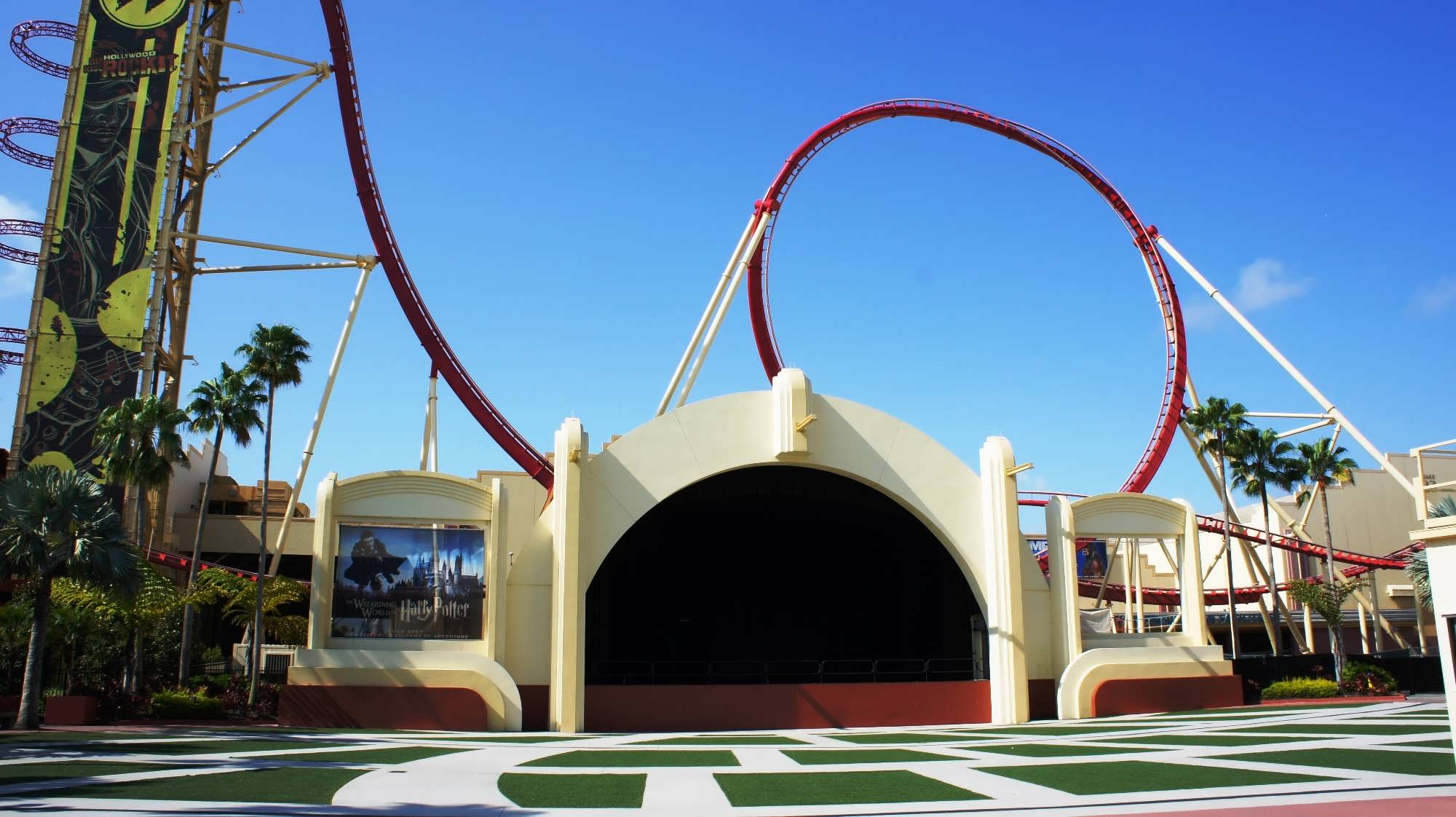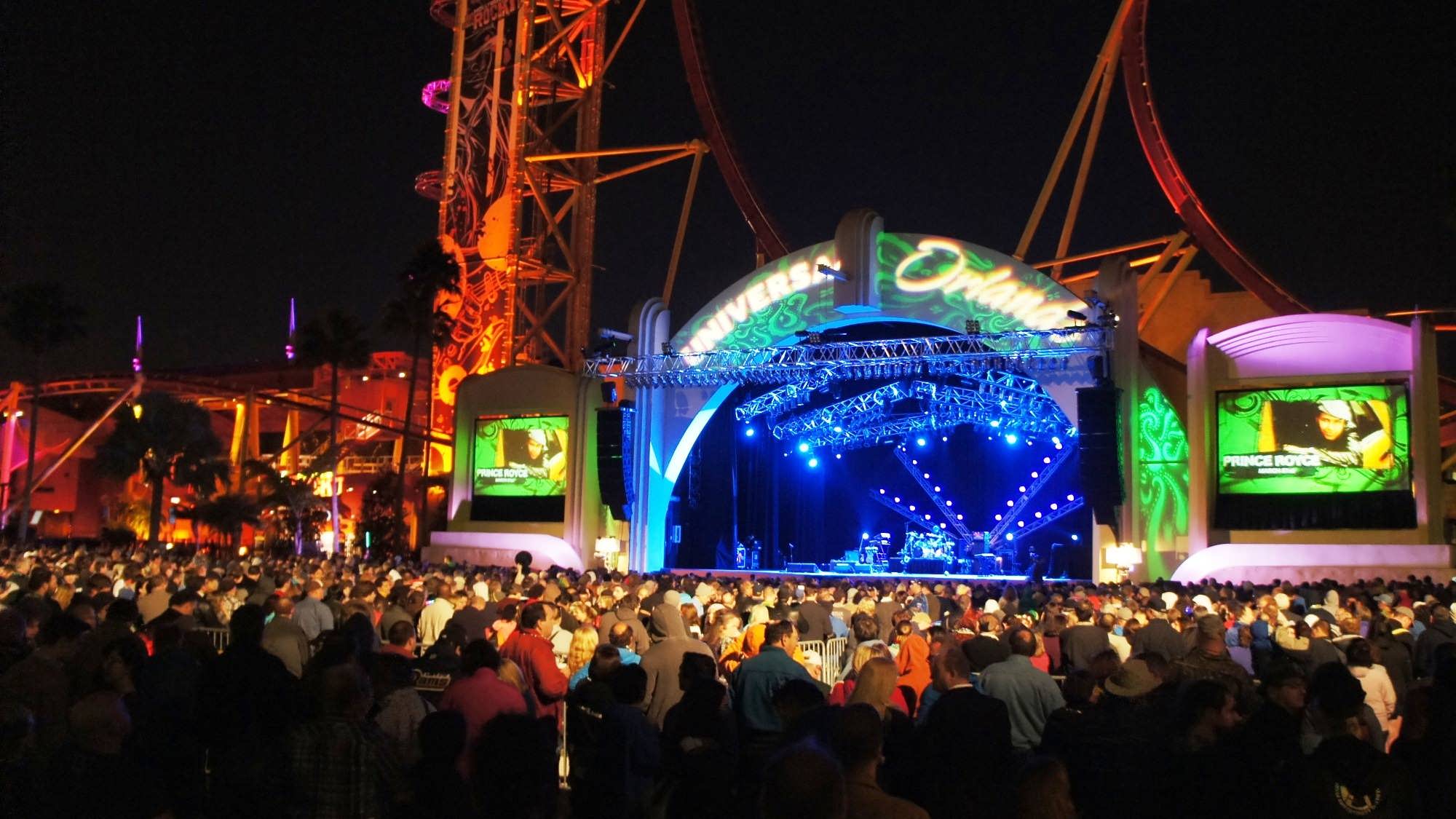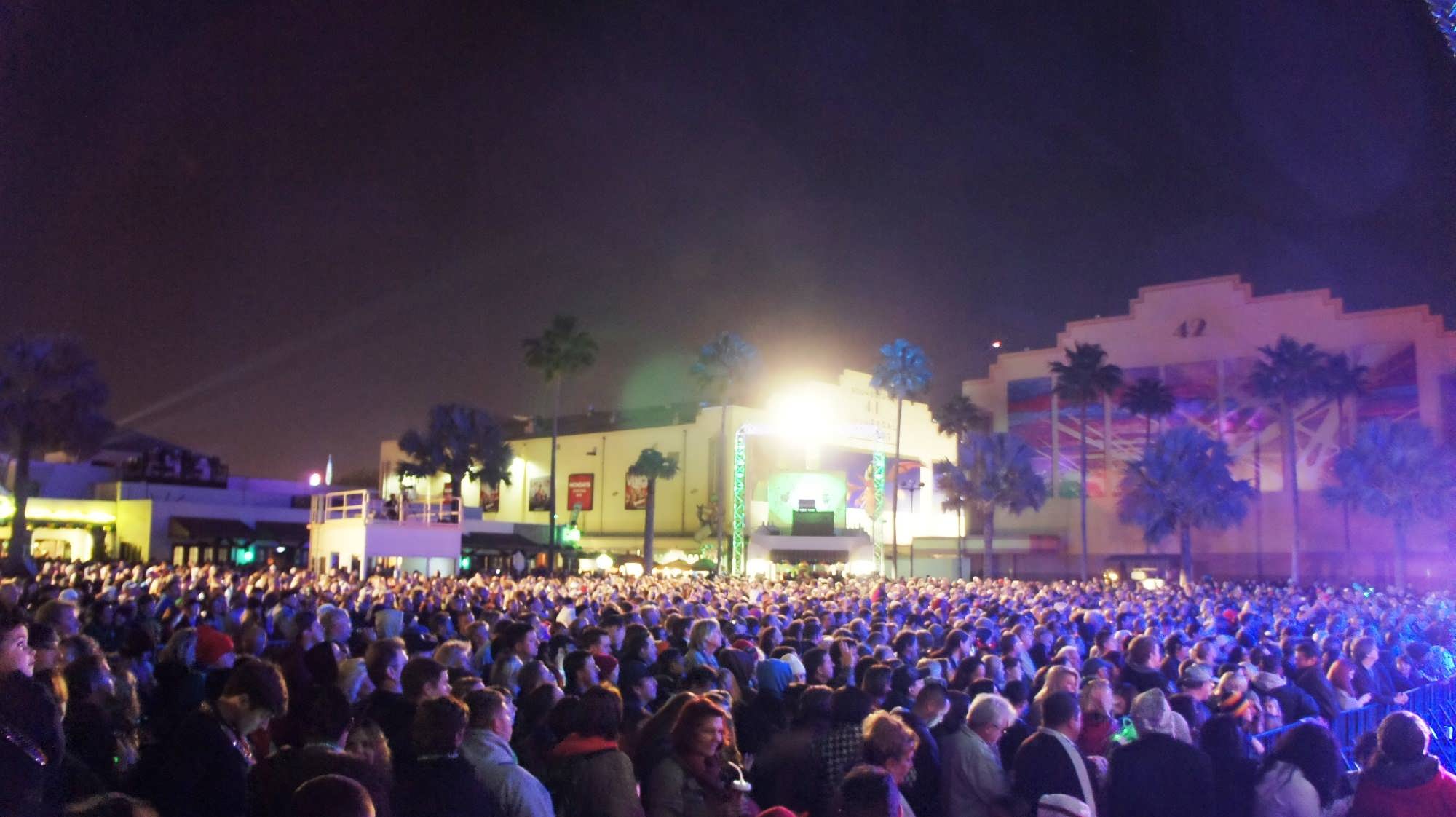 Final note: Universal does provide an ADA viewing area. It is located in the middle of the Music Plaza and can be accessed via the side facing Jimmy Fallon. See the team members on-site for assistance.
Front Row Alert: Want to see your favorite artist from the front row at the Universal Music Plaza? There are no special requirements for this other than a willingness on your behalf to line up at the morning for an evening concert. These Matchbox Twenty fans were lined up before 10:00am to see their favorite band up close:
What about Universal's Superstar Parade and Cinematic Spectacular?
Universal's Superstar Parade: USF's parade continues to run daily through Mardi Gras season. The only change to note is that, on Mardi Gras event dates, the parade is scheduled at 3:00pm. On non-event dates, the parade runs at its usual time of 5:00pm. To learn more, visit our Superstar Parade page.
Cinematic Spectacular: Bad news here – in years past Universal has decided to cancel its nighttime lagoon show on Mardi Gras dates. That means, for the 50 event dates when Mardi Gras runs, Cinematic Spectacular may not run at the end of the evening. Please note that Cinematic Spectacular is scheduled to run nightly on non-event dates, except when it's canceled periodically for other one-time special events. You can always see the latest attraction closure schedule on our Universal Snapshot page. Or, to learn more about the nighttime lagoon show, visit our Cinematic Spectacular page.
Annual Passholders benefits for Mardi Gras
Here are the benefits for last year — we're still waiting for Universal to announce them for 2017.
Special Passholder Parade Viewing Area: In front of Mel's Drive-In, right at the start of the parade.
Passholder Mardi Gras Pin: $7.95+tax at the main Universal gift shop, while supplies last.
Free CityWalk club access for one pass holder and a guest.
As noted above, Annual Passholders can sign up for a chance to ride a Mardi Gras float. Space is limited and is available on a first come, first served basis.
Universal Studios' Mardi Gras – HD video & photo gallery
Want to see what all this action looks like? In our "Best of Mardi Gras 2014″ video, you'll see some of the pre-party activity in the French Quarter Courtyard, followed by our favorite moments from the parade, ending with a walkthrough of the music plaza (Collective Soul performing). The very last scene is the after-party at CityWalk.
Mardi Gras pre-party
Mardi Gras parade
Mardi Gras concert
We have an entire community of Universal fans discussing the event right now! When you're done here, join us for vacation planning and more in our Facebook community.
Want to skip all the details and just price out a trip to this year's event? Orlando Informer Travel will find the best deals for you – for free (seriously). Learn more
Universal Orlando Resort » Events