This page includes descriptions and photos of each room type available at Loews Royal Pacific Resort, one of five hotels on-site at Universal Orlando.
Royal Pacific Resort's rooms are currently being upgraded, click here for more information.
Royal Pacific Resort – standard room
Enjoy 335 square feet of tropical paradise in one of the inviting standard guest rooms. Each offers king bed or double queen bed accommodations, and a wealth of exceptional amenities.
335 sq ft, does not guarantee any particular view.
Inventory of 752: 166 king, 586 double queen.
No sofa bed.
Connecting rooms can be king to double queen OR double queen to double queen.
It is possible but not recommended to book 5 people in a Royal Pacific Standard room, given its smaller size.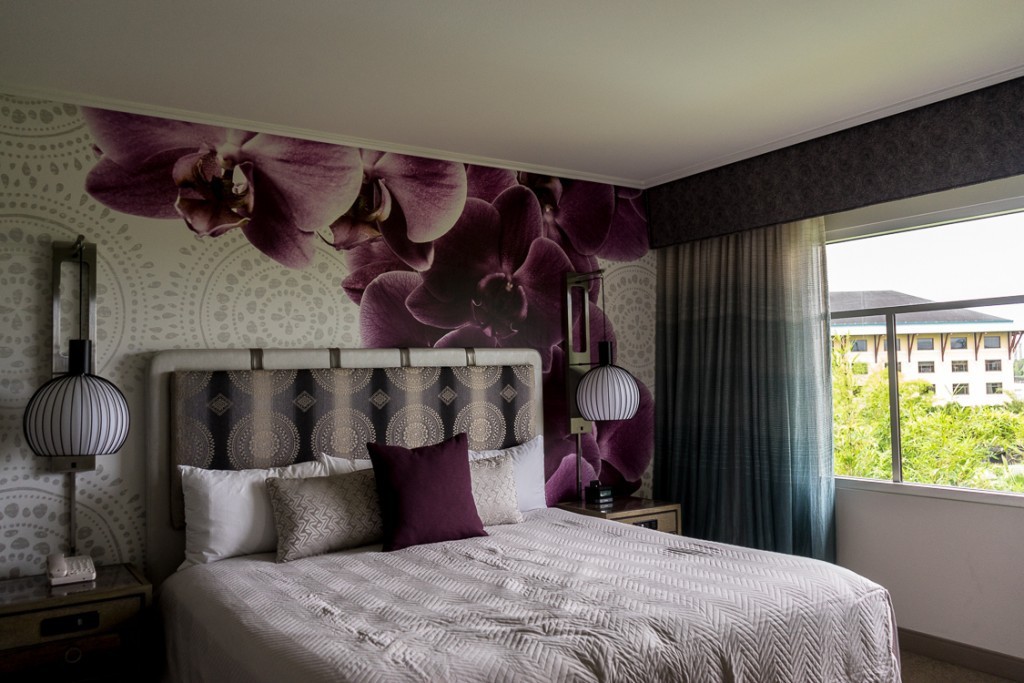 Standard king.
Royal Pacific Resort – water view room
It's all the comfort and amenities of the 335 square foot standard guest rooms, with a view. Gaze out upon the hotel's spectacular Lagoon Pool and Beach area during the day, and at dusk you can catch breathtaking sunsets over the waterways that connect the resort to the theme parks.
Standard room, 335 sq ft, guarantees a view of the pool area, the waterway leading to IOA, or the tropical stream surrounding the hotel.
Inventory of 161: 40 king, 121 double queen.
Limited sofa beds in king rooms (request only), no sofa bed in double queen rooms.
Connecting rooms can be king to double queen OR double queen to double queen.
Royal Pacific Resort – king suites
The 670 square foot king suite will make you feel like island royalty. You'll find a living room and separate bedroom featuring a king-size bed. The spacious living area offers ample room for your relaxation and entertainment, along with a pull-out sofa and a desk area. Both rooms feature an entertainment center with television and sitting areas.
670 sq ft, includes a separate bedroom with a king bed and living room with an entertainment area and desk.
Inventory of 28.
All rooms include a sofa bed in the living room.
No connecting rooms.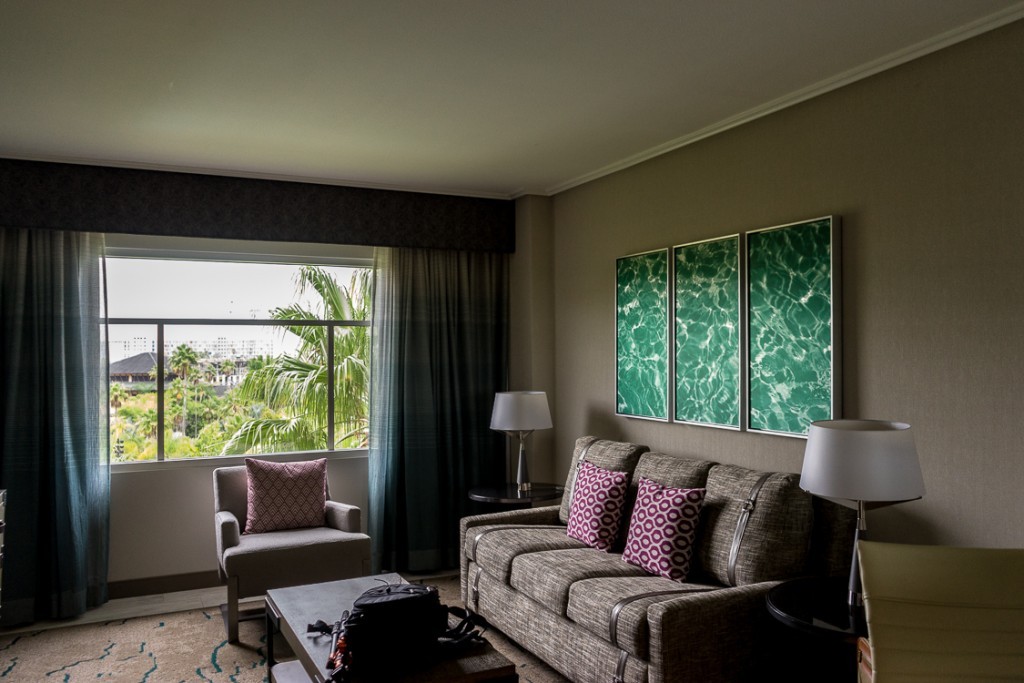 King suite living room.
Royal Pacific Resort – kids suites
The Jurassic Park kid suites let mom and dad have a little privacy, and the kids have some fun! With a standard king bedroom for the adults plus a separate room for the kids, there's plenty of space for the whole family at 670 square feet. The two separate rooms are connected, and feature a single exterior entrance to the adult room. The children's room opens only into the adult's room, and not into the hallway. The kids' rooms are themed in Jurassic Park décor and include two twin beds, a desk and chair, separate closet, and 32" flat screen television with DVD player.
670 sq ft, featuring 2 bedrooms and 1 bathroom.
Inventory of 8: all are Jurassic Park themed.
The entry into the Suite is in the parents' room, and the only entry into the kids' room is from the parents' room.
No sofa bed.
No connecting rooms.
Kids Suites include:
2 bedrooms: The first bedroom has a king bed for the parents and the second bedroom has 2 single beds for the kids.
The kids' room has its own entertainment area with kid-size seating and amenities.
There is not a separate living room in a kids suite.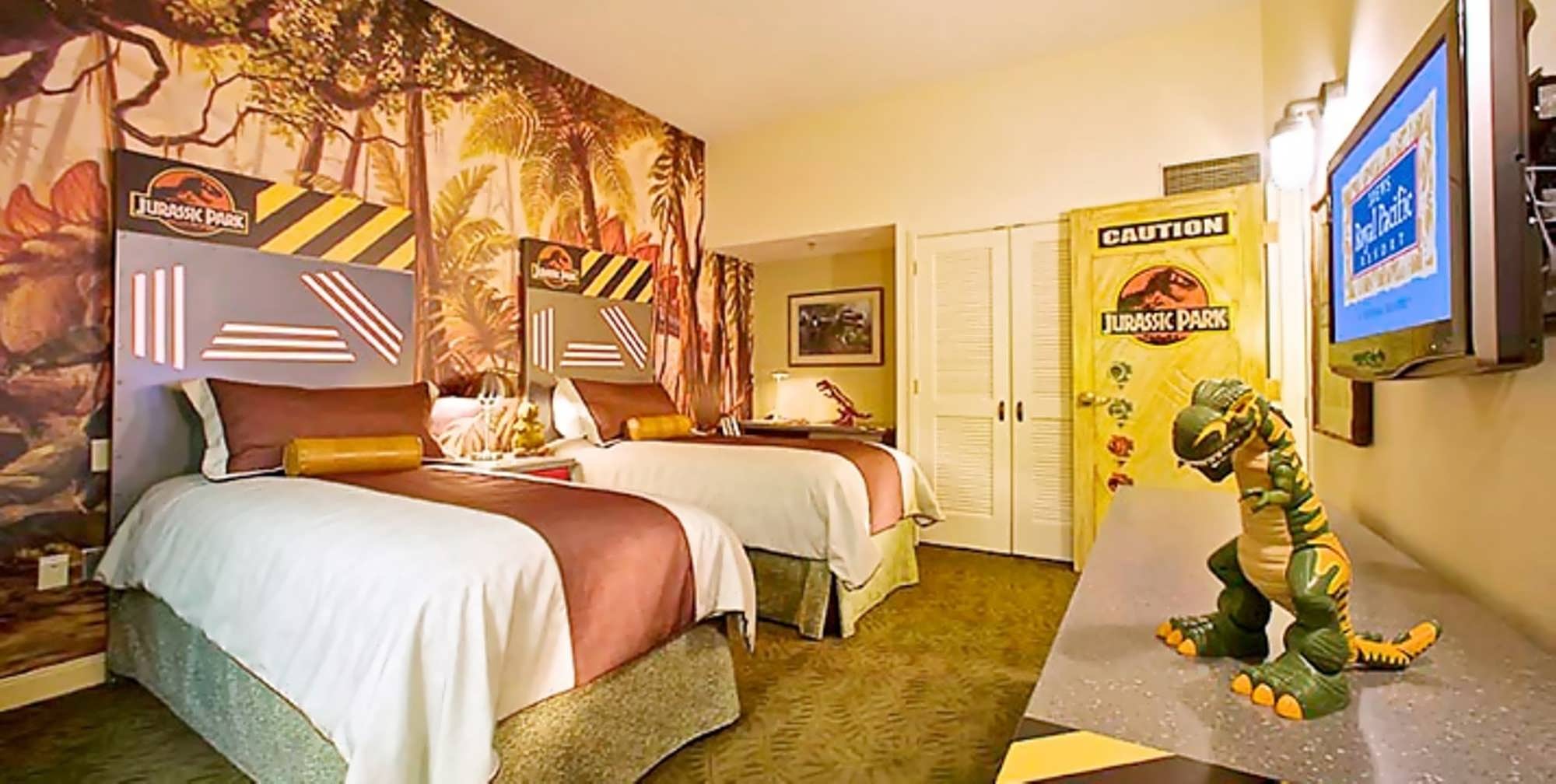 Jurassic Park kids suite.
Royal Pacific Resort – club level
Enjoy additional perks and privileges when you upgrade to one of the club level rooms or suites on the hotel's exclusive 6th and 7th floors. You'll also enjoy access to the Royal Club Lounge and a host of extra benefits.
Club level rooms are on the top floors (6th and 7th) of Tower 3.
Most of the rooms themselves are standard rooms, 335 sq ft.
Inventory of 36 club level standard: 21 king, 15 double queen.
Limited sofa beds in king rooms (request only), no sofa beds in double queen rooms.
Connecting rooms are king to double queen only.
Club level amenities:

Club level rooms include access to hotel's private lounge. In the lounge guests enjoy personalized concierge service, complimentary continental breakfast, snacks in the afternoon, hors d'oeuvres in the evening, and a sweet hour at night. There is also complimentary coffee, tea, and soft drinks available all day long, and beer and wine in the evenings. In addition, club level guests receive complimentary access to the onsite fitness center and discounts on pool cabanas.
See our photo gallery of Royal Pacific's concierge lounge at the bottom of the page.
Royal Pacific also offers hospitality suites and Presidential suite. Please contact the hotel directly for information about these accommodations.
Royal Pacific concierge lounge – photo gallery
Loews Royal Pacific Resort: Your South Seas escape is waiting