After a recent afternoon spent exploring some of the newer offerings at Universal Orlando, my boyfriend, Sean and I couldn't help but feel like the adventure wasn't quite over. We toyed with the idea of possibly seeing a movie at the Cineplex when it dawned on us that there was one thing at CityWalk we had never done – Hollywood Drive-In Golf!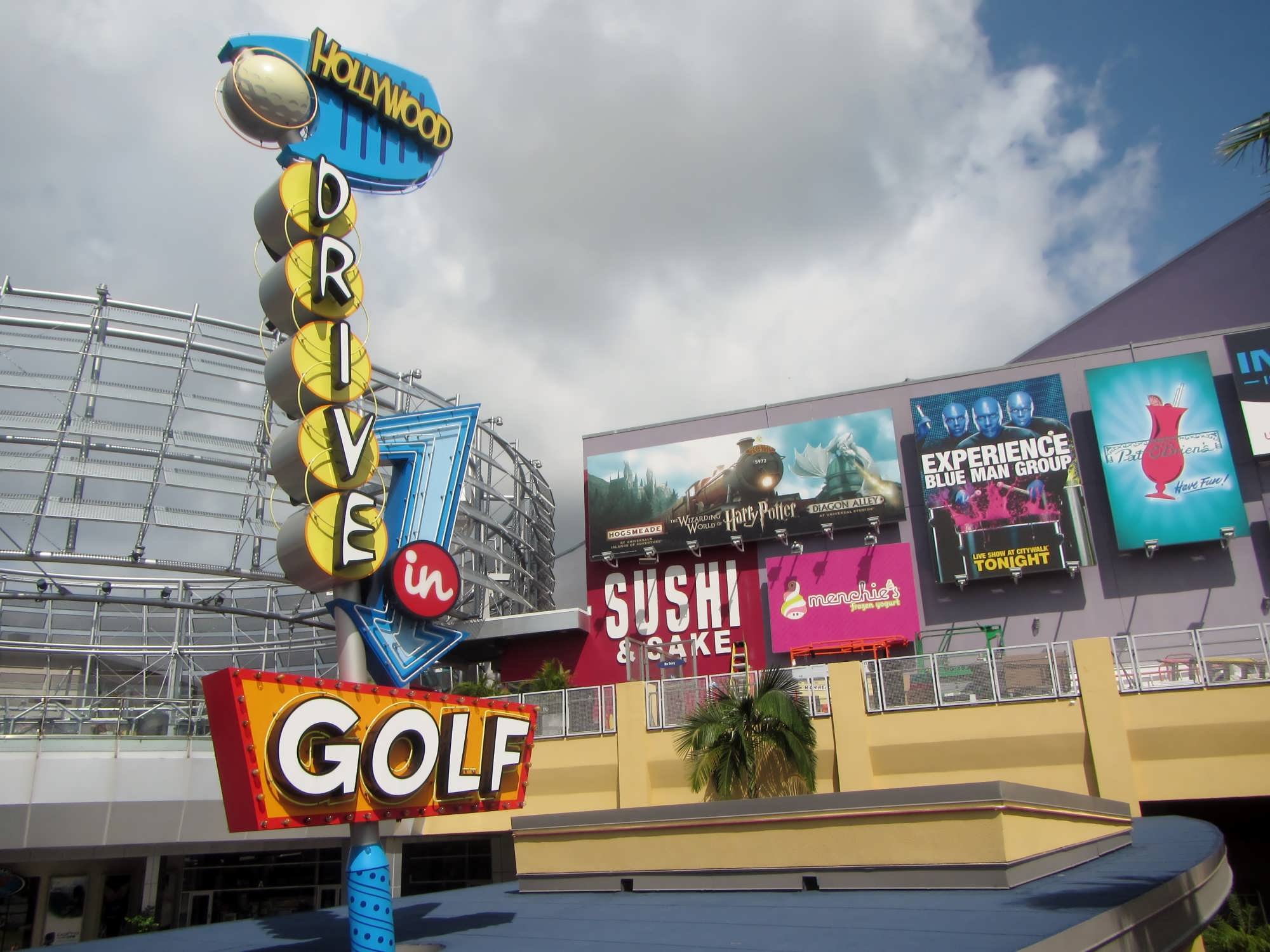 The venue consists of two golf courses of 18 holes each. Each course has its own theme: the Haunting of Ghostly Greens and Invaders from Planet Putt. Each also has interactive elements and special effects (did you expect anything less from Universal?) that will leave you loving the vintage vibes and silly antics of the course's characters.
Hollywood is open from 9:00am to 2:00am, seven days a week, and set to illuminate as the sun goes down. Meant for kids of all ages, there's no excluding anyone here.
Perhaps to no one's surprise, as former MIB agents, we chose to battle the aliens on Invaders from Planet Putt first. After selecting our golf balls and putters, we set off to see who was the best of the best!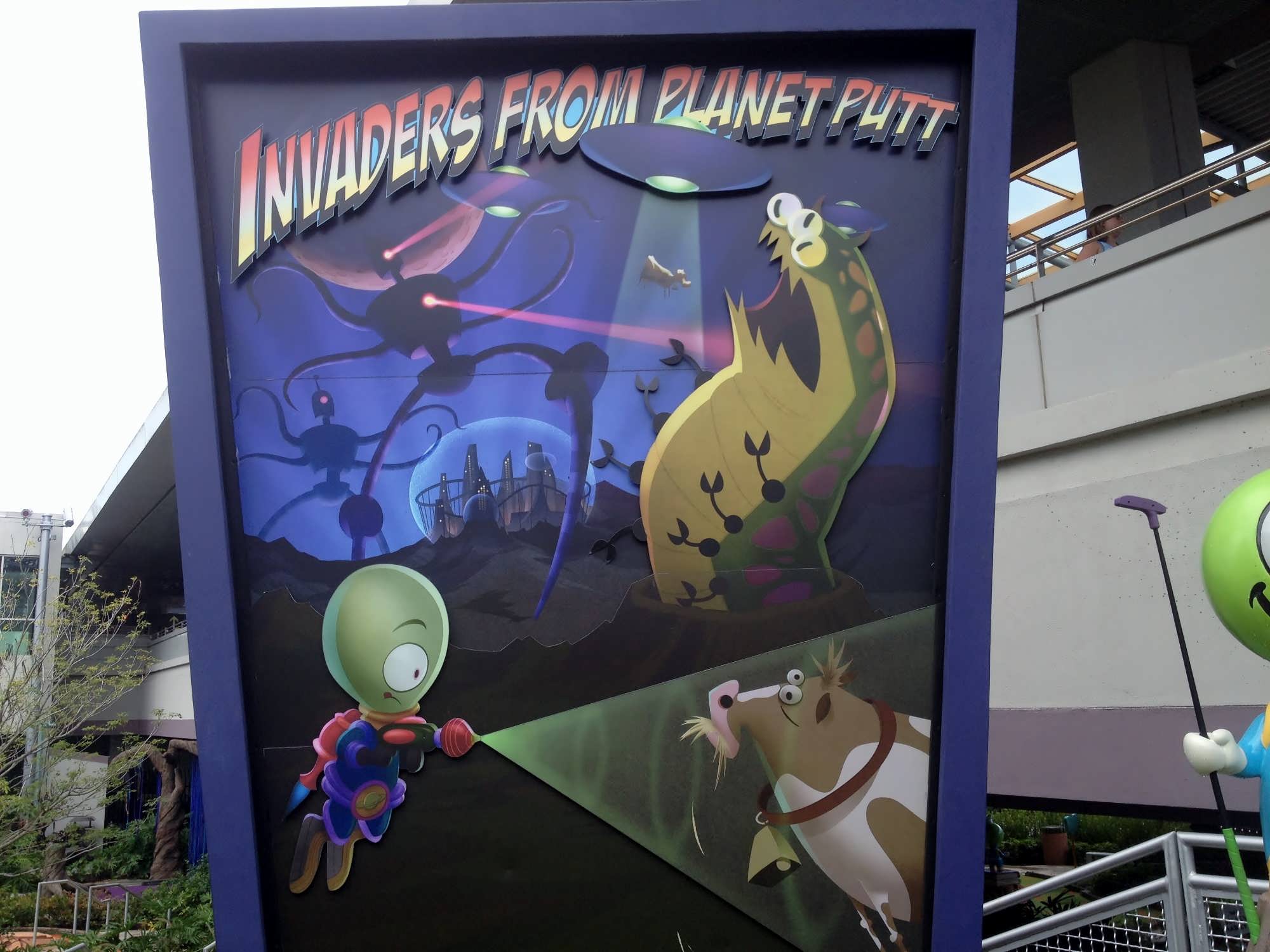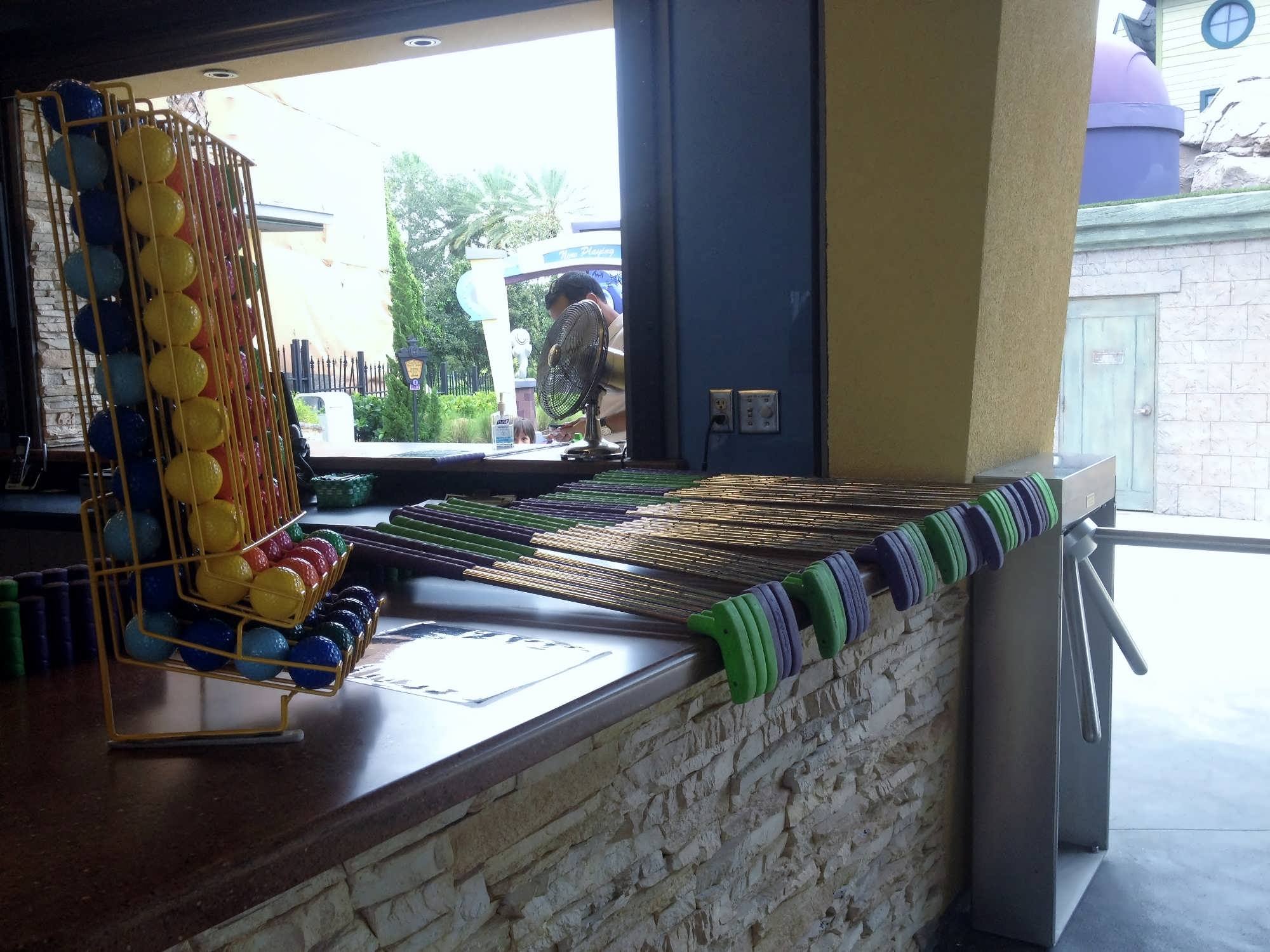 During Invaders from Planet Putt, we had a great time challenging each other, and the interactive course really enhanced the game for us. We loved that the aliens attempted to stand in our way of achieving the lowest score and couldn't help but wonder how some of the holes even worked. "Where is this crazy ball going?"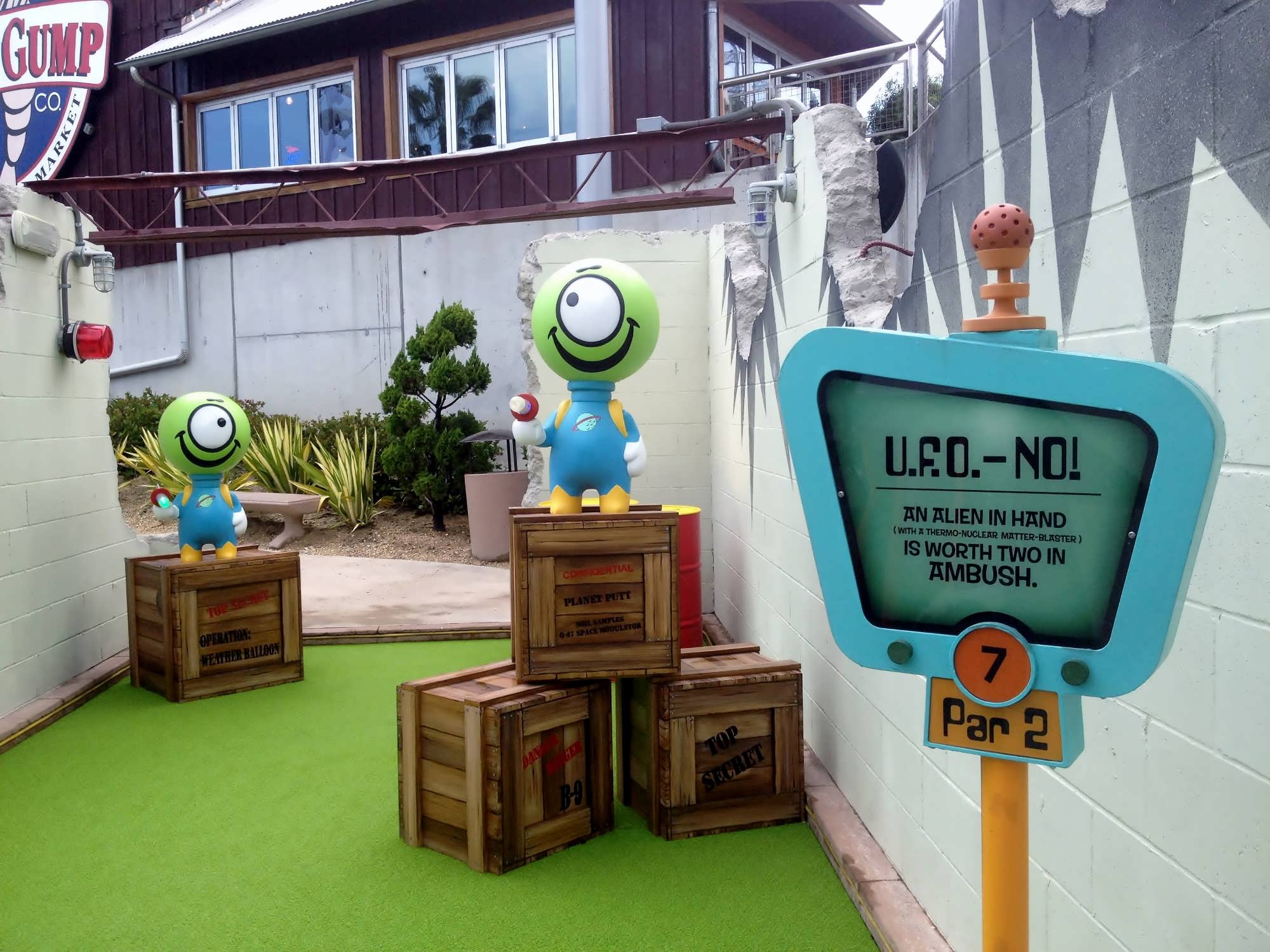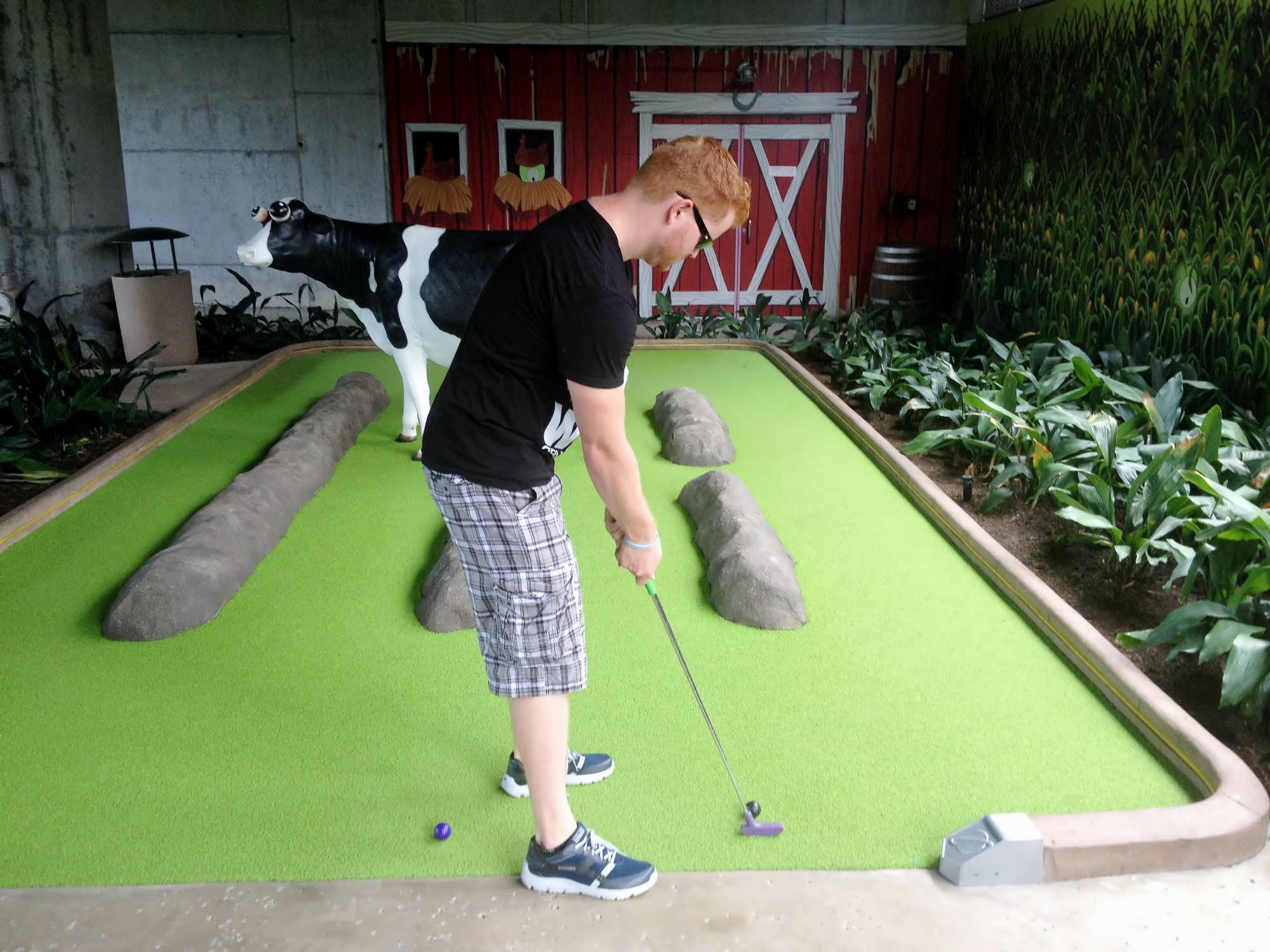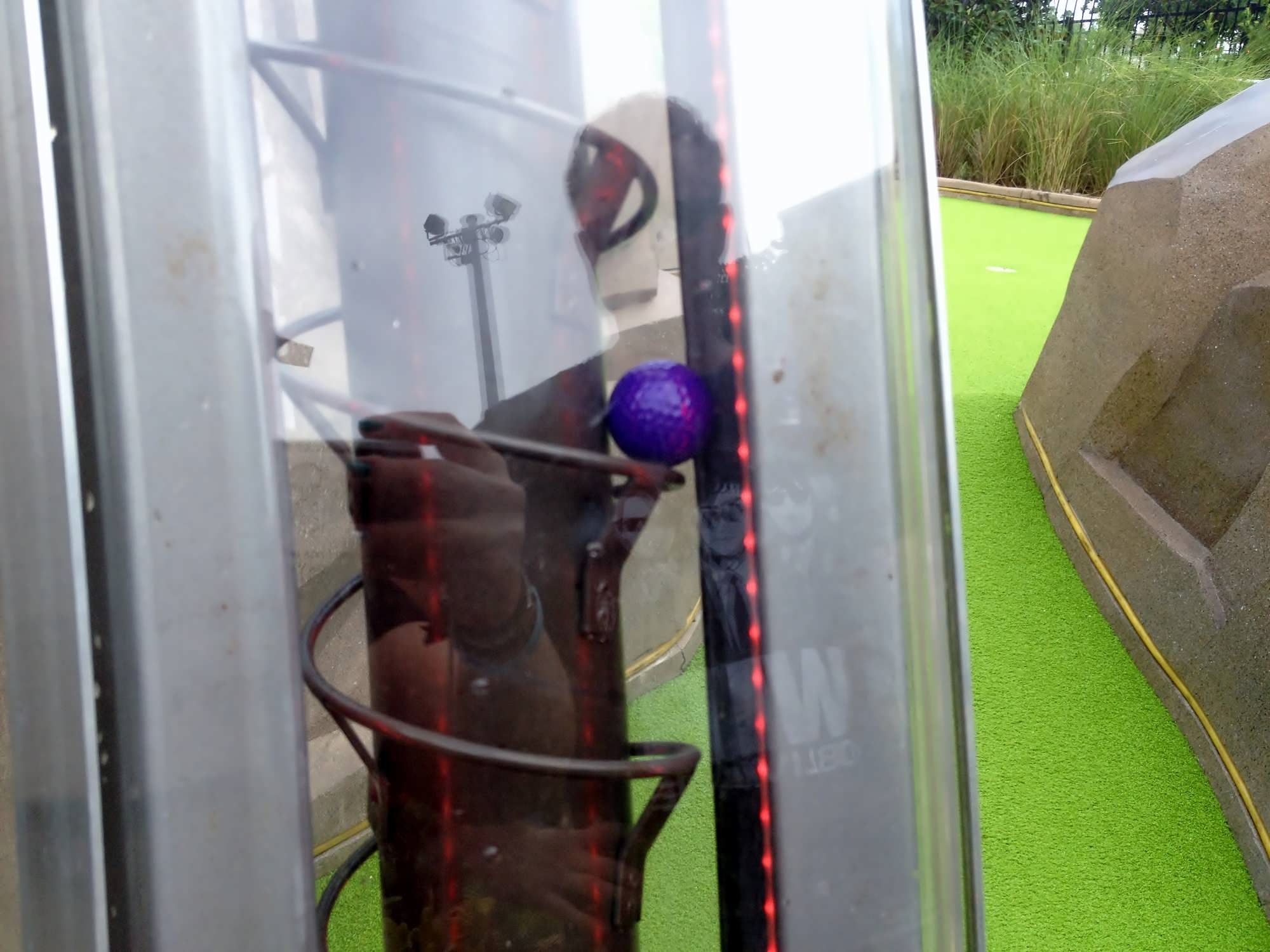 This course seemed to fit kids more so than Ghostly Greens; it was very playful, with a childlike energy. It was a perfect ending to our afternoon exploring Universal, and we couldn't wait to go back and play the Haunting of Ghostly Greens course!
As it turns out, it took only a couple of days for us to do precisely that, after Sean and I were once again faced with an evening of the What-to-Do's and remembered how much fun we had at Hollywood Golf.
Click below to continue to page 2 and read what Casie thought of the courses.[page]
The Haunting of Ghostly Greens course was definitely my favorite of the two. It has this great Disney's-Haunted-Mansion-meets-Universal's-Halloween-Horror-Nights-and-classic-horror-films feel to it that actually left me really excited for the months to come. We laughed at the many pun-filled tombstones – if you pay close attention to one of them in the pet cemetery, you might recognize one very famous shark's name! – and we were even left completely tricked and surprised by some of the holes.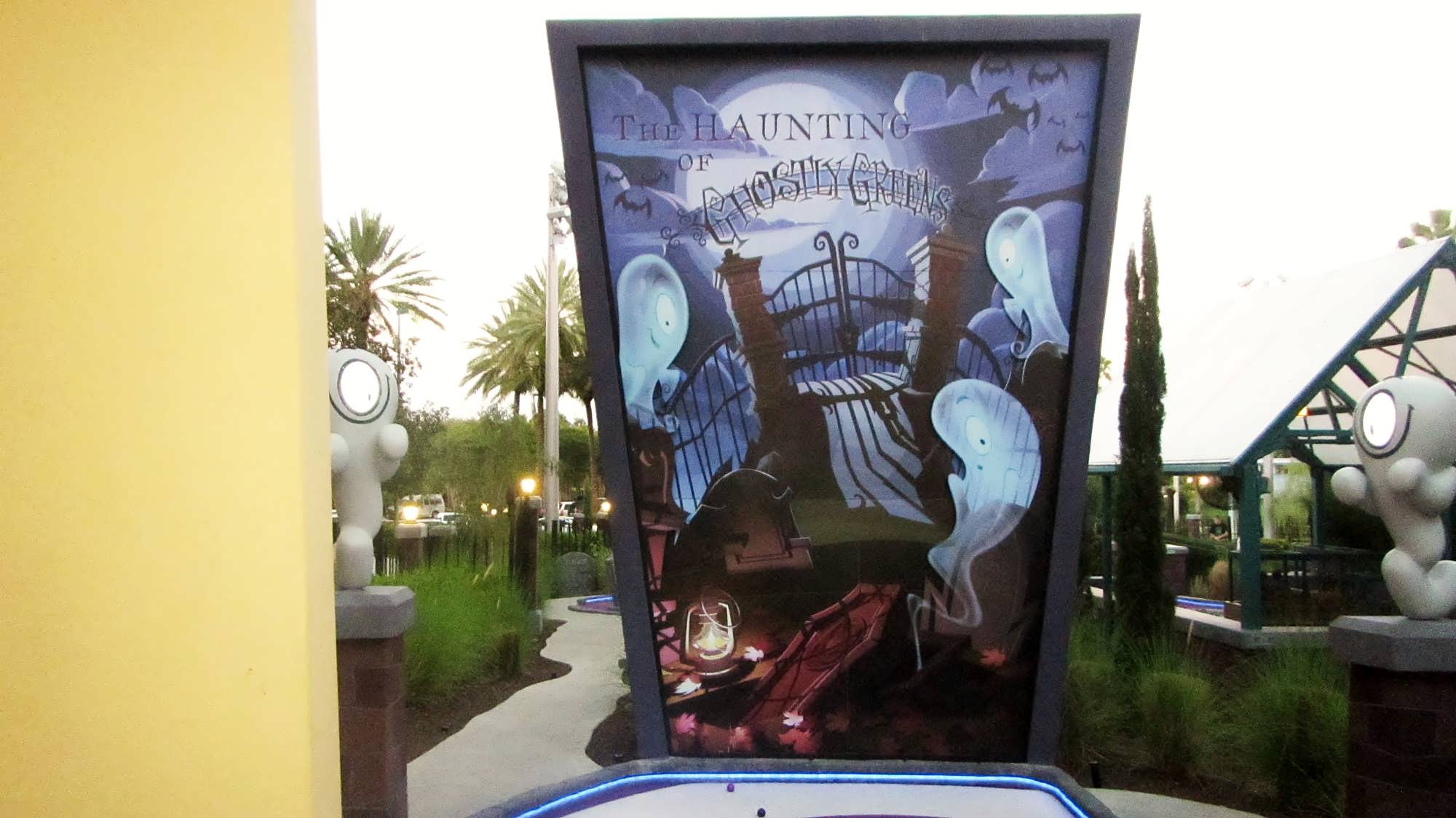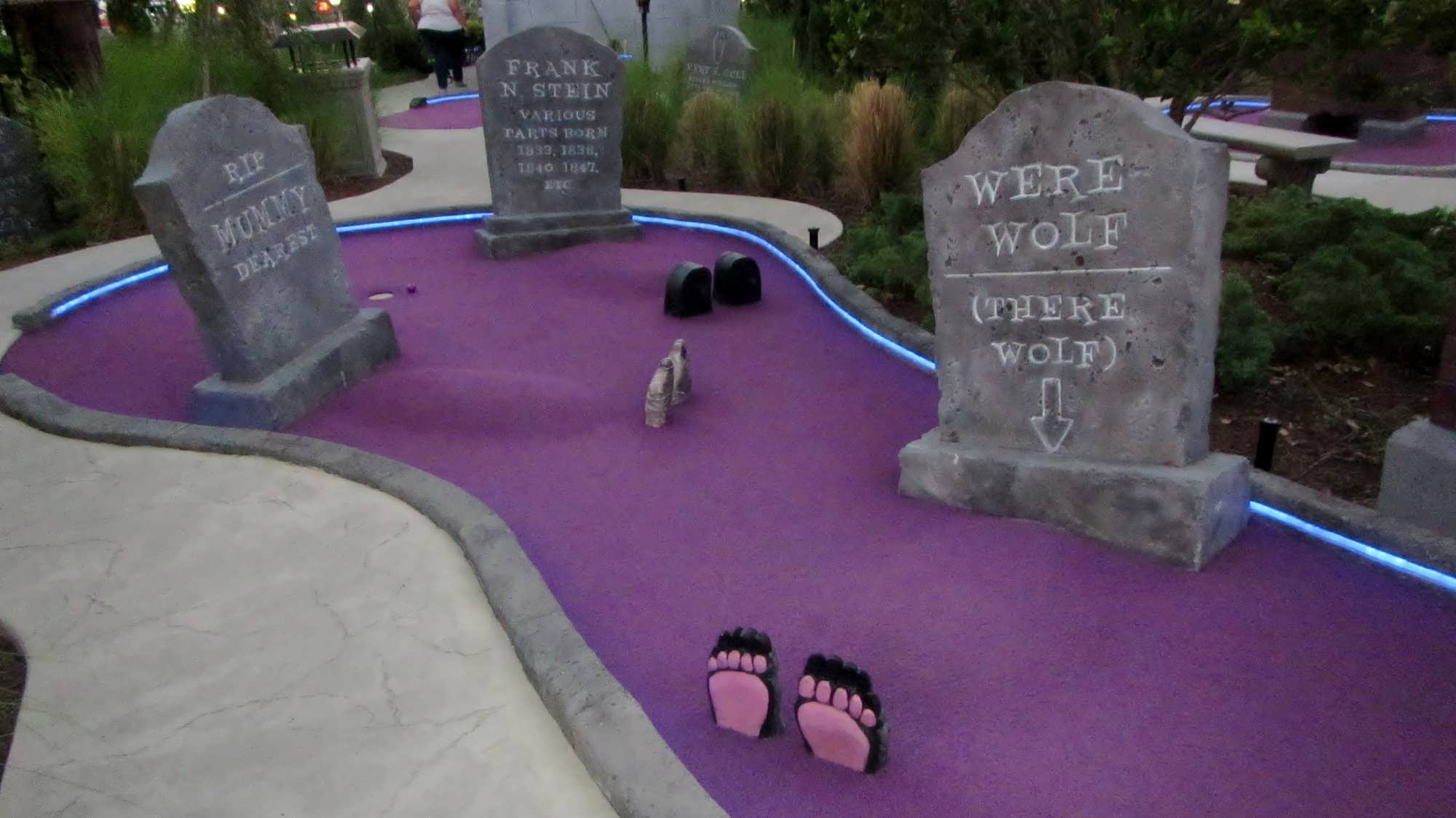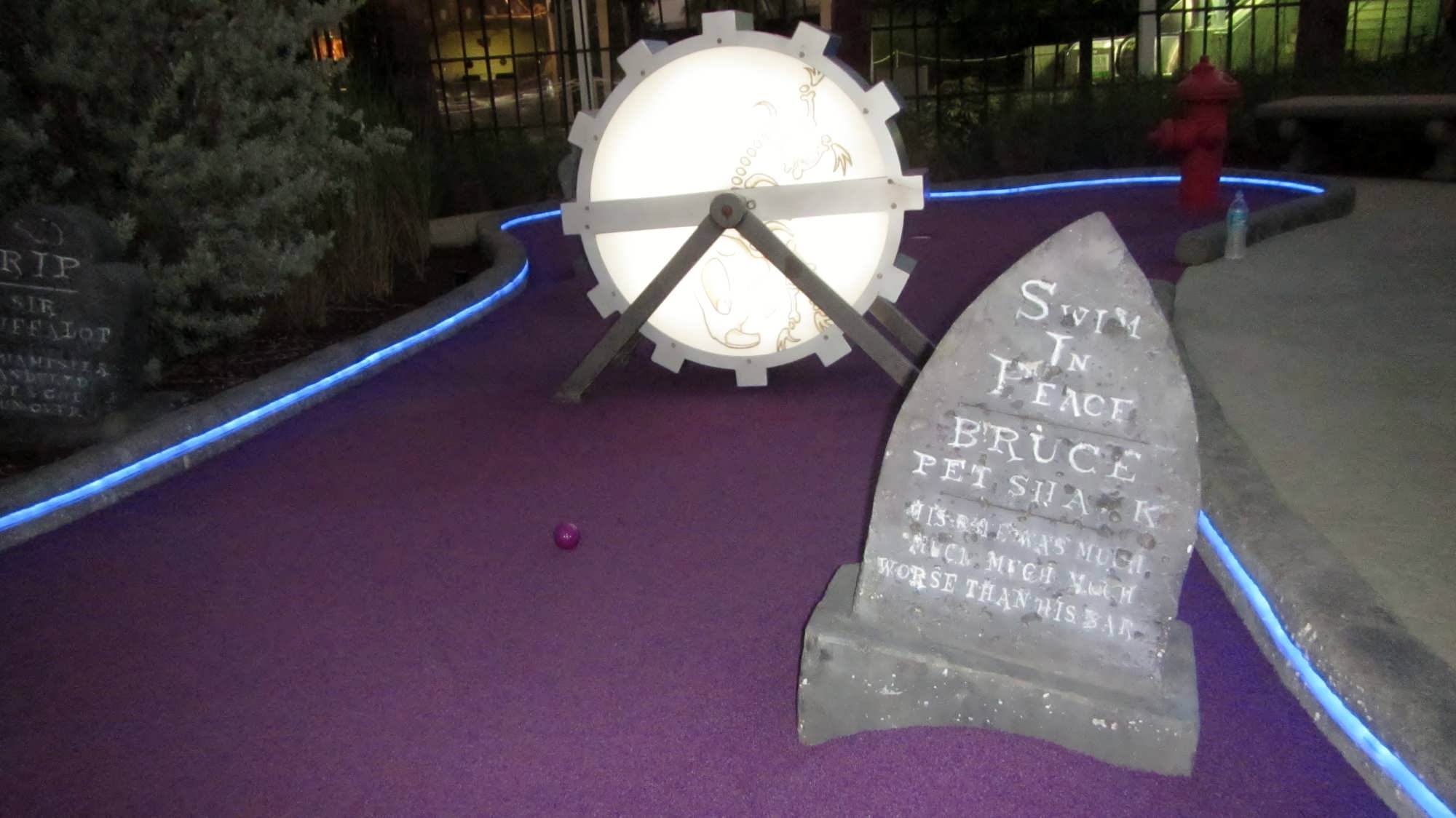 This course entertained us much more than the first, and seemed to be a bit more challenging, as well. As the sun went down and the lights of Ghostly Greens came on, our game only intensified. I think I even surprised myself when I landed a hole-in-one on hole 10! We, of course, celebrated with giant high-fives and cheers for all to hear.
"Who won?" you might ask. Well, Sean took Invaders from Planet Putt with a landslide win, and, quite surprisingly, we somehow both tied on the Haunting of Ghostly Greens.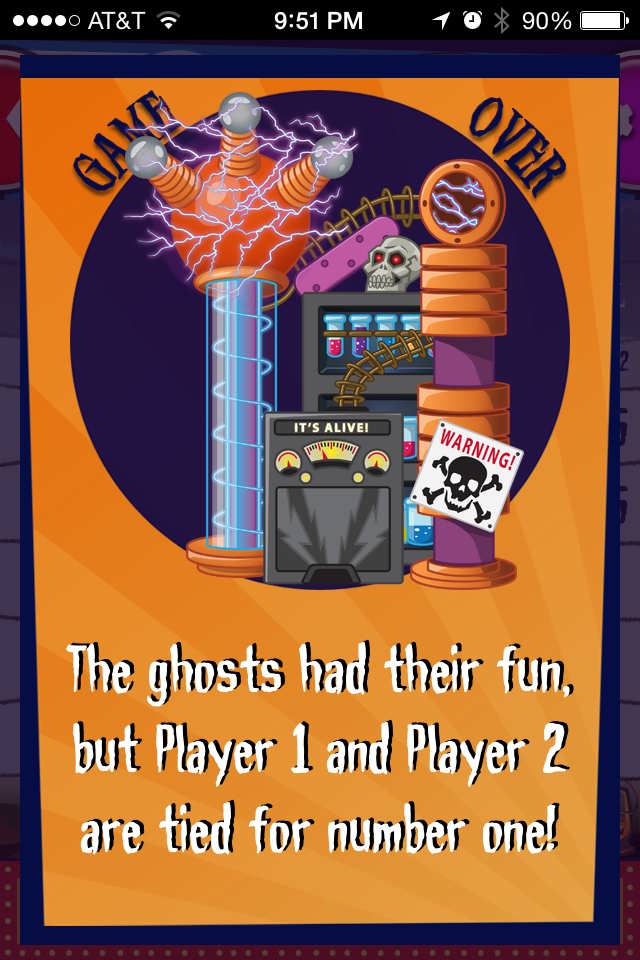 We had a great time keeping score via the Hollywood Drive-In app (Android or iOS), too, which also allows you to share your scorecards on social media after you've completed your games, and provides you with some pretty cute templates for photo opportunities, as well. The app itself is a highlight to playing on these courses.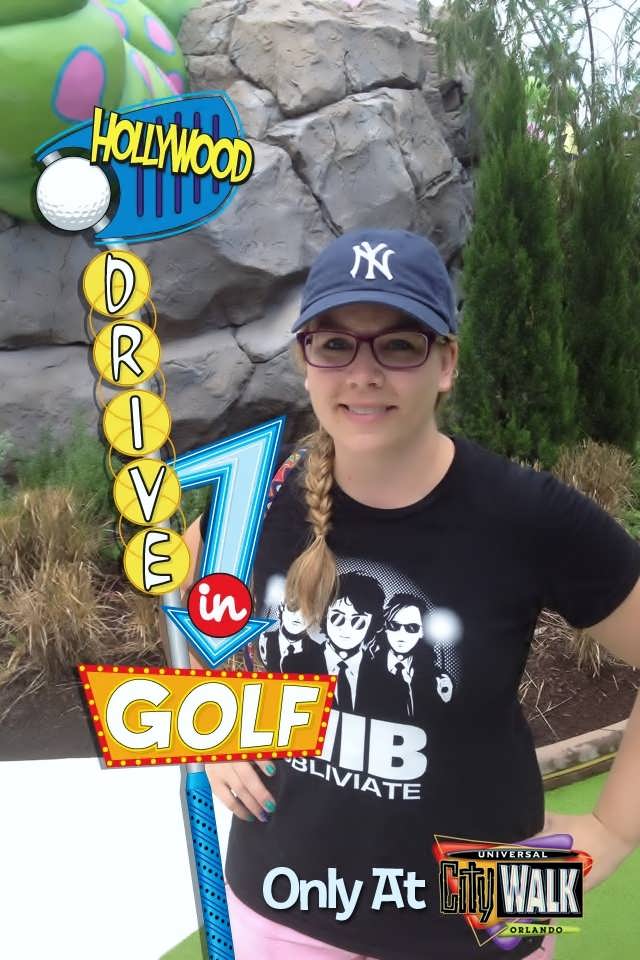 Similar to the Cineplex, Hollywood Drive-In Golf offers a Meal and Mini-Golf Deal, which is $23.95 – a really excellent deal, I think, as you can choose from select menus at NBA City, Margaritaville, Pat O'Brien's, Bob Marley, or Fusion Bistro Sushi & Sake Bar. Regular admission for one round of 18 holes begins at $12.99 for kids and $14.99 for adults; however, if you purchase online in advance, you can save up to 13%. If you choose to do both courses, a discount is offered to you there, as well.
It's true that these courses are the most expensive in Orlando, but they're also easily the most fun. We've played our fair share of miniature golf courses in the area, and – by far – Hollywood blows the others out of the water. Its courses are entertaining, challenging, and always left us wishing there were more holes to putt through.
Hollywood Drive-In Golf is easily worth the extra few dollars, in my book!