Location
The Wizarding World of Harry Potter – Hogsmeade
Restrictions and access
Ride: 48 inches; loose articles must be stowed in the free lockers inside Hogwarts Castle; no Express Pass access but there is a single rider line. Tour-only: no restrictions, loose articles and cameras can be carried on the tour; tour-only line may be closed when the park is busy. Please note that strollers are not allowed inside Hogwarts Castle.
Two sentence insider summary
The first part of Hogsmeade's signature attraction is a tour of Hogwarts Castle's most iconic rooms, including Dumbledore's office and the Defense Against the Dark Arts Classroom. The second part of the attraction is a revolutionary flight simulator ride that is something like a cross between Disney's Soarin' and IOA's The Amazing Adventures of Spider-Man (although this comparison hardly does Forbidden Journey justice) – if you think you can tolerate it, this ride is an absolute must!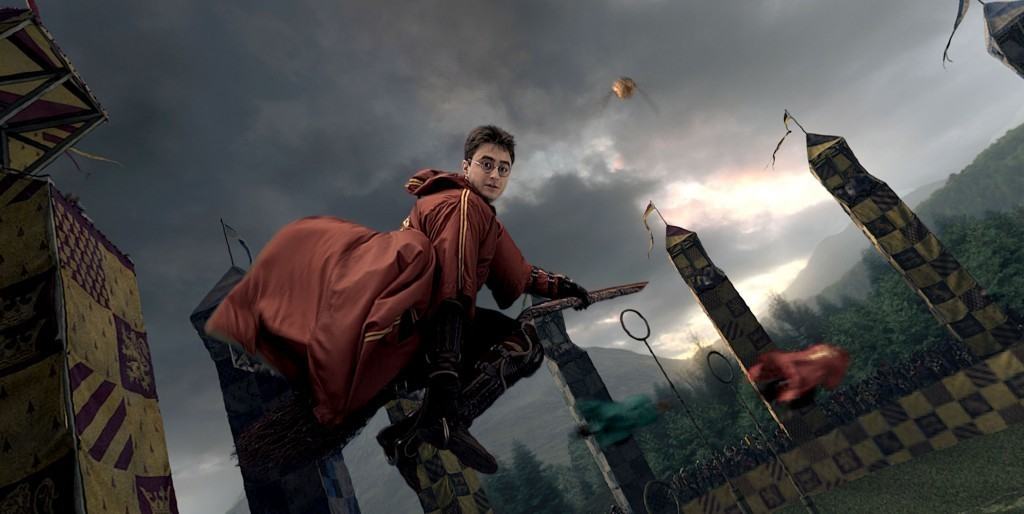 Harry Potter and the Forbidden Journey at Universal's Islands of Adventure.
Fear factor
5 out of 5. Close encounters with over-sized spiders and Dementors, and the unique ride motion, can make the ride as scary as it is amazing. Please note that the tour through Hogwarts is not scary at all.
What you wish you knew before you experienced it
You do not go completely upside down, but you go about every other direction you can think of. If you are prone to motion sickness, you may want to do some research online to see how other riders have coped with Forbidden Journey. And remember, you can do the tour without going on the ride.
OI fun fact
When originally designed this ride had a lot more dementors. The are dementors painted on the walls in UV paint that was originally going to be activated by the ride vehicles. JK and Warner Brothers deemed this was too scary, so the dementors remain dormant on the walls to this day.
Insider secrets
This page presents a summary and guest reviews of Harry Potter and the Forbidden Journey. To learn insider secrets about this attraction, when you're done with this page be sure to visit our Forbidden Journey: Ultimate unofficial guide and The best way to experience Forbidden Journey pages, which are part of our Insider's guide to The Wizarding World of Harry Potter.
Harry Potter and the Forbidden Journey – photo gallery
Harry Potter and the Forbidden Journey – real guest reviews
Average rating:
56 reviews
Jul 16, 2014
forbidden journey
ok, not a big harry potter fan, haven't seen the movies,the ride swings up and down through different rooms, the castle and walk thru before the ride to me is better than the ride, love the area and the shops, it's like you are separated from the rest of the park
Jul 13, 2014
Truly Magical
Date Of Last Visit:
7-12-14
One of the best rides ever created, the Forbidden Journey is a truly unforgettable experience. Everything from the ride cue to when you first sit down is incredible. The ride system is not one used by many other big name theme park operators, making it truly unique. This ride manages to deliver an experience that everyone can enjoy, especially anyone who enjoys Harry Potter. Even if you aren't a Harry Potter fan, this ride is definitely a must see, as it's truly one of the greatest theme park rides ever crafted.
May 28, 2014
best ride EVER!!
Date Of Last Visit:
July 2013
If I could give this more than 5 stars I would. This is my absolute favorite ride at IOA...wish we could use the fast passes but it's TOTALLY worth the wait. Even if you aren't a big Harry Potter fan (whicbi am a huge nerd when it comes to HP) you must ride this ride!
May 27, 2014
WOWZA!!
Date Of Last Visit:
02/22/2014
There isn't much I can say that hasn't already been said. The special effects are impeccable and the detail is amazing. Basically, this ride is a must (for all the reasons stated below and more!!!). I think I rode this thing 13 times... and probably could have gone 13 more HAHA!
May 26, 2014
Tips and Tricks!
Date Of Last Visit:
9/26/13
Harry Potter and the Forbidden Journey is an excellent ride, hands down! I think the majority of riders would agree! On our last trip, we rode this ride several times in a row and there a few tips worth noting.

1. Your photo is taken on this ride. Listen for Hermione's voice in your ear and prepare to pose! We were able to get some hilarious shots once we figured out when the photo was taken.

2. Only ride once if you keep your personal items in the provided lockers. You will be charged a decently high rate if you attempt to ride multiple times.

3. Ask the photo staff at the end of the ride to zoom in on your ride photo. This will allow for only your family members to be seen in the photograph. If you have the star card package, don't forget to add the photo to your card!

4. Take a minute to eat before your ride (and leave enough time after). I made the mistake of not eating and riding first thing in the morning. If you are prone to motion sickness, this could make you feel a little light headed so make sure you had a decent breakfast and wait a bit before riding.

5. Finally, take a minute to enjoy all of the scenery. The ride queue is absolutely wonderful. From the pitcher plants featured in the outdoor line to the portrait of the fat lady prior to boarding, the scenery is quintessential Harry Potter.
Harry Potter and the Forbidden Journey – map
Click any marker to display the attraction or venue name. To scroll or zoom, use the controls on the top-left of the map. You may also switch to different map views by using the buttons on the top-right of the map.
View OI's map of Universal's Islands of Adventure.