There is a single purpose to our plan: get you through the haunted houses at Universal Orlando's Halloween Horror Nights 2016 with as little waiting as possible.
To minimize overall wait times, we strongly recommend that you take advantage of HHN early admission. If you do not have daytime admission, then you must arrive at the Universal Studios Florida turnstiles by 4:45pm. This is important because the crowd waiting to get into the park can be very large, and you really want to be at the front of that crowd. But don't worry that you'll have to stand at the gates for an hour and a half – Universal starts letting guests in around 20 to 30 minutes before the official starting time of 6:30pm.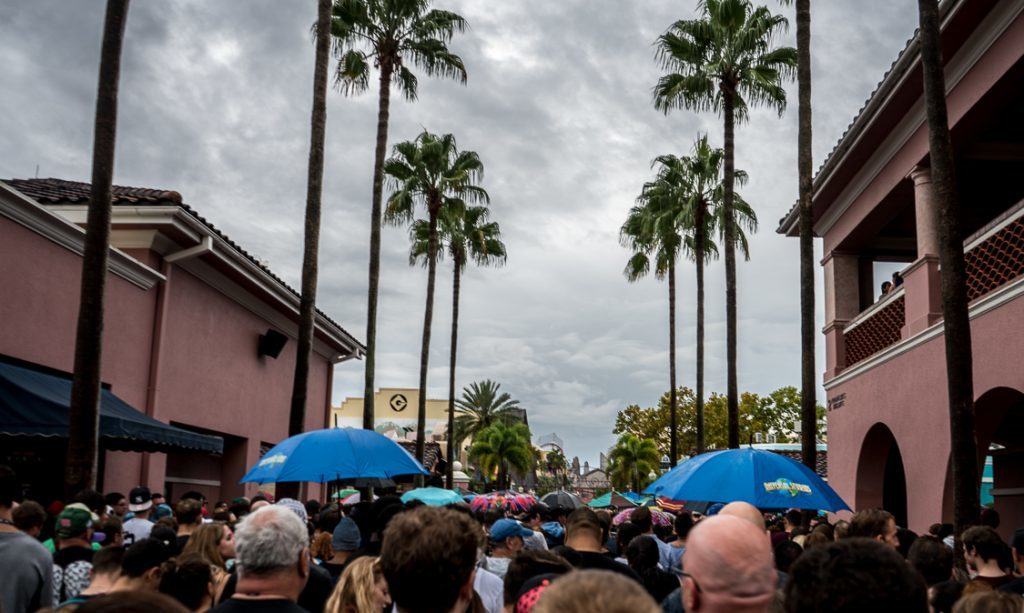 By the way, if you're an on-site hotel guest, you have a dedicated entrance to HHN – look to your right as you approach the park gates. Just be aware that the dedicated entrance doesn't get you into HHN as part of early admission, but it will help you skip some of the crowds you see above.
Does the Orlando Informer Halloween Horror Nights Touring Plan really work?
Yes, it does:
Your night at Halloween Horror Nights 2016 begins
Okay, now that you're inside the park, grab an event map and get ready to visit some haunted houses!
It's imperative, for the purposes of minimizing wait times, that you head directly for the houses and do them in order without stopping at the scare zones, other attractions, or live shows. We know, you'll really want to check out a zone after you exit the first house, but every extra minute you spend straying from the warpath will equal five to ten minutes more of standing in line.
If you have questions about using this plan, be sure to read through the whole page and then see the FAQs at the bottom. If you want to learn more about each of the houses, click any of the links provided to visit the announcement. Finally, to assist you in studying this plan ahead of time view the map of this year's event by clicking here.
Halloween Horror Nights 2016 Touring Plan
Relive scene after scene of sinister threats from Murder House, Freak Show and Hotel in this extensive, terrifying house. (4 out of 5 skulls)
It's imperative that you either are one of the first ones through the gates at opening or are towards the front of the group that releases from the Hello Kitty early entry area in order to experience this house.
The entrance to this house is next to Despicable Me. You will exit near the Jimmy Fallon construction.
2. Halloween: Hell Comes to Haddonfield
Michael Myers is still alive and still out for blood in this all-new house. (4 out of 5 skulls)
The entrance to this house is near E.T. Adventure in the back of the park. You will exit near where you entered.
Immortal beings of the ancient past have returned to rule mankind. Now they wait for someone foolish enough to disturb them. (5 out of 5 skulls)
The entrance to this house is located near E.T. Adventure. You will exit near the Men in Black gift shop.
4. The Texas Chainsaw Massacre
Experience every scene, every kill, every bone-chilling rev of the chain saw from the original masterpiece. (3 out of 5 skulls)
The entrance to this house is located near the Men in Black gift shop. You will exit in the same location.
5. Lunatics Playground 3D: You Won't Stand a Chance
Step into Chance's realm where the lines between her twisted delusions and reality are continuously blurred. (2 out of 5 skulls)
The entrance to this house is located in between Fear Factor Live (Bill & Ted during HHN) and Men in Black. You will exit in the same location.
6. Krampus
As a blizzard rages outside St. Nicholas' evil counterpart and his band of Dark Minions claim the souls of the faithless one by one. (4 out of 5 skulls)
The entrance to this house is located at the beginning of Hollywood, nearly across the street from Terminator. You will exit on the other side, near the Shrek gift shop and Transformers gift shop.
7. Live Shows
The show we recommend the most, and what you should work the rest of your time around, is Academy of VIllains: House of Fear. You'll want to check your park map and arrive 10 minutes prior to the next show time.
As a riot breaks out in Shadybrook, this take-no-prisoners performance troupe thrusts you into a realm of madness and mayhem. High-energy dance and specialty acts mix in an explosion of insanity. The inmates are now running the asylum! (5 out of 5 skulls)
The other show at HHN 2016 is the returning Bill & Ted's Excellent Halloween Adventure. Returning fans of the show may love it, but guests not familiar with the show tend to give it mixed reviews.
Party on as those two most excellent dudes return to skewer the biggest names in politics, show business and pop culture. (2 out of 5 skulls)
This year's show isn't particularly funny. So if you're short on time or would prefer to spend more time in the zones or riding the attractions, we recommend skipping this show. Otherwise, you'll want to arrive about 30 minutes prior to the next show time.
8. Scare Zones
Halloween Horror Nights 2016 boasts five uniquely themed environments, along with two unlisted hordes.
Survive or Die Apocalypse (New York backlot) – A Global catastrophe has ruined Earth's atmosphere. Now three warring gangs fight for control of a machine that provides clean air. All three gangs are looking for new members to help them destroy the others. Join them, or feed their starving ranks. (3 out of 5 skulls)
Lair of the Banshee (Central Park) – Deep in the forest there is a centuries-old dark hollow where evil spirits and horrific creatures of the ancient world roam free. Now the modern world has found the entrance to this sinister place. Enter, if you dare, and meet the primordial horror of these dark spirits. (2 out of 5 skulls)
Dead Man's Wharf (San Francisco backlot) – Today, on the anniversary of the disappearance of the fishing vessel Annabel Lee, a thick fog has rolled in. The spirits of the lost crew have returned to punish the town that left them to die on the open seas, and make sure the dock earns its morbid nickname. (4 out of 5 skulls)
Vamp '55 (Hollywood backlot) – Welcome to Hollywood High School's 1955 Homecoming Parade. Everything is perfect until the greasers roll into town with fangs as sharp as their switchblades. The festive scene has turned to chaos as vampires attack from all around. (5 out of 5 skulls)
A Chance in Hell (Production Central) – Get ready for the audition of a lifetime. Chance may be locked away, but that hasn't stopped her. As the alarms ring and the bloody remains of those who tried to stop her lie around, she's busy recruiting cellmates to join her biggest act yet. (1 out of 5 skulls)
Geishas and Pumpkin Heads (near Transformers)
Hillbillies and Cheerleaders (Springfield)
9. Ghost Town: The Curse of Lightning Gulch
They came looking for gold. Instead they found death and destruction. Now their doomed souls seek others to join them. (5 out of 5 skulls)
The entrance to this house is near the Jimmy Fallon construction, in front of Hollywood Rip Ride Rockit's loop. The exit is near Revenge of the Mummy.
10. The Exorcist
Go inside the mind of a tormented girl, possessed by evil. It will leave you haunted. (2 out of 5 skulls)
The entrance to this house is in front of Rip Ride Rockit. The exit is near Ghost Town's entrance.
11. The Walking Dead
Face relentless threats starting from the beginning of the series to last season's most unforgettable moments. (3 out of 5 skulls)
The entrance to this house is near Revenge of the Mummy. The exit is at the same location.
12. Rides and repeating houses
If you've managed to complete all the above and still have time to spare, consider lining up to experience your favorite houses again. You could also queue up for one of the rides open during HHN:
We want to hear how your night went!
Our community wants to know about your experience at Halloween Horror Nights 26. Be sure to join our UOR.Community on Facebook!
Halloween Horror Nights 2016 Touring Plan FAQ
What do I need to be aware of if I use HHN early admission?
When using HHN early admission — which we strongly recommend — you will wait inside USF as Universal transforms the park from daytime operations to Halloween Horror Nights. You will still want to follow our HHN touring plan with one extra instruction: Since you will get early access to one or two houses (the specific houses may change from night to night), you'll of course want to visit these first. When early admission is over and everything opens (between 6:15 and 6:30pm), simply scratch the houses you've already seen during HHN early admission from the list above, then work the list from top to bottom as usual.
Please, please see our HHN early admission page and take advantage of it if you can! One more note: for this year, if American Horror Story isn't the first house you get into during early admission, try your best to get over to it by 6:10pm to kick off our plan.
What if I can't get to the event early like you advise?
If you can't use HHN early admission, be to the USF turnstiles by 5:00pm. If you can't do that either, then PLEASE go to HHN on a Thursday or a Sunday during the first three weeks, or on a Wednesday during the second half of the season. Still, be prepared to do a lot of standing around. We have so much more planning advise on our HHN tips & tricks page.
What if I have an HHN Express Pass?
If you have a HHN Express Pass, you absolutely still want to follow the list above in order. Remember that HHN Express Passes can only be expected to cut down the standby wait time in half — so if the Halloween house has a standby wait time of two hours, HHN Express may be up to an one hour. That's why, even if you have HHN Express Pass access, we still want you to follow our touring plan and minimize overall wait times.
Also, the general wisdom is not to use your Express Pass if the house has a lower wait time, because later, you can visit the house again — when it has a higher wait time — and then use your Express Pass. This is definitely smart, but only use it if you are certain you will want to visit the house again. The posted wait times at HHN houses tend to be a little optimistic, so a posted time of 25 minutes may easily turn out to be 30 or 35 minutes.
That's all we got for our Halloween Horror Nights 2016 touring plan. Please keep in mind this is only one page in our HHN 2015 insider's guide. For the most effective planning, please be sure to read through all of our pages, which you can access at anytime using the navigation links at the top and bottom.
Did you know that this isn't our only touring plan? You can view all of our exclusive Universal Orlando touring plans, including our ultimate 1-day Wizarding World of Harry Potter touring plan, by clicking here.
Do you have a question about the information on this page, would like to provide feedback, or did you spot an inaccuracy? Join us in our Facebook Community and let's talk about it!