Come along as Jack the Clown makes his triumphant return to present Universal Orlando's Halloween Horror Nights 25, the nation's premier Halloween event.
On these pages you will find all the information and insider secrets you need to survive the terror – as well as our very best expert advice on how to save time and money as you face your worst fears.
Orlando Informer is proud to provide our fans with the world's most popular unofficial guide to this year's Halloween Horror Nights event. Just like the entire OI Universal Center, our information is COMPREHENSIVE, OBSESSIVELY UPDATED & COMPLETELY FREE. We hope you will use all the wisdom we've gained over the years to make sure your family's HHN trip is one night you will never want to forget!
Below we present our complete overview of Halloween Horror Nights 2015. Once you've read through it, use the navigation links at the top or bottom of the page to learn so, so much more.
Last update
September 16, 2015
Halloween Horror Nights 2015 – overview & explanation
Think you have what it takes to survive the biggest names in horror, including Freddy Krueger and Jason Voorhees, and venture through original, twisted nightmares?
Now in its 25th terrifying year, Universal Orlando Resort's Halloween Horror Nights, the nation's premier annual Halloween event, puts you right into some of the most pulse-pounding moments in horror history. During the day, you can experience the fun and excitement of Universal Orlando's two amazing theme parks. But on select nights from September 18th through November 1st, 2015, the streets of Universal Studios Florida theme park come alive with hordes of horrifying mutants, monsters and maniacs. All throughout the night you'll be completely immersed in the worlds of the biggest names in horror.
With 25 years of experience to draw from, nobody creates a more nightmarish Halloween event than Universal Orlando, filled with truly original scares and authentic horror movie moments. You can explore terrifying haunted houses, each remarkably themed and detailed by Universal's designers and special effects wizards. You'll make your way through multiple scare zones where gory and grotesque creatures lurk around every turn. You'll roar with laughter at outrageous live shows. And, you can experience many of the park's most exciting rides and attractions.
Halloween Horror Nights is a seven-time winner of Amusement Today's "Best Halloween Event" Golden Ticket award. Tony Timpone, Editor of Fangoria Magazine, said, "After visiting scream parks all across the U.S. for the last 20 years, I can easily say that Universal's is the best in the business… Halloween Horror Nights is the ultimate Halloween experience." The 25th edition of this must-see event promises to bring to life the ultimate in scares past, present, and future.
Halloween Horror Nights 2015 will run a record-breaking 30 nights from September 18 through November 1 on these select dates:
September: 18, 19, 24, 25, 26, 27
October: 1, 2, 3, 4, 7, 8, 9, 10, 11, 14, 15, 16, 17, 18, 21, 22, 23, 24, 25, 28, 29, 30, 31
November: 1
BUSIEST DATES
Here is our projection for the busiest dates, often referred to as peak nights:
Oct 3, 9, 10, 11, 15, 16, 17, 18, 22, 23, 24, 25, 30 & 31.
Many nights at Universal's on-site hotels have already sold out. As always, you can check out daytime crowd predictions on our FREE 12-month Universal crowd calendar!
EVENT TIMES
The event is always scheduled to start at 6:30pm for general admission. New this year, closing times vary from 1AM to 2AM depending upon the night. Previously, some HHN event nights ended at midnight.
So how busy will HHN 2015 be on ______ night?
Since this is the most common question we receive, we want to answer it right away. Halloween Horror Nights 25 is busiest the week of October 14-18 and 21-25. In general, Saturdays are always busy. The first two weeks and the final two nights are always some of the least crowded nights.
Will Diagon Alley be open during HHN 2015 event nights?
Yes, as first reported by Orlando Informer on our Facebook and Twitter, Diagon Alley (and Escape from Gringotts) will be open during Halloween Horror Nights 2015.
What is the HHN 2015 theme?
This year is all about celebrating 25 years of Halloween Horror Nights, complete with fan favorite mashups. The face of this year's event is Jack the Clown. Jack is an original HHN icon that has headlined several years of the event. He was last present in 2010, but was the centerpiece of 2007's Carnival of Carnage event. For his 2015 return, he features an updated look.
Jack's refreshed look.
Mike Aiello, Director of Creative Development for Entertainment at Universal Orlando Resort, writes about Jack:
"Is this your first introduction to Jack? Welcome! He's your master of ceremonies, your host—and your worst nightmare. The things he has in store for Halloween Horror Nights 25 draw on our past and on terrors yet to be seen.
For fans who know his tale, you'll notice he has escaped the shadow of Oddfellow completely. He has shed his old coat for something of his own design. His face is more weathered, more lived in."
You can read more about Jack the Clown on Universal's blog, or take a look at the last time Jack headlined the event in 2007:
(BONUS: We created this iPhone wallpaper to celebrate 25 years of Halloween Horror Nights!)
HHN 2015 haunted houses
Although there are shows, scare zones, and plenty of terrifying activities as part of Halloween Horror Nights, the haunted houses are the primary attractions for the event. Halloween Horror Nights 25 features nine, one more than ever before.
HHN haunted houses are best described as "movie-set quality" recreations of fantastic and fearsome locations. Sometimes referred as mazes, each haunted house is indoors, often set up in the unused queue area of a daytime attraction or one of the Universal soundstages. These haunted houses rely on every effect you can imagine to scare the pants off you, including hideous creatures, blood-curdling sound effects, loud music, tight passages, strobe lights, air bursts, mirror effects, and, of course, very elaborate – and in many cases very gruesome – props and set decoration.
Throughout much of the event's history, haunted house themes have been original creations. However, in more recent years, Universal has started basing more and more houses on third-party licenses (often referred to by fans as IPs, or intellectual properties), such as AMC's The Walking Dead. We've compiled a list of everything you should watch to prepare for this year's event.
2015 intellectual property houses include:
The Walking Dead: The Living and the Dead
An American Werewolf in London
This year's original creations and stories include:
Jack Presents: 25 Years of Monsters and Mayhem
RUN: Blood, Sweat, and Fears
Asylum in Wonderland 3D
Body Collector – Recollections
Click here to learn everything there is to know about these houses.
In general, guests are sent through houses in a steady flow (sort of like a conga line, versus being "pulsed" through in small groups), and, once inside, each house is typically a three to four-minute experience.
HHN 2015 scare zones
Stopping you mid-breath as you walk between attractions, scare zones are essentially outdoor haunted houses set up in open areas around the Universal Studios Florida (for example, in the street area of New York, in front of Revenge of the Mummy). The decorations and effects are usually not quite as elaborate as the haunted houses, but there are still many effects employed to get screams out of guests – and the "oversized" aspects of some scare zones, allowed by their position outdoors, often make them as thrilling as the average haunted house. This is particularly true for the ghastly part of you that likes to watch other people scream their heads off!
Halloween Horror Nights 25 will feature 5 scare zones, along with roaming hordes. All of the zones will be completely original concepts. You can read about each one here.
Here's a look at the Purge scare zone from last year:
HHN 2015 live stage shows
This year, Universal has confirmed 2 shows will take place nightly at Halloween Horror Nights.
Universal will once again bring back the perennial fan-favorite and ever-popular Bill & Ted's Excellent Halloween Adventure:
Bill S. Preston Esq. and Ted "Theordore" Logan return with an all-new, especially excellent Halloween adventure. Party on as those two most excellent dudes skewer the biggest names in entertainment and pop culture.
This show is similar in style to the classic Beetlejuice's Graveyard Revue show – lampooning pop culture and so on and so forth – except it's written for more of an adult audience, it's performed on the larger Fear Factor stage next to MEN IN BLACK, and photography is strictly prohibited. The first show time is typically at 7:30pm with additional shows scheduled about ever hour and a half. Exact show times can be found in the in-park event guidemap.
The second show at this year's event features Jack the Clown. You can read more about it here.
BONUS: Regular daytime attractions
During Halloween Horror Nights there are quite a few of the regular attractions running – and since they take a backseat to the HHN thrills and chills, they are often walk-ons. Here is the official list for 2015:
Please note, if you purchase a HHN Express Pass, it works on the rides in addition to the haunted houses. The only exception is Escape from Gringotts, which will not have express access.
Halloween Horror Nights park map
Below is the map for Halloween Horror Nights 25, keep in mind this map does not feature the rides that will be open during the event..
You can click the image to view it full-screen. (Keep in mind that Universal provides free event guide maps at the front of Universal Studios Florida for all guests, so you don't have to worry about bringing your own. We simply provide this example to help you plan and get a sense of the event's layout.)

Halloween Horror Nights 2015 guidemap.
If viewing the map full-screen still doesn't make it large enough to read clearly, you can view/download our full-resolution HHN 2014 map by right clicking here and selecting 'Save Link As'.
HHN 2015 Passholder Nights
In 2015, Universal is continuing their tradition of offering Passholder nights the first two Fridays and Saturdays of the event. Learn more on this page.
RSVP is always required for Annual Passholder Nights, click here to do so. September 18 and 19 have already reached capacity.
What Halloween Horror Nights is not
This event is not Mickey's Not-So-Scary Halloween Party set at Universal Orlando. There is no trick-or-treating, and there are no characters dressed up in cutsie outfits.
The single purpose of Halloween Horror Nights is to scare you. As such, Universal strongly advises that children under the age of 13 do not attend. I tell people that HHN is like a horror movie brought to life. If you like horror movies, you will love HHN. If you don't like horror movies, you'll probably hate HHN. It's that simple.
Just for clarification, the "children under the age of 13″ statement is a guideline, not a policy, so you can bring your kids to HHN and Universal will not ask for proof of age. However, be aware that if anyone in your party does not like the event and needs to leave early, Universal has the right not to refund used tickets or change the valid date. Since at least one adult will need to leave with an unhappy child, this could prove to be an expensive gamble. But again, no proof of age is needed just for admission.
Universal Orlando Halloween events for kids
The section above usually leads parents directly to this question: So what can I do with my kids during Halloween at Universal?
For better or for worse, Universal really puts all of their energy into Halloween Horror Nights. The "for worse" part means the resort likely won't be organizing anything for kids this year – at least not in the size and scope of HHN.
If you have young kids who want to celebrate the holiday, plan on taking them to Mickey's Not-So-Scary Halloween Party or SeaWorld's Spooktacular. Personally, I recommend SeaWorld because their Halloween event is included with regular admission, and it's a great event too.
Will my kids get scared visiting Universal Studios during the day?
This is the other popular question asked by parents with young kids. Because many of the decorations for Halloween Horror Nights are elaborate and large, it's not possible for Universal to remove everything HHN-related during the regular daytime hours. This means, when touring Universal Studios Florida in September and October, you'll occasionally come across stuff that looks like this: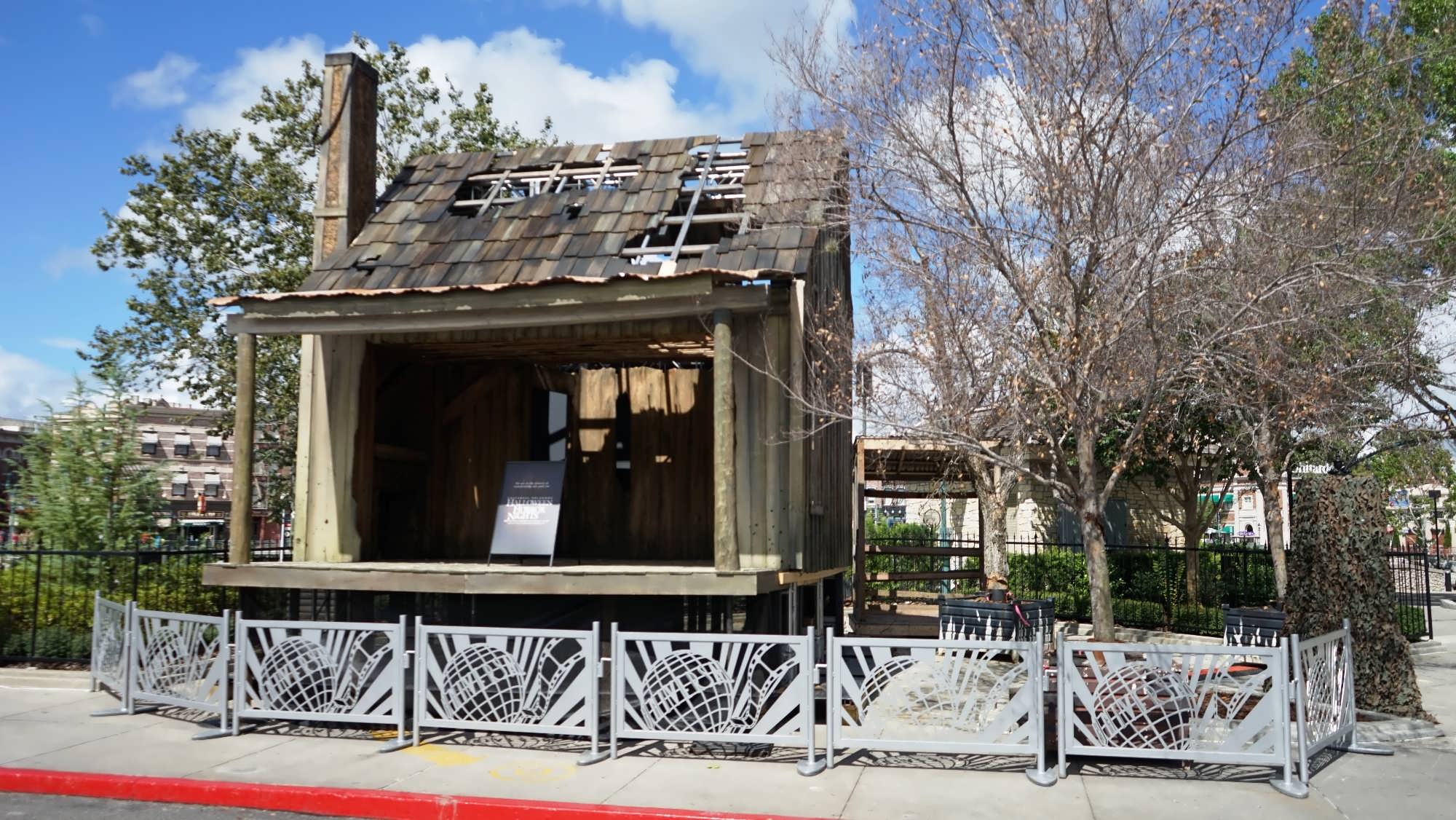 Halloween Horror Nights 2014.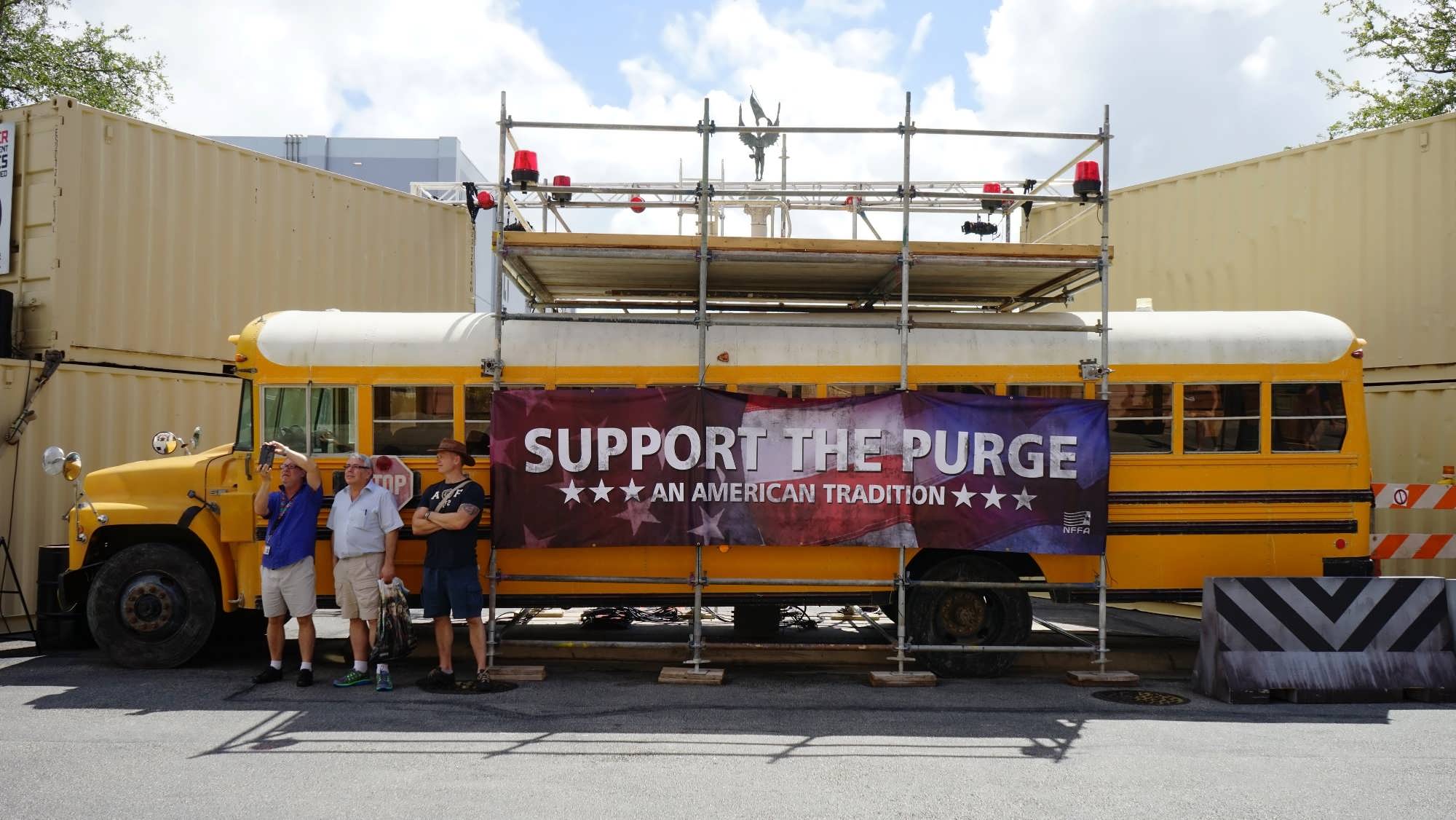 Halloween Horror Nights 2014.
The good news is that Universal doesn't do a single thing during the day like they do during Halloween Horror Nights – not one scareactor, not one siren effect blaring, no sudden air bursts, nothing. So aside from the oversized props spaced out in a few spots around the park, there is absolutely nothing to fear visiting Universal Studios Florida during the day. Honestly, most of the HHN props look more silly than scary in the bright sunlight.
Think the props will be distracting? Remind your friends that you're visiting a working movie production studio, so everyone should expect to see miscellaneous props set out around the park!
Does anything happen at Islands of Adventure?
Unfortunately, no. Other than perhaps some very minor decorating, there is nothing Halloween-related at Islands of Adventure. In fact, when you're inside IOA in the fall, you'll be hard pressed to even know it's Halloween season. Like we explained earlier, Universal really does put every ounce of its seasonal effort into Halloween Horror Nights.
I wanna learn more about Halloween Horror Nights!
That's good, because we have so much more to share. Follow the links at the bottom of this page to view our expert advice regarding admission, Express Passes, first-time visitor planing, and more.
If you just want to get more of a "feel" for the event, check out our HHN 2013 video playlist on YouTube – you can experience the atmosphere of the event and see exactly what the scare zones looked like last year.
Last but not least…
We have an entire community of Universal and HHN fans discussing the event right now! When you're done here, join us for vacation planning and more in the OI Forums.
Want to skip all the details and just price out a trip to this year's event? We'll find the best deals for you – for free (seriously). Learn more