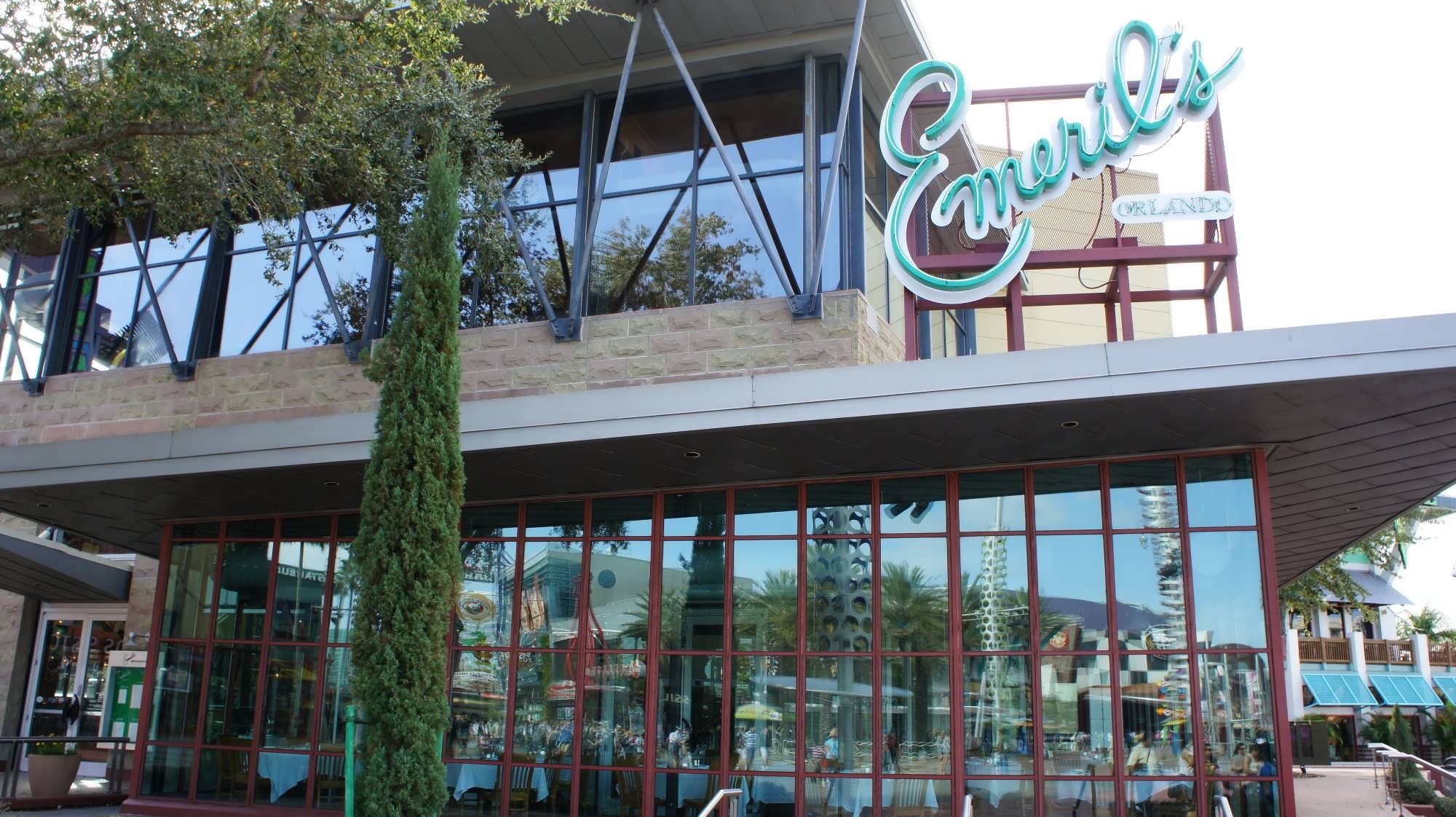 Emeril's Orlando at Universal CityWalk.
Style
Stop by this award winning restaurant to indulge in New Orleans' style dishes. Emeril calls this cuisine "'New New Orleans', with bold flavors from Southwestern and Asian cooking, yet rooted in Louisiana's Creole genre and utilizing local seafood and farm products from South Florida."
Insider tips
This two story building is at the center of CityWalk and overlooks the lagoon. Stone walls, high ceilings and hardwood floors set the scene as you sit down to enjoy your meal. The restaurant features an open kitchen and Food Bar, sit here for an up close look at the Chef's preparing their masterpieces. The second floor provides a look into the main dining room and also offers two private party rooms. You will also find a 10,000 bottle wine gallery, cigar bar and 10 person chef's tasting room.
For a personalized dining experience you can partake in a special tasting menu prepared by Emeril's chefs.
Emeril also has another restaurant, Emeril's Tchoup Tchoup, located on-site at the Royal Pacific Hotel.
Prices
Entrees are $8 to $20 per person for lunch, $10 to $48 per person for dinner.
Sample lunch menu
Creole Marinated Calamari: $8.50
Emeril's Sausage Plate: $13.00
Pepper Seared Tuna Niçoise: $12.50
New Orleans Po' Boy: $12.00-$16.00
Shrimp and Grits: $16.00
Andouille Crusted Redfish: $20.00
Three course lunch option: $22.00
Warm Chantilly CrêpesL $9.00
Sample dinner menu
Soup of the Day: $8.00
Seafood & Andouille Gumbo: $9.00
Smoked Wild & Exotic Mushrooms: $10.00
Kurobuta Double Cut Pork Chop: $35.00
Pan Seared Sea Scallops: $37.00
18 oz. Cowboy Rib Eye: $48.00
Vegetarian Lasagna: $26.00
'Pain Perdu' Bread Pudding: $8.00
PDF menu
Click here to view the full LUNCH menu (PDF file)
Click here to view the full DINNER menu (PDF file)
Hours
Lunch: Daily; 11:30am – 3:00pm
Dinner: Sun – Thu, 5:00pm – 10:00pm; Fri – Sat, 5:00pm – 10:30pm
Attire
The restaurant recommends business casual. However, since Emeril's is located at a theme park resort, many guests are dressed even more casually than that. Really the only clothing the restaurant specifically will not allow is sleeveless shirts or swimsuits. Expect the atmosphere to be more formal in the evening.
Priority seating
407-224-2424
Online reservations available via OpenTable.com – click here
Guests staying on-site receive priority seating
Fine dining – reservations highly recommended!
Official website
http://www.emerils.com/restaurant/6/Emerils-Orlando/
Emeril's Orlando – photo gallery (Click Here)
Emeril's Orlando – map
Click any marker to display the attraction or venue name. To scroll or zoom, use the controls on the top-left of the map. You may also switch to different map views by using the buttons on the top-right of the map.