Location
Production Central.
Restrictions and access
40″ to ride the motion simulator, otherwise there are stationary platforms available; must be 48″ to ride alone; has Express Pass access.
Two sentence insider summary
Have you always wanted to know what it was like to be a minion (or, as Universal says, one in a minion)? At Universal Studios Florida's silliest attraction, you will get a chance to do just that, as you join Gru and the girls in this family-friendly 3D simulator ride featuring an all-new storyline, new animation, and plenty of minion shenanigans.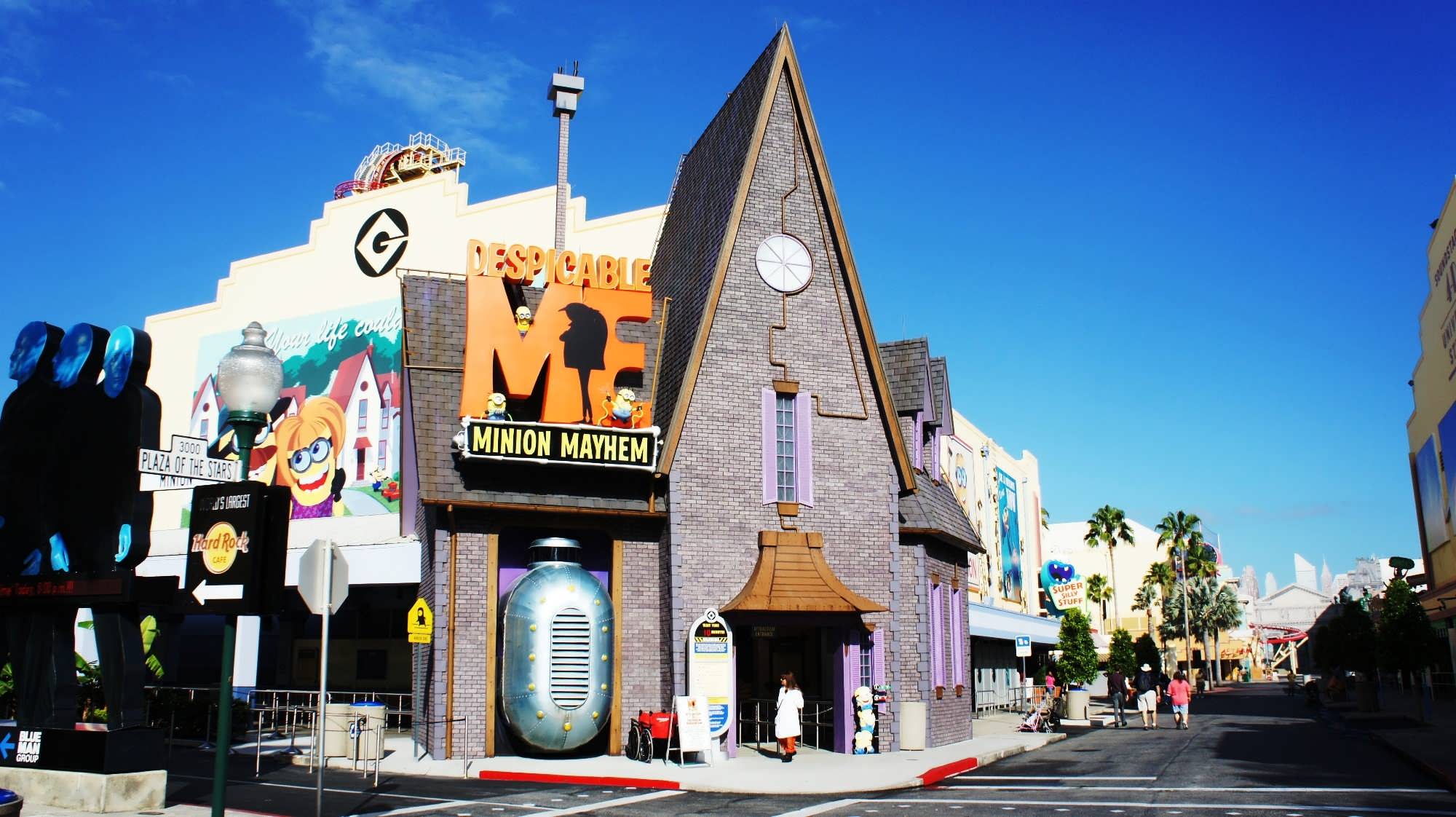 Despicable Me Minion Mayhem at Universal Studios Florida.
Fear factor
2 of out 5. The motion simulator is smooth, and the movement is basic. However, just like you see in the film, there is quite a bit of minion violence that some parents and very young children may not find humorous.
IMPORTANT If you are using Express Pass access, please note that the Express line can often be as long as 30 minutes — therefore it is to everyone's advantage to plan on riding Despicable Me first thing in the morning or toward the end of the day.
What you wish you knew before you experienced it
To fully enjoy this attraction, you definitely want to watch the Despicable Me movie beforehand.
OI fun fact
Real banana trees are planted along the outdoor queue area. Fun, huh? By the way, Universal posted this "behind the scenes" YouTube video of Despicable Me. It shows quite a bit of the pre-show videos, which are great, as well as the actors doing the voice-overs. Check it out:

Despicable Me Minion Mayhem – HD video
Despicable Me Minion Mayhem – real guest reviews
Average rating:
41 reviews
Feb 11, 2016
Date Of Last Visit:
02/11/2016
Jarring
Jan 2, 2015
Not Worth the Wait
Date Of Last Visit:
12/25/14
This is the most over rated ride in the park. Not at all worth the wait time. There are some really good rides like the Mummy that have hardly any wait that are much more worth it than this. Yeah I guess Minions are the craze right now but this ride is useless.
Dec 5, 2014
Jarring, injured neck
Date Of Last Visit:
12/4/2014
This ride would be great if the motions were a bit less abrupt. The ride snapped my neck around so much I got whiplash and had to leave the park after the ride. There are stationary seats in the front and I so wish I had viewed the video from there. Cute concept, very painful execution.
Jul 29, 2014
Great Fun for all
Date Of Last Visit:
July 21, 2014
Saw both the movies and being a big fan of the Minions, I was excited to try this ride. We were all adults and each thoroughly enjoyed it. Would have gone on it again, if it hadn't started raining.....
Jul 16, 2014
despicable me
can't begin to tell everyone how much we all enjoyed this ride, from a teenager to someone in our sixties, have never seen the movie, but the ride and preshow is very funny, you will want to do it more than once
Despicable Me Minion Mayhem – map