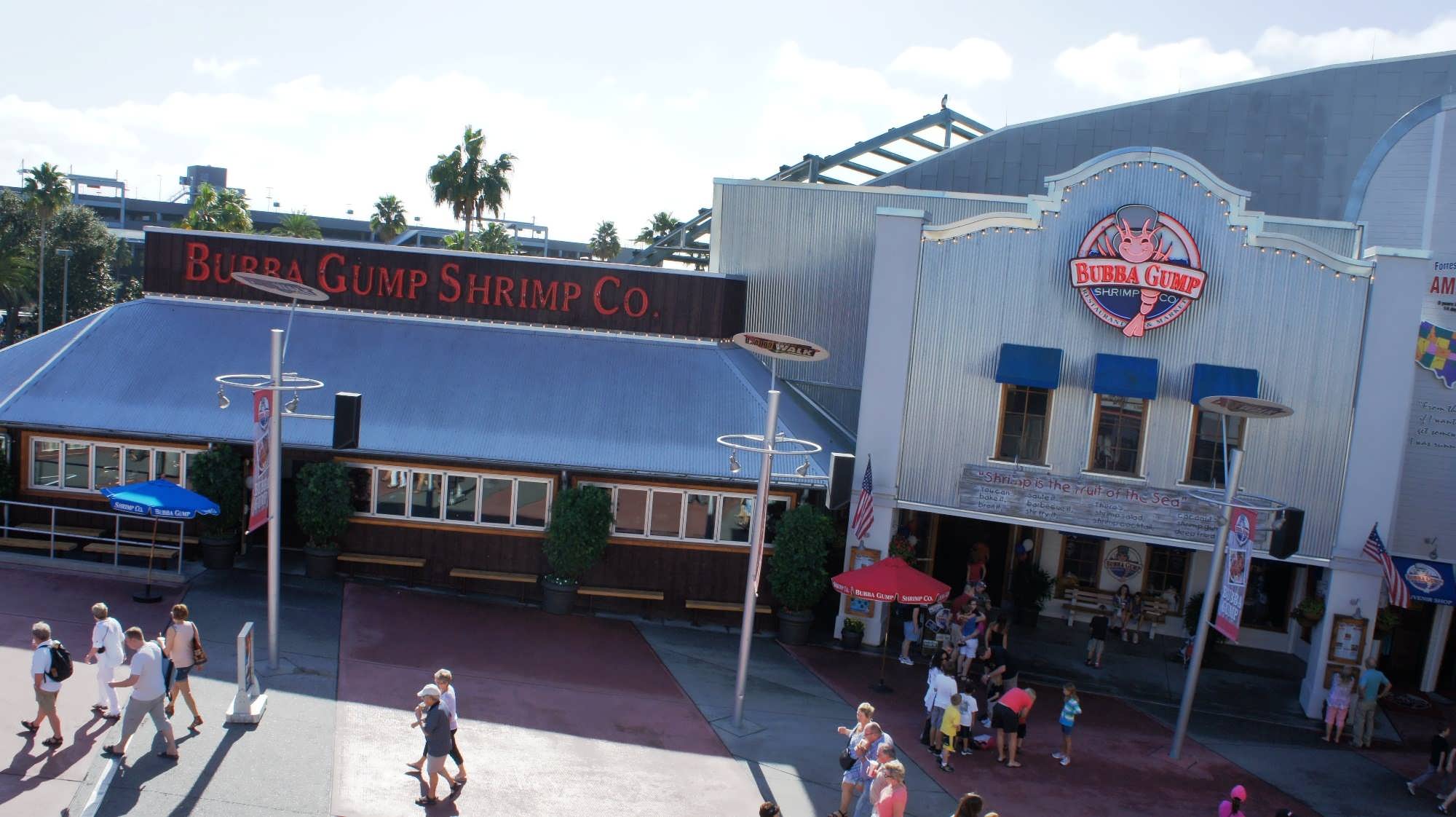 Bubba Gump Shrimp Co. at Universal CityWalk Orlando.
Style
Just as the name says, Bubba Gump Shrimp Company is a full-service restaurant specializing in a wide range of shrimp dishes, as well as Southern and Cajun inspired cuisine. Enjoy dishes inspired from the movie, share the Run Across America appetizer before diving into Lieutenant Dan's Drunken Shrimp or Jenny's Catch with Lobster Butter Sauce. Don't forget to leave room for dessert and try Mama's Cinnamon Bread Pudding or have the kids build their own ice cream sundae.
Insider tips
This is a dining experience for people of all ages. Upon entering Bubba Gump's you will be treated with true Southern hospitality. If you love shrimp Bubba Gump's is not to be missed. But don't worry, even if you are not a big shrimp fan they have a little bit of something to offer for everyone. Along with endless shrimp dishes Bubba Gump's also offers salads, soup, sandwiches, sea food and fried chicken to name a few. There is also a Gluten Free menu as well.
In front of the restaurant you'll want to check out the plaster casts of Forrest's running shoes and the famed bus stop bench from the movie. You can even try them on for a photo op!
Before leaving be sure to check out the gift shops for all kinds of Bubba Gump souvenirs, even including the famous boxes of chocolate!
Prices
Entrees from $10.00 – $26.00 per person.
Sample menu
Mama Gump's Garlic Bread Basket: 4.99
Best Ever Popcorn Shrimp: $9.29
Seafood Hush Pups: $9.29
Steamed Clams & Mussels: $13.49
1/2 lb. All-American Burgers & Fries: $9.99
Mushroom Veggie Burger: $11.99
Baja Shrimp Tacos: $11.99
Pear & Berry Salad: $11.99
Yin Yang Shrimp Salad: $12.49
Shrimp & Veggie Skewers: $17.29
Shrimp New Orleans: $17.29
Steamed Shellfish: $24.99
Steamed Crab Legs: Market Price
Mama's Southern Fried Chicken: $16.99
Prime Top Sirloin: $20.99
Stuffed Trout: $17.99
Mama's Home Style Tilapia: $16.99
Mama's Cinnamon Bread Pudding: $6.99
Mama's Best Strawberry Shortcake: $8.49/$6.29
PDF menu
Click here to view and download the full menu (PDF file)
Hours
11:00am to 1:00am (kitchen closes at midnight).
Reservations
Phone reservations not available
Online reservations not available
On-site guests do not receive priority seating
Call 407-903-0044 for other inquiries
Official website
http://www.bubbagump.com/locations/orlando/
Bubba Gump Shrimp Co. – photo gallery (Click Here)
Bubba Gump Shrimp Co. – map
Click any marker to display the attraction or venue name. To scroll or zoom, use the controls on the top-left of the map. You may also switch to different map views by using the buttons on the top-right of the map.