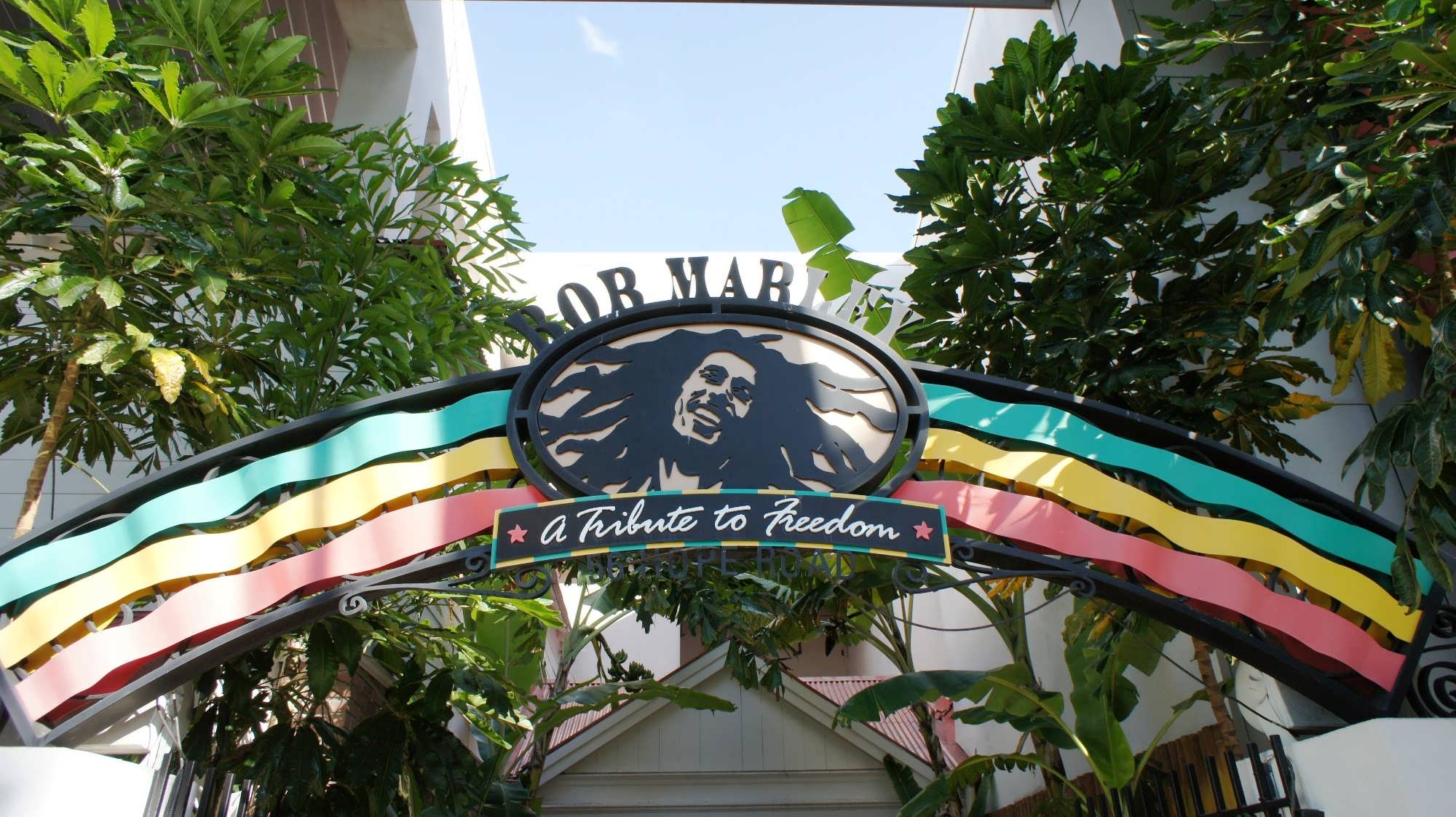 Style
At this full-service restaurant, enjoy Jamaican influenced cuisine mixed with the smooth tunes of Bob Marley in this replica of Bob's Jamaican home. Special artifacts, black and white photos, and video monitors will take you through the journey of this legend, showcasing his life and career.
Come pay tribute to Marley and his spirit for love and freedom which were so important to him.
Insider tips
Check out the open air courtyard for live reggae beginning at nightly at 8:00pm, or have a drink on the balcony overlooking the courtyard. Don't miss Legendary Thursdays from 9:00pm until close every week for specials. Sunday night is ladies night from 9:00pm – 2:00am, no cover charge for ladies. Merchandise available on site. Be sure to try the smokey ketchup dipping sauce!
Prices
Entrees are $9 – $17 per person.
Bob Marley – A Tribute to Freedom Menu
Rita's Appetizers
Taste of Jamaica $14.95
A tour of island flavors featuring our veggie & beef patties, jerk wings, yucca fries
Stir it up Fondue $8.95
White cheddar red stripe cheese sauce, vegetables, jerk seasoned pita chips
Jammin' Chips and Salsa $6.25
Housemade black bean corn salsa, jerk seasoned pita & plantain chips
Buffalo Soldier Jerk Wings *GF $10.95
Crispy fried, tossed in our own jerk sauce, celery, cucumber sauce
Blue Mountain Jerk Chicken Dip $6.95
Housemade chicken salad, fresh vegetables, jerk seasoned pita chips
Kaya Mon Calamari $8.95
Plantain crusted, golden fried, zesty tomato sauce
Soup & Salad
No Woman, No Cry Jerk Chicken Salad *GF $12.95
Grilled jerk chicken, seasonal greens, hearts of palm, avocado, orange segments, tomatoes, citrus vinaigrette
Trench Town Rock Pepper Pot Soup *GF $5.95
Blend of island greens, vegetables, fresh herbs, jerk seasoned pita chips
Jamaican Side Salad *GF $5.95
Mixed greens, hearts of palm, tomatoes, carrots
Scratch Kitchen Entrees
Reggae Jamaican Jerk Chicken *GF $14.95
Half chicken, char-grilled, chopped, rice and peas, sweet plantains
Ital Eats Stuffed Peppers *GF $10.95
Oven roasted vegetables and rice stuffed peppers, zesty tomato sauce, seasonal vegetables, spinach
Belly Full Beef Patties $9.95
Two housemade pastries, yucca fries, smoky ketchup
Natty Dread Vegetable Patties $9.95
Two homemade pastries filled with sweet potatoes, red beans, spinach, carrots, onions, coconut milk. Yucca fries, smoky ketchup
Catch A Fire Chicken Char-Grilled $12.95
Jerk seasoned chicken breast on coco bread, avocado, seasonal greens, tomato, jerk BBQ sauce, yucca fries
Ackee and Saltfish *GF $14.95
A truly traditional Jamaican dish prepared with our national fruit ackee, salt cod fish, onions, tomatoes, bell peppers, garlic, seasonings, braised callaloo, sweet plantains, white rice
Oxtail Stew *GF $17.25
Traditionally prepared, served over rice and peas, seasonal vegetables
Manchester Beef Kabobs $15.95
Tender beef medallions, peppers, onions, cherry tomatoes, red bliss mashed potatoes, seasonal vegetables, natural sauce
Sun is Shining Curry Chicken *GF $14.95
Braised bone in chicken with our Jamaican curry sauce, sweet corn, okra, white rice, seasonal vegetables, grilled pineapple
Catch of the Sea
Curry Shrimp *GF $15.95
Panned Seared shrimp in a housemade Jamaican curry sauce, sweet corn, okra, white rice, seasonal vegetables, spinach
Grilled Mahi-Mahi *GF $17.95
Jerk seasoned Mahi fillet, rice and peas, seasonal vegetable, mango salsa
Fish and Yucca $15.95
Red Stripe fried Atlantic cod, yucca fries, pickapeppa tartar sauce
Rock Steady Sides
Sweet Plantains *GF $4.95
Rice and Peas *GF $3.95
Coco Bread $1.95
Red Bliss Mashed Potatoes *GF $2.95
Yucca Fries *GF $4.95
White Rice $1.95
Rastafarian Tings (nonalcoholic)
Island Sodas $4
Jamaican Ginger beer, Jamaican Cream soda, Kola Champagne, pineapple soda, or refreshing Ting grapefruit soda
Tropical Juices $4
Your choice of refreshing papaya, mango, or guava juice
Cool Ya Down (Frozen) $5.50
Pineapple with orange, guava, and mango juices
Mighty Good Drink (Frozen) $5.50
A blend of pineapple, strawberry, and coconut juices
Freedom Freeze (Frozen) $5.50
A tropical blend of pineapple, papaya, pina colada, and orange juice created to take you to the ISland of Jamaica.
Desserts
Chocolate Jamaican Sensation $5.95
Guava chocolate cake, dulce de leche sauce, powdered sugar
Is This Love $5.95
Key lime cheesecake, cocoa powder, whipped cream
Coconut Cake $5.95
Warm chocolate cake, vanilla ice cream
Lil Legends Menu (Items for children 9 and younger)
Jamacaroni and cheese $6.99
Mac and cheese, yucca fries, grapes
Lil Reggae $6.99
Crispy chicken tenders, white rice, grapes
Island Flavor $6.99
Beef or veggie pattie, white rice, grapes
*GF – can be prepared gluten free.
Hours
4:00pm to 2:00am (Sunday through Thursday the kitchen closes at 10:00pm; Friday through Saturday it closes at 11:00pm)
Reservations
407-224-FOOD (3613)
Online reservations available via OpenTable.com – click here
Guests staying on-site receive priority seating
Official website
http://www.universalorlando.com/Restaurants/CityWalk/Bob-Marley-Tribute-Freedom.aspx
Bob Marley – A Tribute to Freedom – photo gallery
Bob Marley – A Tribute to Freedom – map
Click any marker to display the attraction or venue name. To scroll or zoom, use the controls on the top-left of the map. You may also switch to different map views by using the buttons on the top-right of the map.