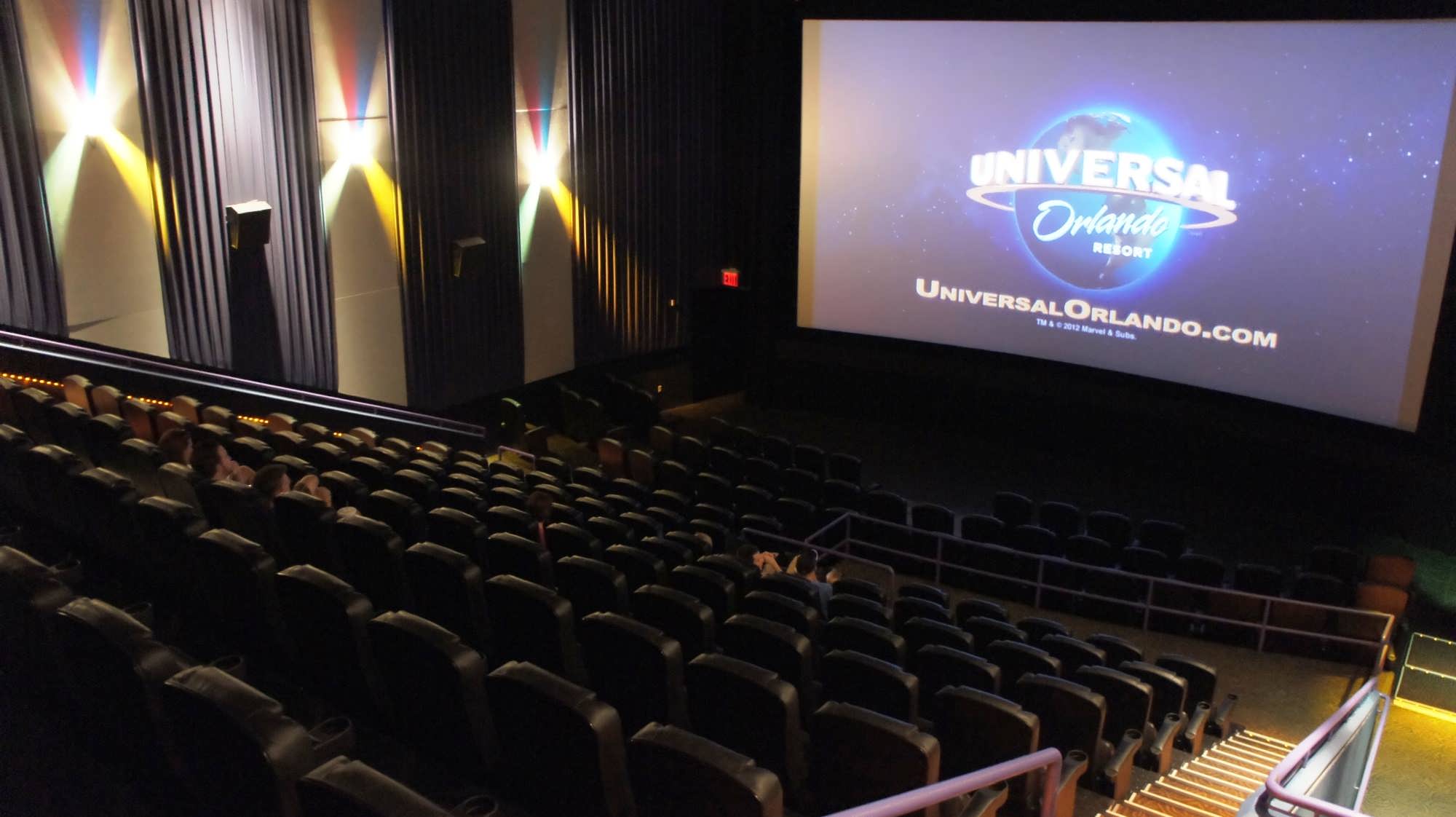 AMC Universal Cineplex 20 with IMAX at Universal Citywalk Orlando.
Just in case riding the movies wasn't enough entertainment for you while visiting Universal Orlando Resort, CityWalk features a state-of-the-art, 20-screen AMC movie theater for your entertainment pleasure.
Movie prices start at $11.00. Discounts are available for matinees, children, and seniors. In addition, annual passholders also receive a discount.
The public area of the theater is very large, featuring two concession stands serving hot food (one downstairs and one upstairs), a Cinecafe with full bar open in the evenings, and an arcade. You can view the concession stand menu in the photo gallery below.
Universal Cineplex 20 also features an IMAX screen with adult tickets going for $17.00. Movie aficionados will want to note that the IMAX screen found here is smaller than a traditional IMAX screen — although still very impressive. However, if you are looking for a true, six-story IMAX screen, you will need to head down the road to the Regal Pointe Orlando theater.
Thinking about coming to Universal CityWalk just for a movie? Remember that you generally have to pay for parking if you arrive before 10:00pm. See our Parking & Universal's transportation hub page for more information.
Movie times and online ticket sales
http://www.amctheatres.com/movie-theatres/universal-cineplex-20
Official website
http://www.universalorlando.com/Nightlife/CityWalk/AMC-Universal-Cineplex.aspx
OI fun fact
You are not allowed to bring in any food or drink from the outside. But once you are inside, you will find Universal's best deal on beer: 32 oz draft for $6.25 with refills at $3.00!
AMC Universal Cineplex 20 with IMAX – photo gallery (Click Here)
AMC Universal Cineplex 20 with IMAX – map
Click any marker to display the attraction or venue name. To scroll or zoom, use the controls on the top-left of the map. You may also switch to different map views by using the buttons on the top-right of the map.