Dave & Buster's Orlando on International Drive – review, photo gallery
Update 8/18/11
Editor note: The other day we had a chance to stop by Dave & Busters to shoot some more photos. I have replaced the stock photos originally in this post with my own.
I also wanted to let you know that Dave & Buster's is VERY BUSY. Great for them, but not so good for anyone who is driving and needs to park. You can see how busy the lot is, and how Dave & Buster's has taken over Olive Garden's parking lot, in the photos at the very bottom of the post.
That's all I got. Now on to the original post…
Original post
I'm not sure what took so long, but Orlando can finally claim, "We have a Dave & Buster's!"
You can click any photo to view it full-screen. Scroll to the bottom of the post to view the complete photo gallery with more than 30 images.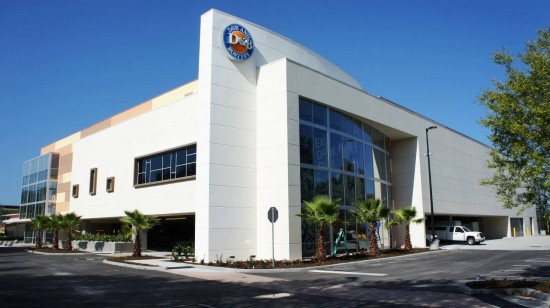 Orlando's first installment of this popular adult-oriented* entertainment center opens today on International Drive with more than 40,200 square feet of gaming and dining fun. There's the full-service restaurant with contemporary American cuisine, a large bar with numerous flat screen TVs, and of course, the Million Dollar Midway™ with more than 170 games.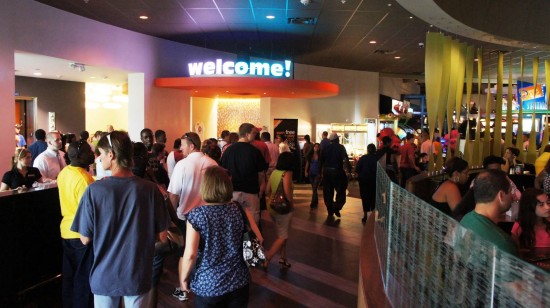 Lucky for me, I was able to attend a special sneak preview on Friday night. As part of the event, my friend and I each received a $10 Power Card for the Midway, along with an appetizer to split and an entrée each.
We arrived at 6:30pm and checked in immediately for our table in the restaurant. We were asked if we'd prefer to be called or sent a text when our table was available. We opted for the latter, and headed to the game floor. Our first task was signing up for the Rewards program at a kiosk. Sign-up only requires an email address and gifts you with $10 of game play on your Power Card (available within 72 hours). We then did a couple laps around the midway, taking notes of which games we wanted to play after dinner. Then our text arrived (just 20 minutes later) and we headed to the restaurant in the far corner of the building.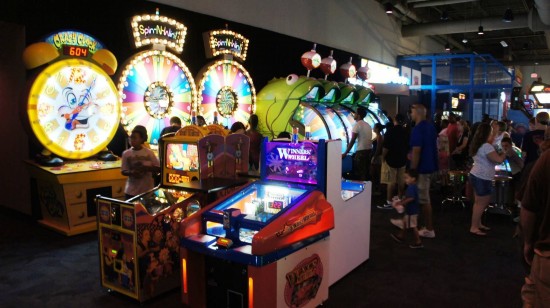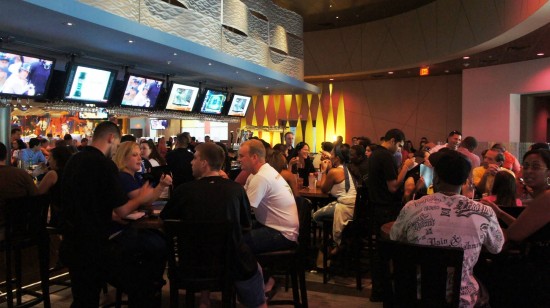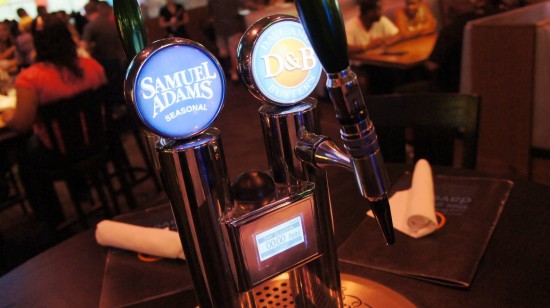 The dining experience was much better than I was expecting. The design of the restaurant is contemporary and welcoming, consisting mostly of booths (my favorite) with hardwood tables and a colorful 42-foot mural on the back wall.
Before really taking that all in, though, we had to act fast… It was 6:55pm and half-priced cocktails ended at 7pm (Happy Hours are Mon-Fri 4:30pm-7pm and Sun-Thurs 10pm-close). Our waiter quickly gave us the rundown on the mixed drinks. Several were intriguing, particularly the Snow Cone and the Candy Shop. But in the haste of the moment, we both went with the Million Dollar Margarita, the flagship cocktail (we recommend!).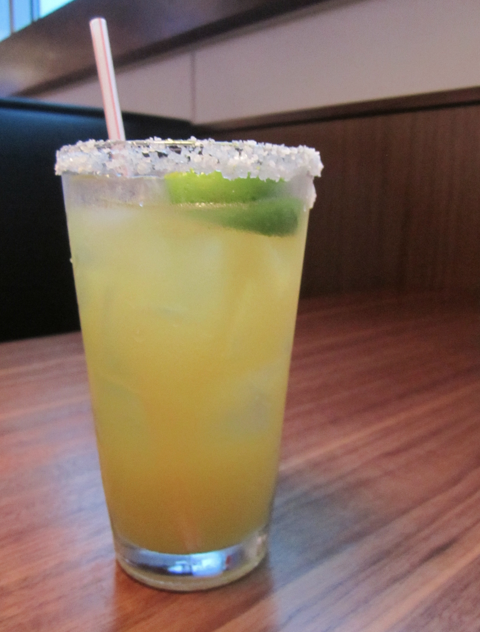 Next up: appetizer. We asked our waiter's opinion and were given two recommendations: Mountain O' Nachos and the Philly Steak Rolls. In the end, we went with recommendation #2 – mostly because the nachos served 3-4 people and there were only 2 of us. We just didn't need that much food – even if it was free. The four crispy rolls were stuffed with Philly steak and cheese, and served with cheese sauce and sweet & spicy ketchup. We thought they were tasty, and two each was the perfect portion size.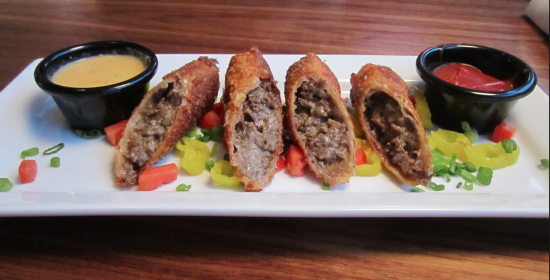 Moving on to entrées… There were so many choices, even for a sneak preview menu. Salads, sandwiches, steaks, fish, burgers, pasta, even an "under 600 calories" section! In the end, my friend chose the Original Bar Burgers, which were 4 mini-cheeseburgers on King's Hawaiian® rolls served with fries. I chose The MAC! & Cheese (noted as a D&B Favorite), which combined my favorite childhood treat with bacon and grilled chicken (absolutely delicious, though calorie-packed).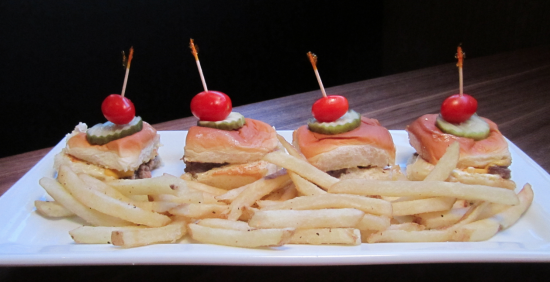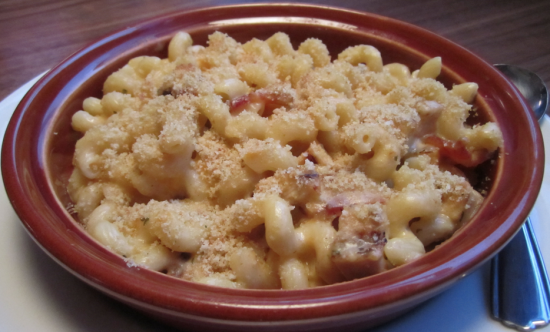 Unfortunately, we didn't have dessert. To be honest, we were too stuffed from all the good food we'd ate already. However, the Hot Sugared Donut Holes and the Bananas Foster Pie sounded promising. But we were sure to order a couple beers before moving back out to the arcade. Luckily, they had two of our favorites on draft: Guinness and Stella Artois. They even served them in their proper glassware.
From there, we moved to the bar to check out the set-up and meet-up with some of our friends. Since we'd been in the restaurant, the crowd had easily doubled, but it didn't feel packed. In addition to the large three-sided bar, there are also numerous high-tops. Flat screen TVs could be seen from about every angle, including the 103-inch plasma TV. The bar would definitely be a good place to meet friends for a drink before embarrassing yourself with lack of skills in the arcade.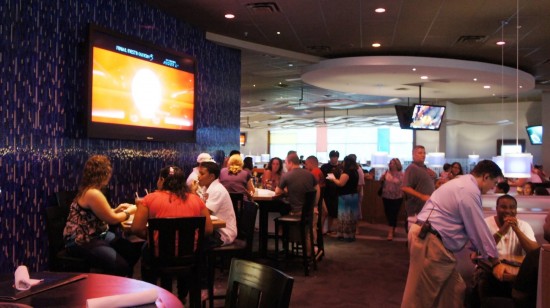 Now, on to the main event: the Million Dollar Midway. There were many of the games you'll see at traditional arcades (skeeball, basketball, racecar driving, Dance Dance Revolution, etc.), as well as some I had not seen before (Derby Owners Club, Big Bass Wheel, Fruit Ninja and others).
Our favorite ticket-less game was Big Buck. Yes, that's right. Us two girls were slightly enamored with a game that involved shooting rifles at various animals while on treks across areas like Africa, India and Australia. We honestly could have played much longer, but our trigger fingers got tired and it was affecting our game. So we gave up.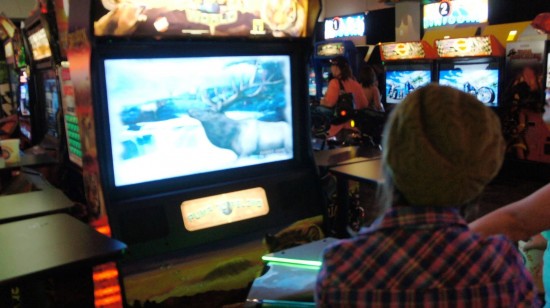 The two best games for scoring loads of tickets were Color-Rama and the mock slot machines. For Color-Rama (near Skeeball Alley), you choose a color you think the ball will land on (corresponds to a set ticket amount). Mindless really. But we each scored about 300 tickets. At the slot machines (on the back wall, near the NASCAR driving), you try to quickly match rows of 3 symbols. I think I scored about 100 tickets. We also loved playing the Super Trivia game, where up to 6 people can play at a time and the faster you answer correctly, the higher your score.
After using every last credit available on our Power Cards, we headed for the Winner's Circle to cash in our tickets. We were expecting a machine to count them, but here you put all your tickets in a bin and it counts by weight! (Seriously, how do they do these things?) We each had about 550 tickets to spend in the store. (Keep in mind, you can keep your credits and tickets on your Power Card and save up over time).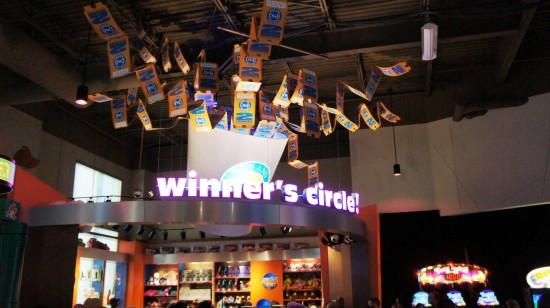 Many items were your typical arcade prizes: stuffed animals, bracelets, candy, Frisbees, etc. We both decided on housewares (we're such girls): a pub glass for her and a coffee mug for me. I was surprised by some of the high-ticket items: PlayStation 2, a waffle maker (really??), Beatles Monopoly, D&B t-shirts, iPod docking stations and many others.
Overall, Dave & Busters looks to be an excellent addition to International Drive and Orlando, in general. I'm sure on busy nights there will be long waits to eat and play games, but at least its an inviting atmosphere with plenty to keep you entertained.
TIP: Visit during Power Hour (Mon-Fri, 4:30pm-7pm) to receive an hour of game play for only $10. Plus, it's the same time as half-priced cocktails and discounted beer. You can't go wrong! There are also ½ price games every Wednesday, and the Eat & Play Combo ($15.99 for one select entrée & $10 Power Card) available all day Sun-Thurs or until 5pm on Sat & Sun.
NEED TO KNOW:
Hours: Sun-Thurs: 11am to 1am; Fri-Sat: 11am to 2am


Website
Facebook
Twitter
YouTube
*House Policy: Any person under the age of 21 must be accompanied by a parent or guardian to enter Dave & Buster's Orlando. One parent or guardian may accompany up to six underage guests. All underage guests must remain with their parent or guardian at all times.
Dave & Buster's – map
Dave & Buster's – complete photo gallery
Click any image to view it full-screen. When the full-screen image is open, click to the right to advance through the complete photo gallery. If several thumbnails are missing, try reloading this page in your browser.
[sws_author_bio user="Amanda" size="105″ class="gray" authorposts="More OI posts by Amanda" name_format="About the author"] [/sws_author_bio]
Comments