Magic Kingdom resort area secrets only a local would know
Allow me to share with you three things about the Magic Kingdom Resort Area only a local would know.
Skipping the toll booths at Magic Kingdom
You don't have to pay for parking if you're willing to drive a little bit further.
As many people already know, the three Disney hotels that look over Seven Seas Lagoon (Contemporary, Grand Floridian and Polynesian) are connected by a road.  The road itself likewise has three names depending on where you are: World Dr. by Contemporary, Floridian Way by Grand Floridian and Seven Seas Dr. by Polynesian.
Check out my Magic Kingdom Resort Area Google Map.
Normally to access the Magic Kingdom Resort Area loop you need to go through the main entrance toll booths, marked on the map by a yellow dollar sign ($).  And of course, if you are not staying on property, you have to pay for the privilege of parking.  However, there is a way around this.  You should also notice another map marker: Back Entrance.  If you are willing to drive a bit further, get yourself to the intersection of Reams Rd. and  Center Dr. on the backside of Magic Kingdom.  From that intersection, close to Disney Institute, you can access the Magic Kingdom Resort Area loop without going through the toll booth.
If you want to go to the Ticket & Transportation center, follow the road as if you are leaving Magic Kingdom.  Right before you exit by the toll booth there is a small U-turn road you can use to swing back around.  Otherwise, you can use the loop to access the hotels.
Keep in mind that there are security gates in front of each of the three hotels, so you'll still have to deal with that if you want to park at one of them.  What happens if you don't have a good excuse for the security guard? This leads me to number 2…
Parking at Disney's Wedding Pavilion
You don't have to go through the hotel security gate if you want to park at Grand Floridian (or use the Grand Floridian monorail to visit Magic Kingdom or the other two hotels).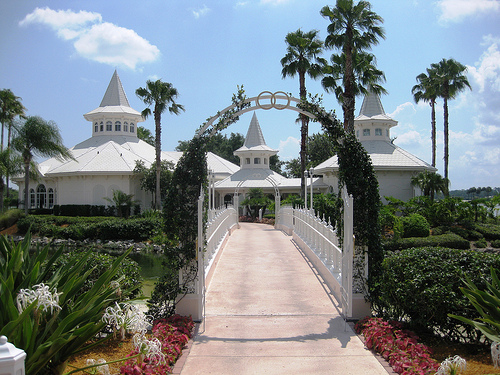 You may have also noticed a marker on my Magic Kingdom Resort Area Google Map labeled Wedding Pavilion Parking Lot.  There is no security gate for this parking lot, and unless there's a big wedding, it is usually empty.  Park in the back corner and you're just about a five minute walk to the doors of Grand Floridian.  There is also a pathway leading past the wedding pavilion that will take you to Polynesian.
Now you've spent the day touring the Magic Kingdom Resort Area, you're about to leave Magic Kingdom to get back to the Ticket & Transportation Center, and there are 20,000 other guests trying to do the exact same thing…
Alternative transportation for getting from Magic Kingdom to the Ticket & Transportation Center
You can use the monorail stop at the Contemporary as a back-up for transportation out of Magic Kingdom.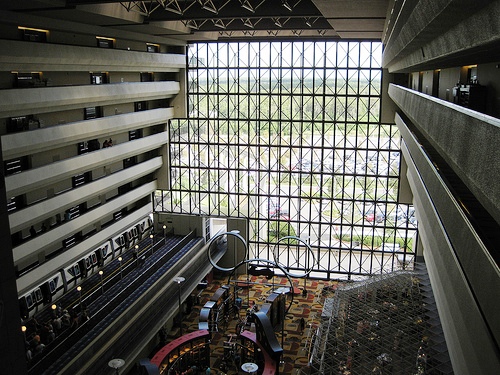 True story: We went to Magic Kingdom on Christmas night this past year.  Like most guests, we wanted to leave after the electrical parade.  Well, fate was not on our side that night.  Just as everyone was leaving, a massive rain storm swept in.  To make matters worse, for some unknown reason Disney shut down ferry service.  This left us and the thousands of people leaving with two options: Magic Kingdom monorail station or the bus depot.
I am not exaggerating when I tell you that the line for both of these options easily exceeded two hours. Anyone who has attempted to leave Magic Kingdom with everyone else after a busy night knows what these lines can look like.  And it was raining.  So what would a local do?
Simple enough: Take a hop, skip and a jump over to Contemporary from the bus depot.  Now this small detour will take about 15 minutes to walk, and there aren't really any signs to point you in the right direction.  However, the length of the walk, and having to find your way (just walk toward that huge white hotel in the distance), are nothing compared to a two-hour wait crushed in line with tired families.
When we arrived at the Contemporary, we bopped up to the fourth floor, stood in line for about 5 minutes for the monorail, and we were off.  Problem solved with local knowledge.
Originally posted on January 24, 2011 – reposted on March 1, 2011
Comments