Discovery Cove at SeaWorld Orlando: Swim away the day in this tropical paradise
We've been thinking about visiting SeaWorld's Discovery Cove for several years and finally decided it was time to stop thinking about it and finally go! We went with the non dolphin swim package, which still has plenty to offer!
The package included:
Snorkeling with thousands of tropical fish and rays
Hand feeding exotic birds in a free-flight aviary
Relaxing on pristine beaches
Floating along our scenic Wind-Away River
Breakfast, freshly prepared lunch and unlimited snacks, drinks and select alcoholic beverages
Lockers, sunscreen, snorkel gear, changing facilities
All day self parking at Discovery Cove
Unlimited admission to your choice of SeaWorld Orlando, Aquatica or Busch Gardens Tampa Bay during your vacation. Or upgrade to the Ultimate Day Resort package and receive unlimited access to all three parks SeaWorld Orlando Aquatica and Busch Gardens Tampa Bay for only $50 more (a $100 savings off the regular price).
We choose the 14 day Aquatica pass as our park of choice and had a blast visiting the park multiple times during our vacation. (Read my review of Aquatica)
There is so much I could write about that this would definitely turn into a novel, so I will try to keep it more general, but if anyone has any questions please ask away using the comment form at the very bottom of the page.
By the way, you can click any image to view it full-screen. Scroll to the bottom of the post to view an extended photo gallery with more than 60 images.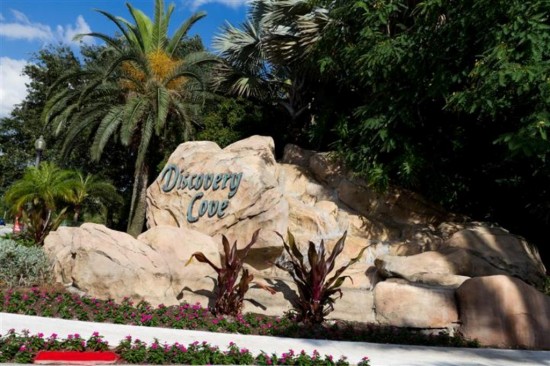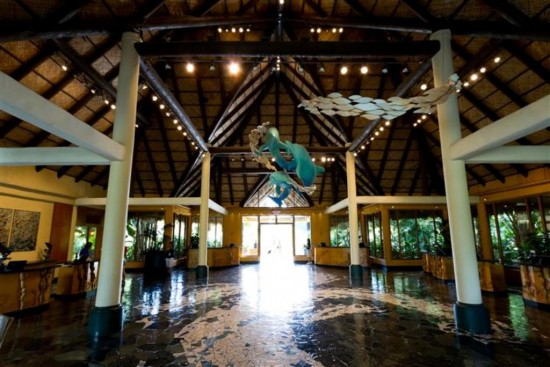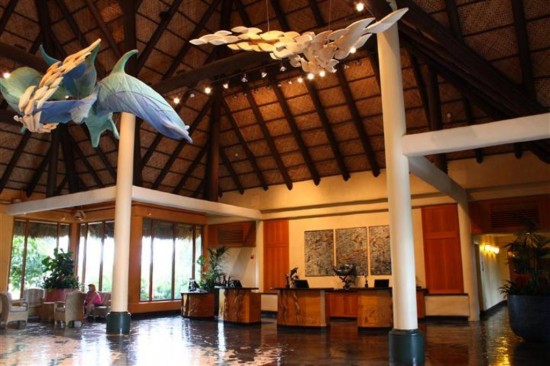 The day starts at 8:00 AM and I recommend getting there right around 8:00, or even a little before so you can get your I.D. processed and head into the park for breakfast, your wetsuits and getting to explore the section of park that is open.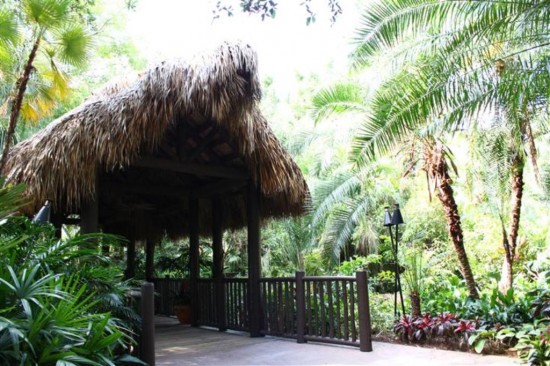 I have read some reviews about the food at Discovery Cove not being very good, but we thought the offerings were great. As long as you don't go in expecting gourmet food you should be pretty happy with what they serve. Breakfast consists of a variety of hot and cold items including bacon, sausage, scrambled eggs, french toast sticks, cereals and fruit to name a few of the offerings.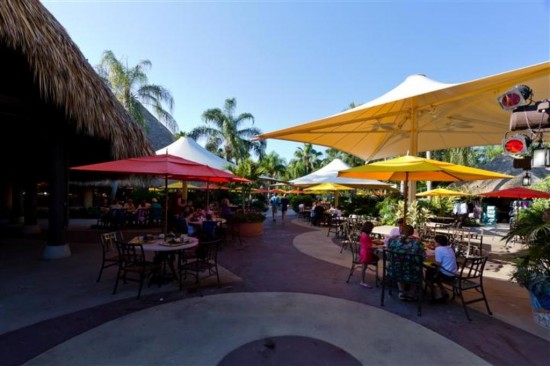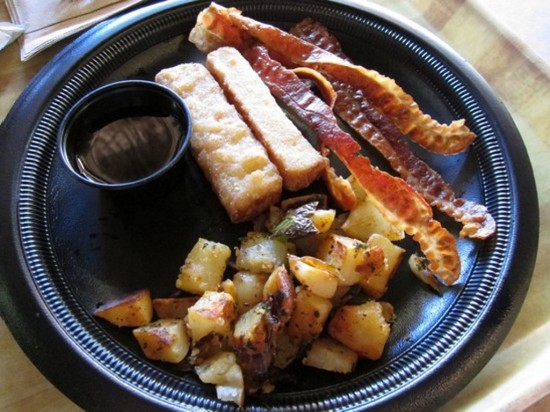 After breakfast it was time to pick up our snorkel gear, wetsuits and to grab a locker. I highly recommend the wetsuits versus the vests, as the water in the reef and sting ray pool is quite chilly and the wetsuits definitely help to take some of the bite away from the cold. Vests are less intrusive and easier to get in/out of, but are much colder in the waters.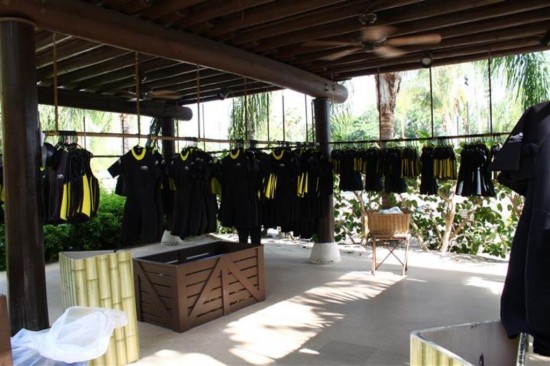 The park is so beautiful! You will feel like you have been transported to a tropical paradise, with white beaches, tropical landscaping and a very friendly staff.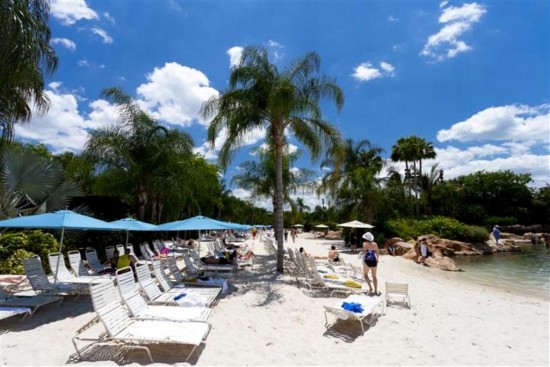 At 9:00 AM the rest of the park opens and you can begin your water exploration. We started our day at the Wind-Away River. The water at this attraction is very warm and inviting. You can swim through caves, explore underwater ruins or just float around at your leisure enjoying all of the sights. The river passes through the free-flight aviary where birds can be seen flying over as you float along the river. You also have the option of exiting and entering right into the aviary from the river (there is a separate entrance as well). The free-flight aviary is really beautiful and well done, allowing you to get very close and even feed many of the birds inside.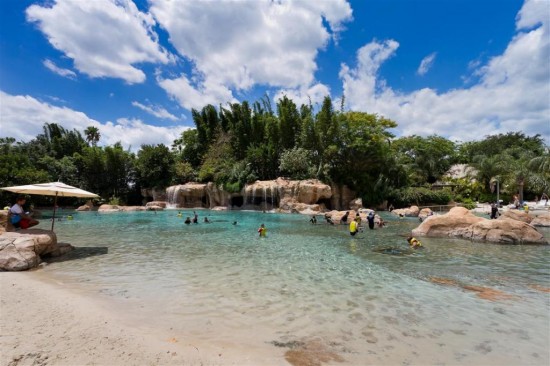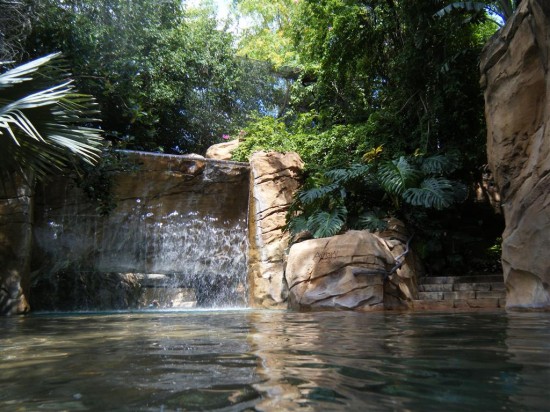 The sting ray pool is my favorite part of Discovery Cove. The water is quite a bit cooler compared to the Wind-Away River, but once you work your way in it's not too bad (I think the temperature is around 72 degrees in the reef and sting ray pool and 80+ degrees in the wind-away river). At the sting ray pool you wade in the water while the rays swim around playfully and you can pet them as they pass by. I could have stayed here all day.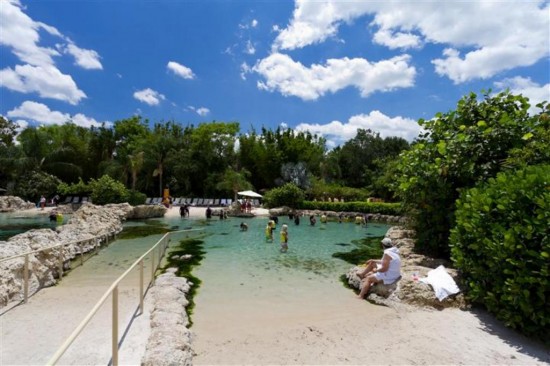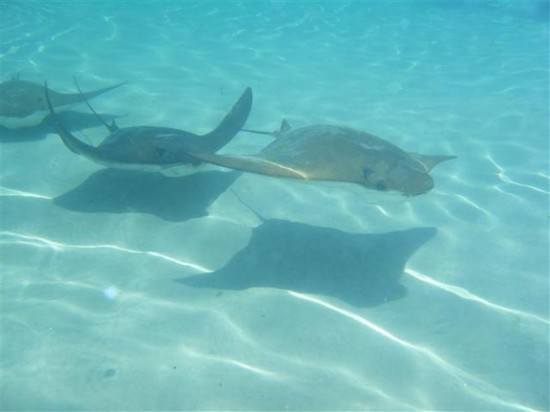 Next up was the reef. The large, saltwater reef has hundreds of fish and large rays swimming all around. The pool itself is very natural in appearance having large dips, valleys, reefs and even a shipwreck area which holds more intimidating sea life, such as sharks and barracudas. Don't worry, they are behind glass, but have the illusion of being in the water with you. It was fun to explore the reef, swimming with all the fish and even having some of the larger rays brush against you as they swim by.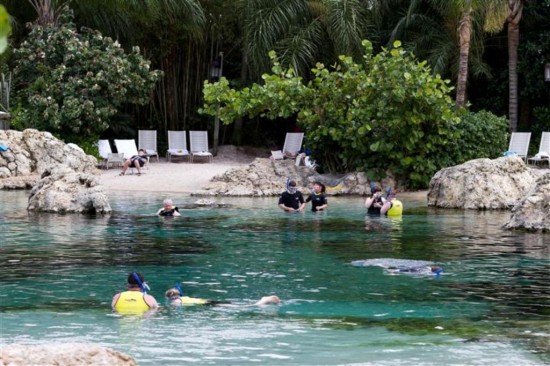 Back to the dining options – Lunch had many entrees and sides to choose from, as well as salads and desserts. We were impressed with the variety of offerings. Some of the options were: coconut curry chicken, Caribbean pork loin, pasta with pesto sauce, spaghetti, chicken fingers, burgers, salmon and hot dogs to name a few. Side items included corn on the cob, fresh veggies, salad, fruit, pasta salad, french fries and herb potatoes. Dessert selections included cheesecake, key lime pie, chocolate pudding and chocolate cake. Everything was very tasty! You will also find multiple snack bars throughout the park that offer chips, cookies, icee's, soft pretzels, ice cream, fountain drinks and beer. You can also visit the main eating area as often as you like, so you can stop by later in the day for another entree vs. having to buy dinner outside of the park.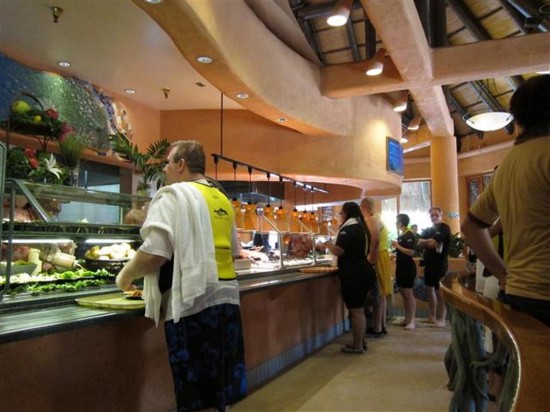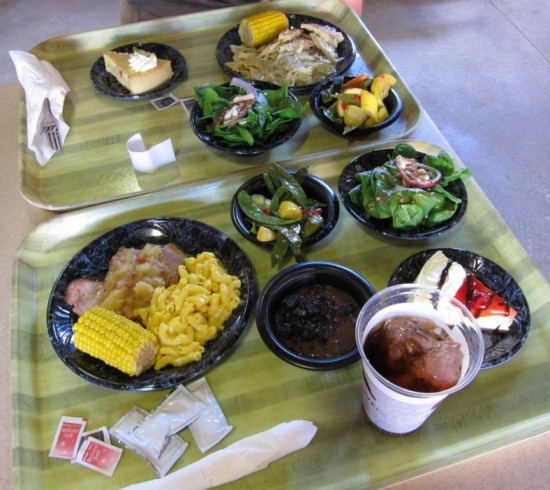 Be sure to pick up your complimentary photo before you leave (which is taken as you enter the park). The photo that is taken as you enter the park is included in your package, but any other photos from the day will cost extra. Also, they tried to just give us one photo, but I asked for another one (since we did both pay for a package) and they had no problem printing another one. Cameras are allowed, so you can snap as many photos as you like!
I feel like Discovery Cove is a great experience and value! Not only do you get the entire day at Discovery Cove, but also meals, drinks and snacks all day, a photo and your choice of another Busch property for 14 days. I know the price fluctuates depending on when you visit so be sure to check out the calendar.
Official website: http://www.discoverycove.com
Discover Cove at SeaWorld Orlando – map
To scroll or zoom, use the controls on the top-left of the map. You may also switch to different map views by using the buttons on the top-right of the map.
Discover Cove at SeaWorld Orlando – extended photo gallery
Click any image to view it full-screen. When the full-screen image is open, click to the right to advance through the gallery. If several thumbnails are missing, try reloading this page in your browser.
[tag-gallery tag=discovery-cove columns=5 theight=100 twidth=100]
[sws_author_bio user="Jewels" size="105″ class="gray" authorposts="More OI posts by Julie" name_format="About the author"] [/sws_author_bio]
Comments