Celebrating your birthday or special occasion at Universal Orlando
Editor's Note: Universal has two buttons they give out to guests, one for birthdays and a second "I'm celebrating" button that is used for all other occasions (photo at the bottom of the post). Alexandra's article focuses on her experience with the birthday button, but you can expect much of the same if you're wearing the "I'm celebrating" version.
I've always considered my birthday one of the best days of the year, and I'm sure the majority of you reading this think the same way. What could be better than visiting Orlando and more specifically, Universal Orlando Resort, on your special day?
The first thing to do when you arrive at Universal's property is to get the official birthday button. This is a crucial step: without the birthday button, no one will know just how special this trip is. To get the button, simply visit Guest Services inside of either park and let them know you are celebrating your special day. They'll ask you for your name, and then write it on the button in the fanciest handwriting the team member can muster. Now you're ready to start your adventure.
Just a note: a significant amount of my friends have been worried about asking for a birthday button if the day they are visiting is not their actual birthday. I'm here to let everybody know that Universal does not care about this in the slightest. They are very understanding about the fact that everybody's schedule is different, and some people can make it on their actual birthdays and some cannot. If people see you wearing that birthday button, they'll simply know you're celebrating and will be none the wiser if your birthday was a week ago, or a week away. But be honest! Don't wear an old birthday button in July if your birthday is in December! We don't want to take advantage of Universal's generosity.
After you receive your birthday button and you're making your way through the parks, you'll notice the employees taking special notice of you. They'll smile, wave and say "Happy Birthday!" loud enough for everybody around you to hear. If they are running a game booth, they will take advantage of their microphone and announce their Happy Birthday greeting even louder. So if you, Birthday Boy or Girl, are shy or loathe to being the center of attention, but still want to go to Universal on your birthday, consider wearing the button in place it can easily be concealed. But if you love everyone acknowledging your birth and your presence, then wear that badge proudly, for the Universal employees will rarely miss an opportunity to point you out to the crowd.
The best example of this for me was on the High in the Sky Suess Trolley Train Ride! On my birthday, when they saw me wearing my button, they asked me and the rest of my party to step aside; I'm assuming they did this so we could pick where we wanted to sit on the next train. Once we boarded and before we took off, one cast member announced that it was a very special day, and rhymed about it being my birthday over the intercom in a very Dr. Suess fashion.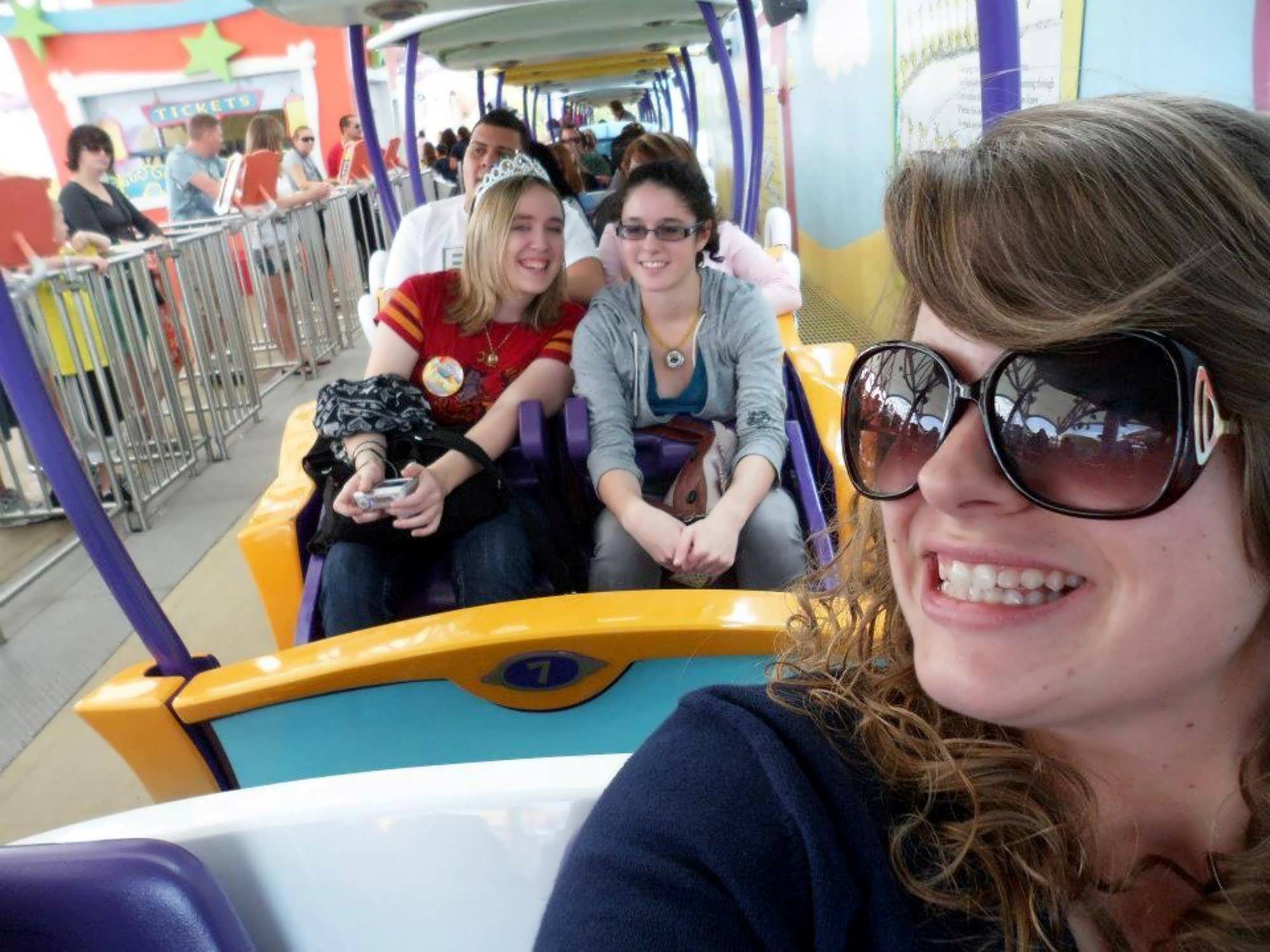 Want to enjoy more singing just for you? Don't forget to visit the Mystic Fountain in the Lost Continent. All you have to do is tell it that it's your birthday, and it'll make a big show of squirting water all over the place, all the while singing with its own personal accompaniment. After it sang happy birthday to me, it played the Charlie's Angels theme song as my two friends and I walked away. The fountain will comment on just about everything, from the way you talk to what you're wearing, and it won't stop talking to you until you leave. A personalized birthday song from the Mystic Fountain is a "don't miss!" on your special day.
The most beneficial part of having a birthday in Universal comes when you visit Ollivander's Wand Shop. As most of you who have already visited The Wizarding World of Harry Potter know, once you enter Ollivander's, the wizard "randomly" picks one person from a crowd of about twenty to have a wand chosen for them. This is when your birthday comes in handy. If you are wearing a birthday button when you go into Ollivander's, no number of excited children will stop Ollivander from choosing you. I know this sounds terrible, and it is a big reason why I took my button off when I visited Ollivander's on my birthday. I had already bought Sirius Black's wand on a previous visit and wanted to let one of the kids in front of me get to have their chance in the spotlight. My friend Michael, on the other hand, was very much in want of a wand and kept his birthday button in plain view. Of course, he was selected.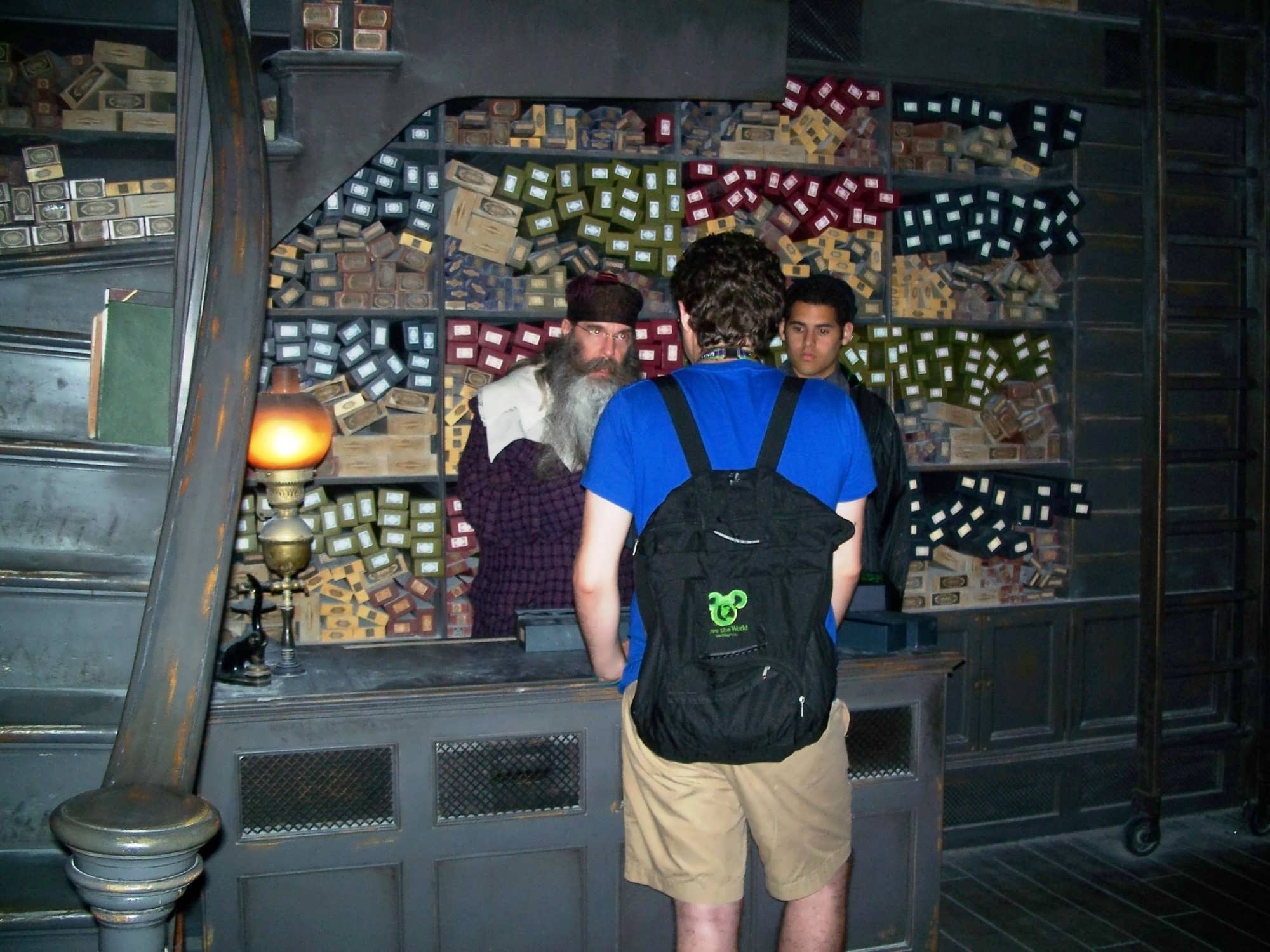 I have seen this happen on a few separate occasions, and have no doubt that wearing a birthday button will increase your chance of leaving with a wand that day if the price is right. What's more magical than having your wand choose you on your birthday?
I've heard rumors of other unique things happening for people's birthdays, such as a free specialty drink if the cast member is so inclined or getting priority admission to an attraction. These are most definitely not guaranteed and shouldn't be expected, but they do happen from time to time. Also, if you are staying on-site at Universal Orlando, be sure the hotel knows it is your special day by having it noted on your reservation. If you're lucky, you might have a surprise waiting in your room.
One way or another, if the team members at Universal know it's your birthday, they seem to do everything in their power to make your day the best that it can be.
As we mentioned at the top, Universal offers a birthday button described in this post as well as an "I'm Celebrating" button used for all other occasions. Both can be picked up at Guest Services, and here's a photo: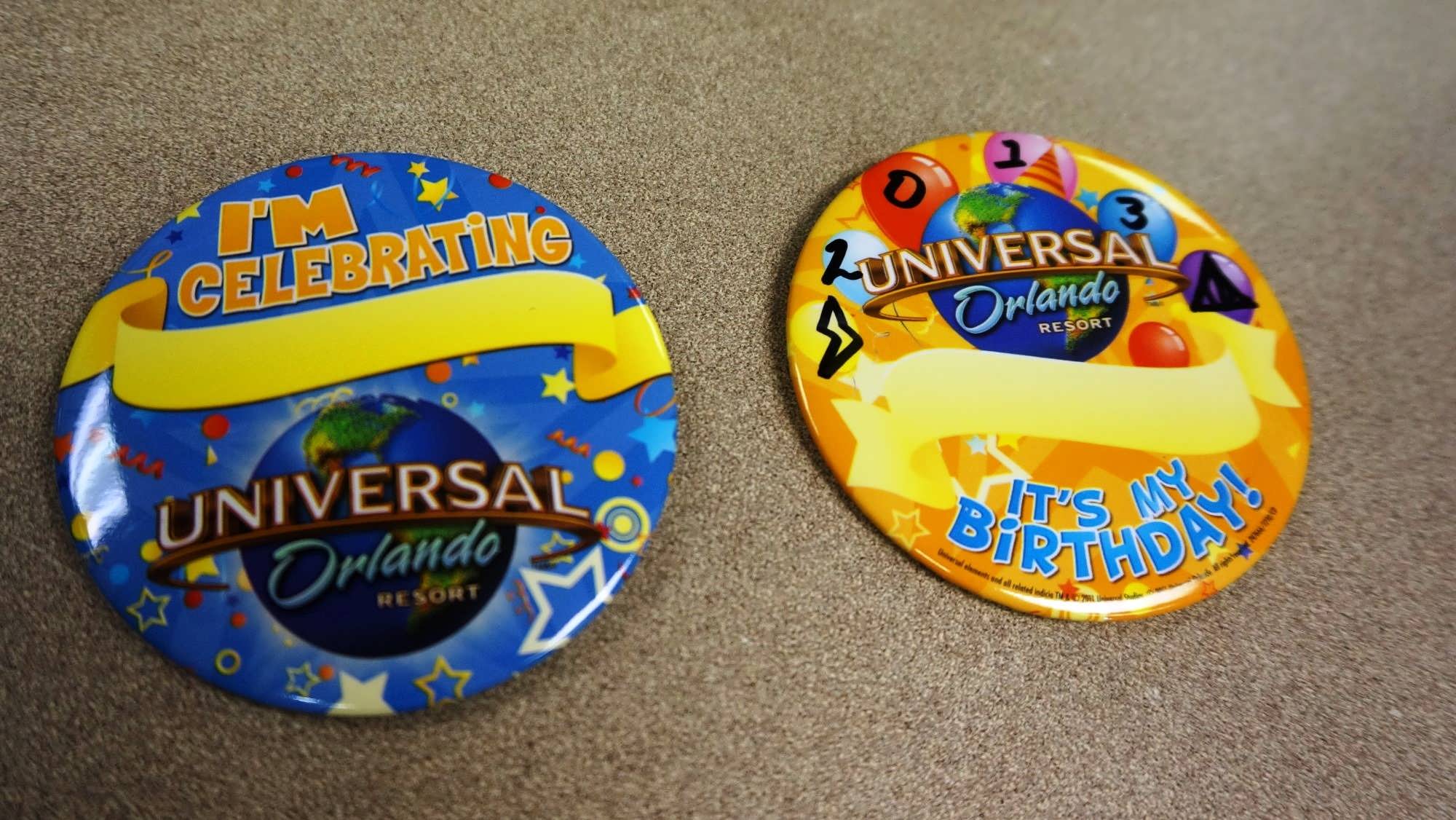 Thanks, Alexandra, for a great post!
Planning a vacation to Orlando?
Want to skip all the work and just price out a vacation to Universal Orlando? We'll find the best deals for you – for free (seriously.) Learn more, or check out some of the current deals:
Comments