How to save on SeaWorld dining: Refillable cups, popcorn buckets & the All Day Dining plan
After paying a large sum for admission tickets to SeaWorld, then handing over $15 more for parking, the last thing you want to do is spend a fortune to feed your family all day. The good news is that SeaWorld has many of ways to make eating at the park very affordable. In this post, I'm going to share 'em with you!
Refillable cups
Let's start with the easiest option: SeaWorld's refillable souvenir cup, which can be purchased at any of the restaurants and most of the drink carts. Prices range from $7.99 (for your basic cup) to $16.95 (for a cup that is so fancy, it even comes with its own accessories). You can even buy a SeaWorld cup or sports bottle at any of the souvenir stores (up to 32 ounces) and use those, as well.
Once you buy the cup, you get unlimited refills of soda at each subsequent visit for only 99 cents. In fact, you can even take these cups to any of the SeaWorld parks nationwide (Aquatica, Busch Gardens, Adventure Island… even Sea World San Diego, if you wanted), and they'll work for refills there, too.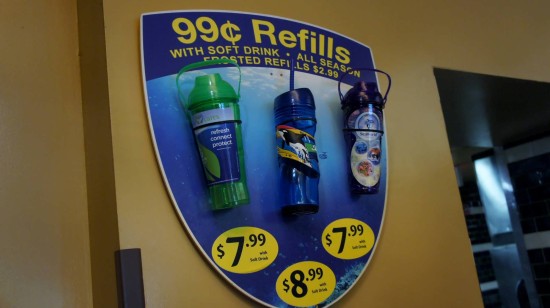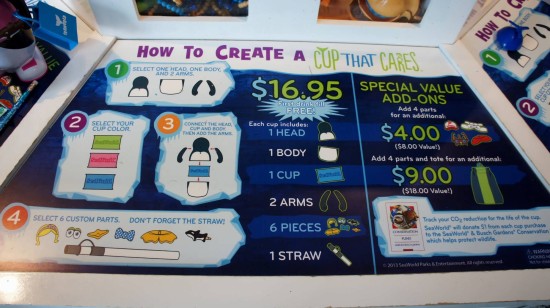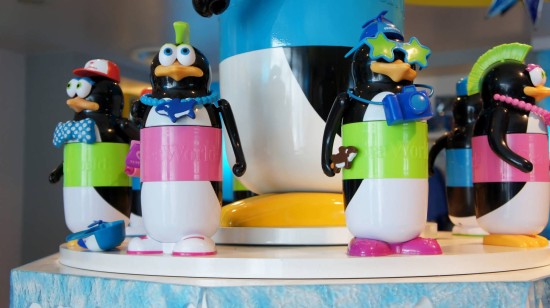 And the best part of the refillable cup program is that, in honor of the 50th birthday celebration, SeaWorld has kicked off a new promotion: for an extra $3 at the time of purchase, the first day of refills are completely free. Since fountain sodas are $2.69 each, this means that after only four drinks, the cup has paid for itself!
Refillable popcorn bucket
Cups aren't the only thing you can refill at SeaWorld – they also have refillable souvenir popcorn buckets for snacking. The buckets themselves are $4.79 and come filled.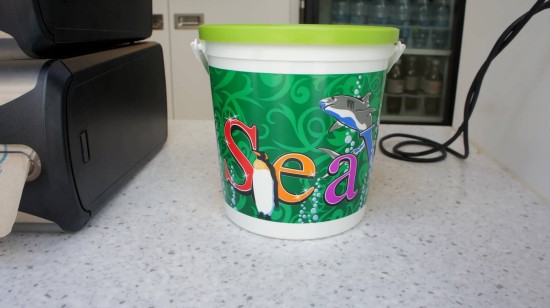 Once your family has devoured the popcorn, you can get a refill for $1.99 – and, again, these buckets can be brought back into the park time and time again. This is a great option for a family with teenagers who always seem to be hungry and are constantly buying snacks.
All Day Dining
SeaWorld also has a fantastic way to save money if you're going to be in the park from the time it opens until the time it closes: All Day Dining. This requires a higher fee up-front (prices change based on the season), but you can go through the lines in the restaurants as many times as you want. I've personally verified that you can literally cycle through the line over and over again – but I was informed that, if they catch you sharing your food/drink with others (and if you go through the line a lot, I'm sure they'll be watching), they'll cut your wristband off, and you won't get a refund.
All Day Dining starts working from the time the park opens (the Seafire Inn serves breakfast, which is certainly included in the dining program) until 30 minutes before a restaurant closes. So, on an average summer day, you can start eating at 9:00am and keep going all day until 9:30pm, all for one low price.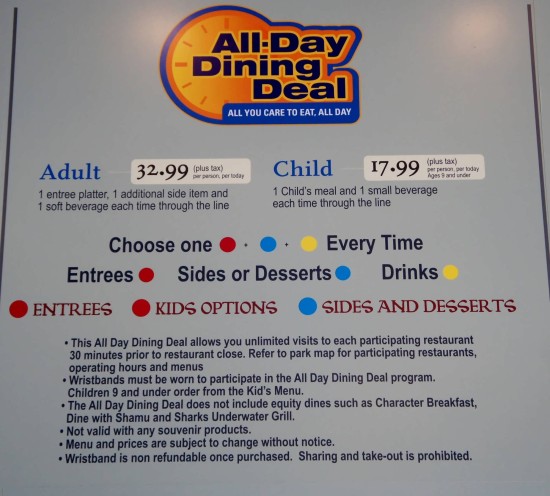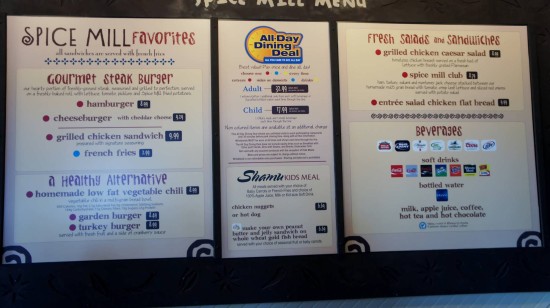 You receive one entree, one side or dessert, and one drink each time through the line (children get one kids' meal and drink each time) – and the menus in the restaurants are even color-coded to help you figure out what you can get, as shown above.
If you'll only be in the park for one meal, the dining deal isn't that good of an option. But if you eat just two meals, it more than pays for itself. Add in that sodas and bottled water are included all day, as well, and you have one heck of a deal!
Picnic lunches
For those wanting (or needing) to seriously save money, SeaWorld has an option available that really isn't feasible in any of the other major theme parks: bringing a picnic lunch. Coolers aren't allowed in the park, but SeaWorld's parking doesn't leave you with multiple moving sidewalks to navigate or monorails and trams to take before you get to your car; even on the busiest of days, I've never walked more than five minutes from the gate to my car. Simply leave your cooler full of lunch for your family in your car, and then retrieve it at lunch time.
SeaWorld graciously provides picnic tables (near the pet kennel) for families to enjoy this cost-effective option. My personal favorite is the picnic table all the way at the end – at lunch time, this table is fully in the shade!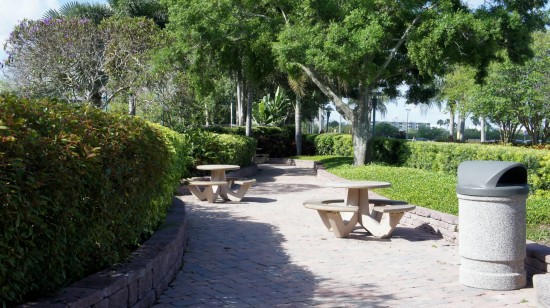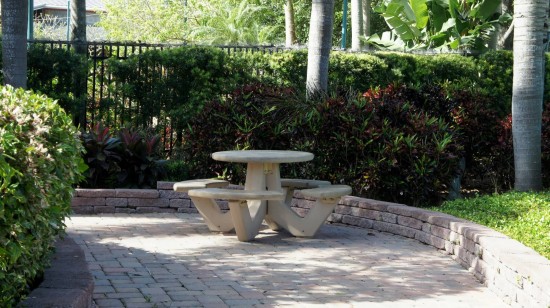 So no matter how long you'll be in the park or how much money you want – or need – to save on food, SeaWorld has an option to fit your budget.
If you liked this post, there's more to love in our vacation planning archive. Or, to keep reading about the park, check out all of our blog posts filed under SeaWorld.
Eating at SeaWorld – photo gallery
Click any image to view it full-screen. When the full-screen image is open, click to the right or use the right arrow on your keyboard to advance through the gallery.
[sws_author_bio user="SalinaBristor" size="105″ authorposts="More OI posts by Salina" name_format="About the author"] [/sws_author_bio]
Comments