Rumor round-up for Jan 19, 2013: Disney's interactivity, I-Drive's expandability & Universal's portability
Interactivity inter-expanding
For a while now, Disney has been going all-in on making their parks and attractions more interactive. Whether it's the love-hate relationship many guests have with the interactive queues (such as the one for the Haunted Mansion) or the new Sorcerer's of the Magic Kingdom card game, the Mouse is adding a lot of features so that people aren't just standing around with nothing to do. In the past we've reported on the rumors of an interactive game going to Adventureland in the Magic Kingdom, and latest buzz say a similar game is going to the Animal Kingdom.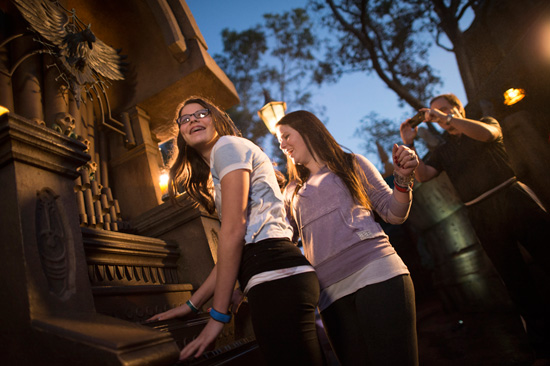 The type of games we're referring to resemble the popular Agent P's World Showcase Adventure in Epcot (formerly based around Kim Possible). Through a series of clues, guests travel around the park finding cleverly hidden show elements. For the Animal Kingdom, the game looks to borrow from the Pixar movie Up and play off the concept of obtaining a Wilderness Explorer's badge that was a key plot point in the film. Guests will be able to collect badges, which possibly could be similar to the Gowalla digital passport stamps Disney tried to get people hooked on in 2010. (Remember Gowalla?)
Pin collecting 2.0
One rumor making the rounds lately is that several of Disney's areas set aside to sell and trade pins will be repurposed in the future to selling MagicBands and accessories as part of their new MyMagic+ experience. One of the features of that experience is that guests will have almost all of their information on a MagicBand. This band will be used as your hotel room key, your park ticket, your FastPlas+ ticket, and even replace your credit card when purchasing food or merchandise.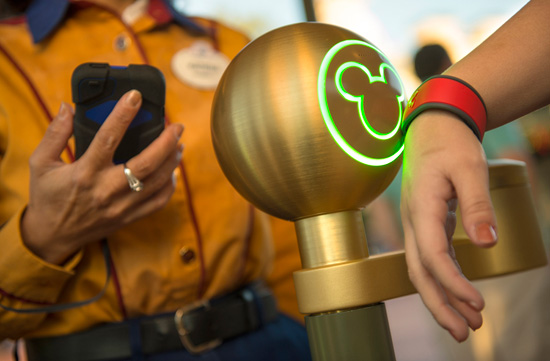 The basic MagicBand will probably be very generic looking, and the rumors are they Disney will be making many variations available for purchase. You want a MagicBand featuring the classic Mickey Mouse? You got it. Finding Nemo? Pirates of the Carribean? Cinderella? John Carter? Well, there probably won't be any John Carter MagicBands for sale. Not only will there be a wide variety of MagicBands that guests can buy, but guests will be also able to accessorize their MagicBands with Disney related charms. Will people be as passionate about buying the different types of bands and charms as they were when pin collecting took off? Disney's betting a lot of money they will.
Fun Spot American is getting HUGE-ER
While most theme park fans are keeping up to date with all the construction going on inside Universal Studios Florida, Fun Spot America has almost quietly gone about getting some major work done right down the road. The rumors around town have Fun Spot believing several major attractions will be completed by this summer, right around the same time Universal will be getting Transformers: The Ride and The Simpsons expansion ready for their guests. Aside from getting two new roller coasters and a Skycoaster (bungee jump/skydiving-like attraction) along with a spinning ride "Wheelie" that is being brought down from Six Flags over Georgia and renamed "Enterprise."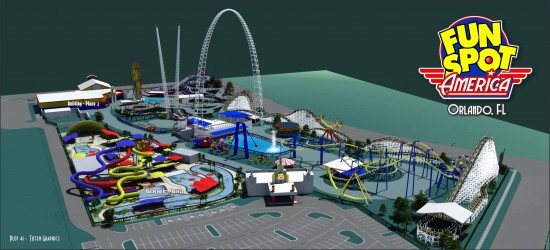 In my opinion, Summer of 2013 seems incredibly aggressive to think even half of the new Fun Spot America attractions will be open, let alone all of them. But after seeing how fast Universal demolished Soundstage 44 and put up the show building for Transformers I can't outright dismiss anything as being impossible in this day in age. With SeaWorld already opening Turtle Trek and having Antarctica: Empire of the Penguin later this year, Universal having three major projects underway, and now Fun Spot going all in, it will be interesting to see how Disney reacts to these Theme Park Wars. It's definitely an exciting time to be a park goer as 2013 looks to be the busiest ever when it comes to new attractions!
I-Drive Live pushed back even further?
One of the more interesting areas on I-Drive getting a huge facelift is the former Mercado area that is being redone and rebranded as I-Drive Live. This entertainment and dining complex has announced a version of Madame Tussads wax museum, an aquarium, and the 425 foot high Orlando Eye Ferris wheel.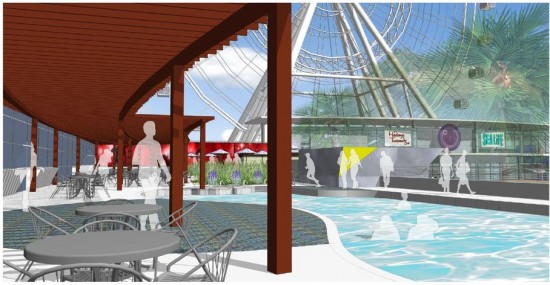 While it should be relatively fast to put in eateries such as the Outback Steakhouse and Carrabba's Italian Grill that plan to open franchises within the I-Drive Live complex, a rumored Las Vegas-style nightclub and pool area will take much longer. Unlike Universal and Fun Spot America, work seems to be at a crawling pace here and rumors are that we can expect nothing to be ready until sometime in 2014, with the Orlando Eye and other projects even later than that.
Editor's update: Looks like I-Drive Live is moving a little faster than we thought. Between the time Derek submitted this article and the time we published it, Orlando Business Journal reported that construction is starting next month, and WFTV.com has quoted the developer as saying 50% of the project will be open early next year with the nightclub and observation wheel opening by the end of 2014
Universal Orlando mobile app 2.0
This development has already been noted on the OI Forum, but I thought it was worth mentioning briefly here.
An OI subscriber  pointed out to us that the official Universal Orlando Android app is no longer coming up when you search for it in the Google Play store. If you do, you'll probably get something like this:
You can also do a search just for "Universal Orlando" and that will bring up quite a few selections, but not the official app.
Well, what if we had direct links? That's where it gets a little interesting, because we have the direct links right here:  Android, Apple.
If you click the Android link from a desktop computer, you actually can still access the official app and — through the wonders of Google — download it to your phone. But try clicking the Apple link. That goes no where fast.
So we're thinking the fact that the official Universal Orlando app has been removed from search results in both stores, and can only be accessed on the Google Play store with a direct link, is a pretty good sign that a new app is on it's way.
Agree, disagree, or have your own rumors? Leave a comment below. Or, check out all of our rumor posts.
[sws_author_bio user="derekburgan" size="105″ authorposts="More OI posts by Derek" name_format="About the author"] [/sws_author_bio]
Comments