THE BIG 5: Top five nightlife options adults can still enjoy at Walt Disney World
I miss the clubs that used to occupy the Pleasure Island section of Walt Disney World's Downtown Disney. I really do. And what drives me crazy is that, as the five-year anniversary of the closing draws near, visitors to the resort still await the new shopping and dining district that was promised to rise in its place.
Originally plans called for a development called Hyperion Wharf to replace the area that held the clubs that made up Pleasure Island. But earlier this year, word came that those plans had been scrapped and instead Disney would be reimagining the entire Downtown Disney area. In this new plan, Downtown Disney will become "Disney Springs," a new shopping and dining district that aims to double in number the venues in the area, from 75 to over 150 when the project is completed. While some of the old club buildings have started to come down, at this point we don't know exactly what all will be included in the new venues. And since Disney Springs is not scheduled to be completed until 2016, we've got a while to wait!
Which brings us to the subject at hand. Like many folks, I'm not always ready or wanting to head back to my room when Magic Kingdom closes. So here are the top five options you have to keep the night rollin'…
#5 – Live music at Downtown Disney
If you're interested in hearing some live music, you have a few options available. A good place to start is the House of Blues concert calendar. They host up and coming musicians as well as fan-favorites of the past, from a wide variety of musical genres, in a 2100 person, two-story venue that gives the concert goer the chance to experience shows in a more intimidate setting.  (Don't tell anyone I mentioned it in this post, but I'd also suggest checking out the calendar for Hard Rock Live over at Universal CityWalk, as they have also hosted a lot of good acts over the years.)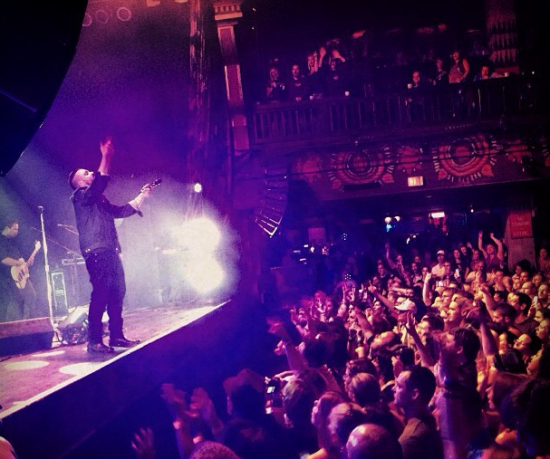 If a full-on concert isn't quite what you're looking for, but you'd still like to enjoy some live music, here are a few more places to try: "the Porch" area of House of Blues, the outdoor bar at Splitsville Lanes, or Raglan Road's bar. Each of these locations usually hosts local musicians on Friday and Saturday evenings. Or do this — hit all three in a mini bar crawl!
#4 – Live music elsewhere, with 100% more piano
If you enjoy a good piano player (or two), you have a couple options. Head to Port Orleans Riverside's River Roost Lounge to watch pianoman Yeeha Bob performing showtunes and sing-a-long favorites. Yeeha Bob can be seen in action most every Wednesday through Sunday, but sometimes has special engagements off property, so check his schedule at www.yeehabob.com to make sure he's performing the night you plan to go. His shows are free and run from about 8:30pm to 11:30pm.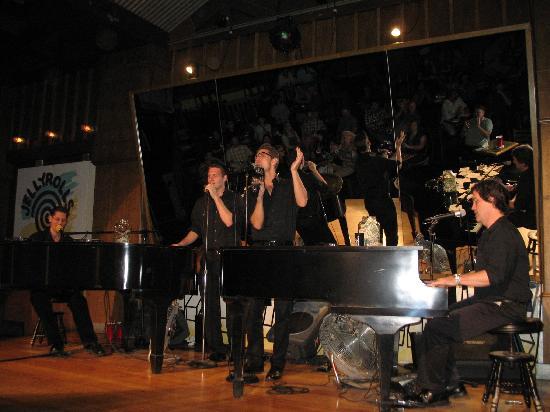 Other option is to make your way to Jellyrolls, located in the Disney's BoardWalk Resort area, for a night of dueling pianos and cocktails. Remember to bring some tip money if you'd like to make a request! Jellyrolls is open seven days a week, from 7:00pm to 1:45am, and charges a cover depending on what night of the week it is.
#3 – Dinner, drinks & a movie
You can go about this the traditional way, by grabbing a bite to eat at one of the many restaurants at Downtown Disney, then heading over to the AMC 24 Theaters for an evening movie. But you might also consider giving AMC's Fork & Screen experience a try. For a few dollars more in admission, you can enjoy a new release and relax in comfort while the AMC staff bring the dinner and drinks directly to you.
One of the best features of AMC's Fork & Screen: if you plan ahead far enough and purchase your tickets online, you are able to reserve your specific seats in the theater. Just visit this page, choose your movie and show time, and once you confirm your options on the Fandango page, you should be brought to the seating selection.
#2 – Dancing (yes Disney, guests still want to do this!)
If you just want to dance, since the closing of Pleasure Island there's only one game in town, and that's Atlantic Dance Hall. Located on Disney's Boardwalk, the venue plays a variety of music from the 80s to the present, shows music videos, and some nights they feature dueling DJs. Unlike Jellyrolls, there's no cover for Atlantic Dance Hall, so it won't cost you anything to try it out and see if it's to your liking. Operating hours are generally Tuesday through Saturday nights, from 9:00pm to 2:00am, but I've seen some variation from this so it might be a good idea to check ahead.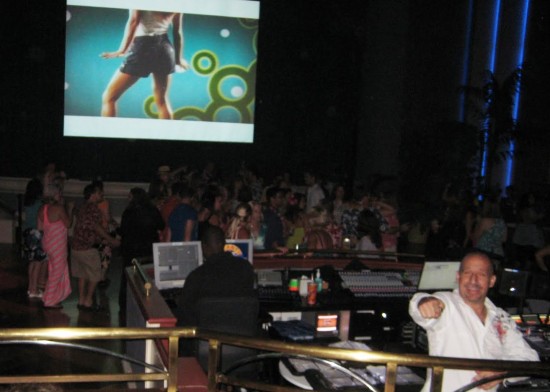 Did I mention that Atlantic Dance Hall is about 10 steps away from Jellyrolls? Those two stops could be plans enough for a fun night!
#1 – Monorail Crawl
What could be better than enjoying specialty cocktails with friendly conversation in the ambiance of Disney's most celebrated hotels? The Monorail Crawl is the perfect way to achieve this trifecta. It's easy to travel between the three Disney resorts that share the Magic Kingdom monorail line — Disney's Contemporary Resort, Disney's Polynesian Resort, and Disney's Grand Floridian Resort — and experience several different lounges along the way. If you find one you don't care for, move along to the next. If you find one you love, settle in for a while. An added bonus is that, if you enjoy the Magic Kingdom fireworks, you can line up your visit to the Polynesian around their start time so you can head down to the beach with a cocktail to watch the show!
[youtube_video]2Zx7lhrtZ4o[/youtube_video]
Want to make a full day of it? Dan actually published a guide to this experience a while back. While the post is a little dated, virtually all the information is still right on. Check this out: Drinking around the world – Disney's Magic Kingdom resort area edition.
Honorable mention – luxury bowling
One more option for some evening fun is bowling at Splitsville Luxury Lanes. (Remember that I mentioned Splitsville in the "live music" section, so that's another nightlife combo waiting to happen.) The new venue offers a wide variety of dining options and cocktails that will be brought right to your booth while you wait for your next turn, and the upstairs level goes "adults only" as the evening sets in.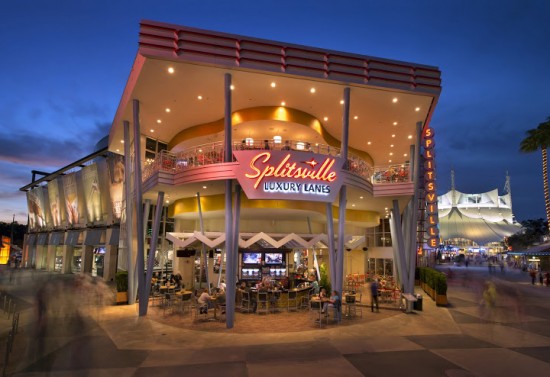 Do keep in mind that Splitsville can get pretty busy, so consider making a reservation if you have your heart set on bowling at a particular time. You can do so online at www.splitsvillelanes.com, and also check for special rates that might be available for your party.
Hopefully this provides some ideas for when you're not quite ready to call it a night. Come 2016, here's hoping there will be some new clubs to add to this list!
[sws_author_bio user="KatSRQ" size="105″ authorposts="More OI posts by Kat" name_format="About the author"] [/sws_author_bio]
Comments