Regal Pointe Orlando Stadium & IMAX: Experience movie magic on a screen that's six stories high!
With the release of Harry Potter and the Deathly Hallows Part 2 just days away, I'm certain many Muggles are planning their trek to Universal CityWalk where they plan on watching the movie in IMAX 3D within walking distance of the Wizarding World of Harry Potter. But for those Muggles who demand a premium movie-going experience using the world's best technology, allow me to submit an alternative: Regal Pointe Orlando Stadium & IMAX.
Click any image to view it full-screen. You can also view and share many of these photos on the OI Facebook page. Scroll to the bottom of the post to view the complete photo gallery with more than 25 images.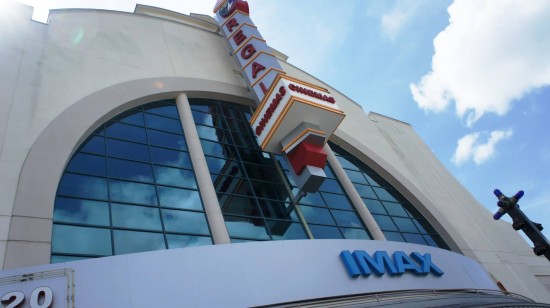 Located on International Drive in the Pointe Orlando entertainment complex, the Regal Pointe Orlando movie theater features Orlando's largest and best IMAX screen. Yes, I know there's an IMAX screen at Universal Orlando's CityWalk. But despite its qualification in the IMAX family, it doesn't compare to the towering six stories of Regal's IMAX screen. In fact, "IMAX" screens like the one at Universal have earned the nickname LIEMAX, and Universal's AMC theater won Orlando Weekly's 2009 award for Best big-screen bait and switch:
The popular AMC cinema at CityWalk started to promote that it "now has IMAX," but when did they rip the roof off to install a seven-story screen? Here's the secret: They didn't. Unlike the old-school Regal Pointe Orlando Stadium 20 and IMAX, the Universal Cineplex 20's new and so-called "LieMAX" theater involves a barely larger-than-normal screen, digital projectors and blatant exploitation of the once-trusted IMAX brand.
Don't get me wrong–I'm a huge Universal Orlando fan. But when it comes to seeing a movie, I recommend heading to Pointe Orlando.
As you can see by the picture below, my camera couldn't even fit Regal's theater seats and IMAX screen in one shot because the screen is so darn big: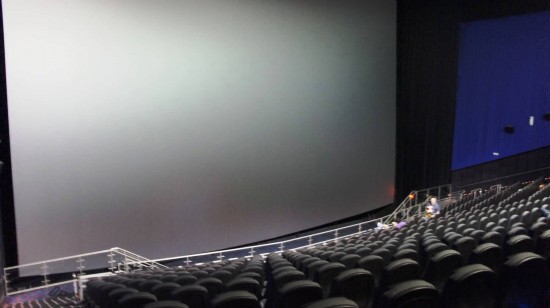 So what does this all mean for you? Well, when you are about to shell out almost $20 to see a movie, at Regal Pointe Orlando you know you are getting an absolutely enveloping movie viewing experience that is second to none in Orlando.
But there's even more! First, if you go here you can get your parking validated–not quite so true at Universal Orlando. Second, at least during the day the Pointe Orlando entertainment complex is relatively empty. This means easy parking (I recommend parking up on the third floor so you can park close to the skyway and use it to get from the garage over to the movie theater) and no fighting for good seats inside. Last Tuesday, the day after the Fourth of July, I went to see a matinee of Transformers 3 in IMAX 3D. I'd say all together that there were about 10 families in the entire theater. It's almost like having a private screening of the latest films on your own IMAX screen! It's fantastic.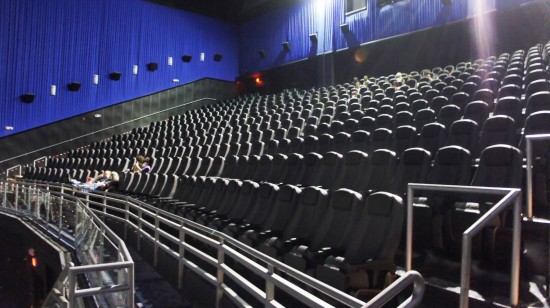 The third advantage to seeing a movie at Pointe Orlando is the entertainment complex itself. Here you'll find one of Orlando's best collection of restaurants, bars, and live entertainment all within an easy walking distance of each other. You can learn more about Pointe Orlando in this post: Pointe Orlando: Distinctive shopping, dining and entertainment in the heart of International Drive.
You can also check out OI's individual reviews of Funky Monkey Wine Company, B.B. King's Blues Club, and Tommy Bahama.
Keep in mind that Regal Pointe Orlando Stadium & IMAX offers 19 other movie theaters and all the modern conveniences you've come to expect, including the sale of beer and wine at the concession stand: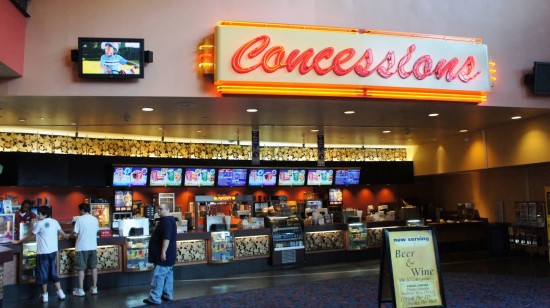 IMPORTANT: Be sure to bring your parking ticket in with you, and be sure to ask the attendant who takes your movie stub to validate your parking ticket. The attendant will not offer to do so unless you ask. If you happen to forget, be aware that the parking garage accepts cash only (there's an ATM on the ground floor just outside the movie theater).
Good stuff, huh? Here's a map of the location followed by the complete photo gallery. I apologize in advance for the blurry photos–there must have been a smudge on my camera lens.
Regal Pointe Orlando Stadium & IMAX – map
Regal Pointe Orlando Stadium & IMAX – complete photo gallery
Comments